As an Amazon Associate I earn from qualifying purchases. Please see my Privacy Policy for more details.
Oven Baked Sweet Potato Fries sprinkled with spices traditionally found in falafel and served up with a creamy, dairy free Lemon Garlic Dipping Sauce. The perfect side dish or snack!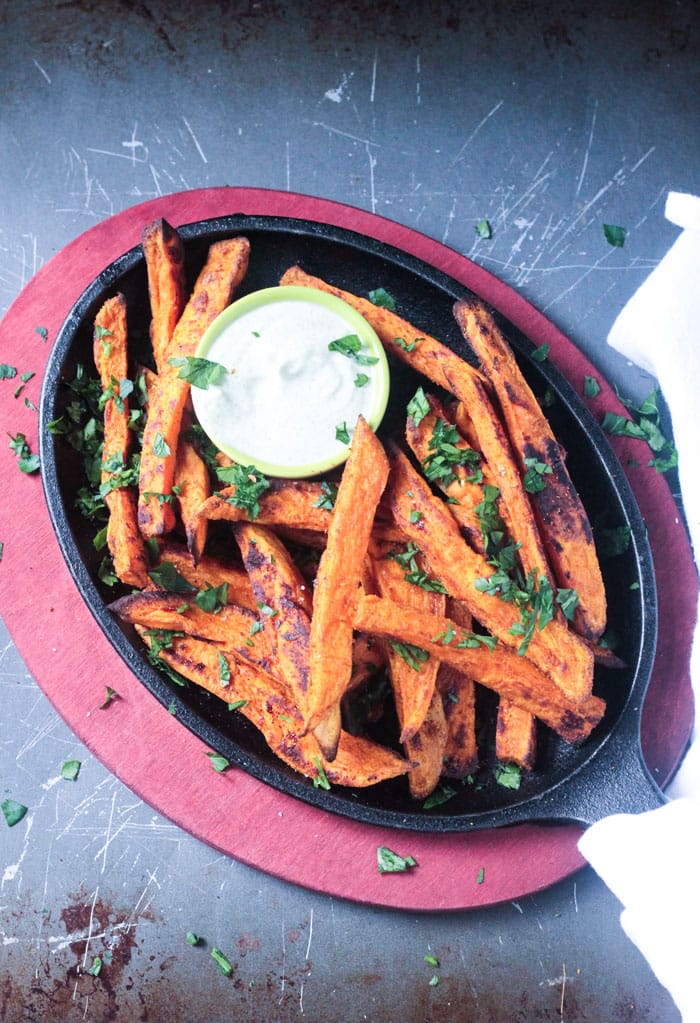 Sometimes you just need fries! They're perfect for a side dish, appetizer, or just for snacking. I'm upping the fry game today and using sweet potatoes instead of traditional baking potatoes.
Sweet potato fries are definitely not a new thing, but I've spiced mine up today with spices traditionally found in falafel. I'm not sure what sparked the idea for this flavor combo, but I'm finding it pretty darn delicious and we can't stop eating them!
Paired with a creamy Lemon Garlic Dipping Sauce, they're a sweet and spicy treat you're sure to love!
How to make the recipe
Admittedly, these sweet potato fries aren't going to be as crispy as those restaurant fries you might be used to. We aren't frying these in a vat of oil like they do either, so we are saving a ton of calories and saturated fat grams. The texture of these are more like steak fries – a bit of a crispy bite on the outside, while soft and creamy on the inside.
I do have a few tricks to get your oven baked sweet potato fries crispy on the outside though:
First, make sure your oven is properly pre-heated before putting your fries in there. You can even pre-heat your baking pan too if you wish. Just remember to be careful and use oven mitts please.
Second, do not add salt to the fries prior to baking. Salt draws out moisture and you definitely don't want to do that here.
Third, do not…I repeat, do NOT…crowd the baking sheet. Place them in a single layer with space in between each one. Otherwise they will steam and will not crisp up. If your fries don't all fit on one baking sheet, I suggest baking two batches instead of putting two pans in the oven at once.
Fourth, do not touch them or even open the oven to look at them for the first 15 minutes. Just let them do their thing. If you feel you must check on them during that time, flip on your oven light and look through the little window.
Don't be afraid of the dark spots. Sweet potatoes contain natural sugars (that's why they are so deliciously sweet) and that sugar will start to caramelize causing dark spots (and crispy, sticky, delicious, sweet bites). However, there is a fine line between caramelized and burnt. So, definitely do keep an eye on them during the last few minutes of baking. If you do get some burnt edges while the middles are still perfectly spotty brown, just cut off the burnt spots and enjoy the rest!
And, keep in mind, that every oven is different. If yours runs hotter or cooler than average, you may need to adjust the cooking time slightly. But, with these methods and the cooking temp/time, I can get delicious crispy on the outside, creamy in the middle, sweet potatoes every time.
For a little different take, try my Butternut Squash Fries!
Lemon Garlic Dipping Sauce
Falafel are usually served with a tangy lemony and garlicky sauce. Since I'm using falafel spices on these Baked Sweet Potato Fries, I decided to go with a lemon garlic sauce for dipping. Yum!
I use cashews as the base, like I do in my popular Creamy Cumin Ranch Dressing and my Creamy Dill Sauce w/ Spirulina (both of which would also be delicious with these fries!). You could also use plain unsweetened dairy free yogurt instead of the cashews.
I hope you love this recipe as much as we do! If you tried it, please use the rating system in the recipe card and leave a comment below with your feedback.

Be sure to sign up for my FREE Newsletter to be the first to get my NEW recipes! You can also follow me on Instagram, Facebook, and Pinterest.

For even more easy family recipes, be sure to check out my cookbook, The Meatless Monday Family Cookbook!
Falafel Spiced Oven Baked Sweet Potato Fries
Oven Baked Sweet Potato Fries sprinkled with spices traditionally found in falafel and served up with a creamy, dairy free, Lemon Garlic Dipping Sauce. The perfect side dish or snack!
Print
Rate
Ingredients
Falafel Spiced Sweet Potato Fries
2

sweet potatoes

(scrubbed well and dried thoroughly or peeled)

1

tablespoon

high heat oil

(I used grapeseed)

1 ½

teaspoons

cumin

1

teaspoon

coriander

1

teaspoon

garlic powder

½

teaspoon

turmeric

¼

teaspoon

cinnamon

pinch cayenne

(I used about ⅛ tsp*, use more if you like the heat)

salt to taste

chopped fresh parsley to garnish

cooking spray for the baking sheet
Lemon Garlic Dipping Sauce
1

cup

raw cashews

(soaked 30 minutes in warm water)

4

garlic cloves

juice of 2 lemons

½

cup

chopped cucumber

1

tablespoon

chopped fresh parsley

½

teaspoon

salt

(or to taste)

water to thin
Instructions
For the Sweet Potato Fries:
Preheat the oven to 450°F. Position the oven rack in the top third of the oven.

Slice your sweet potatoes in half lengthwise. Slice each half in half again. Then slice each quarter into 4-6 "fries." If you sweet potatoes are particularly large, you might have cut a few of the fries in half again if they seem too thick. Try to make sure all of the fries are the same size so they cook evenly.

In a large bowl, toss the sweet potato fries with the oil, cumin, coriander, turmeric, cinnamon and cayenne.

Spray the baking sheet lightly with cooking spray. Spread the sweet potato fries into one even layer on a rimmed baking sheet and space them out so none of them are touching. If you have too many fries to fit on one baking sheet, I like to bake two separate batches instead of putting two baking sheets in the oven at once. It helps them stay crispier this way.

Bake for 15 minutes. Carefully flip all of the fries over and again make sure they are in one single layer and not touching. Bake another 10 minutes. Your fries should now have plenty of dark spots on them on both sides. If they do not, you can bake another 5 minutes, but watch them closely!! Don't be afraid of dark spots as the sugars in the sweet potatoes will caramelize and turn dark, however, there is a fine line between caramelized and burnt. Don't let them get TOO dark.

When the fries are done, take them out of the oven and immediately sprinkle with sea salt and chopped fresh parsley. Serve with Lemon Garlic Dipping Sauce or your favorite sauce. Ketchup works too.
For the Lemon Garlic Dipping Sauce:
Place all ingredients in a high speed blender and purée until smooth.
Notes
*I used ⅛ tsp of cayenne and the fries had a nice kick without being too spicy. If you like things spicier, feel free to add more. You'll have extra sauce leftover. Use it to dip raw veggies, crackers, or as a spread for sandwiches or wraps. Or whip up another batch of these Oven Baked Sweet Potato Fries! These fries are best served immediately. Leftovers will soften in the fridge. You can reheat in the oven, but they won't really crisp up again.
Nutrition
Calories:
307
kcal
|
Carbohydrates:
36
g
|
Protein:
7
g
|
Fat:
16
g
|
Saturated Fat:
2
g
|
Polyunsaturated Fat:
7
g
|
Monounsaturated Fat:
4
g
|
Sodium:
179
mg
|
Potassium:
443
mg
|
Fiber:
4
g
|
Sugar:
4
g
|
Vitamin A:
700
IU
|
Vitamin C:
157.6
mg
|
Calcium:
50
mg
|
Iron:
3.1
mg
Nutrition values are calculated using online calculators and are estimates only. Please verify using your own data.