Peanut Butter Chocolate Cupcakes with Peanut Butter Frosting – I know of no better way to woo the one you love. 
When you think of Valentine's Day what's the first thing that comes to mind? Chocolate!! Oh, you thought it was love? Well, it is – love of chocolate….and peanut butter! And if you really love your Valentine, you will make them these Peanut Butter Chocolate Cupcakes with the most amazing, eat-it-by-the-spoonful Peanut Butter Frosting! Don't have a Valentine? No problem – make these for yourself because you are a rockstar and you deserve it!
I was going to wait until tomorrow to post these chocolate beauties, but I decided this deliciousness just couldn't wait. No one likes Mondays and I'm hoping this peanut butter-chocolate combo makes your day a little brighter. Well, sweeter anyway.
It took me several batches (as always) to get this recipe just right. The magical ingredient that makes these peanut butter chocolate cupcakes so soft and moist is aquafaba (a.k.a. chickpea brine)! I don't know why I bother trying different ways anymore. It has worked magic in my Cinnamon Squash Bread and also my Peanut Butter Banana Bread. If you haven't yet tried it – do it! I pinky swear promise it won't taste "beany."
And this frosting – my gosh, this frosting! I am not going to lie to you, it's not low-cal, nor low-sugar, but hey, it's a holiday. Do me a favor and eat a spoonful straight up. Preferably a big spoonful. Oh, and when making the frosting, I also give you an option to use up any remaining aquafaba from the can of chickpeas you had to open for the cupcakes. I actually liked this way the best!
FYI: I've got plenty of other options for sweet treats if you are looking for something with little to no sugar. Check out my No Bake Raspberry Cheesecake Tarts, Mexican Spiced Chocolate Covered Cashews, or Strawberry Shortcake Smoothie.
I gotta give a big shoutout to my fabulous neighbor, Jude, who helped me frost these dairy free cupcakes. A steady hand I have not and even simple swirls look like a hot mess when I attempt it. Jude is a baker extraordinaire so I knew just who to turn to when I realized you guys might like to see something pretty. I rewarded her with plenty of these sweet treats, which also won over the tastebuds off her adult daughter. Win-Win!
I mean….just look at that!
If I'm being completely honest, these are definitely NOT going to woo my Valentine. He doesn't like chocolate…or peanut butter (wth??), but I guess that just means more for me! (if the kids don't eat them all first!)
Alright, I gotta go eat another one of these. But, please come back here after you've tried them and let me know if they won over your Valentine!
Peanut Butter Chocolate Cupcakes with Peanut Butter Frosting
Peanut Butter Chocolate Cupcakes with Peanut Butter Frosting because THIS is the way to your Valentine's heart! Trust me, I promise! These cupcakes are moist and soft and this frosting is like a little piece of heaven on your tongue.
Course:
Cupcakes, Dessert
Cuisine:
dairy free, oil free, vegan
Ingredients
Peanut Butter Chocolate Cupcakes
Instructions
For the Cupcakes:
Preheat the oven 325 degrees F

Lightly spray a 12-cup muffin tin with cooking spray and set aside.

In a medium mixing bowl, whisk together the flour, coconut sugar, cocoa powder, baking powder, baking soda, salt and flaxmeal.

In a large mixing bowl, stir together the peanut butter, aquafaba, vanilla, apple cider vinegar and non-dairy milk until smooth.

Pour the dry into the wet while stirring until combined.

Pour the batter into the prepared muffin tin, filling each cup about 3/4 of the way. You should have the perfect amount of batter to fill all 12 cups (if you sample some ahead of time, you may run short). 🙂

Bake for 25-30 minutes or until a toothpick inserted in the middle comes out clean.

Let cool in the pan on a wire rack for 10 minutes, then take the cupcakes out of the pan and continue to cool them on the wire rack until completely cooled.
For the Frosting:
Stir together the peanut butter, powdered sugar and aquafaba (or non dairy milk) until smooth. If it's too think, add a little more peanut butter and sugar. If it's too thick, add a little more liquid.

Once the cupcakes have cooled, frost them however you wish.

Enjoy!
Recipe Notes
~For the frosting, I preferred using aquafaba over nondairy milk. I thought the frosting turned out smoother and lighter. But either one is delicious and works just fine. The aquafaba option is great if you have some leftover from the cupcakes.
Nutrition Facts
Peanut Butter Chocolate Cupcakes with Peanut Butter Frosting
Amount Per Serving
Calories 350
Calories from Fat 144
% Daily Value*
Total Fat 16g 25%
Cholesterol 0mg 0%
Sodium 266mg 11%
Potassium 28mg 1%
Total Carbohydrates 48g 16%
Protein 9g 18%
* Percent Daily Values are based on a 2000 calorie diet.
More Delicious Dairy Free Dessert Recipes to Love:
Tahini Chocolate Chip Cupcakes
Vanilla Corn Cake w/ Roasted Strawberries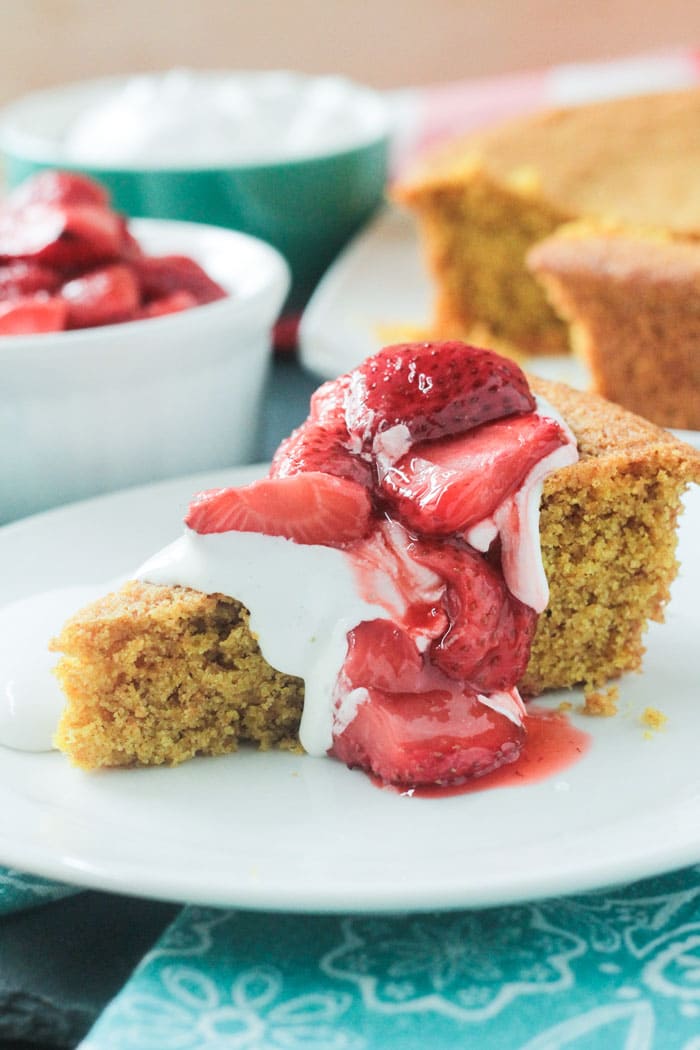 Strawberry Lemonade Ice Cream Cake