Veggie Cream Cheese Spread – Creamy and tangy with diced  fresh veggies throughout, this dairy free cream cheese is perfect on bagels or toast, as a spread in sandwiches or wraps, or as a dip for crackers or raw vegetables.
College Memories
When I was in college (Go Hawkeyes!) I ate a LOT of sundried tomato bagels with veggie cream cheese from the local bagel joint, Bruegger's Bagels. Breakfast, lunch, snack – I loved them! I still dream about that bagel/cream cheese combo. I have yet to find sundried tomato bagels around here and have never attempted to make them. And since giving up dairy, I haven't found a store bought cream cheese that I love. Luckily for me, and now you, I created this tangy, creamy, dairy free Veggie Cream Cheese of my dreams.
Inspiration from Recipes Past
A long while ago, I posted a recipe for Creamy Cranberry Salsa Dip that is made with dairy free cream cheese mixed with cranberry salsa. If you haven't tried it yet, you need to – it is so good! Always a hit at parties! The cream cheese part of that recipe is very basic since it's mixed with the flavorful salsa. I used that same dairy free cream cheese base as a jumping off point for this Veggie Cream Cheese Spread and then loaded it up with extra flavor and diced fresh veggies. It turned out perfectly!
Fresh Vegetables and Herbs
Garden fresh veggies and herbs make this vegan cream cheese so flavorful and delicious! I used bell peppers, carrots, and scallions – all of which were included in that amazing cream cheese I remember from my college days. I went one step further and added fresh parsley and dill – because – yum! A few extra ingredients and you've got tangy, creamy, dairy free veggie cream cheese! Super easy!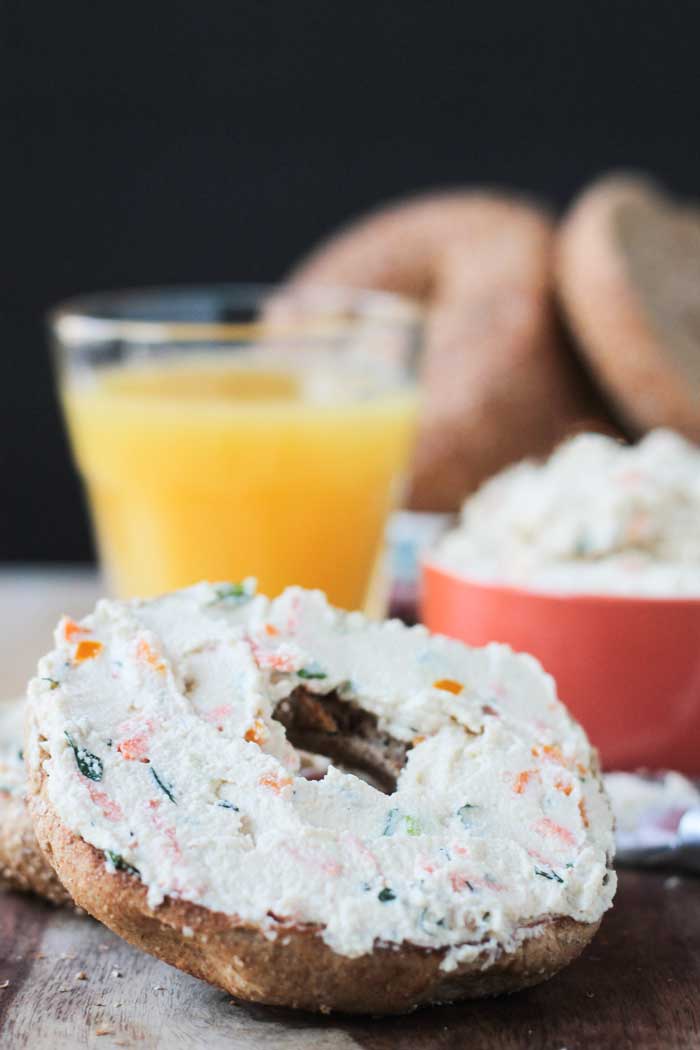 Perfect All Day Long
The Veggie Cream Cheese Spread is perfect for breakfast on bagels or toast, for lunch as a spread on a sandwich or in a wrap, or for snack as a dip for crackers or raw vegetables. I may have eaten it straight off of my finger more than once as well. I'm going crazy for this stuff – so good!
[Tweet "The #dairyfree #creamcheese of your dreams! With #veggies! #vegan #glutenfree #recipe"]
Veggie Cream Cheese Spread
I hope you guys love this Veggie Cream Cheese Spread as much as we do. Please leave me a comment below if you try it. You can find me on Twitter, Instagram and Facebook, too! Enjoy!

Jenn Sebestyen
Yields 2
Veggie Cream Cheese Spread (Dairy Free)
Creamy and tangy with bits of fresh veggies throughout, this dairy free cream cheese is perfect on bagels or toast, as a spread in sandwiches or wraps, or as a dip for crackers or raw vegetables.
12 hrPrep Time
12 hrTotal Time
Ingredients
1 1/2 cups raw cashews, soaked several hours or overnight, drained and rinsed
1 tbsp apple cider vinegar
2 tbsp fresh lemon juice
1 tsp salt
1/2 tsp onion powder
1/2 tsp paprika
1/4 tsp garlic powder
2-3 tbsp water
1/4 cup shredded carrots
1/4 cup diced bell pepper (I used orange, but red or yellow would be great, too)
2 tbsp diced green onion
2 tbsp chopped fresh parsley
1 tbsp chopped fresh dill
Instructions
Be sure your cashews have soaked for several hours, or ideally, overnight. The longer they soak, the creamier your cream cheese will be. After soaking, drain and rinse the cashews.
To the bowl of a food processor, add the soaked cashews, vinegar, lemon juice, salt, onion powder, paprika, and garlic powder. Start to process to break up the cashews. You'll need to stop the food processor and scrape down the sides frequently to keep the mixture moving. Add the water 1 tbsp at a time until it comes together into a smooth spread. Be patient as this could take 5-10 minutes.
Once it's smooth, transfer to a mixing bowl and add the carrots, red pepper, green onion, parsley, and dill. Stir to combine.
Taste and adjust seasoning, adding more salt or a tiny splash of vinegar or lemon juice, if necessary.
Transfer the mixture to an airtight container and store in the fridge. It will set up and thicken slightly as it sits in the fridge and gets cold. You could eat it right away, but it's better cold.
Notes
Don't let the prep time for this recipe scare you. It's all hands off, but the cashews must be soaked for SEVERAL hours, ideally overnight, to create a super smooth texture. In fact, your hands on time will only be about 10-15 minutes.
6.6.15
https://www.veggieinspired.com/veggie-cream-cheese-spread/
Jenn S. - Veggie Inspired
You Might Also Like: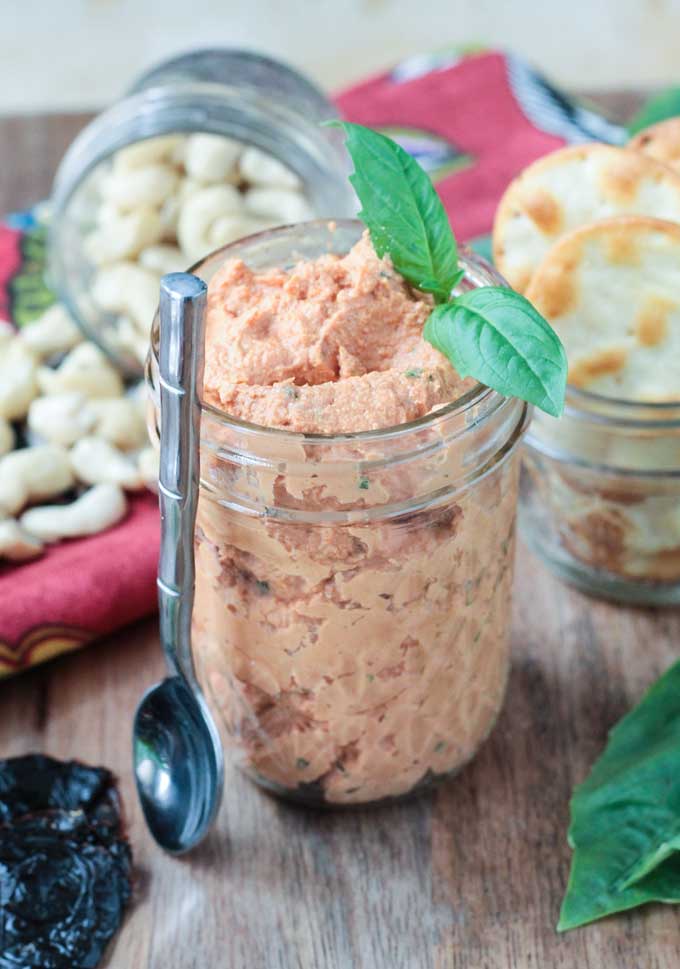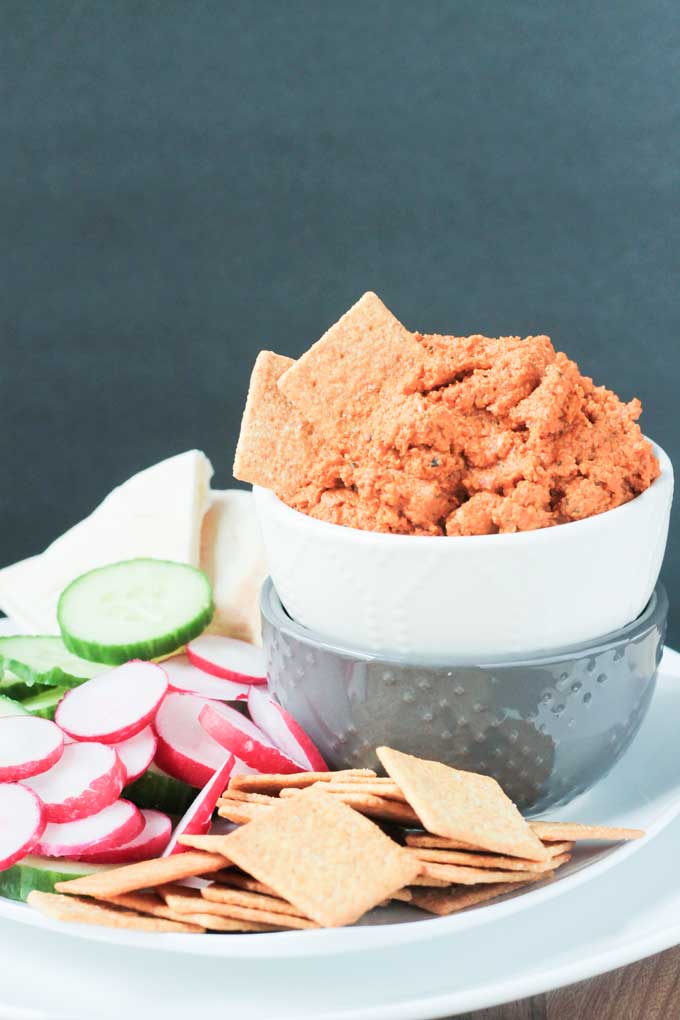 Check out even more Delicious and Healthy Sauces and Spreads.