As an Amazon Associate I earn from qualifying purchases. Please see my Privacy Policy for more details.
Homemade tamales are easier than you think! This dessert tamales recipe from Dora Stone's new e-book, Vegan Tamales Unwrapped: A Step-By-Step Guide to Savory and Sweet Tamales, will inspire you to make tamales at home all the time!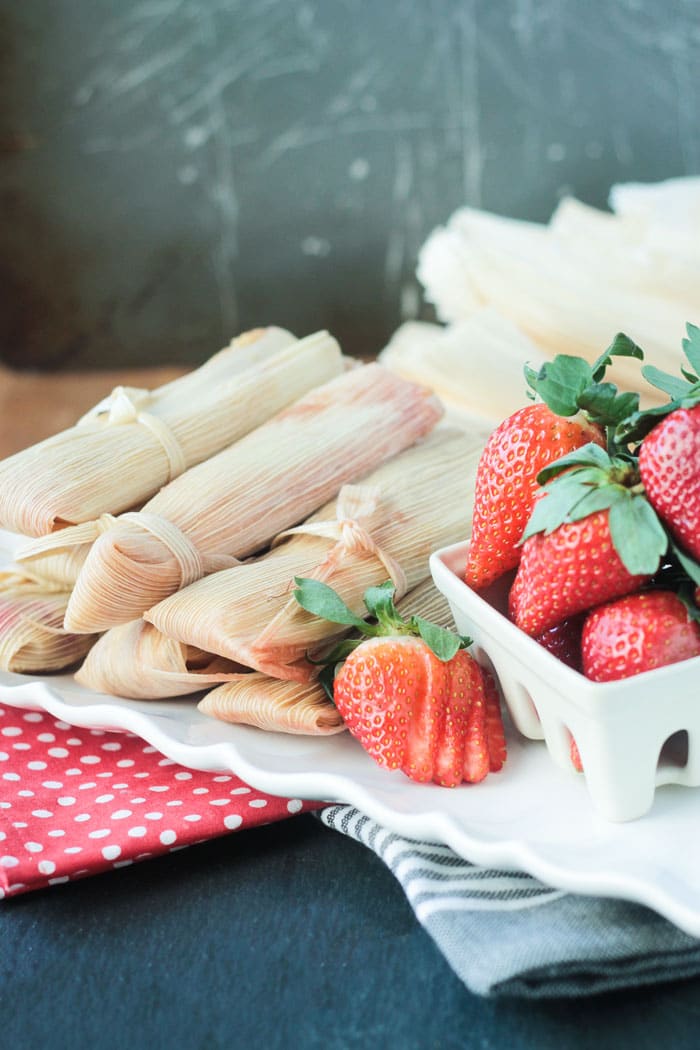 Prepare to be wowed! These sweet Strawberry Tamales are going to delight your tastebuds and surprise your guests. They are so much easier to make than I'm sure you imagine.
I have always loved tamales, but making them from scratch seemed intimidating. They do take some time, but the majority of that time is hands off. These would make the perfect end to any meal, but especially Valentine's Day, which just happens to be coming up soon. 🙂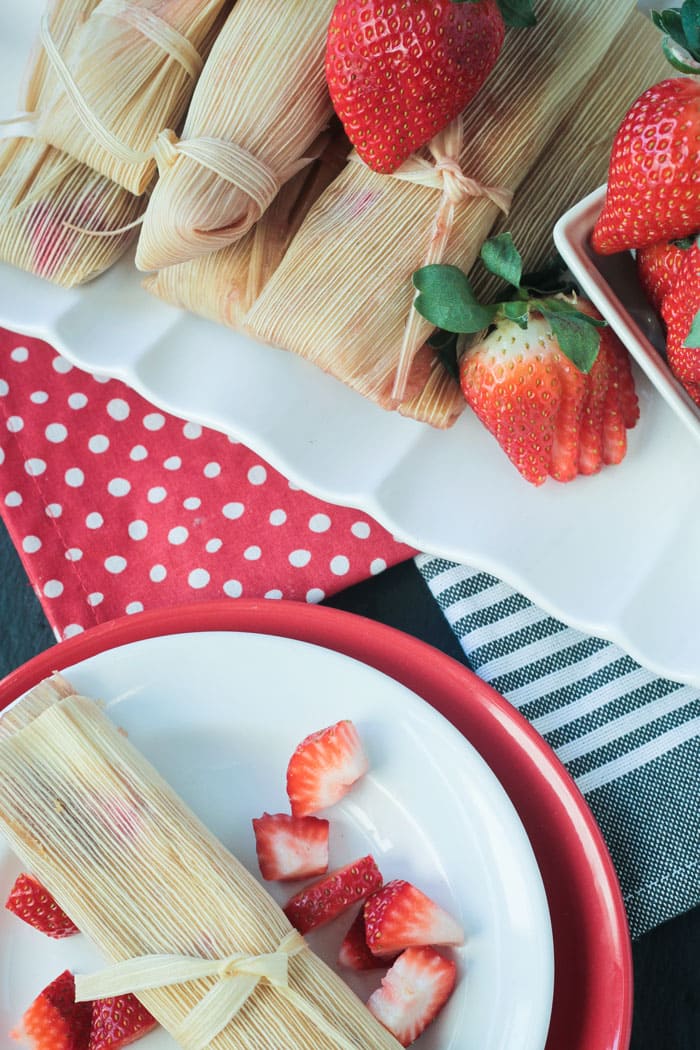 I bet you think making homemade tamales is difficult. I sure did before getting my hands on this ebook. These Vegan Strawberry Dessert Tamales only require 8 ingredients! The directions are clear and easy to understand…with lots of step-by-step pictures to help you out.
Dora not only includes instructions on how to make the dough and filling, but also how to wrap the tamales (with variations), how to set up your steamer, tips on making the dough ahead and reheating leftovers, and she even includes notes on how to make the tamales not only oil free, but fat free as well!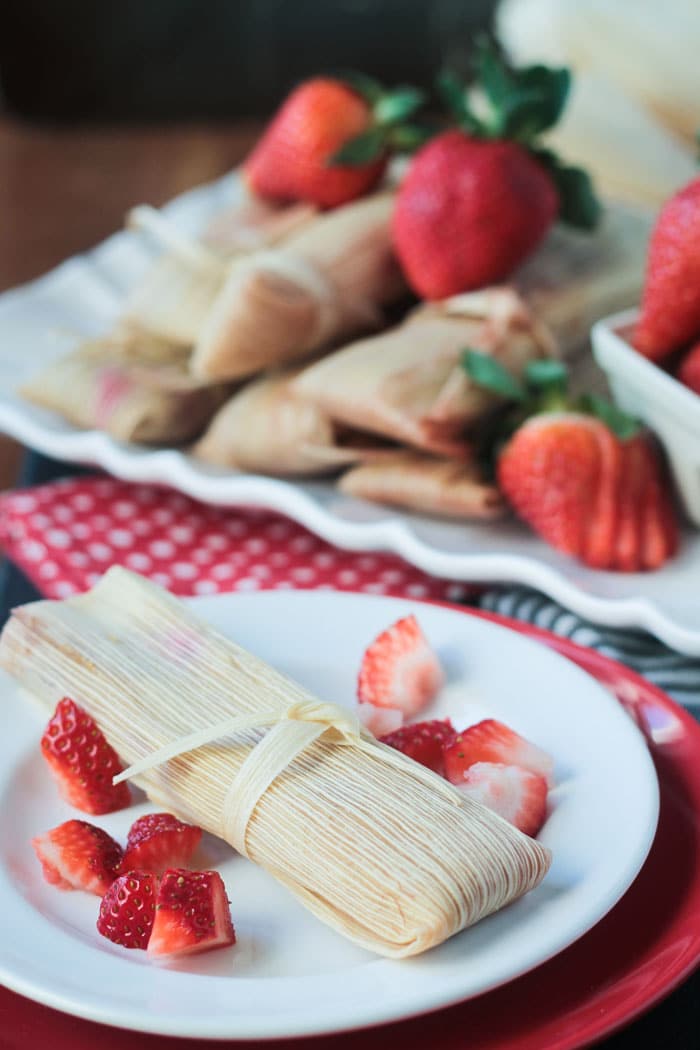 I had the pleasure of meeting Dora about a year and half ago at a Blogger Conference, where we bonded over our vegan lunches amongst a sea of omnivores. She's the voice, recipe creator and photographer behind Dora's Table, where she shares traditional Mexican recipes reinvented in a plant based way. Having grown up in Mexico and also graduating from the Culinary Institute of America, Dora knows what she's talking about when it comes to delicious Mexican food!
Judging by the popularity of Taco Tuesday, I think it's safe to say that most of us love our Mexican eats! Let Dora and her new ebook show you the way!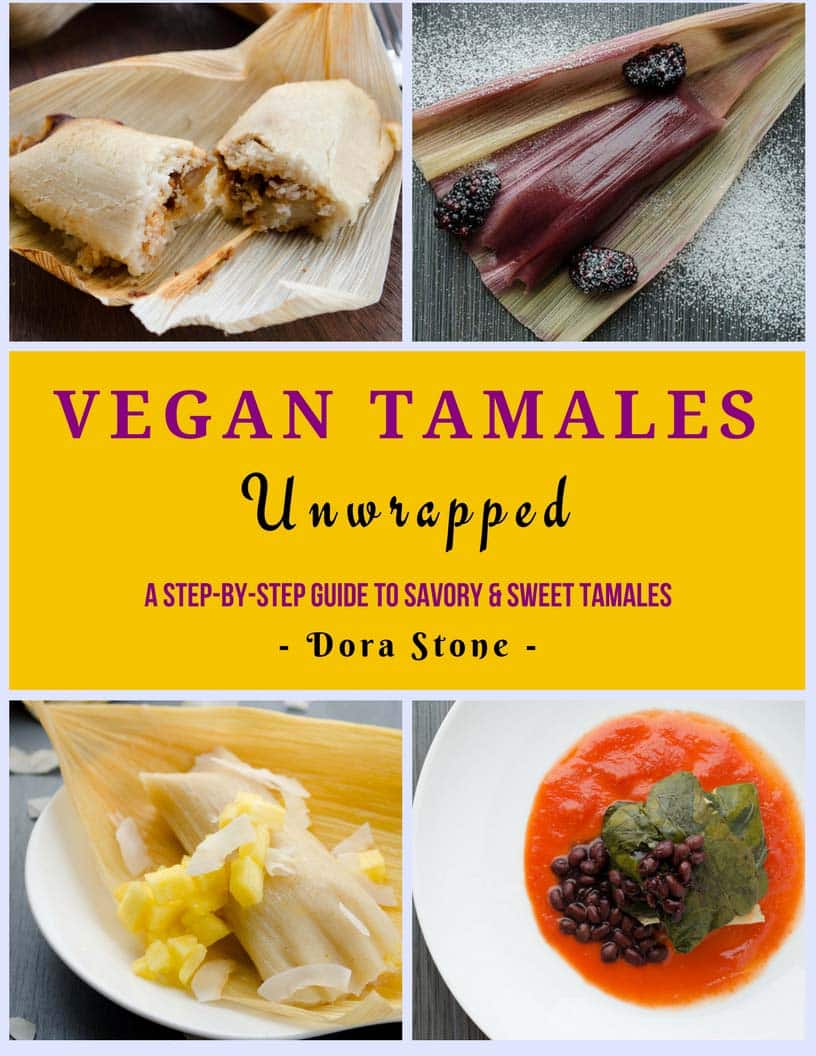 The title says it all. Vegan Tamales Unwrapped: A Step by Step Guide to Savory and Sweet Tamales.
Check out some of the other recipes in the book that you'll most certainly drool over:
Red Chile Jackfruit Tamales
Mushroom in Mole Tamales
Potato Adobo Tamales
Chocolate Tamales
Lime Tamales
Think you have a favorite?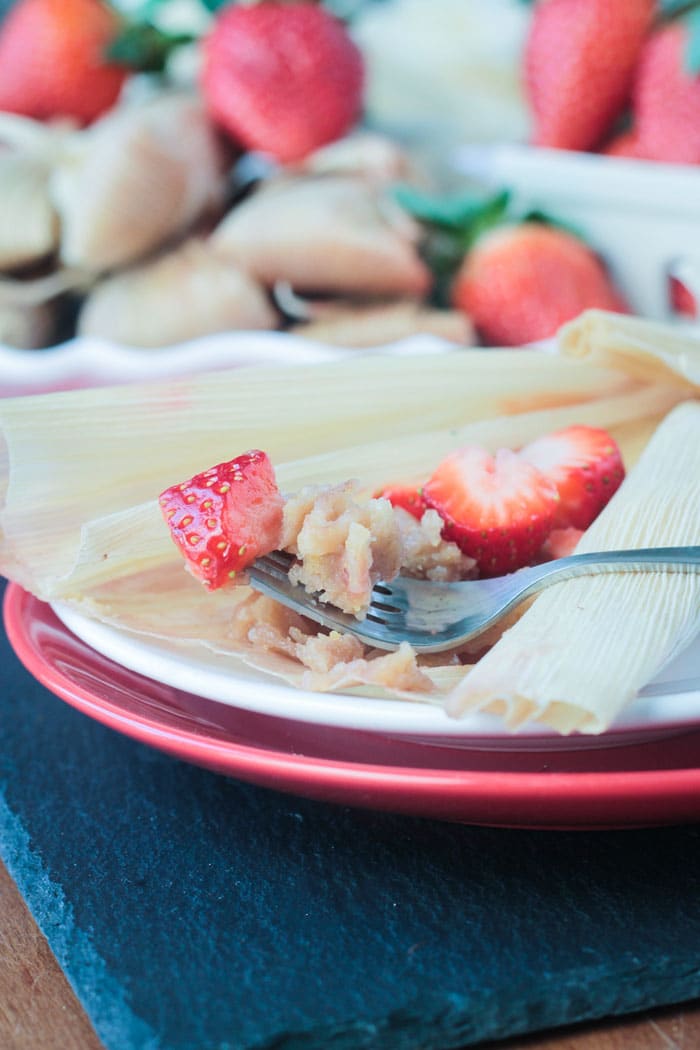 What intrigues you the most – the savory or the sweet? I had a hard time deciding which recipe to feature here because they are all delicious. I really thought I would lean toward the savory, but after trying these Vegan Strawberry Dessert Tamales, I knew this was the recipe I had to share with you!
The dough is so delicious, I was eating it raw while filling the corn husks! And then after steaming – oh my gosh! I could NOT stop eating them! One of my daughters asked me, "Mommy, are you going to eat all of those?" HaHa! I think she feared she might not get any more – the kids loved them too!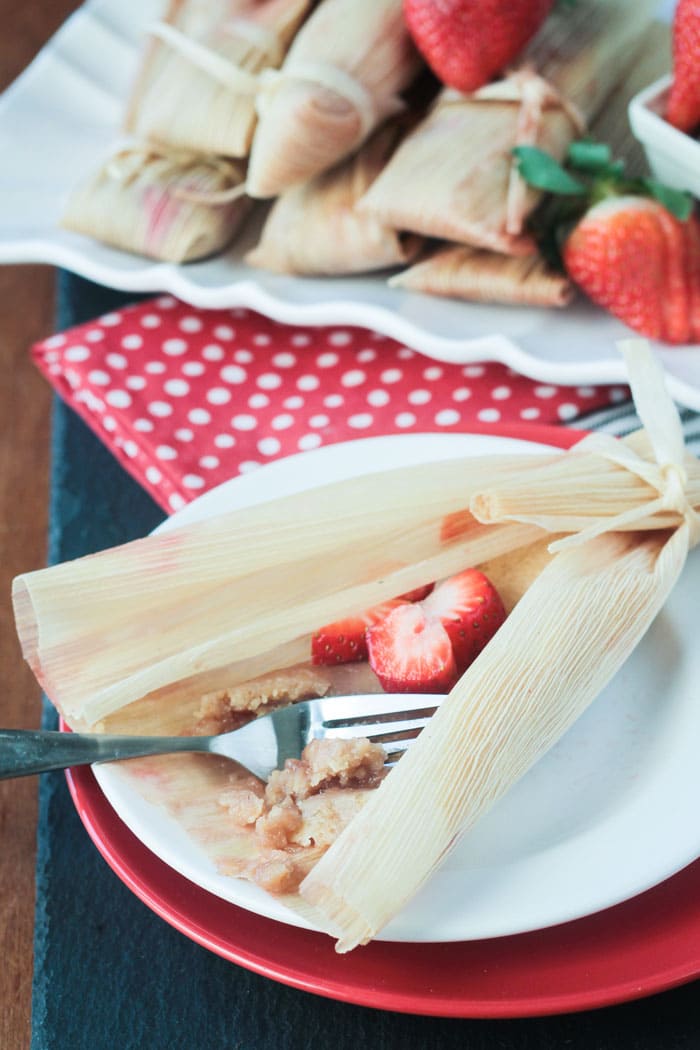 I hope you love this recipe as much as we do! If you tried it, please use the rating system in the recipe card and leave a comment below with your feedback.

Be sure to sign up for my FREE Newsletter to be the first to get my NEW recipes! You can also follow me on Instagram, Facebook, and Pinterest.

For even more easy family recipes, be sure to check out my cookbook, The Meatless Monday Family Cookbook!
Don't forget to grab your copy of Vegan Tamales Unwrapped.
Vegan Strawberry Dessert Tamales
Vegan Strawberry Dessert Tamales – easier than you think! They are sweet and delicious and will wow anyone you serve! You've gotta try these!
Print
Rate
Instructions
Soak the corn husks in hot water, in a large pot or in your kitchen sink. Place a plate over them to weigh them down so they are completely submerged. Let them soak for at least an hour.

Blend the

2 cups

of almond milk and

1 cup

of the strawberries until smooth.

To make the dough: beat the butter and sugar, on medium-high speed, with an electric mixer, until the butter has doubled in size and is nice and fluffy, about 3 minutes. Add the baking powder and salt, and beat for 1 minute to incorporate into the butter.

Add half of the masa harina then add the strawberry almond milk. After it is completely incorporated, add the other half of the masa harina and the water. Add the remaining cup of chopped strawberries, and beat at low speed, until thoroughly mixed. It should have the consistency of a thick cake batter. If necessary add more water until you reach that consistency.

For lighter and fluffier tamales, let the dough rest for an hour in the refrigerator. Remove the dough from the fridge and rebeat it, adding enough liquid to get it to the consistency it had before.

Remove the corn husks from the water and set on paper towels. Reserve the largest husks to wrap the tamales and the small ones to line the steamer.

To set up your steamer, fill the bottom with water making sure the water is not touching the steamer rack. Line the rack and sides of the steamer pot with corn husks. Set aside.

To wrap the tamales, pull

24

pencil thin strips off of the corn husks and set aside. Take a husk and dry off the excess water on it with a paper towel. Place the husk in your hand with the tapered side away from you and the smooth side up. Using a spoon, spread 2-3 tbsp. of the dough (¼ inch thick) onto the corn husk, forming a 3 – 4 inch square. Leave a border of at least ¾ inch on each side of the square.

Place 1 tbsp. of strawberry jam in the center of the dough. Bring the two long sides of the corn husk together, this will cause the masa to surround the jam, and roll them in the same direction around the tamal. (If the husk is too small, fold one of the long sides towards the center, and then fold the other long side on top.) Fold down the empty tapered section of the corn husk, forming a closed bottom. This will leave the top of the tamal open. Tie with a corn husk strip to secure the bottom of the tamal.

Place the tamal in the steamer vertically leaning against the side of the steamer, with the open end on top. Repeat this process until you run out of dough and all the tamales are in the steamer. Cover them with a layer of corn husks. If the steamer is not full, fill the empty spaces with more corn husks. Cover the pot and bring the water to a boil. Turn heat down to medium and cook for 40 minutes. Check the tamales, when they separate easily from the corn husk it means they are done. If they are not done, steam for 10 more minutes and check again.

Remove steamer from the heat and let sit covered for 10 minutes. Uncover and let cool for at least an hour. Don't be alarmed if the tamales seem really soft. As they cool, they will firm up.
Notes
Chef Notes: If you would like to make these with fresh masa, replace the masa harina with 2 lbs. of fresh masa and use only 1 cup of almond milk. To substitute the fat you can use 8 oz. of coconut oil. For tamales without fat, substitute with 8 oz of cooked, unsweetened pumpkin. Notes from the Veggie Inspired kitchen: I did not need any extra water as suggested in Step 4, but you might. I did not let the dough rest as suggested in Step 5. I would have eaten it all raw if I had to wait! The tamales still turned out light and fluffy and perfect! Not a chance I waited an hour before eating these like suggested in Step 11. Maybe 20 minutes, if that. Parts of them were a little soft, but they were still firm enough. I loved every bite. If you can wait the hour, they will definitely firm up more.
Nutrition
Calories:
269
kcal
|
Carbohydrates:
42
g
|
Protein:
2
g
|
Fat:
11
g
|
Saturated Fat:
3
g
|
Sodium:
108
mg
|
Potassium:
66
mg
|
Fiber:
2
g
|
Sugar:
22
g
|
Vitamin A:
100
IU
|
Vitamin C:
14
mg
|
Calcium:
120
mg
|
Iron:
1.4
mg
Nutrition values are calculated using online calculators and are estimates only. Please verify using your own data.