The Meatless Monday Family Cookbook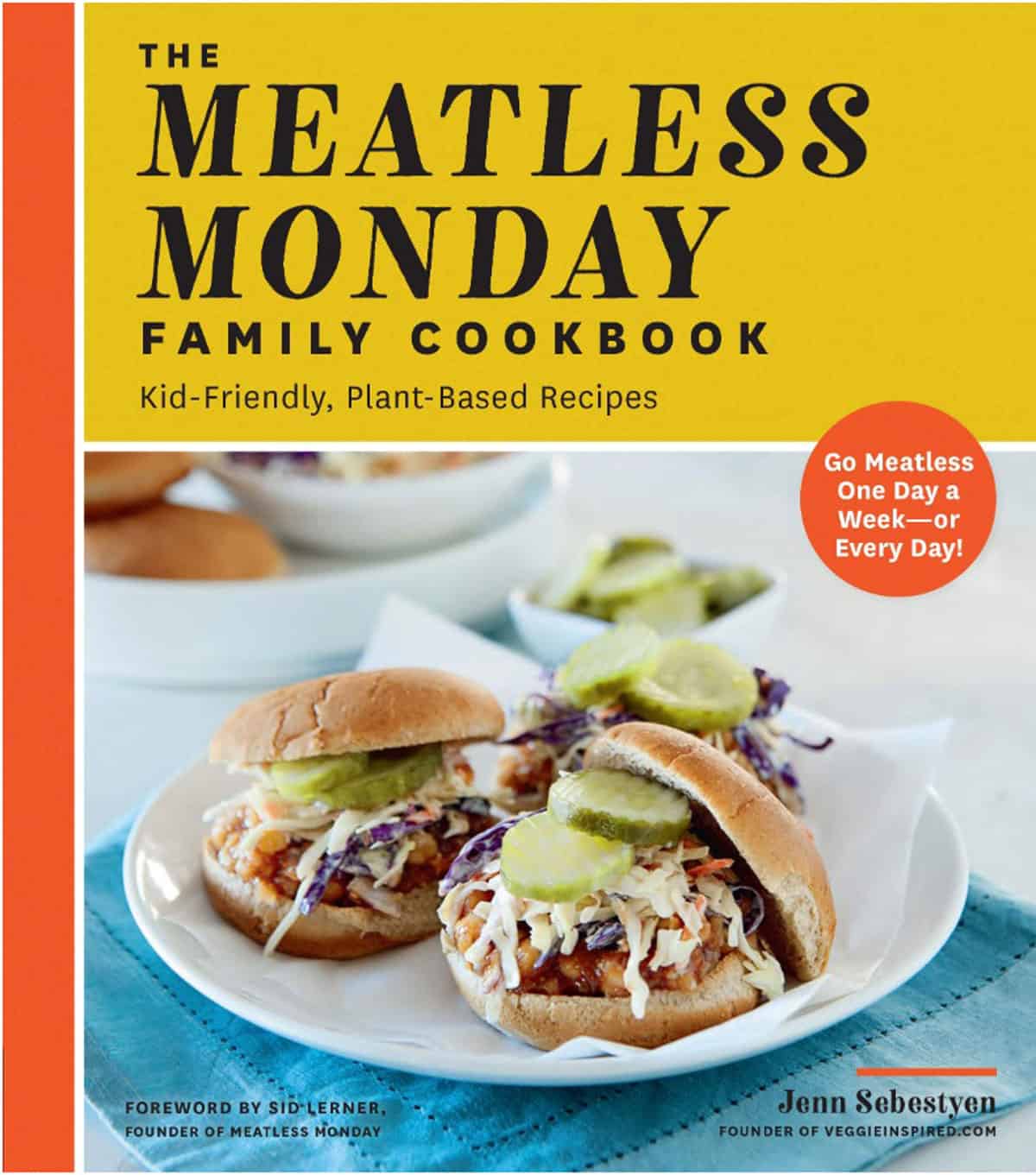 Kid Friendly, Plant Based Recipes
The Meatless Monday Family Cookbook features more than 100 delicious, plant-based, kid-approved recipes perfect for busy weeknights, or whenever you feel like trying out a meat-free meal. From filling Sloppy Joe Casserole with Cornbread Crust to one-pot Quick Peanut Noodles and tasty BBQ Ranch Romaine Pasta Salad, these meals will satisfy even the pickiest of palates.
Chapters cover all types of meals, from Bountiful Bowls, Comforting Casseroles, One-Pot Wonders, and Perfect Pasta to everyone's favorite—Breakfast for Dinner. You'll also find great tips for getting the kids involved … which has a funny way of making them enjoy the meal even more.
What Can you Eat on Meatless Monday?
A well-planned meatless diet can provide all the nutrients needed in a delicious and satisfying way!
Find something for everyone in the cookbook with recipes like:
Creamy Tomato Soup with Orzo
Sloppy Lentil Sandwiches
BBQ Chickpea and Veggie Bowls
Butternut Squash Mac and Cheese
Summer Vegetable Tomato Rice Skillet
Skillet Chickpea Chilaquiles
Pot Pie Noodle Casserole
Sweet Potato Thai Curry
Cheesy Broccoli Stuffed Baked Potatoes
Banana Walnut Baked Oatmeal
Kickstart your week in a healthy and fun way with The Meatless Monday Family Cookbook.
Order NOW!
In the U.S.:
In Canada:
Who is The Meatless Monday Family Cookbook for?
This book is for everyone!
It's for those who want to incorporate more vegetables into their diet.
It's for those who want to make sure their family gets their daily dose of fruits and veggies.
It's for those who want to dabble in eating meatless once a week or even just once a month.
It's for those that want to stop eating meat all together.
It's for those with dairy intolerance or allergies who need some yummy dairy-free options.
It's for those that are already rocking a plant-based diet and are looking for more delicious variety.
It's for everyone who loves good food!
Need gluten free recipes? I've got you covered there, too. Many recipes are already gluten free. For most others, I've added notes on how to make it gluten free.
Trying to steer clear of oil? I've got tips in the intro of the book on how to cook oil-free. Please note, however, that there are a few recipes, like my Maple Dijon Vinaigrette and Addictive Bite Size Tofu that won't turn out well if you leave out the oil.
Quick and Easy Recipes
It's also for those of all skill-levels in the kitchen.
Being a mom to 3 busy, active kids and a wife to a hard-working husband, I need recipes that are easy and fuss-free. Nothing should take more than an hour, with most recipes averaging around 30 to 40 minutes, many just 20 minutes.
You'll find tips along the way about how your kids can help you in the kitchen, too!
Reviews of The Meatless Monday Family Cookbook
*This is Real World vegan cooking. The basic vegan cooking that tired people will do after a long work day. Almost every ingredient is in my pantry or fridge. No odd ingredients that only can found in a specialty market 2 hours away. Quick, easy, and tasty. My kind of cookbook.

*This book is full of simple, approachable, and delicious vegan recipes for everyone. I love it because the recipes don't require any crazy ingredients or a lot of time. Perfect for the beginner vegan/vegetarian or people who want to incorporate Meatless Monday into their lives.

*Great book! I have already made a few recipes in the couple weeks I have had this book. I love that there are no "crazy vegan" ingredients and you likely already have most the ingredients in your kitchen. The little tidbits of how children can help are awesome to get the kiddos involved in preparing healthy meals. Highly recommend if you are looking to eat healthier and add more plant based meals to your life!

*This is my go-to cookbook. My family loves the recipes and they are fairly easy to make.

*My husband Ken and I love this book. Every recipe is thoughtfully planned out and is full of flavor. Last night we had 'Jimbo's Red Beans and Rice' and it was the perfect comfort food for a chilly evening. One of or faves is the 'Baked Garlic White Mac & Cheese' – my husband Ken said to share this is his new go-to cookbook – lucky me!
Blogger Reviews
Want a sneak peek into the cookbook? These amazing bloggers have shared recipes from the book, with my permission, on their own sites. Check out the recipes they shared along with their reviews of the book here:
Skillet Chickpea Chilaquiles on From A Chef's Kitchen and Fried Dandelions
Creamy Vegetable Noodle Soup on My Quiet Kitchen
BBQ Chickpea Veggie Bowls on The Stingy Vegan and Rhubarbarians
Meaty Mushroom Stew over Garlic Mashed Potatoes on Spabettie
Vegan Scampi with Garlic White Wine Sauce on VeryVeganVal and Veggie Fun Kitchen and The Vegan 8
Vegan Cauliflower Steaks w/ Herbed Lentils & Romesco Sauce on Cadry's Kitchen
Thai Sweet Potato Curry on Dianne's Vegan Kitchen, Vegan in the Freezer, Vegan Huggs, Veggies Don't Bite, and right here on Veggie Inspired.
Pot Pie Noodle Casserole on Vegan Yack Attack
Oatmeal Cookie Granola Parfaits on Allergylicious
Very Berry Quinoa Salad on My Pure Plants
Also, take a sneak peek at Sloppy Joe Casserole with Cornbread Crust here on Veggie Inspired!
Order NOW!
The Meatless Monday Family Cookbook is available online and everywhere books are sold NOW!
In the U.S.:
In Canada:
I hope you love this cookbook as much as we do! If you own a copy, please consider leaving a review on the Amazon product page.

Be sure to sign up for my FREE Newsletter to be the first to get my NEW recipes! You can also follow me on Instagram, Facebook, and Pinterest.

For even more easy family recipes, be sure to check out my other cookbook, The Meat-Free Kitchen.