As an Amazon Associate I earn from qualifying purchases. Please see my Privacy Policy for more details.
A delicious easy vegan cheese sauce from Go Dairy Free by Alisa Fleming. It's just one of over 250 recipes to help you live your best dairy-free life possible.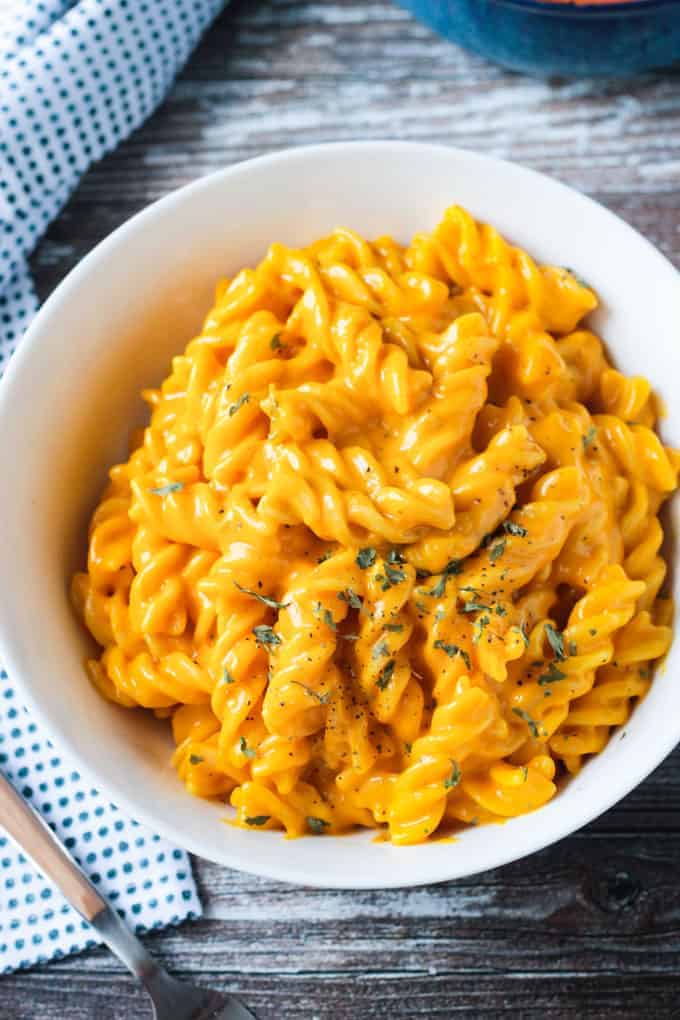 This ultra creamy, beautiful Easy Orange Cheesy Sauce is just one of over 250 recipes in the 2nd edition of Go Dairy Free by Alisa Fleming. If you have ever thought about cutting dairy from your life for whatever reason, this is the book for you!
Keep reading for a full review of the book and to get the recipe for this easy vegan cheese sauce that you'll want to drizzle over everything!
Alisa Fleming has lived with a dairy allergy her entire life and she's been leading the dairy-free movement online for over a decade.
She's the founder of the website Go Dairy Free, an online magazine she runs with her husband, featuring recipes, product reviews, and news all relating to a dairy-free lifestyle.
I had the pleasure of meeting Alisa in person last year. She is sweet and fun and full of knowledge about a dairy free life. Her recipes are always spot on and delicious!
Go Dairy Free Cookbook
Go Dairy Free: The Ultimate Guide and Cookbook for Milk Allergies, Lactose Intolerance, and Casein-Free Living will be like your bible for all things dairy-free.
It's not just recipes, but a handy resource for navigating food labels, grocery stores and restaurants as well. There is also plenty of info about allergy testing.
Every single recipe is either already vegan or has a vegan option. Many are gluten-free or easily adaptable.
Whether you are new to the dairy-free lifestyle, simply wanting to cut back on your dairy consumption, or a seasoned pro who's been living dairy-free for years, you will benefit from having this book in your collection. And I guarantee you'll be turning to it time and time again!
Take a Peek Inside
Go Dairy Free is broken down into 5 sections.
Section 1 ~ Understanding Dairy & Dairy Free From a Health Perspective
This section explains exactly what dairy is and breaks down all the different allergies and intolerances associated with dairy and how to recognize them. If you need to know how to go about testing for an allergy, she's got you covered there, too.
It is also in this section where you'll find out how to get enough calcium and maintain strong bones all without dairy.
Section 2 ~ Eating Away From Home
Here you'll find out to survive eating out, traveling and attending social events while living dairy-free.
Section 3 ~ Grocery Shopping & Preparing Your Kitchen
It's all about the grocery store. Decoding food labels, shopping list inspirations, grocery tips, and how to equip your kitchen to make this lifestyle easy.
Section 4 ~ All You Ever Wanted To Know About Dairy Substitutes
All your questions answered about milk alternatives, butter substitutes, and cheese, chocolate & creamer tips.
Section 5 ~ The Recipes
My fave section!
The Recipes
Here is a sampling of some of the recipes you'll find in Go Dairy Free.
Milking Plants ~ Simply Seed Mylk; Clean Rice Mylk; Unassuming Oat Mylk
Cream of the Crop ~ Happy Hemp Creamer; Coconut Creme Fraiche; Instant Whipped Butter
Cheesy Alternatives ~ Cottage-Style Cheese; Melty Mozza Cheese; Sliceable Sandwich Cheeze; and Easy Orange Cheesy Sauce, the vegan cheese sauce featured at the end of this post!
Blends to Brews ~ Just Peachy Power Smoothie; Instant Vanilla Chai Latte; Classic Hot Cocoa
Rice & Dine! ~ Instant Berry-Banana Yogurt; Baked French Toast Sticks; Breakfast Cookies
Bakeshop Bites ~ Cinn-Full Overnight Cinnamon Rolls; Raised Glazed Donuts; Strawberry Danish Scones
Fresh Bread ~ Iced Lemon Loaf; Whole Grain Sandwich Bread; Simply Slider Buns
Snack On This ~ Chewy No-Bake Granola Bars; Chocolate Peanut Butter Oat Cups; Easy Cheesy Crackers;
Lay It On Thick ~ Pizza Dip; Five-Star Ranch Dressing; Kickin' Chipotle Dressing
Soup For The Soul ~ Classic Condensed Cream of Mushroom Soup; Curried Cauliflower Bisque; Creamy Potato Miso Soup
Pizza Night ~ White Cheeseless Pizza; Ancient Grain Pizza Crust; Roasted Tomato Pizza Sauce
So Many Pasta-Bilities ~ Almost Too Easy Alfredo; Creamed Spinach Pasta; Lasagna Bechamel
More Marvelous Mains ~ Guacamole Enchiladas in Red Sauce; Deconstructed Falafel Bowls with Tahini Sauce; Hawaiian Teriyaki Bowls
Warm Sides ~ Mashed Potatoes & Miso-Mushroom Gravy; Blackstrap Barbecue Beans; Creamy Poblano Baked Risotto
The Cookie Jar ~ Coffeehouse Cookies; Raw Cookie Dough Bites; Lemon Streusel Squares
Take The Cake ~ Banana Crumb Coffee Cake; Simply Wonderful White Cake; Fudgy Chocolate Frosting
Pudding, Mousse & Pie, Oh My! ~ Double Chocolate Pudding; Key Lime Mousse Pie; Maple & Brown Sugar Apple Crisp
Ice Cream Social ~ Fresh Strawberry Ice Cream; Mint Stracciatella; Chocolate Magical Shell
Sweet Everythings ~ Anytime Truffles; White Chocolate; Peanut Butter Chips
This is just the tip of the iceberg of what you'll find in the pages of this book. It really is one of the most powerful resources available for anyone living, or considering, a dairy-free lifestyle.
How to serve
Besides turning this beautifully orange easy vegan cheese sauce into a creamy, delicious, dairy free mac and cheese (which is similar, but slightly different than my vegan butternut squash mac and cheese), we also tried it over steamed broccoli.
I also think it would be fantastic over baked or roasted potatoes or as a dip for tortilla chips!
Be sure to get your copy of Go Dairy Free asap so you can be on your way to all sort of dairy free deliciousness too!
I hope you love this recipe as much as we do! If you tried it, please use the rating system in the recipe card and leave a comment below with your feedback.

Be sure to sign up for my FREE Newsletter to be the first to get my NEW recipes! You can also follow me on Instagram, Facebook, and Pinterest.

For even more easy family recipes, be sure to check out my cookbook, The Meatless Monday Family Cookbook!
EASY ORANGE CHEESY SAUCE
Alisa says, "This is my go-to cheesy sauce base since it's so darn easy to make, and it's easily adaptable to taste. The carrots add a wonderful orange hue, a touch of body, and just the right amount of natural sweetness to brighten the flavors without overpowering. The smoked paprika adds a "barbecue" vibe as my husband puts it, and is completely optional."
Print
Pin
Rate
Ingredients
2

cups

water

¾

cup

chopped soft-cooked carrots

6

tablespoons

grapeseed oil

(rice bran or other neutral-tasting oil will also work)

¼ to ⅓

cup

nutritional yeast flakes

(to taste)

¼

cup

cornstarch

(or arrowroot starch or ⅓ cup all-purpose flour)

1

tablespoon

lemon juice

1 ½

teaspoons

salt

(plus additional as needed)

½

teaspoon

paprika

¼

teaspoon

onion powder

¼

teaspoon

garlic powder

¼

teaspoon

smoked paprika

(optional)

pinch

cayenne pepper

½ to ¾

cup

unsweetened plain dairy-free milk beverage
Instructions
Put the water, cooked carrots, oil, nutritional yeast, starch or flour, lemon juice, salt, paprika, onion powder, garlic powder, smoked paprika (if using), and cayenne in your blender. Blend until all of the carrot bits have vanished and the mixture is smooth, about 2 minutes.

For the smoothest results, pour the liquid through a fine-mesh sieve (to remove any little carrot bits) into a medium saucepan.

Place the saucepan over medium heat and whisk continuously until the sauce begins to thicken, about 3 to 5 minutes.

Slowly whisk in the milk beverage as needed to reach your desired consistency.

Add more salt, to taste, if needed. I often add another ⅛ teaspoon.

This sauce is best used immediately, but it can be cooled completely and stored in an airtight container in the refrigerator for up to 2 days. Gently reheat the sauce when ready to use, but do not bring it to a boil. Whisk in water, if needed, to reach your desired consistency.
Notes
STOVETOP MAC & CHEEZE RECIPE: Cook 16 ounces dry macaroni (gluten free, if needed) according to the package directions. Stir the cooked pasta into the sauce while still warm. For a more complete meal that serves 4 to 6 people, stir in steamed cauliflower or broccoli florets and a favorite cooked protein.
~ Nutrition facts calculated for sauce only, no noodles. 
Nutrition
Calories:
220
kcal
|
Carbohydrates:
19
g
|
Protein:
4
g
|
Fat:
15
g
|
Saturated Fat:
1
g
|
Polyunsaturated Fat:
10
g
|
Monounsaturated Fat:
2
g
|
Sodium:
76
mg
|
Potassium:
258
mg
|
Fiber:
3
g
|
Sugar:
1
g
|
Vitamin A:
550
IU
|
Vitamin C:
3.3
mg
|
Calcium:
20
mg
|
Iron:
1.3
mg
Nutrition values are calculated using online calculators and are estimates only. Please verify using your own data.