As an Amazon Associate I earn from qualifying purchases. Please see my Privacy Policy for more details.
Butternut Squash Mac and Cheese – The PERFECT vegan mac and cheese! You will not believe how good this is!!! No soy, fake cheese or nutritional yeast.
Update January 2017: This recipe was featured on CBS' The Doctors tv show. Watch me talk about the recipe with Dr. Travis and see the results of a LIVE kids taste test here!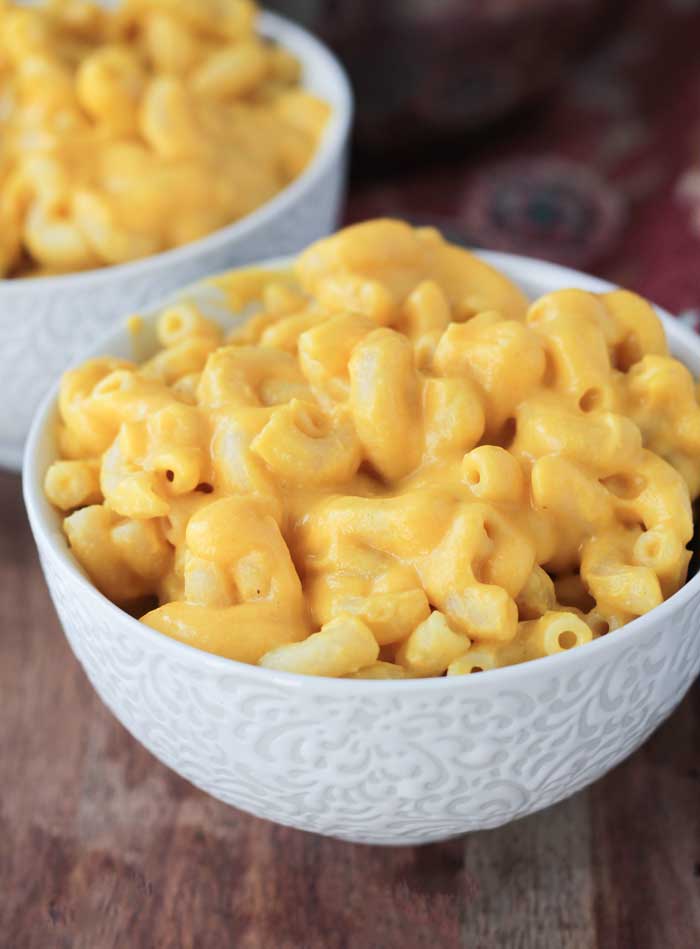 The only dairy free Mac and Cheese recipe you'll ever need!
It's made with 100% whole food ingredients – No soy. No processed cheese. No oil. No nutritional yeast.
Just good for you healthy food!
The kids love it. Husband, family, friends, and neighbors…they all love it.!
Pleasing vegans, omnivores, adults, and kids alike, this Butternut Squash Mac and Cheese is one creamy pasta dish you don't want to miss!
Kid Approved
My kids (who are not vegan) love Mac and Cheese…you know, the store bought blue box kind of mac and cheese. They don't even like the yellow box with shells stuff. It has to be the small elbow macaroni noodles with a thin golden yellow-orange color. I switched to an organic brand a long time ago, but let's face it, it's still processed and not healthy.
In the past, every time I tried to make a homemade vegan mac and cheese, the kids would groan. And to be quite honest, I didn't like most of them either.
I finally made a plant based version that I thought was absolutely delicious. The kids liked it a lot, too. Well, I've made several tweaks to that recipe to make it quicker and easier and I'm telling you it looks just like the Kraft stuff.
I actually told my kids when I first made it that it was mac and cheese. M said, "the one I like"? "Yup!" I said, holding my breath as he tried it. He asked for seconds…and thirds! The girls both had seconds as well.
And now it's in the weekly rotation!
What is Vegan Mac and Cheese Made From?
This Butternut Squash Mac and Cheese is super healthy and is made from only whole food plant based ingredients.
Butternut Squash is the main ingredient. It's high in Vitamin A, C, several B's, K and fiber. It has anti-inflammatory and antioxidant properties and may help regulate blood sugar.
Paired with sweet onion, protein packed cashews and some spices, it's a match made in vegan heaven!
Love Butternut Squash? Don't miss these delicious recipes:
This Dairy Free Cheese Sauce is So Versatile
I love this sauce so darn much, that I've created several other recipes with this sauce as an inspiration. So, if you're a fan of this creamy, dreamy, dairy free mac and cheese, you're also gonna love my
Butternut Squash Mac and Cheese
You guys must try this Butternut Squash Mac and Cheese. I promise you will love it!
Please come back after you try it and leave me a comment below with your feedback and star rating!
You can also find me on social media. Be sure to tag me @veggie_inspired and #veggieinspired so I don't miss your post!
Now run to the kitchen and make this now! Enjoy!
Yield: 6
Butternut Mac (Dairy Free, Soy Free, Vegan)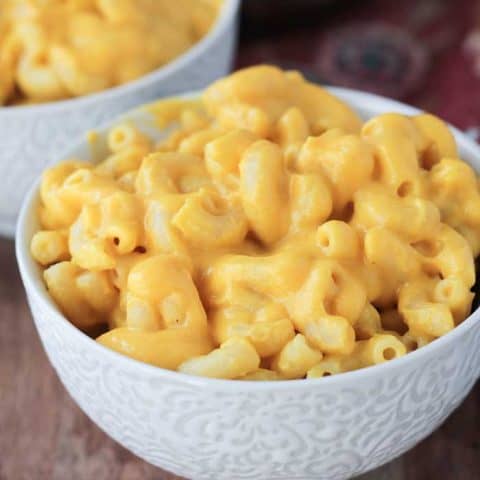 Butternut Squash Mac and Cheese - this is the BEST vegan mac and cheese you'll ever have! Made from all whole food plant based ingredients, it's healthy for you too! Kid approved!
Ingredients
1 ½ cups butternut squash, (peeled and chopped into cubes)
½ large sweet onion, (peeled and chopped)
12 oz package small macaroni noodles, (cooked according to package directions) (use gluten free noodles, if desired)
¼ cup reserved cooking liquid, (from the squash/onion or the noodles...either one will work)
¼ cup raw cashews, (soaked in hot water for 30 minutes)
1 tbsp lemon juice
1 tsp salt
½ tsp dijon mustard
¼ tsp garlic powder
⅛ tsp black pepper
⅛ tsp smoked paprika
⅛ tsp turmeric
⅛ tsp nutmeg
Instructions
Add butternut squash and onions to a pot and cover with water by at least an inch or two. Bring to a boil, turn down heat to medium and simmer until vegetables are tender (about 15 minutes or so).
Meanwhile, cook macaroni noodles according to package directions. Reserve

¼ cup

cooking liquid once noodles are done cooking and before draining. Place noodles back in pot and set aside.
When squash and onions are tender, drain (reserving

¼ cup

liquid - unless you are reserving the liquid from the noodles), and add them to a high speed blender with the cashews, lemon juice, salt, dijon, garlic powder, black pepper, smoked paprika, turmeric, nutmeg and reserved cooking liquid from either the noodles or the squash. Blend until completely smooth. Use a tamper if necessary to push ingredients to the bottom of the blender.
Add butternut squash sauce to the macaroni noodles and stir, making sure every noodle is covered in sauce. Warm through if needed.
Dig in!
Nutrition Information:
Yield:
4
Serving Size:
g
Amount Per Serving:
Calories:

383
Total Fat:

5g
Saturated Fat:

1g
Unsaturated Fat:

3g
Sodium:

392mg
Carbohydrates:

78g
Fiber:

5g
Sugar:

4g
Protein:

10g