As an Amazon Associate I earn from qualifying purchases. Please see my Privacy Policy for more details.
Pumpkin Layer Cake with chai spices, a thin layer of pumpkin cashew filling, and topped off with creamy dairy free cinnamon buttercream frosting.
Celebrate the Season
I have such a decadent dessert for you guys today! It celebrates the fall and holiday seasons – my fave!
I made for you not one, but two pumpkin cakes bursting with seasonal spices! Then I layered 'em up while adding a sweet creamy pumpkin cashew filling.
I topped the whole thing off with more indulgence in the form of dairy-free cinnamon buttercream, which I then sprinkled with more cinnamon sugar.
Oh my gosh – this Chai Spiced Pumpkin Layer Cake is a slice of heaven!!
Holiday Entertaining
Take a look at that pic above! Who wouldn't want to see that on the dessert table this holiday?
I can't stand cake that makes you search for a glass of water the second you take a bite. While it does pair beautifully with a cup of coffee or plant milk, you'll be just fine eating it without. This cake is so moist and soft!
And the creamy pumpkin filling and smooth buttercream all contribute to the perfect texture and taste. And I did it all with no eggs and no oil!
Your guests will be singing your praises! But I won't blame you or judge you if you want to make this just for yourself for no reason at all.
Dairy Free Cinnamon Buttercream
Let's talk about this buttercream for a moment, shall we? I'm not trying to fool anyone into thinking this is health food. It's frosting. For a cake. For a seasonal, holiday cake. For a decadent sweet treat.
We eat healthy for almost every meal and even most of our snacks and desserts. Therefore, it's not concerning to me that we indulge in processed or sugary foods every once in awhile. We definitely don't make it an every day occurrence.
I did attempt to make a less processed, lower sugar frosting and, while it was ok, it wasn't the light, airy sweetness that I was going for. So, here we are with this perfect dairy free buttercream with a hint of cinnamon. Let's all enjoy a special treat!
 Chai Spiced
Originally, I was going to do a pumpkin spice cake, but when I got to playing around with the spices, I decided to amp it up with chai spices. They are quite similar to pumpkin spice and it's a perfect match.
I used Simply Organic spices – cinnamon, cardamom, nutmeg, allspice, ginger, cloves – because they are so fragrant and full of flavor.
Simply Organic and Go Dairy Free
For millions of people, the fall season is a special time for enjoying food with loved ones. To help everyone share in the moments, Simply Organic and Go Dairy Free have teamed up with 10 talented food bloggers and authors for a Bake-off!
The bloggers will create sweet and savory recipes that are filled with flavor, but fit for dairy-free and other special diet needs.
To enjoy more recipes from Simply Organic, follow the hashtag #OrganicMoments. To follow this event, vote, enter to win prizes, and find more exclusively dairy-free recipes, visit http://www.godairyfree.org/news/simply-organic-bake-off.
If you haven't figured it out yet, I am one of the bloggers participating in this event. I received free product, but was not otherwise compensated. Voting will start on October 24th. If you like the looks of this dessert, I would be so appreciative of your vote. You will have the chance to win prizes for yourself when you vote as well. Simply click the link in the paragraph above to get to the voting page. Thank you!
*Update 11/02/16 – Thank you to everyone who voted! My Chai Spiced Pumpkin Layer Cake took home the Reader Choice Award!! Click HERE to view all of the entries and winners.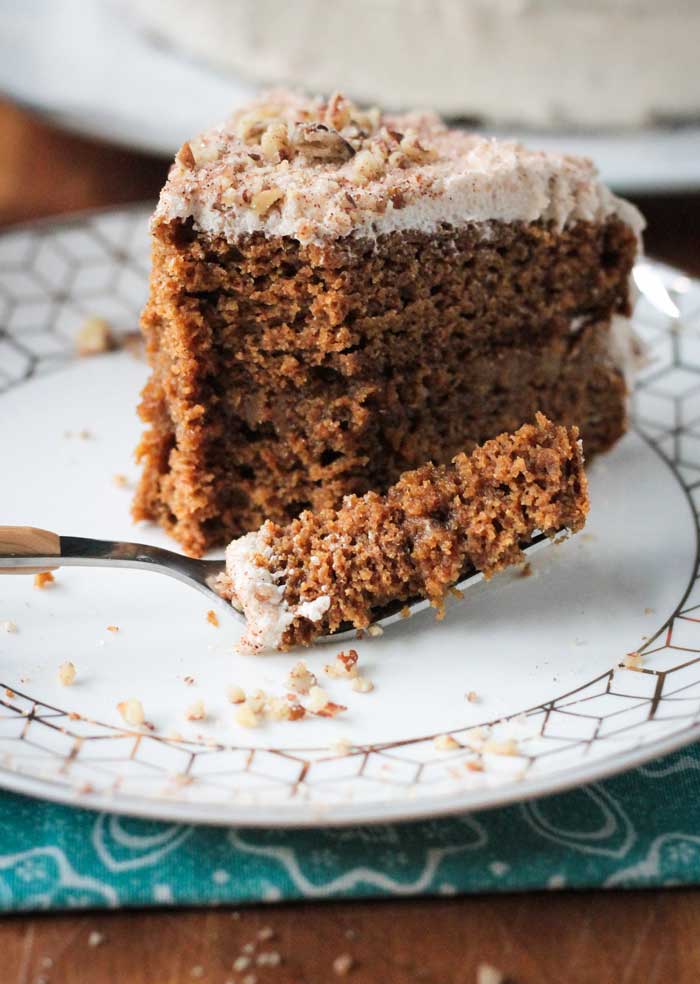 Chai Spiced Pumpkin Layer Cake
I hope you guys enjoy this dairy free Pumpkin Layer Cake as much as we did.
If you try it, please leave me a comment below with your feedback and star rating.
You can also find me on social media. Be sure to tag @veggie_inspired and #veggieinspired so I'm sure to see it.
Happy fall, y'all!
Chai Spiced Pumpkin Layer Cake
Super indulgent and decadent Chai Spiced Pumpkin Layer Cake with Cinnamon Buttercream Frosting. Moist, flavorful, seasonal, delicious!
Print
Rate
Ingredients
For the Pumpkin Chai Cake (makes 2 9-inch round cakes)
For the Pumpkin Cashew Filling
For the Cinnamon Buttercream Frosting
Cinnamon Sugar Sprinkle
equal parts ground cinnamon and organic cane sugar

(a pinch of each is all you'll need)
Instructions
Preheat the oven to 350 degrees F. Cut out two 9-inch circles of parchment paper and place them in the bottoms of your cake pans. Set aside.
For the Pumpkin Cake:
Whisk together the flour,

1 cup

sugar, baking powder, baking soda,

1 tbsp

cinnamon, cardamom, nutmeg, allspice, ginger, cloves, and

½ tsp

salt in a medium mixing bowl.

In a large mixing bowl, whisk together the

2 cups

pumpkin purée, coconut milk, aquafaba, softened coconut butter (*see note), apple cider vinegar, and vanilla.

Mix the dry ingredients into the wet until combined, but do not over mix.

Pour half into one cake pan and repeat with the other half in the remaining cake pan.

Bake for 28-32 minutes until a toothpick inserted in the center comes out clean.

Let the cakes cool in the pans on a wire rack for 10 minutes. Turn the cakes out onto the wire rack to continue cooling completely.
For the Pumpkin Cashew Filling:
Whisk together the cashew butter,

¼ cup

pumpkin purée,

¼ cup

coconut sugar, and

½ tsp

cinnamon until smooth. Add

1 tbsp

or two of non-dairy milk, if needed, to thin. You don't want it runny, just spreadable. If you need to add milk or not will depend on how stiff your cashew butter is.
For the Dairy Free Cinnamon Buttercream
In the bowl of a stand mixer fitted with the paddle attachment, add the dairy free butter and powdered sugar. Beat until creamy and smooth. Add the vanilla, lemon juice,

½ tsp

cinnamon, and

⅛ tsp

salt. Taste and add an additional

½ tsp

cinnamon if you want it more pronounced.
To assemble:
Once the cakes are completely cool, spread the Pumpkin Cashew Filling all over the top of one of the cakes (bottom side up) and place the other cake on top of the filling, again bottom side up. Spread the Dairy Free Cinnamon Buttercream all over the top and sides of the cake. Sprinkle with cinnamon sugar and chopped pecans, if desired. Slice and devour!!
Notes
*It helps to start with room temperature ingredients, not straight from the refrigerator, so the coconut butter doesn't seize up. However, if it does, don't worry, just whisk it in the best you can. It will melt throughout the cake once in the oven.
This cake could serve anywhere from 10-18 people depending on how generous you want to be with the slices. There is a great post on The Cake Flake about how to cut a round cake several different ways. Nutrition facts were calculated assuming 14 servings.
Nutrition
Calories:
425
kcal
|
Carbohydrates:
59
g
|
Protein:
4
g
|
Fat:
21
g
|
Saturated Fat:
8
g
|
Polyunsaturated Fat:
8
g
|
Monounsaturated Fat:
4
g
|
Sodium:
378
mg
|
Potassium:
78
mg
|
Fiber:
4
g
|
Sugar:
40
g
|
Vitamin A:
4800
IU
|
Vitamin C:
8.3
mg
|
Calcium:
10
mg
|
Iron:
1.4
mg