As an Amazon Associate I earn from qualifying purchases. Please see my Privacy Policy for more details.
Chocolate Peanut Butter Cupcakes with Peanut Butter Frosting – Chocolate + peanut butter = Irresistible! I know of no better way to woo the one you love. Dairy free and Vegan!
Just wanted to let you know that this post is sponsored by my friends at Farm Table Chef. I only recommend products that I use and love myself. All opinions are my own. 
When you think of Valentine's Day what's the first thing that comes to mind? Chocolate!! Oh, you thought it was love? Well, it is – love of chocolate….and peanut butter!
And if you really love your Valentine, you will make them these Peanut Butter Chocolate Cupcakes with the most amazing, eat-it-by-the-spoonful, light and fluffy Peanut Butter Frosting!
Don't have a Valentine? No problem – make these for yourself because you are a rockstar and you deserve it!
Keep reading to hear about my new favorite baking pan (it is an absolute dream to clean!) and to enter for a chance to win your own bakeware set.
Vegan Cupcakes
When the lovely people at Farm Table Chef contacted me to try out their bakeware, I knew exactly what I would be making. Chocolate Peanut Butter Cupcakes!
Who doesn't love cupcakes?! Such a yummy treat. And each one is individually packaged for ease of eating and portion control.
These delicious, rich, chocolatey, peanut butter cupcakes are dairy free and vegan. Yet, they bake up fluffy with a perfect cupcake crumb.
Cupcake Baking Pans
The one thing I don't like about cupcakes…cleaning the pan. Metal pans are so hard to clean. I swear no matter how much I scrub, there is always residue left behind. I always find myself scraping it out with my fingernails. Not ideal. Plus they scratch easily and get old and rusted looking pretty fast. If your metal pans are flaking, they could be leeching harsh chemicals into your food – not good!
Cupcake liners don't much help either because the baked goods stick to the liners and then crumble when tearing them off. This seems to be more of a problem with vegan, and especially oil free, baked goods…which is what I, and I'm guessing most of you, make.
I've tried silicone bakeware in the past and I wasn't a fan. It was so flimsy, it collapsed on itself making it hard to bake with, hard to clean, and hard to stand up in the dishwasher. And still I was digging crumbs out of the crevices with my fingernails even after cleaning them. Most silicone baking pans work better with a light spritz of oil – just like metal – which kind of defeats the purpose.
My New Favorite Baking Pan
I was hesitant, but hopeful about this new silicone bakeware set from Farm Table Chef. It didn't take me long to fall in love with these baking molds and I'm certain you will love them too! They are made from high quality pure silicone that make them superior to the standard silicone baking pans on the market today.
Why You Will LOVE Farm Table Chef Silicone Baking Pans:
Sturdy and Durable – these pans are sturdy! Yes, they bend, but they don't collapse and fold over completely like almost every other silicone pan on the market. And that's because they are a higher weight of silicone than traditional pans and they are pure silicone – no fillers! You could easily bake with them right on your oven rack without needing a baking pan for stability.
Nonstick – truly non-stick. My cupcakes popped right out easily. I even tried an oil-free recipe in these pans and they slid right out.
Cools down quickly – The pan cooled down so quickly, I was touching it with my bare hands just minutes after it came out of the oven. Especially great for when you have impatient little fingers around that can't keep their hands off the treats – like these Chocolate Peanut Butter Cupcakes!
Clean up is a breeze – this might be my favorite part. They practically rinse clean without any effort. I have never before had a baking pan so easy to clean. And they air dry quickly with no spotting.
Pretty color – bonus – these pans are a beautiful blue color
Complete silicone bakeware set – another bonus – you get a complete set of bakeware. One 12-cup muffin pan, one 24-cup mini muffin pan, measuring cups/spoons, and two mini spatulas. They sell for a very reasonable price, but keep reading because I've got a discount code for you that will make them even more enticing! Plus a chance to win your very own bakeware set!
Tips For Baking with Silicone Pans
I had a couple mishaps while testing out these pans, so I have some tips for you to ensure your cupcakes or muffins come out perfectly.
Preheat your oven – obviously you need to preheat the oven with any recipe. But don't sneak your batter in a few minutes after turning on the oven. You need to really let it heat up and come to a steady temperature. You should be doing this anyway, but it will make a bigger difference with these silicone pans if you don't.
Use a metal baking sheet underneath – Yes, I know I said these pans don't need it for stability…and they don't. But the metal pan will help the cupcakes bake evenly. Silicone doesn't distribute heat like metal and I found without the pan underneath the bottoms of my cupcakes weren't baking thoroughly, yet the tops and centers were done. This was resulting in the bottoms of the cupcakes getting stuck in the pan because they weren't done baking! Once I added the metal baking sheet, they came out perfect every time.
Let your baked goods cool – I didn't really follow this rule so much. I let them cool in the pan for about 10 minutes and then removed them. The cupcakes weren't completely cool and it worked fine. BUT, to ensure your treats don't stick, you really should let them cool completely.
Push up from the bottom – Give a little push underneath each cupcake cavity to pop them out of the pan. Once they rise slightly, you can grab from the top and remove them the rest of the way. After I started using the metal baking sheet underneath, I had 100% success rate of the cupcakes coming out cleanly and easily with this method.
If  you've ever been curious about baking in silicone pans or if you've tried standard silicone pans in the past with subpar results – you've gotta try Farm Table Chef's Silicone Baking Set. It really changed my mind about baking in silicone pans. Give 'em a try and let me know how your baking turns out!
Pretty in shimmering pink or dotted with cocao nibs. Which would you prefer? I say go with option C – one of each!
Fluffy Vegan Peanut Butter Frosting
Let's talk about this frosting for a moment. My gosh – this frosting! This light and fluffy, dairy free, peanut butter frosting!
I am not going to lie to you, it's not low-cal, nor low-sugar, but hey, it's a holiday. Do me a favor and eat a spoonful straight up. Preferably a big spoonful. You won't be able to resist – promise.
 Chocolate Not Your Thing?
Don't love chocolate? No worries. I've got plenty of other options for sweet treats and Valentine's Day Desserts. Check out my Cranberry Oatmeal Crumb Bars, No Bake Raspberry Cheesecake Tarts, Rice Crispy Treats w/ Strawberries, or Cinnamon Truffles.
If I'm being completely honest, these are definitely NOT going to woo my Valentine. He doesn't like chocolate…or peanut butter (What the. What?). It actually works out just fine as that means more for me. That is, if the kids don't eat them all first!
Chocolate Peanut Butter Cupcakes
I hope you love these chocolate peanut butter cupcakes as much as we do! Please come back here after you've tried them and leave me a comment below with your feedback and star rating. Don't forget to let me know if they won over your Valentine!
And make sure you grab yourself a set of these amazing silicone baking pans! Order here and be sure to use my special discount code for $2 off: V2MD416J. Discount will be available until Valentine's Day 2018. The winner of the giveaway will be notified on Valentine's Day as well. See below for details.
Alright, I gotta go eat another one of these peanut butter cupcakes. Enjoy!
Chocolate Peanut Butter Cupcakes with Peanut Butter Frosting
Chocolate Peanut Butter Cupcakes with Peanut Butter Frosting because THIS is the way to your Valentine's heart! Trust me, I promise! These cupcakes are light and fluffy and this frosting is like a little piece of heaven on your tongue.
Print
Rate
Ingredients
Peanut Butter Chocolate Cupcakes
1

cups

white whole wheat flour

(all-purpose or spelt flour would also work)

¼

cup

+ 2 tbsp unsweetened cocoa powder

¾

tsp

baking soda

½

tsp

baking powder

½

tsp

salt

¼

cup

organic natural peanut butter

(I like Smuckers - only peanuts and salt)

¼

cup

coconut oil

(melted)

¾

cup

coconut sugar

(organic cane sugar will also work)

1

cup

non-dairy milk

(I used almond milk)

2

tsp

apple cider vinegar

1

tsp

pure vanilla extract

1

tsp

instant espresso powder

(optional, but gives the chocolate a deeper flavor)
Peanut Butter Frosting
1

cup

peanut butter

(I prefer traditional peanut butter** here instead of the natural kind)

¾

cup

vegan butter

(I used Earth Balance)

2

cups

organic powdered sugar

2-4

tbsp

non-dairy milk

(I used Almond milk)
Instructions
For the Cupcakes:
Preheat the oven 350 degrees F.

In a medium mixing bowl, sift the flour, cocoa powder, baking soda, baking powder and salt. Whisk until combined.

In a large mixing bowl, whisk together the peanut butter, melted coconut oil, sugar, non-dairy milk, apple cider vinegar, vanilla, and espresso powder, if using, until smooth.

Pour the dry into the wet while stirring until just combined.

To bake using the Farm Table Chef Silicone Baking Pan (for baking directions in a metal pan, see notes): Place the 12-cavity silicone muffin pan onto a metal baking sheet. Pour the batter into the muffin pan, filling each cavity ¾ of the way.

Bake for 18-22 minutes until a toothpick inserted in the middle comes out clean.

Let cool completely in the pan on a wire rack, then take the cupcakes out of the pan by pressing up under each cavity and popping them out. Once they have popped slightly out of the cavity, you can pull them gently out from the top.
For the Frosting:
In the bowl of an electric mixer (or in a large bowl with a hand mixer), cream together the peanut butter, vegan butter, and powdered sugar. Add in the non-dairy milk 1 tbsp at a time until the desired consistency is reached. If it's too thin, add a little more powdered sugar. If it's too thick, add a little more milk.

Once the cupcakes have completely cooled, frost them however you wish.

Enjoy!
Notes
*If baking in a metal baking pan - lightly spritz the pan with oil before filling with batter. Once baked, let the cupcakes cool in the metal pan on a wire rack for 10 minutes. Run a sharp knife around the edges of each one to make sure they are loose from the sides and lift them out. Continue to cool out of the pan on the wire rack. 
**If you choose to use natural peanut butter in the frosting - it will taste delicious, but will be heavier and have a more oily texture. Not as light and fluffy - so piping those perfect frosting peaks will be more difficult. 
~Since the amount of frosting per cupcake can vary based on personal preference or decorating choices, nutrition facts are calculated for cupcakes alone - not frosting.
Nutrition
Calories:
165
kcal
|
Carbohydrates:
21
g
|
Protein:
3
g
|
Fat:
7
g
|
Saturated Fat:
4
g
|
Polyunsaturated Fat:
1
g
|
Sodium:
130
mg
|
Potassium:
1
mg
|
Fiber:
1
g
|
Sugar:
13
g
|
Vitamin A:
50
IU
|
Calcium:
20
mg
|
Iron:
0.7
mg
Recipe and content updated January 2018. Original published February 2016.
Enter to Win here! The winner will be announced on Valentine's Day (2-15-18). If you use the discount code above to purchase your bakeware set and you are randomly selected as the winner of the giveaway, Farm Table Chef will refund your money!! <- I told you they were great!
a Rafflecopter giveaway

More Delicious Dairy Free Dessert Recipes to Love:
Tahini Chocolate Chip Cupcakes
Vanilla Corn Cake w/ Roasted Strawberries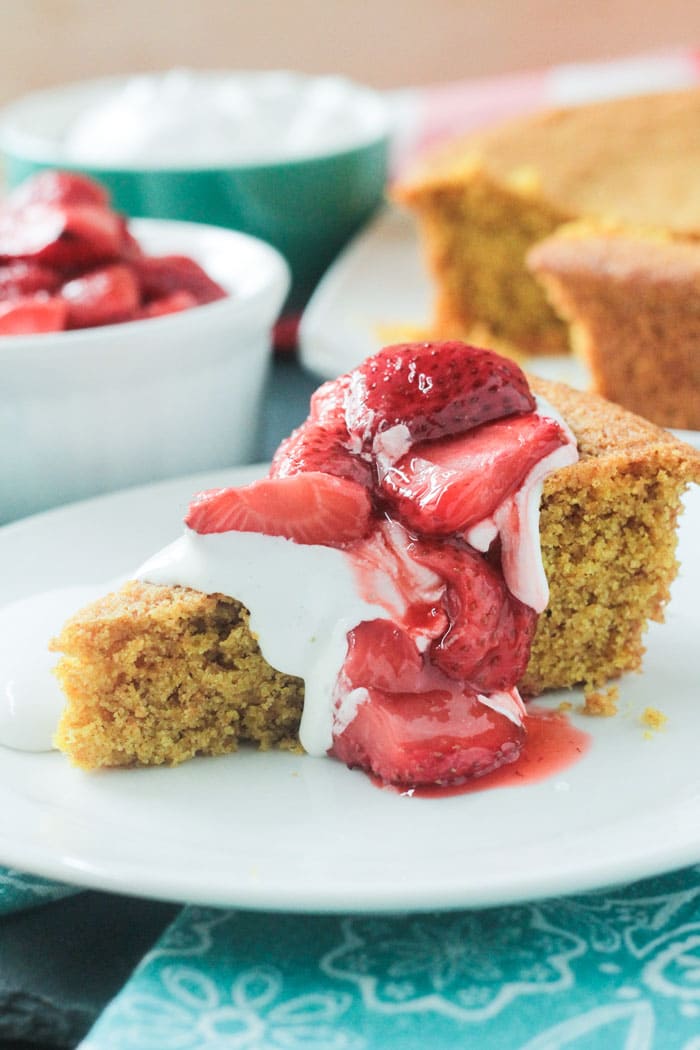 Strawberry Lemonade Ice Cream Cake