Coconut Clementine Mini Loaf Cakes – fresh, soft and moist, these mini loaf cakes are packed with citrus and coconut cream and are so simple to make. For ultimate flavor, FRESH juice is a must here!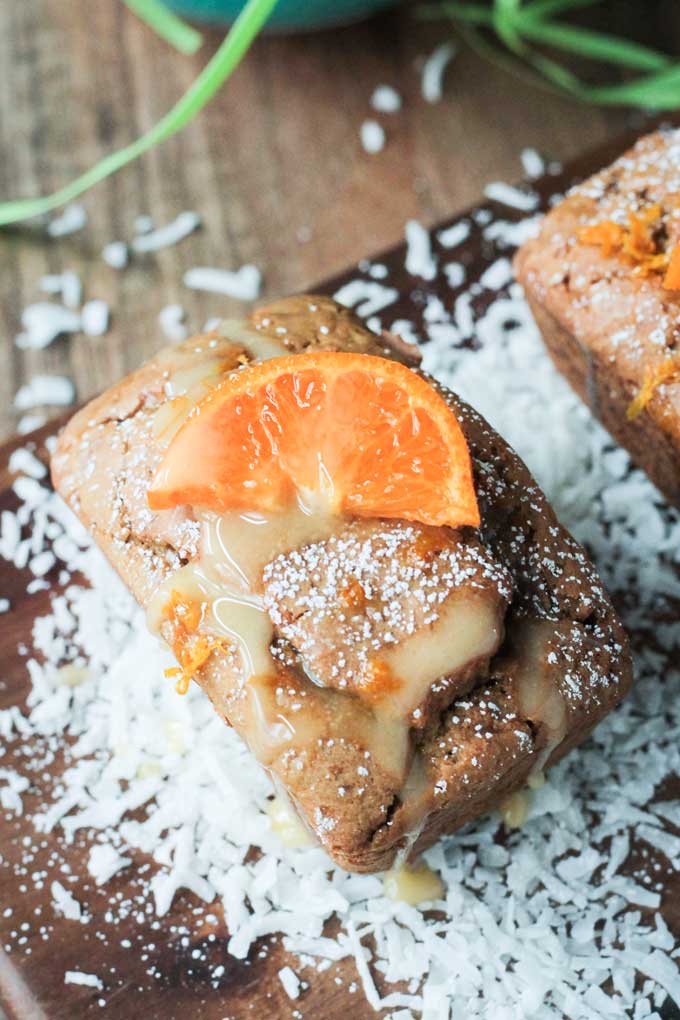 Clementines are one of our favorite foods. They are easy to peel, contain no seeds and they make the perfect snack…even on the go! We love eating them plain, but since we always have so many clementines in the fridge, I thought I'd try to create something with them as well. These mini loaf cakes turned out great! They are bursting with citrus flavor with a hint of coconut (side note: take a taste of the liquid ingredients after mixing together – it tastes like a creamsicle…soo good!). Make them for your Easter celebration or anytime you're craving a treat!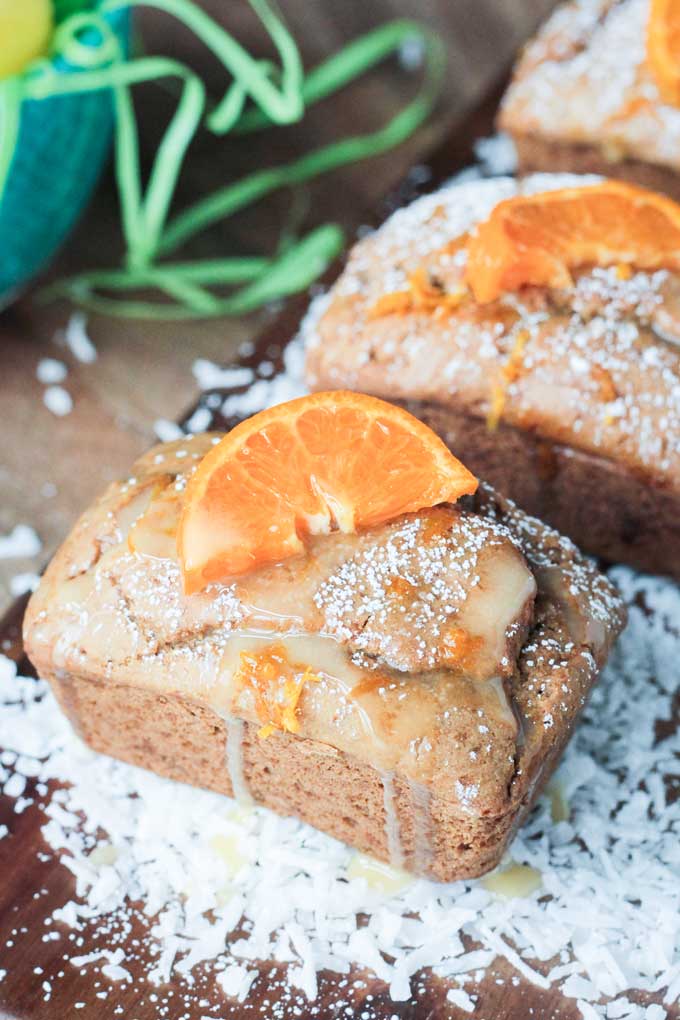 These mini loaf cakes are basically little quick breads, but with the optional icing, they really fit more in the dessert category. However, you can leave off the icing and have something suitable for snack or even breakfast. It would go great with a cup of coffee or tea. I'm warning you though, they are so good, you might find yourself wanting to eat a whole one yourself!
FRESH juice is a must here! It is so much more flavorful than store-bought. So don't even think about subbing store bought orange juice…even the ones that say freshly squeezed….it's not the same! Or if you do, just know that the citrus flavor won't be as pronounced. I used a juicer and needed about 8 clementines. If you juice them by hand, you may need to use a few more as you likely won't get as much juice from each one.
They bake up nice and fluffy thanks to the miracle of aquafaba that I always talk about, like in my Peanut Butter Chocolate Cupcakes post. I have tried many different egg substitutes in baking, but aquafaba is by far the best! These mini loaf cakes are so soft and moist, but hold together perfectly. And they slice easily as well. The top crust has slightly crisp edges…divine!
I dusted these babies with a bit of organic powdered sugar and then drizzled the citrus glaze over the top. The first batch was eaten so fast (especially by my hubby!) that I knew we had a winner on our hands! But, like I said earlier, these little citrus cakes will satisfy your craving for a little treat even without the optional icing.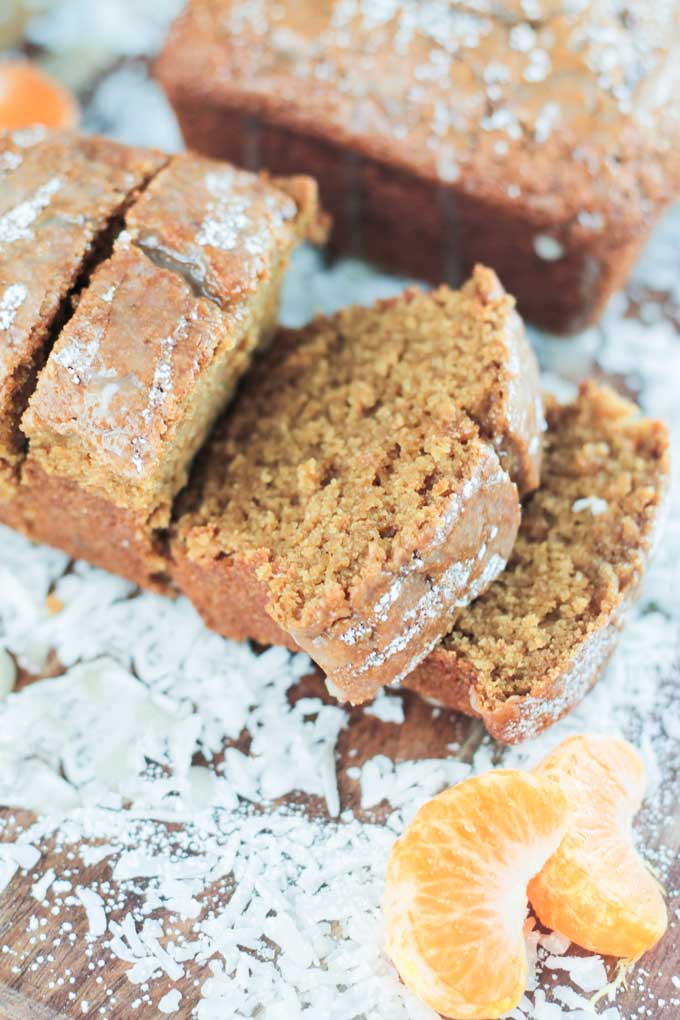 Does your family love clementines a whole bunch too?

Jenn Sebestyen
Yields 6
Coconut Clementine Mini Loaf Cakes
15 minPrep Time
40 minCook Time
55 minTotal Time
Ingredients
Coconut Clementine Mini Loaf Cakes

1 tbsp clementine zest
1/2 cup clementine juice (juice from about 8-12 clementines, depending on whether you use a juicer or by hand. A juicer will extract more juice from each one than you can by hand, but either way works. TIP: squeeze a little more (2 tbsp) juice than you will need for this bread to use in the glaze).
1 cup coconut cream
1 tbsp pure vanilla extract
4 tbsp aquafaba (brine from a can of chickpeas)
2 cups white whole wheat flour
1 cup coconut sugar
1 tsp baking soda
1/2 tsp baking powder
1/2 tsp sea salt

Clementine Glaze, optional

1/2 cup organic powdered sugar
2 tbsp clementine juice
Instructions
Preheat the oven to 350 degrees F.
Spray a mini loaf pan lightly with cooking spray and set aside.
Whisk the clementine zest, juice, coconut cream, vanilla and aquafaba in a small bowl and set aside.
In a medium mixing bowl, whisk together the flour, coconut sugar, baking soda, baking powder and salt.
Pour the wet ingredients over the dry and mix until just combined.
Pour or spoon the batter into the prepared mini loaf pans and bake 35-40 minutes until a toothpick comes out clean. Let the loaf cakes cool in the pan for 5-10 minutes before turning them out onto a wire cooling rack to continue cooling completely.

Clementine Glaze, optional

Whisk together the powdered sugar and 2 tbsp clementine juice until smooth. Drizzle over the completely cooled loaf cakes.
Notes
Tip: Have leftover aquafaba? Freeze it in ice cube trays to use whenever you need it. Just defrost it fully first before using.
https://www.veggieinspired.com/coconut-clementine-mini-loaf-cakes/
Jenn S. - Veggie Inspired