Carrot Pineapple Salad – It's a grown up, healthy version of the retro carrot pineapple gelatin salad from childhood. A creamy sweet orange dressing takes the place of the gelatin. It's absolutely delicious!
I've been slowly working my way through old family recipes, making them plant based and healthier. So far, I've reinvented and shared with you Mushroom Pepper Steak, Classic Vegan Toffee Bars, and Gluten Free Date Bread. Next up is my paternal Grandma's Carrot Pineapple Gelatin Salad. Does anyone else remember eating this as a kid? It's super retro and was a love it or hate it kind of dish. Me – I loved it! It was at every family gathering, from special holidays to backyard picnics. My Carrot Pineapple Salad is a like a grown up version of the gelatin salad…and definitely healthier!
Beautiful Fresh Produce
I think it's pretty obvious that I, the creator of Veggie Inspired, adore fresh produce. I love walking up and down the produce aisles or visiting farmers markets to see what looks fresh and delicious. My maternal Grandma brought me over a fresh pineapple last week. As soon as I opened the fridge and saw the package of carrots I had just recently bought, I knew immediately what I would be making. Sweet, juicy, crunchy, yummy, Carrot Pineapple Salad.
I wanted to find out the origins of this retro salad so I hit up Google. I didn't actually find the answer, but I did find that nearly every recipe for the carrot pineapple gelatin salad used lemon jello. I was surprised to learn that as my Grandma always used orange jello.
Creamy Orange Dressing
We are ditching the gelatin in this grown up Carrot Pineapple Salad. In honor of my Grandma's version which used orange jello, I instead made an orange dressing. A little bit of dairy free yogurt, the juice from sweet Cara Cara oranges, and even a dash of turmeric for color and it's superfood properties. It's creamy, tangy and sweet and pairs perfectly with the carrots and pineapples.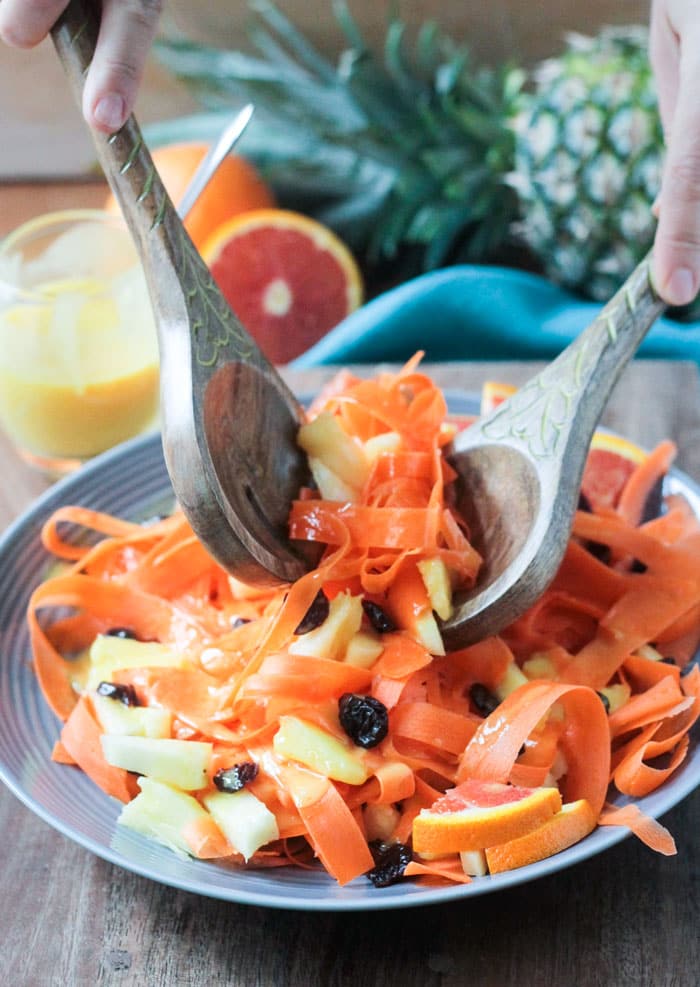 Carrot Pineapple Salad
I hope you try this grown up Carrot Pineapple Salad! If you do, please come back and leave me a comment below with your feedback. You can also find me on social media. Be sure to tag @veggie_inspired and #veggieinspired so I'm sure to see it! Enjoy!
Jenn S.
Yields 4 servings
Carrot Pineapple Salad (Dairy free, Gluten free)
15 minPrep Time
15 minTotal Time
Ingredients
Carrot Pineapple Salad

1 lb carrots, peeled
2 cups small pineapple chunks
1/4 cup dried cherries, optional

Creamy Orange Dressing (makes about 1/2 cup)

1/4 cup dairy free plain yogurt (I used So Delicious Dairy Free Coconut Milk Yogurt Alternative PLAIN )
juice of 1 Cara Cara orange *
juice of 1/2 lime
1 tsp apple cider vinegar
1/4 tsp ground turmeric
1/4 tsp salt (or to taste)
Instructions
Whisk together all of the dressing ingredients and set aside.
With your vegetable peeler, peel "ribbons" from your carrots. Hold the narrow end of the carrot in your hand while you peel away from you making long ribbons. (Alternately, you can shred the carrots with the big holes of a box grater or a food processor shredder blade.)
Toss the carrot ribbons, pineapple and dried cherries together.
Drizzle with some of the dressing (you probably won't need all of it) and toss well.
Enjoy!
Notes
Cara Cara oranges are sweeter than typical navel oranges. If you can't find them, use whatever you have and taste for sweetness. Feel free to add a tablespoon of pure maple syrup if want it sweeter.
This salad can be made in advance and stored in the fridge. It holds up extremely well even mixed with the dressing. In fact, I think it's even better the next day as the carrots soften just a bit. Perfect to double or triple to feed a crowd.
6.6.15
https://www.veggieinspired.com/carrot-pineapple-salad/
Jenn S. - Veggie Inspired
More Quick and Easy Salads to Love:
White Bean Salad (perfect on it's own or turn it into a sandwich!)
Sugar Snap Pea Salad w/ Balsamic Vinaigrette (oil free!)
Herb Roasted Potato and Arugula Salad