As an Amazon Associate I earn from qualifying purchases. Please see my Privacy Policy for more details.
Gluten Free Thumbprint Cookies with pretty, naturally dyed, pastel icing. Perfect for Easter or anytime you want to get festive.
Aren't these Gluten Free Thumbprint Cookies adorable?! I can't stop staring at them.
I also can't stop shoving them in my mouth. Luckily, my kids are shoving them in just as fast so I won't eat the whole batch myself.
The cookies themselves are super quick and easy, but trust me when I tell you, it was a fiasco getting them done. I'll tell you more about that in a bit (teaser: an icing covered table and a mangled measuring spoon), but first let me tell you about these delicious cookies!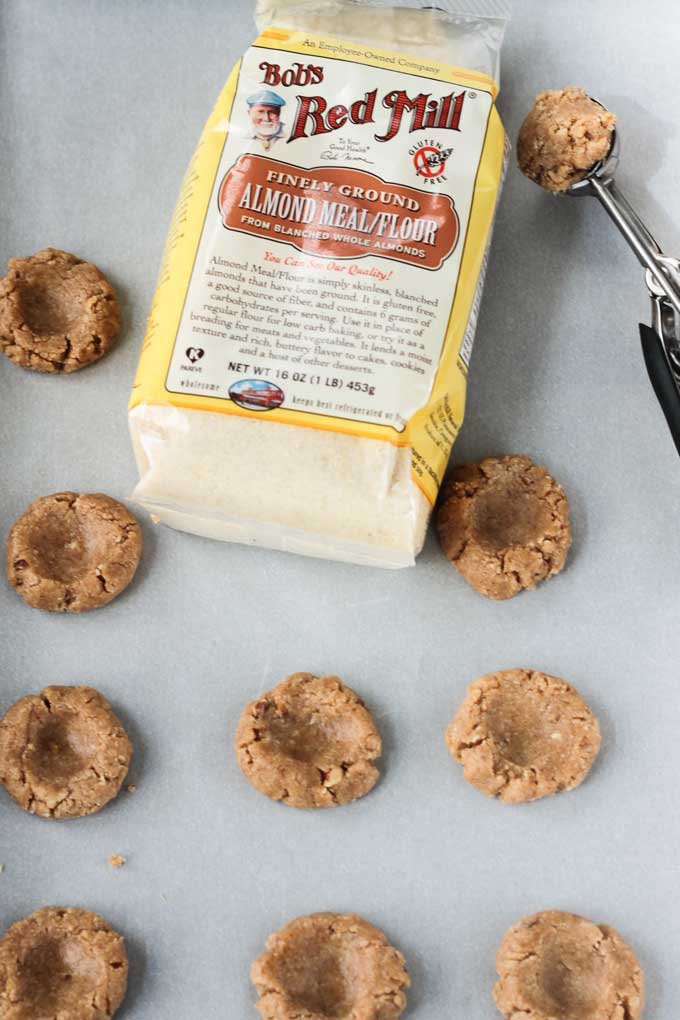 Healthy Ingredients
The base for these gluten free thumbprint cookies only needs 6 ingredients and none of them are gluten, oil, butter, dairy, eggs or refined sugar.
The main ingredient is Bob's Red Mill Almond Flour, which is made from whole, blanched sweet almonds.
Almonds are healthy nuts providing a good amount of manganese and vitamin E , as well as a healthy serving of monounsaturated fats. Not only do almonds have a healthy boost of protein, they are also very low in carbohydrates and gluten free.
Pretty Icing
If you stopped right there, you'd have a totally acceptable, yummy cookie perfect for a treat any day of the year.
But, I didn't stop there. I decided to top them with some pretty pastel icing. Some natural, whole food, dyed icing that is!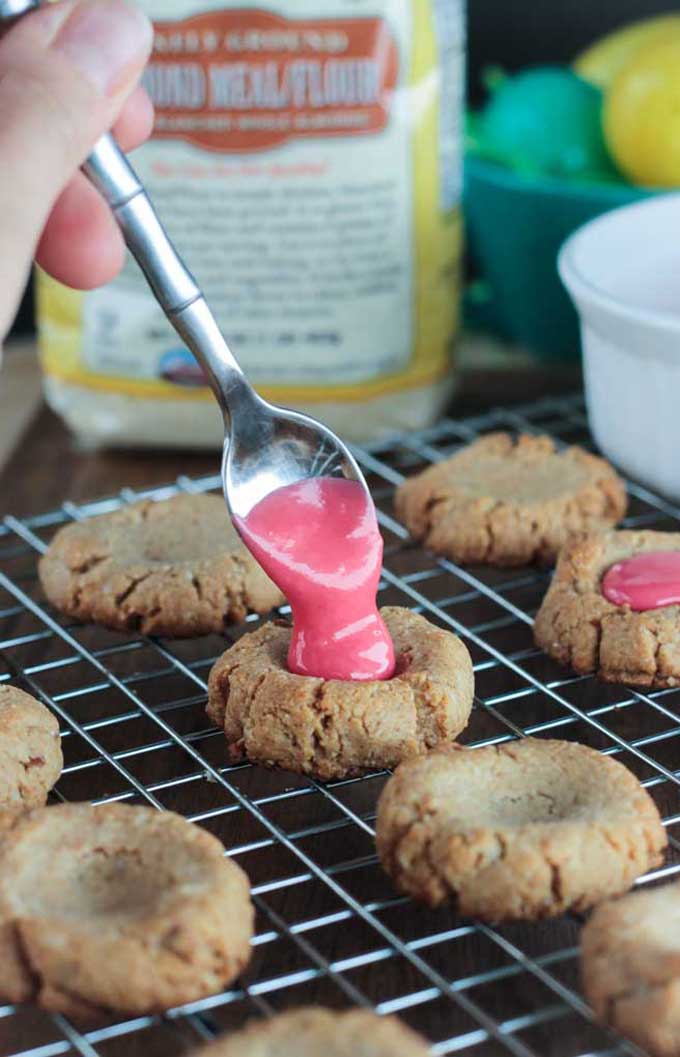 Hometown Inspiration
The inspiration for these gluten free thumbprint cookies came from Trefzger's Bakery in my hometown of Peoria, IL. They sell the most amazing pastel colored thumbprint cookies.
Their cookie base is not your regular shortbread, they are more like soft pecan sandies. They sell these all year round and I can remember them being at a lot of family celebrations. But, I always felt like they were Easter cookies because of the spring time colors.
Soft and Delicate
While I'm sure my ingredient list looks drastically different than theirs, I managed to create a soft, delicate cookie with a slight chew…and yes, containing pecans, too, just like the bakery cookie.
Homemade is Best
These Gluten Free Thumbprint Cookies beat stale store bought candy any day!
When we were little, my mom would hide plastic Easter eggs filled with candy. We were so excited to wake up and find the eggs.
Unfortunately, we almost never found all the eggs. Sometimes, we would find a few several months, or even a year, later.
After years of this, my mom got wise and started numbering the eggs and writing down where she hid each one.
But, homemade is best, so skip the store bought stuff and make some real treats instead!
Naturally Dyed with Whole Foods
Let's get back to this icing. I used raspberries, kale, peaches and turmeric to create the beautiful pastel colors.
Can you taste it? Yes, very slightly.
Personally, I don't like super sweet icing, so I really loved the subtle background flavors of the kale and turmeric…though I doubt you would be able to pinpoint what it was if you didn't know.
These flavors did mellow some on day two and were barely noticeable. The raspberry flavor remained a little more pronounced, but who doesn't like sweet berry icing?
Kid Approved
The kids gave a big thumbs up to all three flavors.
If you're worried about the kale or turmeric flavors coming through, start with as little as possible until you get the color you desire.
Or you can play around with other fruits/veggies/herbs/spices. Have fun with your food!
Bloggers are Real People Too
Well, I promised to tell you about the fiasco that was making these cookies, so here we go…
After finally perfecting the cookies and icing and baking them up all pretty, I carried everything into my dining room where I take my photos. I picked up the cooling rack that held all of my cookies and promptly dumped more than half of them. They landed icing side down (icing which was still wet by the way) onto my table.
Luckily, I was able to salvage enough for these photos.
As If That Wasn't Enough
Then, while cleaning up, I accidentally dropped a measuring spoon down the garbage disposal. I reached over to turn on the light so I could see better to retrieve it, but instead accidentally flipped on the garbage disposal itself which sent the now chewed up measuring spoon flying back out at my face.
Luckily, I didn't lose a finger or an eye!
Well, there you have it! Food bloggers are real people too. The final product might look pretty, but it's not always pretty getting there!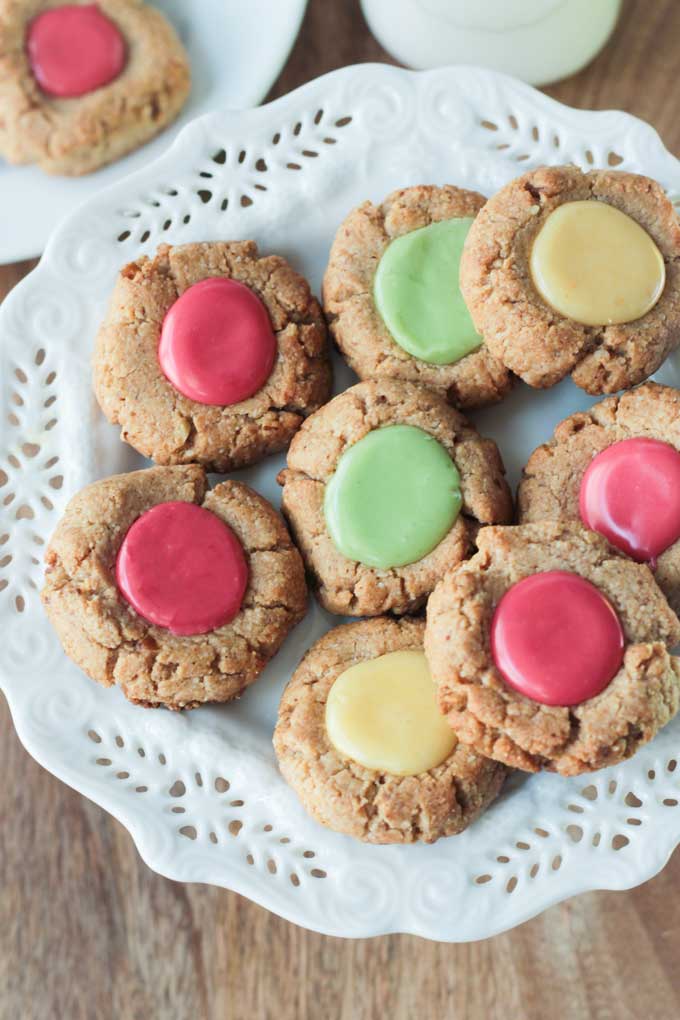 Gluten Free Thumbprint Cookies
I'm excited for you guys to try these Gluten Free Thumbprint Cookies!! As luck would have it, Bob's Red Mill is offering all of you a coupon for their products so you can go and bake your own delicious treats this Easter.
If you try them, please come back and leave me a comment below with your feedback and star rating. You can also find me on social media. Be sure to tag @veggie_inspired and #veggieinspired so I'm sure to see it.
Happy Baking!
Gluten Free Thumbprint Cookies
Gluten Free Thumbprint Cookies with pretty, naturally dyed, pastel icing. Perfect for Easter or anytime you want to get festive.
Cuisine:
dairy free, egg free, gluten free, oil free, soy free, vegan
Keyword:
Easter cookie ideas, shortbread thumbprint cookies, thumbprint cookies with icing
Instructions
For the cookies:
Preheat the oven to 350 degrees F. Line a baking sheet with parchment paper and set aside.

In a medium mixing bowl, whisk together the almond flour, finely diced pecans, salt and baking powder and set aside.

In a small mixing bowl, whisk together the almond butter and maple syrup until smooth.

Pour the wet ingredients over the dry and stir thoroughly to combine.

Taking about 1 tbsp of dough at a time, press it into a ball shape (rolling it might cause it to fall apart) and place on the baking sheet. Using two fingers, gently press down on the dough to flatten it out a bit. Then with your thumb or the back of a 1/4 tsp measuring spoon (its the perfect size), press down in the center to make a small indentation. Repeat with all the remaining dough.

Bake 6-8 minutes, until they edges start to turn brown. They will still be delicate when they come out, but they will continue to firm up as they cool. If the indentations rose up a bit, you can gently press them back down with your thumb or the measuring spoon (I recommend the measuring spoon at this point since the cookies will be hot and I don't want you to burn your thumb!)

Let cool on the baking sheet for 1-2 minutes before transferring to a wire rack to continue cooling completely.

Once cool, fill the indentations with the icing of your choice.
Pink Icing
Mix all ingredients in a small bowl until smooth.

Add more non-dairy milk if you want it thinner, add more powdered sugar if you want it thicker.

Tip: For the raspberry juice, I defrosted about 1/2 cup of frozen raspberries. Once thawed, I placed them in a fine mesh strainer over a bowl and with the back of a wooden spoon pressed the raspberries down in the strainer so the juice seeped through.
Green Icing
Mix all ingredients in a small bowl until smooth. Start w/ 1/4 tsp of kale juice (you can start with even less if you are worried about the flavor...and add more if you want it darker.

Add more non-dairy milk if you want it thinner, add more powdered sugar if you want it thicker.

Tip: I juiced 3-4 leaves of kale in a juicer. Store bought green juice should work as well.
Yellow Icing
Mix all ingredients in a bowl until smooth. The turmeric is optional, but leaving it out will create a light peach color as opposed to light yellow.

Add more non-dairy milk if you want it thinner, add more powdered sugar if you want it thicker.

Tip: I defrosted some frozen peaches and pureed them in my blender.
Recipe Notes
Each batch of icing should be enough for 1 dozen cookies.
*The icing is not overly sweet and you can taste a bit of the kale/raspberry/peach/tumeric. Those flavors mellow out on day 2 once the icing is completely dry. The berry flavor remains the most pronounced. Personally, I don't like super sweet icing, so I really liked the slight undertone of earthiness from the kale and turmeric. If you are concerned about this - start with as little of the juice/powder as possible and only add if you want more vibrant color. Or you could certainly buy naturally dyed food coloring if you wish.
***If you double this recipe, do not simply double the icing ingredients. You'll have way too much liquid. You'll only need a tiny bit more of liquid for another 1/2 cup of powdered sugar. So start by adding just another tbsp and work up from there if necessary.
~Nutrition facts are per cookie.
Nutrition Facts
Gluten Free Thumbprint Cookies
Amount Per Serving
Calories 116
Calories from Fat 63
% Daily Value*
Fat 7g11%
Sodium 26mg1%
Potassium 2mg0%
Carbohydrates 12g4%
Protein 3g6%
Vitamin C 0.8mg1%
Calcium 30mg3%
Iron 0.5mg3%
* Percent Daily Values are based on a 2000 calorie diet.
Love cookies? You'll definitely want to check these out:
I was selected for this opportunity as a member of Clever Girls and the content and opinions expressed here are all my own.