As an Amazon Associate I earn from qualifying purchases. Please see my Privacy Policy for more details.
Pineapple Coconut Muffins – light and airy with a tropical twist. Perfect for breakfast or an afternoon snack.
Ray of Sunshine
I think the warm temps might actually be here to stay finally. And by warm, I mean 60's, but I'll take it! Being able to leave the house without a coat (and consequently having to make sure 3 kids also have their coats) makes me so happy. You know what else makes me super happy? These Pineapple Coconut Muffins! They are light, airy and fluffy with a tropical twist which reminds me of sunny days and summer breezes. If you are in need of some sunshine (in the form of food), bake up a batch of these delicious dairy free muffins!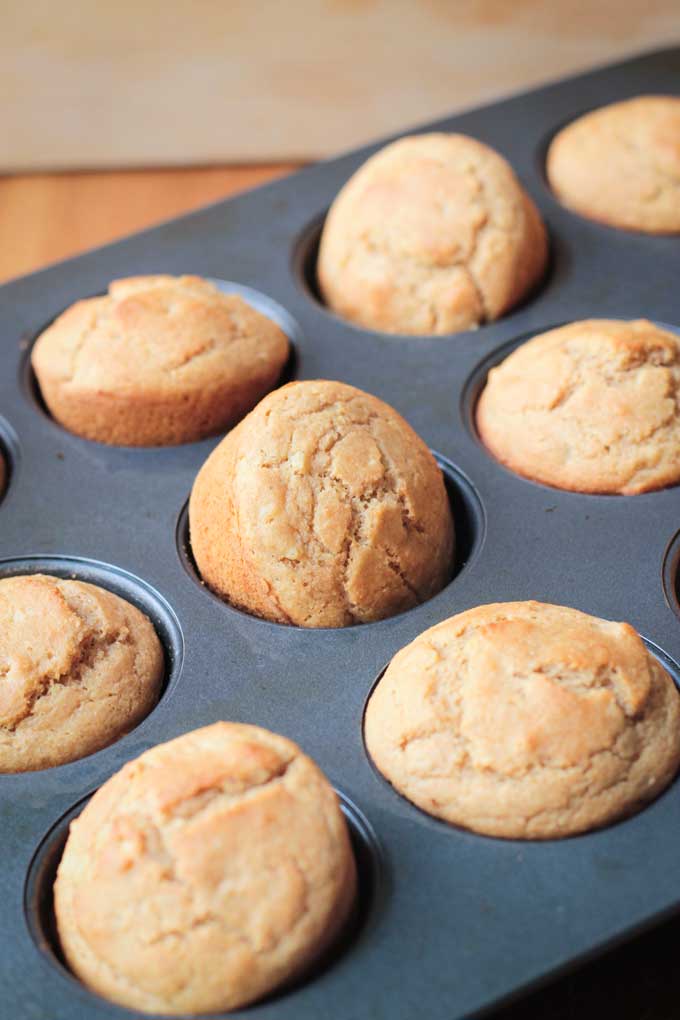 Pineapple and Coconut
Pineapples, besides being a gorgeous yellow hue, are incredibly healthy. They are high in vitamin C, manganese, copper, B vitamins, fiber and folate.
Coconuts boast fiber, iron, potassium, and B vitamins.
If you've ever had a piña colada, then you know these two are a match made in heaven. So, these Pineapple Coconut Muffins are basically a piña colada in solid form and who wouldn't want that?!
Kid Tested and Approved
Like all of my recipes these vegan muffins were tested by my kiddos. They got 2 thumbs up from each and there's only a ½ cup of sugar in the whole recipe. They liked the sweet little juicy bits of pineapple strewn throughout. They've made for a happy after school snack time all week.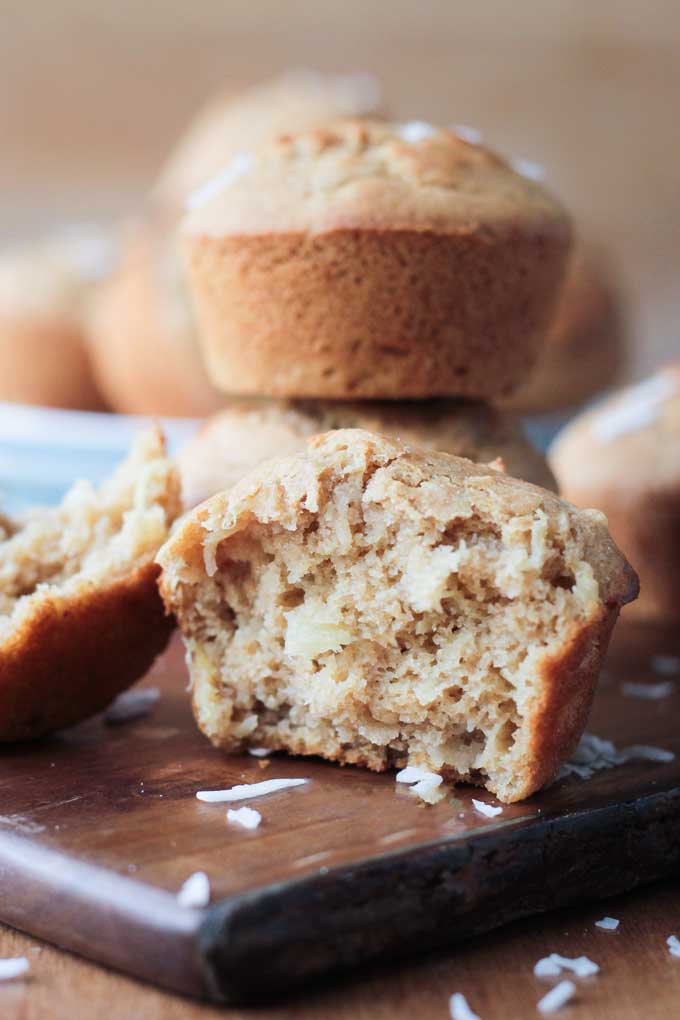 Pineapple Coconut Muffins
So, what are you waiting for? Go make a batch of these soft, fluffy muffins and enjoy a bit a sunshine in your day. Snap a pic and tag me, #veggieinspired and @veggie_inspired, on Twitter or Instagram and the come back here and leave me a comment. I love hearing from you guys!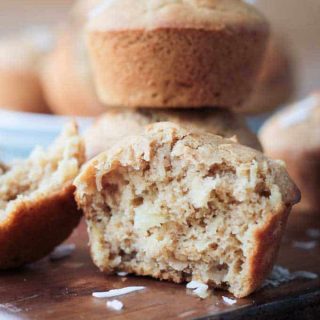 Pineapple Coconut Muffins
Pineapple Coconut Muffins - light and airy with a tropical twist. Perfect for breakfast for an afternoon snack.
Print
Rate
Instructions
Preheat oven to 375 degrees F.

Lightly spray a 12 cup muffin tin with cooking spray and set aside.

In a small mixing bowl, sift together the flour, baking powder, sugar and salt.

In a medium mixing bowl, whisk together the coconut milk, apple cider vinegar, vanilla and melted coconut butter.

Stir the dry mixture into the wet mixture until just combined.

Stir in the diced pineapple and mix to evenly distribute.

Pour the batter into the prepared muffin tins. About ⅓ cup in each one should be just about perfect to use up the batter.

Bake for 18-22 minutes until a toothpick inserted in the center comes out clean.

Let cool in the pan on a wire rack for about 5 minutes before taking them out of the pan and letting the muffins continue to cool on the wire rack.

Enjoy!
Notes
*Make sure your wet ingredients are room temperature before adding the melted coconut butter. It will cease up if the other ingredients are too cold.
Nutrition
Calories:
191
kcal
|
Carbohydrates:
23
g
|
Protein:
3
g
|
Fat:
8
g
|
Saturated Fat:
7
g
|
Sodium:
128
mg
|
Potassium:
24
mg
|
Fiber:
3
g
|
Sugar:
10
g
|
Calcium:
20
mg
|
Iron:
1.3
mg
Love muffins? You may want to try one these as well:
Blueberry Lemon Cornmeal Muffins