As an Amazon Associate I earn from qualifying purchases. Please see my Privacy Policy for more details.
This Sugar Cookie Sandwich w/ Salted Caramel Frozen Dessert article has been compensated by Collective Bias, Inc. and its advertiser. All opinions are mine alone. #DairyFree4All 
Cookie Sandwich made with Gluten Free Cinnamon Sugar Cookies and Salted Caramel Non Dairy Frozen Dessert – so easy, yet so indulgent! The perfect summer treat!
Frozen Treats
Summertime is not over yet, my friends. It's been really humid around here lately. And what is better in the hot summer heat than cool, frozen, sweet treats?
Not much. So today, I'm bringing you these super decadent frozen Cookie Sandwiches made with the perfect Cinnamon Sugar Cookies and ultra creamy Salted Caramel Cluster Non Dairy Frozen Dessert. It's the perfect combo!
You guys, these are so easy, you won't believe it. I suggest you run to your kitchen right now to get started!
So Delicious Dairy Free® Non-Dairy Frozen Desserts
If you follow me on Instagram, then you know I've been in love with So Delicious Dairy Free® Non-Dairy Frozen Desserts since last year when I finally found the cashew milk snickerdoodle variety (<- omg, so good!).
So Delicious Dairy Free® uses high quality, 100% plant based ingredients and never any artificial flavors, colors or preservatives, trans-fats, hydrogenated oils, or high-fructose corn syrup.
They have 25 years of experience bringing delicious dairy free products to the marketplace. It's a brand you can trust to deliver the taste and texture you are looking for in non-dairy products.
Find It at Walmart
I do the bulk of my grocery shopping at Walmart. It's convenient and affordable. So, imagine my joy when I discovered they carried So Delicious Dairy Free® products, especially the indulgent non-dairy frozen desserts! They can be found in the freezer aisle, as shown in the photos above.
For this Cookie Sandwich recipe, I chose the Cashew Milk Salted Caramel Cluster. It's so good on it's own, but taken up up a notch by sandwiching it between delicious chewy cookies.
At Walmart, you can find all the ingredients (only 6 needed!) to make the Cinnamon Sugar Cookies, as well.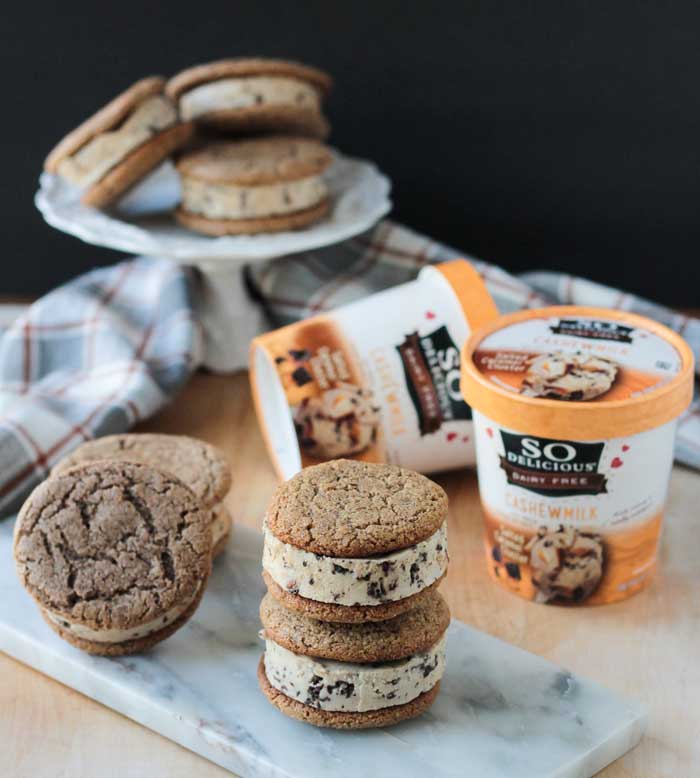 Savor the Flavor
Snickerdoodle and Salted Caramel Cluster aren't the only awesome flavors you'll find from So Delicious Dairy Free®.
They have varieties made from cashew milk, coconut milk, and almond milk, offering flavors such as: Cherry Amaretto, Chocolate Peanut Butter Swirl, Mint Chip, Mocha Almond Fudge, Vanilla Bean, Cappuccino, Dark Chocolate Truffle.
And, let's not forget about this beautiful Coconut Milk Simply Strawberry that I told you about last month. It is the perfect frozen strawberry treat! I love that beautiful pink color!
Strawberry Lemonade Frozen Cake
In case you need a reminder about my Simply Strawberry creation, check out this gorgeous pic again of the Strawberry Lemonade Cake I made with 2 pints of the creamy pink frozen dessert!
If that doesn't scream summer, I don't know what does. Cool, sweet, tart, refreshing, perfect. Aaaaaahhhhh.
Cinnamon Sugar Cookies
Let's get back to these frozen Cookie Sandwiches. The cookies I chose to use for this recipe are my Gluten Free Cinnamon Sugar Cookies.
The cinnamon sugar compliments the salted caramel so deliciously.
The cookies are perfectly chewy, and when frozen have a great little crunch while still being soft enough to easily bite through.
I'm telling you – this combo- it's true love!
Roll The Cookie Sandwich In Extras
Now, if you want to take these Cinnamon Sugar Cookie Sandwiches up to even another level, you can roll them in some sweet extras. I chose to add several extras because it's dessert – let's go all out!
I used mini chocolate chips (chocolate makes everything better), crushed raw cashews (naturally sweet – blitzed in my coffee grinder), and a cinnamon sugar mixture (this was my favorite!).
Extras are optional, but highly recommended!
Sugar Cookie Sandwich w/ Salted Caramel Frozen Dessert
I am so excited for you guys to try these!! I love hearing from you, so please come back here and leave me a comment with your feedback and star rating after you try them.
I would love to see those remake photos too! Find me on social media and tag @veggie_inspired and #veggieinspired so I'm sure to see them!
Now go make these ASAP!
Sugar Cookie Sandwich w/ Salted Caramel Frozen Dessert
Chewy cinnamon sugar cookies sandwiched around decadent salted caramel non-dairy frozen dessert. These are so easy to make! The perfect summer treat!
Print
Rate
Ingredients
2

pints

So Delicious Dairy Free Salted Caramel Non-Dairy Frozen Dessert*

1

recipe

Cinnamon Sugar Cookies

Optional add-ons: cinnamon sugar

(crushed cashews, mini chocolate chips)
Instructions
For the Cinnamon Sugar Cookies
Make as directed. The cookies should be about 3 inches in diameter after baking. Set aside to cool completely.
For the So Delicious Dairy® Free Salted Caramel Non-Dairy Frozen Dessert**
Line an 8x8 baking dish with parchment paper. Leave the ends of the parchment hanging over two sides to use as handles later. Also, line a baking sheet with parchment and set aside.

Place the pints of frozen dessert on the counter and allow them to start to melt and soften.

Once softened, scoop both pints into the 8x8 baking dish and spread into an even layer. Cover with plastic wrap and freeze for several hours until completely frozen.

Once frozen, using the parchment paper "handles", pull the block of frozen dessert out of the baking dish and place on a cutting board.

Using a 3 inch round cookie cutter, gently cut out a circle of the frozen dessert. Place onto one cookie, top with another cookie, and put the cookie sandwich onto the parchment lined baking sheet. Repeat until all the cookies and/or frozen dessert has been used.

Roll each cookie sandwich in any optional add-ons you are using and place back on the parchment lined baking sheet.

You can eat them right away or place the baking sheet of cookie sandwiches in the freezer for at least 30-60 minutes. Once completely frozen, you can transfer them to a plastic freezer bag or freezer safe container for storage.
Notes
You will have a little So Delicious Dairy Free Salted Caramel Non-Dairy Frozen Dessert left after making the cookie sandwiches. I think it goes without saying that you should NOT let this go to waste. If you still have the pint it came in, just put it back in there and stick back in the freezer. If you don't have the pint, you can use any freezer safe covered container you have. Or, what I would do, is just eat it right then and there! 🙂

*If you don't want to fuss with having perfect 3 inch circles of salted caramel frozen dessert, simply take one scoop out of the frozen pint, place it on one cookie, top with a second cookie and press down to sandwich it together. Eat immediately, or follow instructions for making them all at once and storing in the freezer.
To manage your time best - if you plan to cut the Salted Caramel Frozen Dessert into circles - spread it into the 8x8 dish first and put into the freezer before starting on the cookies.
Nutrition
Calories:
297
kcal
|
Carbohydrates:
23
g
|
Protein:
14
g
|
Fat:
18
g
|
Saturated Fat:
3
g
|
Polyunsaturated Fat:
2
g
|
Monounsaturated Fat:
1
g
|
Sodium:
268
mg
|
Potassium:
1
mg
|
Fiber:
3
g
|
Sugar:
23
g
|
Calcium:
70
mg
|
Iron:
1.6
mg
Nutrition values are calculated using online calculators and are estimates only. Please verify using your own data.