As an Amazon Associate I earn from qualifying purchases. Please see my Privacy Policy for more details.
Crispy on the outside, perfectly chewy on the inside and HEALTHY! These chewy gluten free Chocolate Gingerbread Cookies are sure to be a holiday favorite! Go ahead, eat more than one!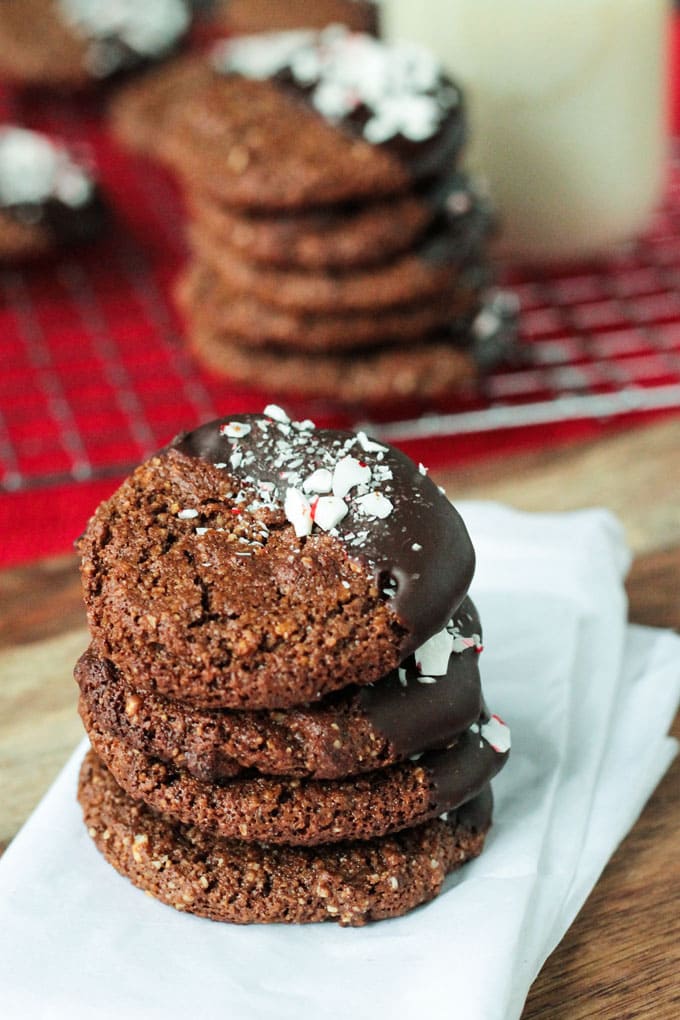 I'm back with more gingerbread!! I may have created the most perfect cookie ever! These gingerbread cookies are crispy on the outside, perfectly chewy on the inside, loaded with tons of flavor, dipped in chocolate…what's not to love?!
The best part – there is absolutely NO oil, NO butter, NO gluten, NO grain, NO refined sugar.
No, I lied, actually that's not the best part.
The VERY best part is that these cookies are only one recipe in a gluten free Holiday Cookie Party that contains TWELVE recipes for delicious gluten free holiday cookies!
Keep reading to find out how I made a HEALTHY cookie taste like the real deal! Say hello to these Chewy Gluten Free Chocolate Gingerbread Cookies! And check out the links below to browse all 12 vegan, gluten free holiday cookie recipes!
Kid Approved
I am not kidding when I say my family and I have eaten at least FOUR batches of these cookies. And it wasn't because I was trying to get the recipe right. It worked out right from the start – we just LOVED them so much that we HAD to have more! Even my hubby couldn't get enough and he didn't think he was a gingerbread fan!
Texture is King
The texture of these cookies is just so perfect if you ask me! So crispy on the outside, soft and chewy on the inside. It's how a classic cookie should be!
They even spread on the pan while baking and that's hard to accomplish with an egg-free, dairy-free, oil-free cookie!
I am telling you right now – NO ONE will know these are vegan unless you tell them! Better yet – no one will know they are healthy!
Holiday Flair
These cookies are high in protein, fiber, iron, calcium, B vitamins, and magnesium. You won't find all that in your average cookie!
And for a little extra holiday flair, I dipped them in chocolate and sprinkled on some crushed candy canes. Happy Holidays!
Share the Gluten Free Cookie Love
Bring a plateful to your holiday parties and watch them disappear! Show your neighbors you appreciate them by delivering a few with your holiday card. Leave a small cookie-filled container in the mailbox for your mail carrier. Or place them on your kitchen table and watch your kids go crazy and they shove them in their little mouths (just be sure to first hide a stash for yourself for later!)
Chewy Gluten Free Chocolate Gingerbread Cookies
Who's excited for all things gingerbread?!
Are you a crispy or a chewy cookie person? (Thank goodness you can have BOTH with these delicious cookies!)
If you give these a try, please leave me a comment below with your feedback and star rating. You can also find me on social media. Be sure to tag @veggie_inspired and #veggieinspired so I don't miss it!
Chewy Gluten Free Chocolate Gingerbread Cookies
Crispy on the outside, perfectly chewy on the inside and HEALTHY, these Chewy Gluten Free Chocolate Gingerbread Cookies are sure to be a holiday favorite! Go ahead, eat more than one!
Print
Rate
Ingredients
Dipping Chocolate, optional:
2-3

tbsp

non-dairy milk

(I used soy)

Peppermint Sprinkles

1-2

vegan candy canes

(crushed)
Instructions
Preheat your oven to 350 degrees F.

Line a baking sheet with parchment paper and set aside.

In a medium bowl, whisk together the almond flour (*see note 1), cocoa, baking soda, cinnamon, ginger, nutmeg, cloves, and salt. Set aside.

In a large bowl, stir together the almond butter, molasses and maple syrup until well combined and smooth. (**See note 2)

Add the dry ingredients to the wet and stir until well combined. The dough will be sticky - this is how you want it.

Drop about 1 tbsp of dough onto the cookie sheet. I used two spoons - one to scoop the dough and the other to help get it off the first spoon onto the baking sheet. (***see note #3). Repeat with the remaining dough, placing the dough about 2 inches apart.

Bake for 8 minutes. The cookies will still be soft at this point. Let them cool on the pan for a couple of minutes before transferring them to a wire rack to cool completely.

To make the dipping chocolate, if using, whisk the chocolate chips and 2 tbsp non-dairy milk in a small pot over low heat, stirring constantly, until smooth. Add an additional tbsp of non-dairy milk if needed to reach desired consistency. When the cookies are cooled, dip each one in the chocolate about half way and place back on the wire rack or on a piece of parchment. Immediately sprinkle the crushed candy canes over the chocolate (optional). Let them sit until the chocolate is set.

These cookies are best on day one! Store leftovers in the fridge for 1-2 days.
Notes
I like Bob's Red Mill Almond Flour because it's more coarse them some other brands. It's works well in these cookies.
*I use Trader Joe's Raw Almond Butter. It is extremely smooth and runny. If your almond butter is on the thicker side, you may need to heat it a bit to get that runny consistency.
**The chocolate for dipping and the crushed candy canes are totally optional - these cookies are wonderfully perfect all on their own!
***These don't have to look pretty...just mound it up. I actually tried rolling them into perfect balls with one batch and I didn't like them as well.
Nutrition
Calories:
206
kcal
|
Carbohydrates:
20
g
|
Protein:
6
g
|
Fat:
12
g
|
Saturated Fat:
3
g
|
Polyunsaturated Fat:
1
g
|
Monounsaturated Fat:
2
g
|
Sodium:
90
mg
|
Potassium:
313
mg
|
Fiber:
4
g
|
Sugar:
14
g
|
Calcium:
100
mg
|
Iron:
3.2
mg
Don't leave just yet! I promised you a party, remember?! Now, you're invited  to our Vegan Gluten Free Holiday Cookie Party!! Welcome and come on in!
Chocolate Candy Cane Crunch Cookies – Rebecca from Strength And Sunshine
Gingerbread Fig Bars – Natalie from Feasting On Fruit
No-Bake Marzipan Rum Balls – Bianca from Elephantastic Vegan
Chewy Gluten Free Chocolate Gingerbread Cookies – Jenn from Veggie Inspired
Cranberry Chocolate Coconut Macaroons – Linda from Veganosity
Vegan Orange Cinnamon Christmas Cookies – Sina from Vegan Heaven
Cranberry White Chocolate Ginger Cookies – Leah from Love Me Feed Me
Chocolate Tahini Cookies – Lucie from Win-Win Food
Sugar Cookie (Vegan, Gluten-Free, Oil-Free) – Brandi from The Vegan 8
Orange Spice Cookies – Harriet from Harriet Emily
Vegan Cranberry Crunch Dark Chocolate Truffles – Sophia from Veggies Don't Bite