As an Amazon Associate I earn from qualifying purchases. Please see my Privacy Policy for more details.
Cinnamon Sugar Cookies – perfectly chewy, sweet, and packed with warm cinnamon. Only 6 ingredients and 15 minutes needed to make these quick and easy, gluten free cookies! Betcha can't eat just one!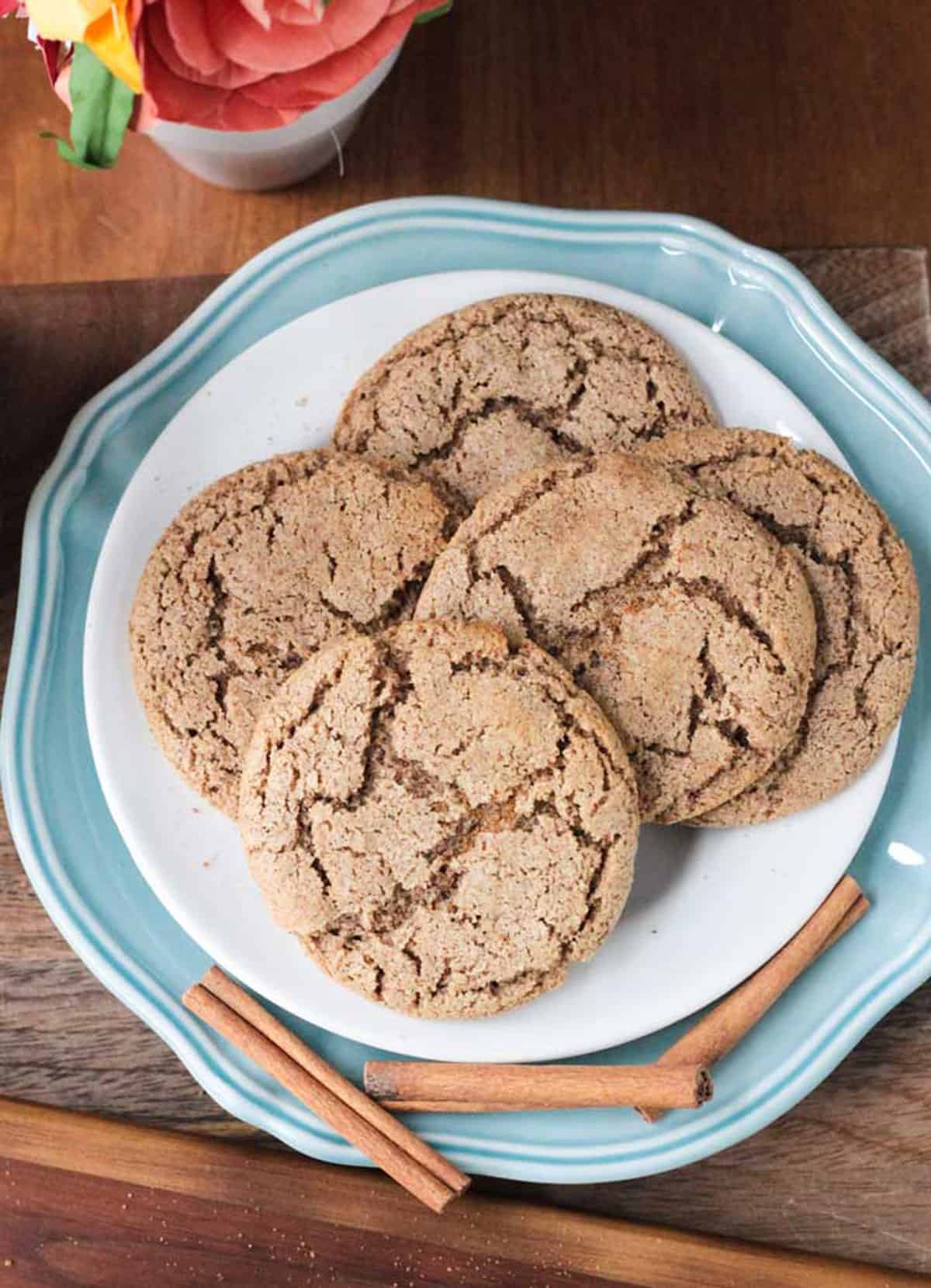 Who doesn't love sugar cookies? They're sweet, crispy, chewy – pretty much the perfect treat any time of the year. And they're even better with cinnamon!
These Cinnamon Sugar Cookies are the perfect cookie. A little crispy bite on the outside, dense and chewy on the inside, just sweet enough with a little bit of spice…so yum!
With just 6 ingredients and 15 minutes, they're sure to be your favorite cookie, too!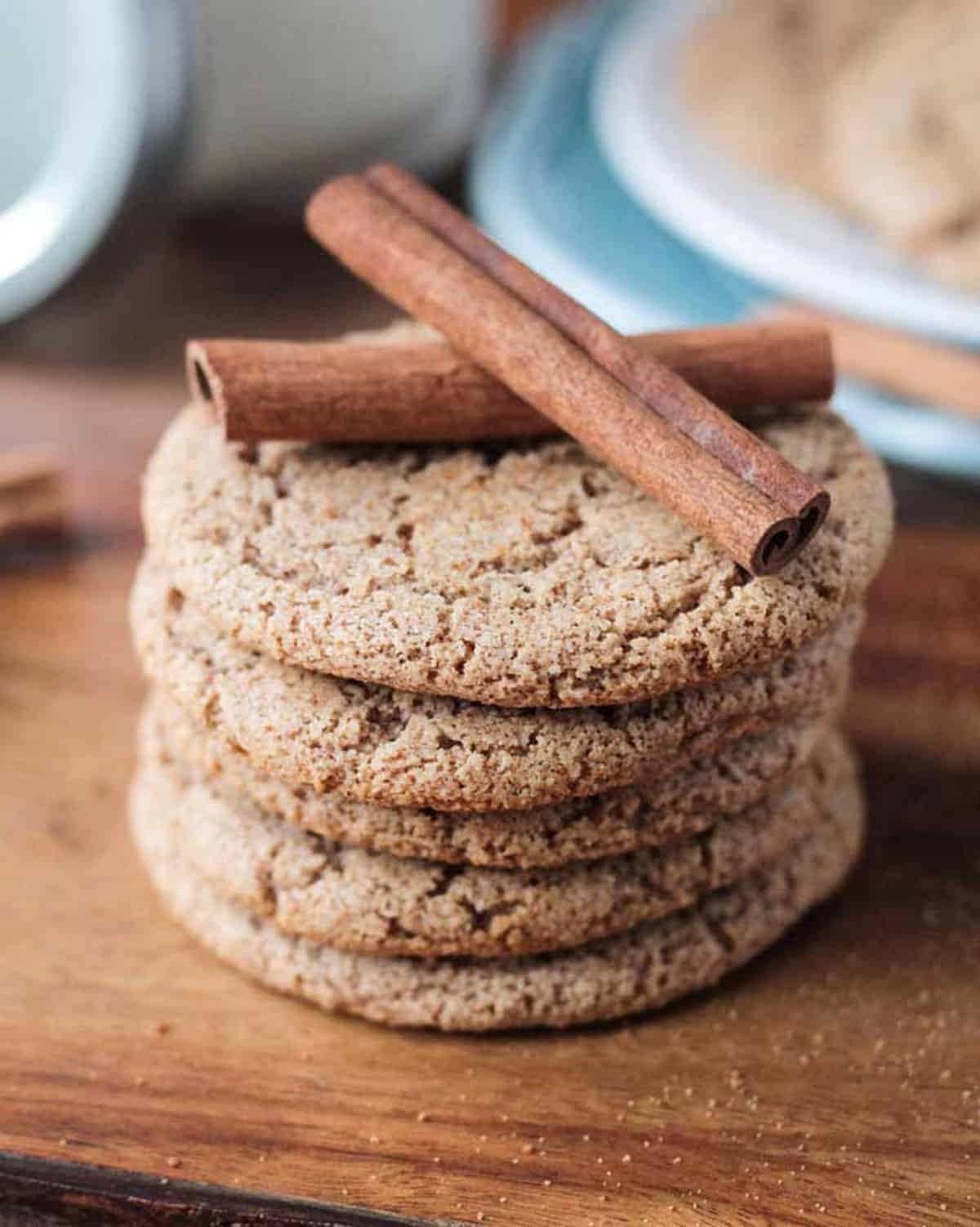 How do you make sugar cookies more flavorful?
Obviously, the answer here is…cinnamon! It's a strong, slightly bitter warming spice that imparts a sweet taste in baked goods. The perfect complement to these vegan sugar cookies.
What type of cinnamon is best?
There are two common types of cinnamon, Cassia and Ceylon.
Ceylon cinnamon is considered "true" cinnamon and is more expensive and possibly harder to find to grocery stores. It has a delicate, mildly sweet flavor and is of higher quality than cassia cinnamon.
If you can find it and can afford it, Ceylon is what I would recommend. Cassia cinnamon will work as well. Since it has a stronger, more bitter flavor, consider starting with less and add more as needed after tasting the dough.
More vegan recipes featuring cinnamon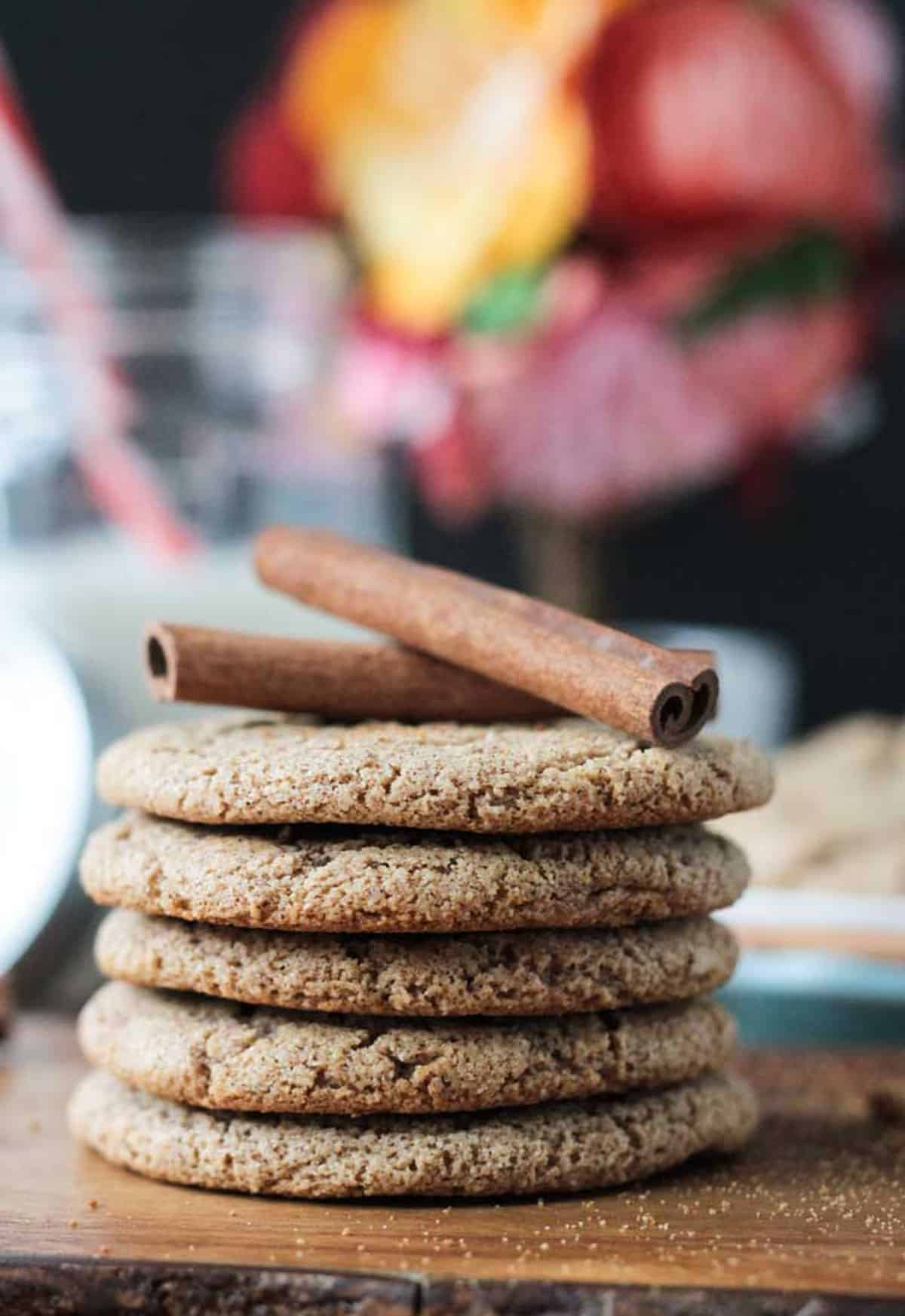 Ingredients
These cinnamon sugar cookies are secretly healthy. Well, ok, they aren't exactly health food, but they are certainly healthier than standard cookies.
My version contains no oil, no butter, no dairy, no eggs, no gluten, and no refined sugar! That's right! Sugar cookies with no refined sugar…or granulated sugar of any kind! But, trust me, they are every bit as mouthwatering!
The base of this cookie recipe is almond flour. It makes for a moist cookie and works with the other ingredients perfectly. Do not sub for another flour!
Pure maple syrup, with notes of vanilla and caramel, stands in for traditional refined white sugar, bringing a nice depth of flavor.
Raw almond butter lends a bit of fat and moisture which, working with the almond flour, allows these cookies to be oil and butter free.
Substitutions/Adaptations
Following the original recipe ingredients and instructions will give you the best results, but here are some adaptations that will work if need be.
Do not sub the almond flour for another flour – it will not work.
Any nut or seed butter will work in place of the almond butter, but make sure it's very runny. If it's too thick, the cookies won't spread. Please note that the flavor of the cookies will change depending on what you choose.
Agave can replace the maple syrup if desired at a 1:1 ratio.
Cinnamon – If you don't have ground cinnamon, you can grind cinnamon sticks in a small coffee or spice grinder. If you don't like cinnamon (gasp!), you can leave it out. Or try a pinch of ground ginger or nutmeg instead.
Almond extract can be used instead of vanilla if you like that flavor. Please note that almond extract is very potent, so start with ¼ teaspoon and taste before adding more.
More vegan cookie recipes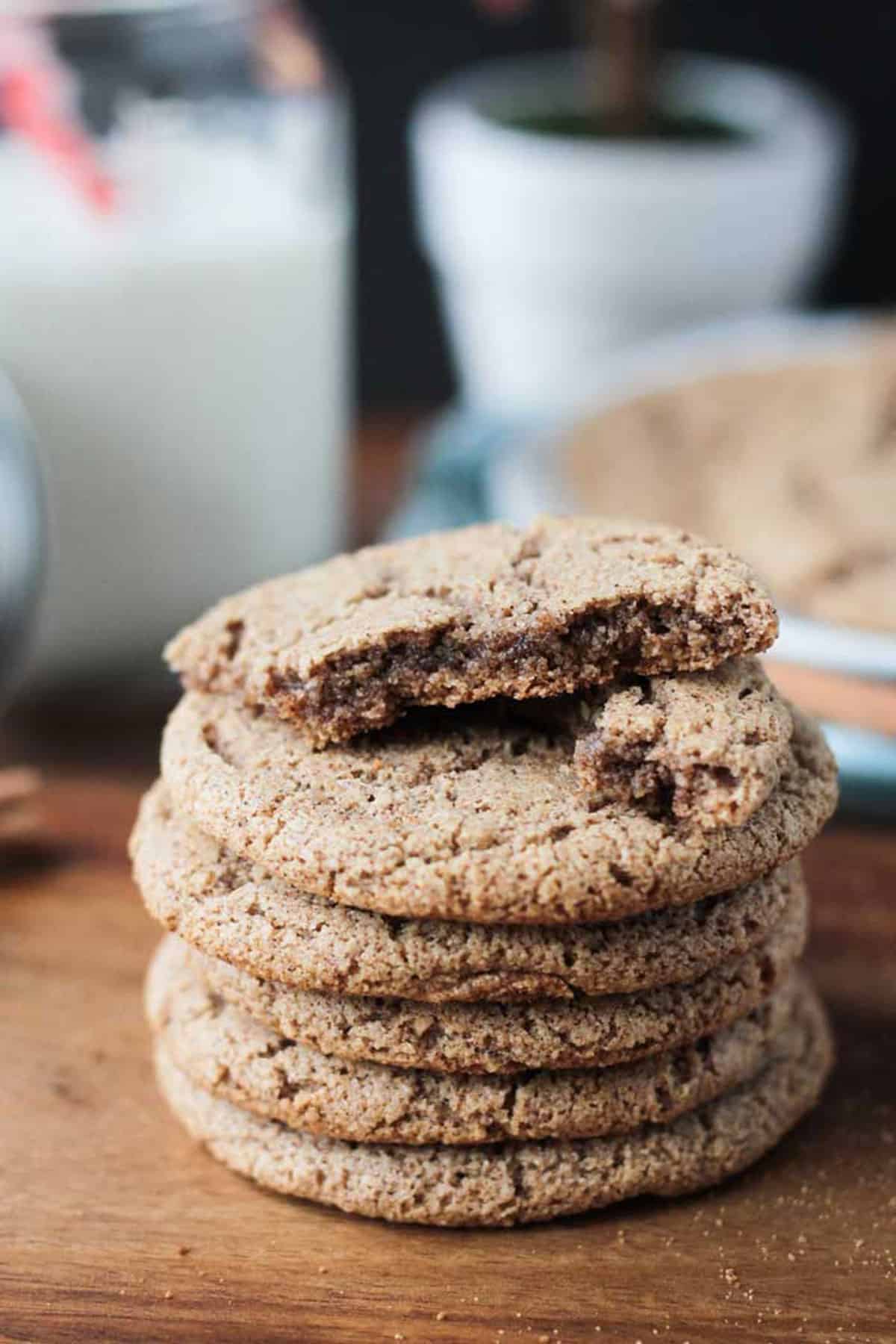 I hope you love this recipe as much as we do! If you tried it, please use the rating system in the recipe card and leave a comment below with your feedback.

Be sure to sign up for my FREE Newsletter to be the first to get my NEW recipes! You can also follow me on Instagram, Facebook, and Pinterest.

For even more easy family recipes, be sure to check out my cookbook, The Meatless Monday Family Cookbook!
Yield: 22
Cinnamon Sugar Cookies (Gluten Free, Dairy Free)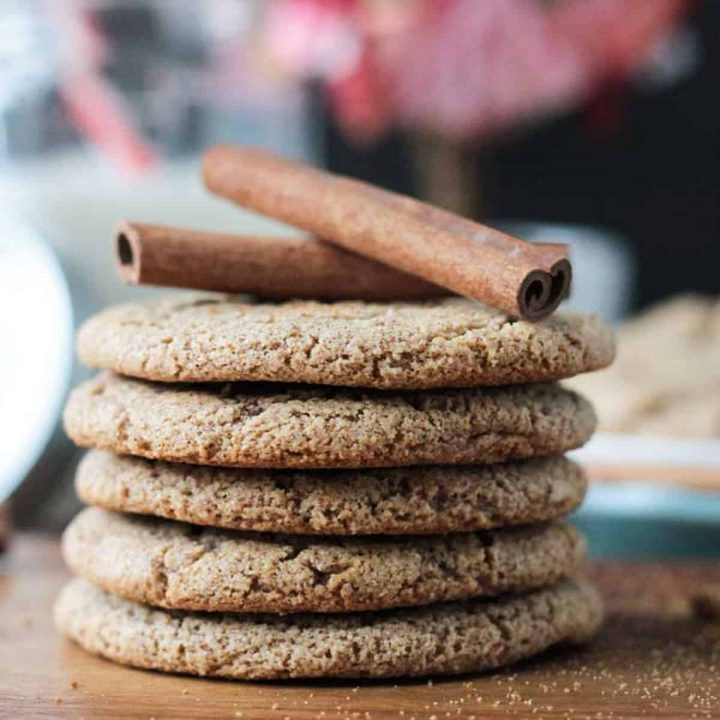 These Cinnamon Sugar Cookies are perfectly chewy, sweet, and packed with warm cinnamon. With only 6 ingredients and 15 minutes, you can be enjoying these quick and easy cookies in record time!
Ingredients
1 teaspoon baking soda
1 tablespoon ground Ceylon cinnamon
½ teaspoon sea salt
½ cup raw creamy almond butter, (I like Trader Joe's brand; it's nice and runny)
1 teaspoon pure vanilla extract
Instructions
Preheat oven to 350°F. Line a baking sheet with parchment paper and set aside.
In a medium-size mixing bowl, whisk together the almond flour, baking soda, cinnamon and salt.
In a small mixing bowl, whisk together the almond butter, maple syrup and vanilla extract.
Pour the wet ingredients into the dry while stirring. Stir well to thoroughly combine. The dough will be sticky, but this is what you want.
Using your hands, roll the dough, about 1 tablespoon at a time, into a ball and place on the parchment lined baking sheet. Dampen your hands slightly to make the dough easier to work with. Continue until all the dough has been used. Be sure to space the balls of dough out on the baking sheet with a few inches in between because they will spread out into perfectly round cookies.
With slightly damp fingertips press down gently on each dough ball to flatten a bit.
Bake for 8 to 10 minutes, until they are starting to firm up on the outside.
Let cool on the baking sheet for a few minutes before transferring the cookies to a wire rack to continue cooling completely.
EAT!
Notes
~If you really love cinnamon like I do - add an extra ½ tbsp of cinnamon.
~These cookies are best eaten on the same day. However, they are also delicious straight out of the freezer, which gives them a crunchy texture!
Nutrition Information:
Yield:
22
Serving Size:
1 g
Amount Per Serving:
Calories:

133
Total Fat:

9g
Saturated Fat:

1g
Unsaturated Fat:

3g
Sodium:

112mg
Carbohydrates:

11g
Fiber:

2g
Sugar:

8g
Protein:

4g