As an Amazon Associate I earn from qualifying purchases. Please see my Privacy Policy for more details.
My Favorite Avocado Toast – hearty bread toasted until just crisp, creamy mashed avocado, thinly sliced radishes, and hemp seeds. Sometimes I add an optional balsamic drizzle as well. It's a great combo!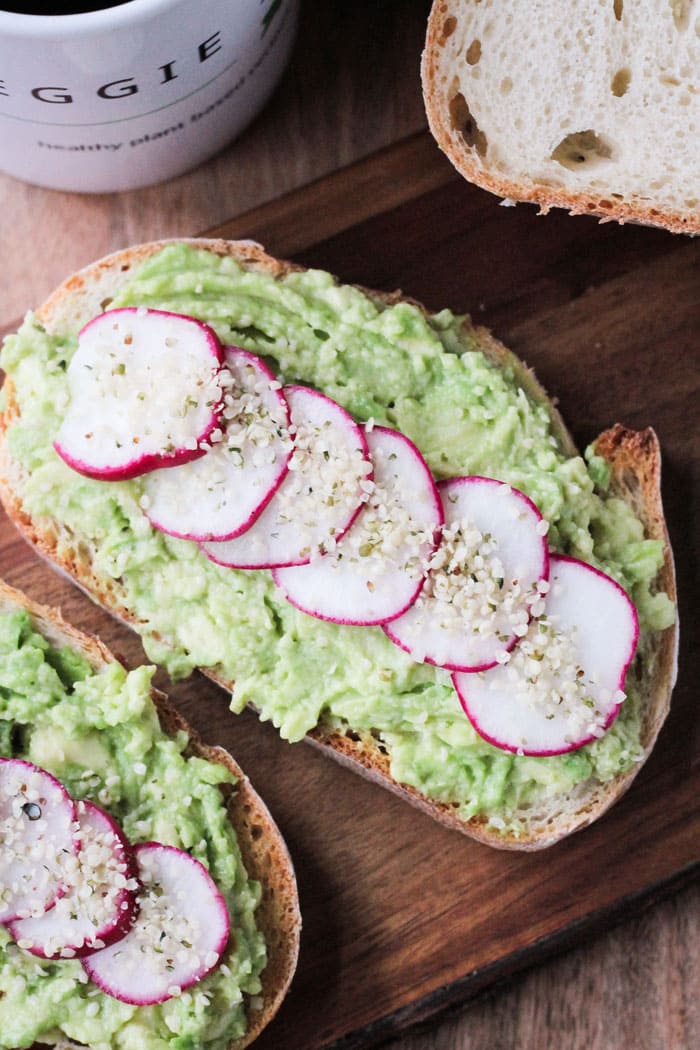 If you call yourself a food blogger, but you don't have a recipe for avocado toast on your blog, are you really a food blogger? Thankfully, now I'll never have to find out. Phew! 🙂
It's my go-to breakfast and my go-to snack. I've posted pics of it in my Instagram feed, but I've never shared it with all of you. It is time!
Keep reading to find out how I make My Favorite Avocado Toast!
Easy Clean Eating
It's almost time for a new year to begin. The time when most people around the world are making a commitment to better health. Eating clean foods. Cutting out empty calories. Exercising. Taking time for yourself. Whether it lasts or not usually depends on how easy (or not) it is to meet your goals.
While I can't help you with the exercise or taking time out for yourself (though I am always here for encouragement and support – feel free to drop me an e-mail anytime!), I can help you with quick and easy recipes to nourish and fuel your body while leaving your tastebuds satisfied.
I have collections of 15 minute recipes (this Avocado Toast recipe fits in right here!) as well as 30 minute recipes. Browse through and find a few things to love. And make sure you are signed up to receive new recipes to your inbox – find the subscribe box in the footer of this post.
Why All the Love for Avocado Toast?
What is it about avocado toast that seems to make everyone swoon?
Obviously, it's delicious! Avocado has a super creamy texture and is very rich tasting.
I find them to be a great replacement for cheese in sandwiches and salads and even some pasta dishes because they provide that same rich creamy mouthfeel that you get from melty cheese.
For this same reason, smashed avocado also makes a great replacement for butter on toast.
Avocados are high in fiber, potassium, vitamin K, folate, vitamin B6, vitamin E, vitamin C, and healthy fats. The healthy fats help your body to absorb other nutrients when eaten together. They are anti-inflammatory and contain antioxidants, can help you control blood sugar levels, and may help to lower cholesterol.
Choose Your Toppings
Avocado Toast can be customized any which way you like.
Basically any vegetable, shredded or sliced thin would be a great addition. Even fruit slices like pears, apple or strawberries are a good choice (try it- trust me!). You can add cooked beans or any chopped nuts or seeds that you like.
But my very favorite way to top it off is with thinly sliced radishes and a sprinkle of hemp seeds. Sometimes, I drizzle balsamic vinegar too, but that depends on my mood. You can add a pinch of salt or pepper if that appeals to you, but I like it without.
What About the Bread?
Of course, you can't have avocado toast without bread. Just make sure to pick one you like.
It sounds silly to have to say that, but you aren't going to magically like that health food bread you thought tasted like cardboard before just because you slathered on some creamy avocado (though it will make it better!).
That being said, I think you should choose something whole grain and full of fiber. NOT processed white bread.
For store bought breads, I like Ezekiel sprouted grain breads – they have gluten free options as well if you need/want that. Or check your local bakery for freshly made whole grain options.
My Favorite Avocado Toast w/ Radishes
I hope you guys give this Avocado Toast recipe a try and love it as much as I do! If you try it, please come back and leave me a comment below with your feedback and star rating.
You can also find me on social media. Be sure to tag @veggie_inspired and #veggieinspired so I'm sure to see it.
Enjoy!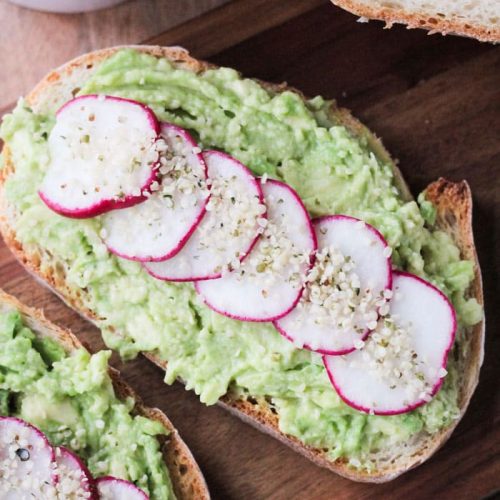 My Favorite Avocado Toast (with Radishes!)
This quick and easy Avocado Toast with Radishes makes the perfect breakfast or snack. It's filling and delicious! Easily customizable to your own tastes too.
Print
Rate
Ingredients
1

avocado

(pit removed and flesh removed from peel)

2

radishes

(sliced thin)

1

tbsp

hemp hearts

2

slices

whole grain bread

(or gluten free if needed) (toasted)

salt/pepper

(optional)
Instructions
Mash the avocado flesh with the back of a fork.

Spread half the avocado on one slice of toast and repeat with the other slice. Add a pinch of salt/pepper if desired.

Add the sliced radishes on top of the avocado and then sprinkle the hemp hearts.

Enjoy!
Notes
Other topping ideas: Shredded carrot, arugula, and pumpkin seeds; Sliced strawberries and chopped pecans; Black beans, diced tomato, and diced red onion; Sliced pears, arugula, and chopped walnuts
Nutrition
Calories:
451
kcal
|
Carbohydrates:
43
g
|
Protein:
14
g
|
Fat:
24
g
|
Saturated Fat:
4
g
|
Polyunsaturated Fat:
5
g
|
Monounsaturated Fat:
6
g
|
Sodium:
162
mg
|
Potassium:
977
mg
|
Fiber:
17
g
|
Sugar:
3
g
|
Vitamin A:
200
IU
|
Vitamin C:
20.6
mg
|
Calcium:
20
mg
|
Iron:
3.4
mg
More Healthy Breakfast Recipe Ideas:
Creamy Oatmeal (No Sugar & Totally Customizable!)
Breakfast Tacos w/ Scrambled Tofu and Roasted Potatoes
Veggie Cream Cheese Spread (for bagels or toast or dipping raw chopped veggies!)