Superfood Smoothie full of healthy ingredients that will have you glowing from the inside out!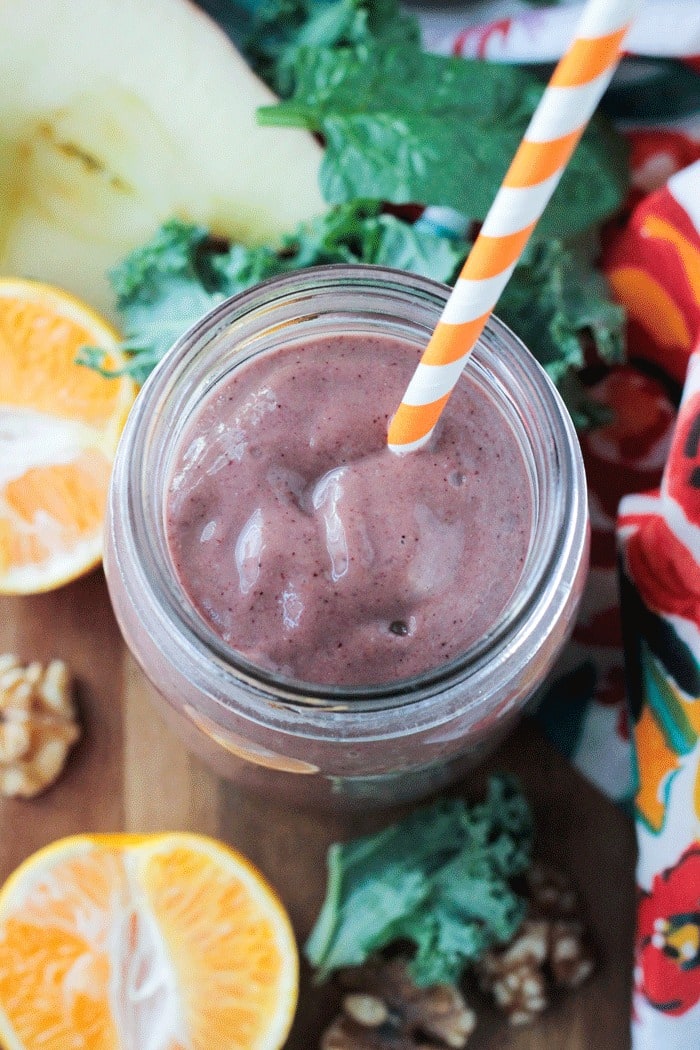 Daylight hours are decreasing here in the U.S. Midwest and the humidity and temps are starting to drop. That means less time outdoors in the sunshine and saying hello to dry, dull skin. My skin gets so dry each winter that a bucket of lotion a day wouldn't fix the problem. This year, I'm tackling the problem from the inside out – making sure I stay hydrated and eating and drinking plenty of healthy fruits and veggies. Let's get that perfect glow together starting with this healthy and delicious Superfood Smoothie!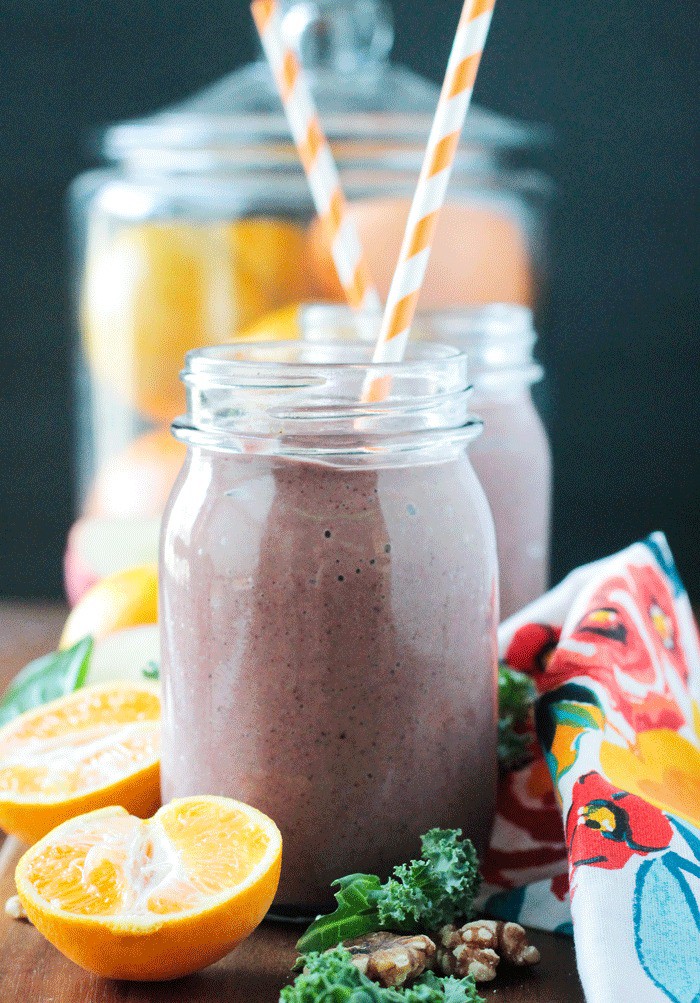 Superfood Ingredients
Let's take a closer look at what's inside this powerful sip.
Avocado: fiber, vitamin K, folate, vitamin B6, vitamin E, potassium, vitamin C; antioxidant, anti-inflammatory; increases absorption of carotenoids when eaten together
Clementines: vitamin C, fiber, folate, vitamin B1, potassium, calcium,
Kale: vitamin K, vitamin A, vitamin C, manganese, vitamin B6, fiber, iron, vitamin E, magnesium, protein, omega-3 fats, folate
Spinach: vitamin K, vitamin A, manganese, folate, magnesium, iron, B vitamins, vitamin C, potassium, fiber, zinc, protein, omega-3 fats, selenium
Berries: vitamin K, vitamin C, fiber, vitamin E, omega-3 fats, folate, potassium, biotin
Apple: fiber, vitamin C; antioxidant
Walnuts: omega-3 fats, copper, manganese, biotin
Bottom line – these ingredients will keep your organs and digestive system healthy, enhance your immunity, and fight toxins. Let the glow begin!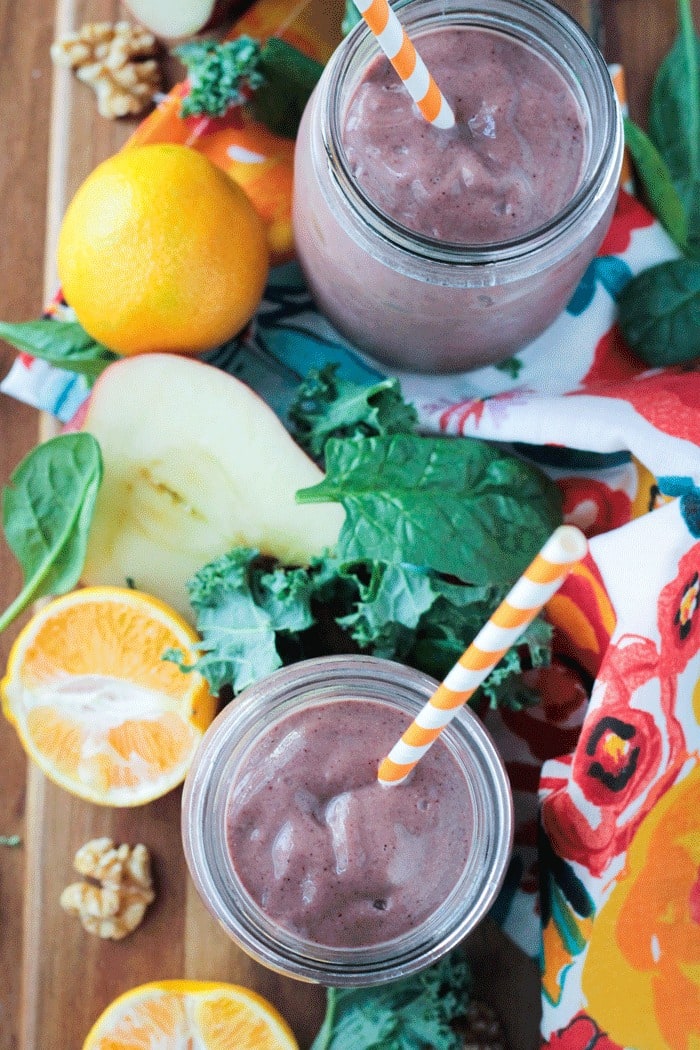 Maintain a Healthy Lifestyle
It's important to lead a healthy lifestyle in addition to fueling yourself with superfoods. As much as I'd like to claim it, this superfood smoothie is not a miracle worker. Keep your body active, minimize alcohol and processed foods, use natural skin care products, steer clear of sugary treats, eat organic when possible, manage your stress (yoga is a favorite of mine!), exfoliate your skin (I've been dry brushing lately and it's fabulous!), get plenty of sleep, and eat a whole foods plant based diet as much as possible.
Starting your morning with this dairy free powerhouse of a smoothie will energize you and set the tone for the rest of your day. It can be made in just about 5 minutes and is easily portable.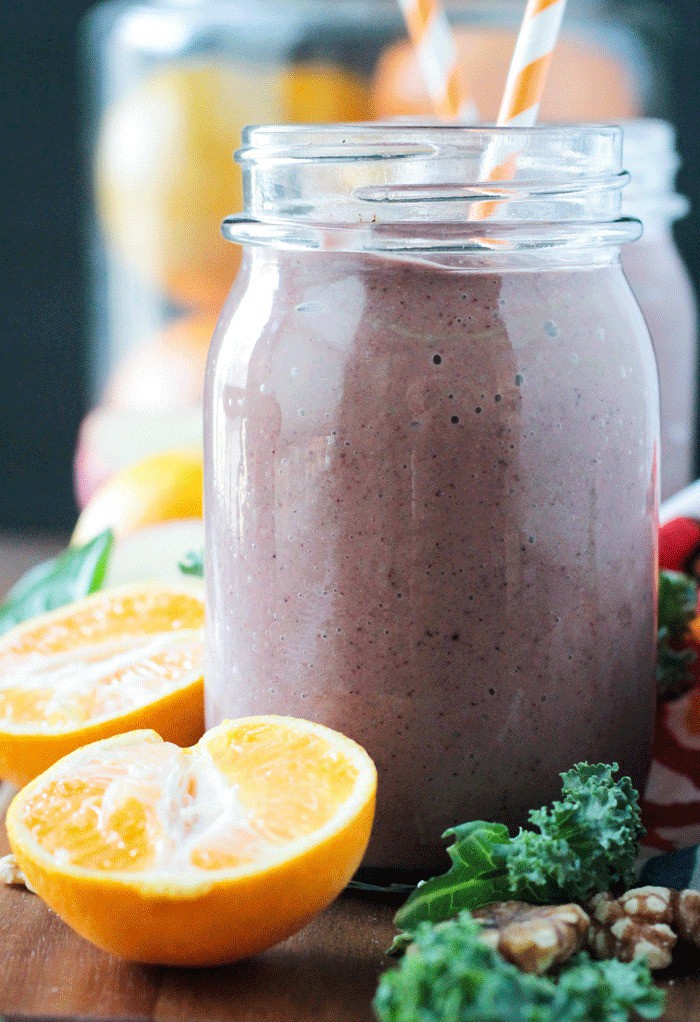 [Tweet "Get glowing skin w/ this #dairyfree Superfood Smoothie. #vegan #superfoods #smoothie"]
Superfood Smoothie for Glowing Skin
This Superfood Smoothie is the perfect way to start your day and I hope you enjoy it as much as we do. When you try it, please come back and leave me a comment below with your feedback. You can also find me on social media so snap a quick pic and tag @veggie_inspired and #veggieinspired so I'm sure to see it! Enjoy! #drinkyourgreens
Jenn S.
Yields 2
Superfood Smoothie for Glowing Skin
A delicious superfood smoothie full of healthy ingredients that will have you glowing from the inside out!
5 minPrep Time
5 minTotal Time
Ingredients
1 avocado, peeled and pit removed
3 clementines, peeled
1 cup chopped kale, stems removed
1 cup spinach
1 cup mixed berries
1 apple, cored
1/4 cup raw walnuts
1 cup ice
1/2 -1 cup filtered water, to thin
Instructions
Add all ingredients to a high speed blender and blend until smooth.
Drink up!
6.6.15
https://www.veggieinspired.com/superfood-smoothie-glowing-skin/
Jenn S. - Veggie Inspired
More Superfood Goodness:
Loaded Veggie Chopped Kale Salad
Creamy Dill Sauce w/ Spirulina
Coconut Water Smoothie w/ Berries & Spinach