Gingerbread Granola – crunchy little clusters of holiday flavor. Perfect for breakfast, snack, or gift giving.
Today is National Gingerbread Day! There is honestly a food holiday every day of the year. It's crazy, but I'm not complaining. In case you needed another reason to enjoy some delicious Gingerbread treats, besides the national holiday, this gingerbread granola is low fat, high protein and healthy!
Crunchy Granola
This crunchy granola is loaded with oats, pecans, pumpkin seeds, hemp hearts, flax, pumpkin purée, molasses and cashew butter all tossed with delicious gingerbread spices. Your house will smell amazing as this bakes up in the oven.
Time to Get Cozy
This is the perfect breakfast to get you going during the holiday season.  It would be a great afternoon pick me up as well.  I can also see myself cozied up on the couch with a blanket, my favorite movie or tv show and this granola with a splash of warm non dairy milk.  Yum!
Make it a Gift
I think homemade granola is the perfect gift for the holidays. People tend to receive a lot of cookies and sweets this time of year, so how about we stock them up with hearty breakfast/snack food instead. All with a little holiday flair, of course. I found these adorable little gift tags from Two Peas and Their Pod. They are totally free and printable, so grab yourself some too! They are perfect for tying around a mason jar full of crunchy gluten free Gingerbread Granola.
Gluten Free Gingerbread Granola
I hope you love this Gingerbread Granola as much as we do. If you give it a try, please leave me a comment below with your feedback. You can also find me on social media. Be sure to tag @veggie_inspired and #veggieinspired so I'm sure to see it. Enjoy!
Jenn Sebestyen
Yields 3 cups
Gingerbread Granola
A crunchy, low sugar, oil free, granola sure to be hit this holiday season! Great as a snack on it's own, with a splash of plant milk, or over yogurt for breakfast.
10 minPrep Time
30 minCook Time
40 minTotal Time
Ingredients
2 cups raw old fashioned oats
1/2 cup chopped raw pecans
1/4 cup raw shelled pumpkin seeds (pepitas)
1/4 cup hemp hearts
2 tbsp flaxmeal
1 tsp ground cinnamon
1/2 tsp ground ginger
1/4 tsp ground nutmeg
1/4 tsp ground cloves
1/2 cup pure pumpkin puree
1/4 cup molasses (regular, not blackstrap)
1/4 cup pure maple syrup
2 tbsp cashew butter (or nut butter of choice) - helps with "clumping" to create clusters
1/2 cup dairy free chocolate chips , optional
Instructions
Preheat oven to 350 degrees F.
Combine oats, pecans, pumpkin seeds, hemp hearts, flaxmeal, cinnamon, ginger, nutmeg, and cloves in a medium bowl.
In a separate small bowl, which together the remaining ingredients until smooth.
Pour the wet ingredients into the dry and mix well until everything is coated evenly.
Pour granola onto baking sheet (parchment lined if preferred, but it won't stick either way) in one even layer.
Bake for 25-30 minutes, stirring every 10 minutes.
Let cool. Granola will continue to crisp up after baking.
Mix in the chocolate chips, if using.
6.6.15
https://www.veggieinspired.com/gingerbread-granola/
Jenn S. - Veggie Inspired
More Gingerbread Deliciousness:
Chewy Gluten Free Chocolate Gingerbread Cookies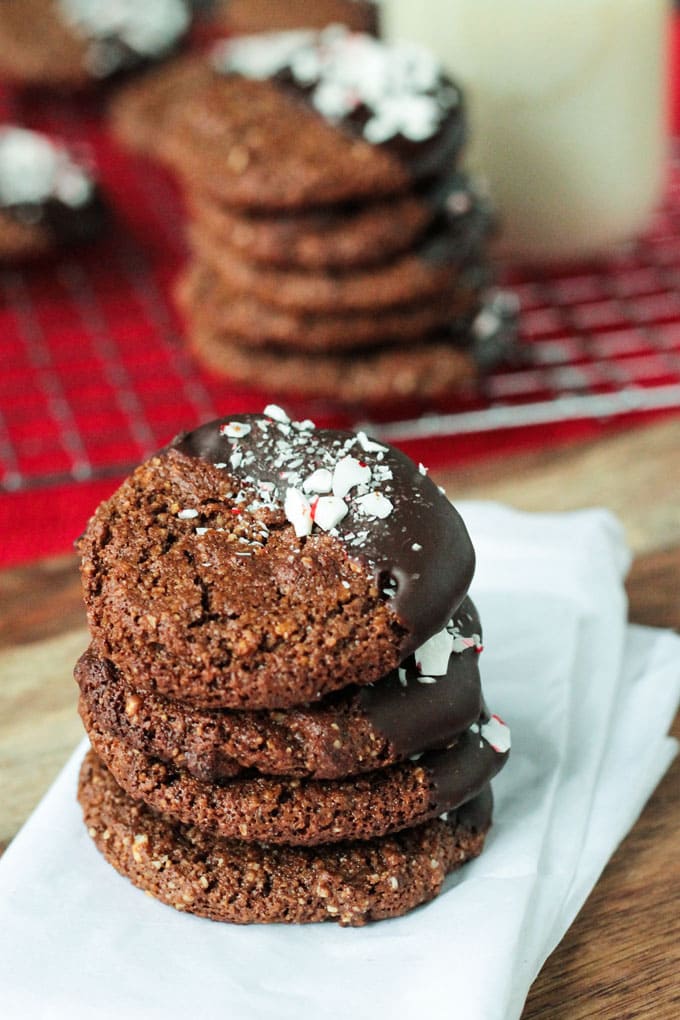 Gingerbread Chocolate Chip Baked Oatmeal Bites