As an Amazon Associate I earn from qualifying purchases. Please see my Privacy Policy for more details.
Butternut squash can be intimidating if you don't know what to do with it. In this article, you'll learn the easiest way to cut and prepare it, how to cook it, and the best butternut squash recipes to use it in!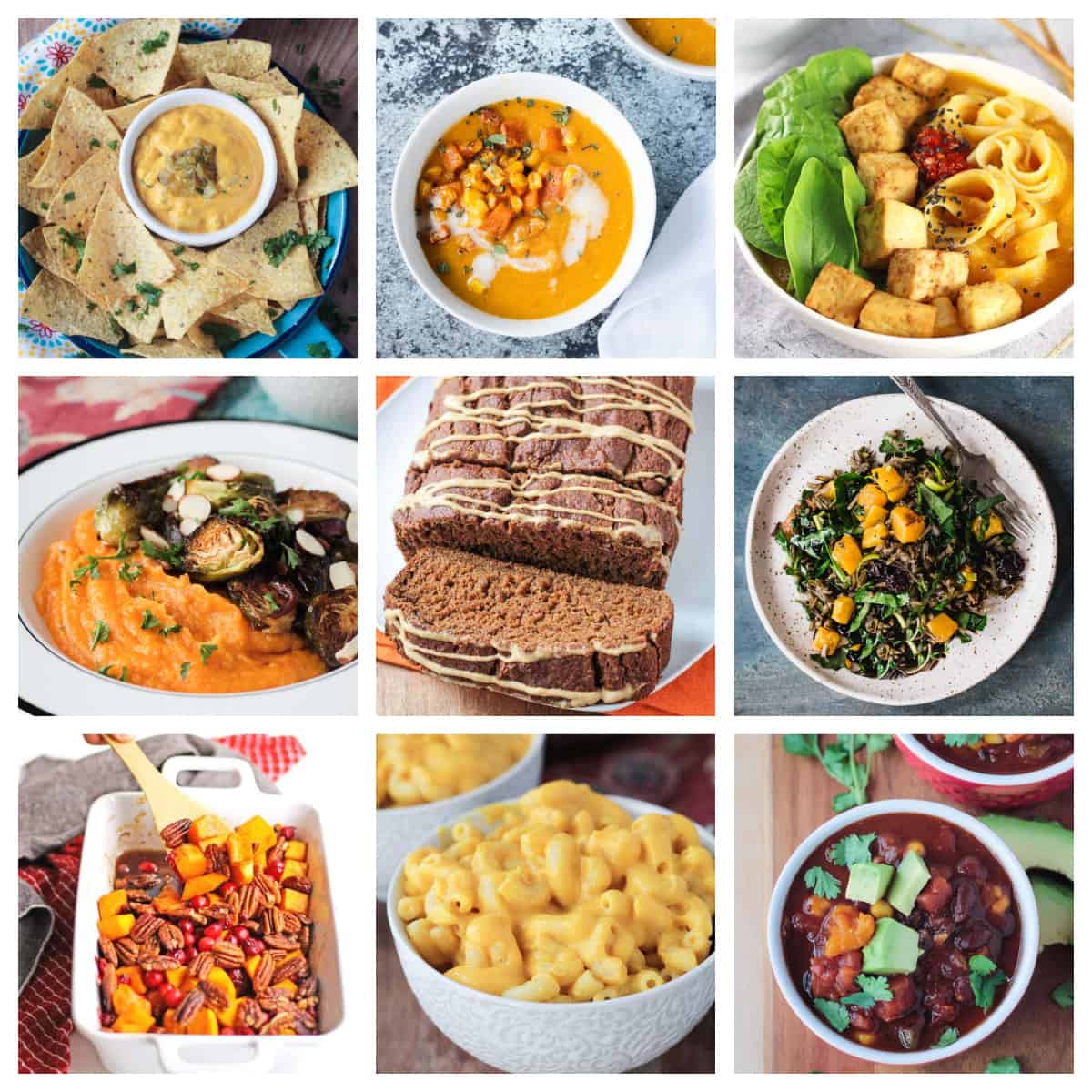 Butternut Squash is my favorite fall vegetable. It's so versatile. It can be roasted, puréed, sliced into "steaks", and stuffed. It's a great stand in for pumpkin in dessert recipes, too.
Read all about Butternut Squash and find the BEST vegan butternut squash recipes below!
What is butternut squash?
Butternut Squash is a variety of winter squash. It grows on a vine and has a beige-yellow skin color with bright orange flesh inside.
It has a mild nutty flavor with a subtle sweetness and is similar to pumpkin in texture..
How to cut
I find the easiest way to cut a butternut squash is to first cut off a slice at both ends. If the bottom is very bulbous, I like to cut that part off and peel it separately from the rest. Cut the bulbous end in half and scoop out the seeds.
Peel the whole thing carefully with a sharp chef's knife. You can use a vegetable peeler to peel off the skin if you are more comfortable with that, but I prefer a large sharp knife.
Once it's peeled, cube the squash just like you would any other vegetable.
How to cook
My favorite way to cook butternut squash is to roast it. It can also be boiled, steamed, and even microwaved.
Scroll through the delicious vegan butternut squash recipes below, and hopefully, you'll find a new favorite recipe or two!
Health benefits
Butternut squash contains good amounts of calcium, potassium, iron, magnesium, phosphorus, vitamin C, vitamin A, fiber, and more!
FAQs
Is butternut squash healthy?
Yes! Butternut squash is low in calories, but high in nutrients, like vitamins A, C, E and many B vitamins, folate, magnesium and potassium. [source]
Does butternut squash need to be peeled?
Technically speaking, you do not have to peel butternut squash. The peel is edible. However, even when cooked, the peel is tough, so I wouldn't recommend eating it. 

Depending on how you plan to cook your squash, you may not need to peel it anyway. You can slice a butternut squash in half lengthwise, scoop out the seeds, and roast it in the oven. Once it's cooked, you can scoop out the tender orange flesh to enjoy, leaving the peel behind.
Can winter squash be eaten raw?
While winter squash can be eaten raw, it's actually more nutritious cooked.
More vegan recipe roundups
I hope you love these recipes as much as we do! If you try any of them, please leave a comment below with your feedback.

Be sure to sign up for my FREE Newsletter to be the first to get my NEW recipes! You can also follow me on Instagram, Facebook, and Pinterest.

For even more easy family recipes, be sure to check out my cookbook, The Meatless Monday Family Cookbook!
Vegan Butternut Squash Recipes
The best vegan butternut squash recipes! From snacks, salads, and soups to entrées and even desserts!