As an Amazon Associate I earn from qualifying purchases. Please see my Privacy Policy for more details.
If you've found yourself with an overabundance of zucchini this summer, I've got your back! From sweet to savory, here are some of my favorite easy zucchini recipes along with some recipes from my favorite bloggers from around the web.
You'll find zucchini in every grocery store and farm stand you come across in the summer months. It's grows easily and plentiful.
Good thing it's super versatile!
It's great thrown into casseroles, soups and stews.
It's perfect for sneaking into quick breads, muffins, and cupcakes.
Roasted zucchini makes a great side dish…or stuff it and serve it as an entrée.
Spiralize it and replace your traditional spaghetti noodles
You can even eat it raw on crudités platters or in salads!
If you want to make the most of this summer green veggie, be sure to check out these Easy Zucchini Recipes for lots of great ideas!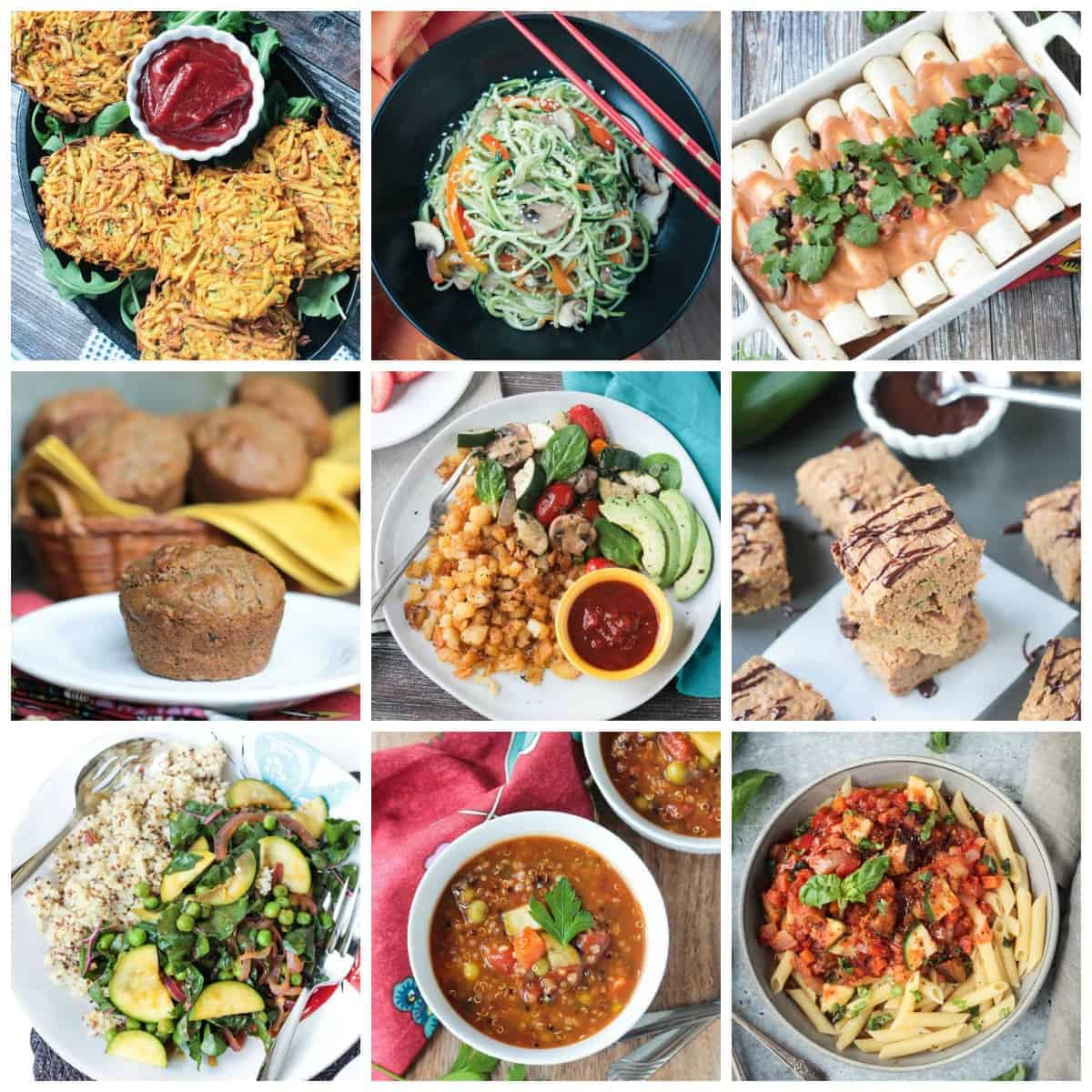 Is zucchini good for you?
Zucchini, sometimes referred to as courgette, is a variety of summer squash. It's very low calorie and low fat boasting quite a few vitamins and minerals, like vitamin C, magnesium, fiber, folate, multiple B vitamins, potassium, zinc, calcium, iron, and even protein. [source]
Read about the benefits of a plant based diet.
Learn how to stock your fridge, freezer and pantry with healthy plant based staples (bonus: get a FREE grocery list printable!)
How to pick a good zucchini
Zucchini can easily be found in grocery stores all year round and at farmers markets during the summer months. Look for those that are average in size and that have smooth, unblemished skins.
What can I do with an overgrown zucchini?
This green vegetable can be grown in your own backyard garden with very little effort. One plant can produce up to 10 pounds of zucchini in just one season. And the more you harvest, the more zucchini you're likely to get.
So, just what are you supposed to do with that huge overgrown monstrosity that you somehow missed hiding under the leaves? Well, you probably don't want to eat it raw, but it will still be great for soups, stews, and all the baked goods you can imagine.
More summer vegetable recipes
I hope you love these recipes as much as we do! If you try any of them, please leave a comment below with your feedback.

Be sure to sign up for my FREE Newsletter to be the first to get my NEW recipes! You can also follow me on Instagram, Facebook, and Pinterest.

For even more easy family recipes, be sure to check out my cookbook, The Meatless Monday Family Cookbook!
Easy Zucchini Recipes