As an Amazon Associate I earn from qualifying purchases. Please see my Privacy Policy for more details.
Just want to let you know that this shop has been compensated by Collective Bias, Inc. and its advertiser. All opinions are mine alone. #SilkandSimplyPureCreamers #CollectiveBias
Homemade Iced Caramel Macchiato – just like your favorite coffee house drink, but easily made in the comfort of your own home. Flavors of vanilla and caramel, a touch of cinnamon, and, of course, the all important caffeine kick. It's the perfect start to your day or afternoon pick-me-up.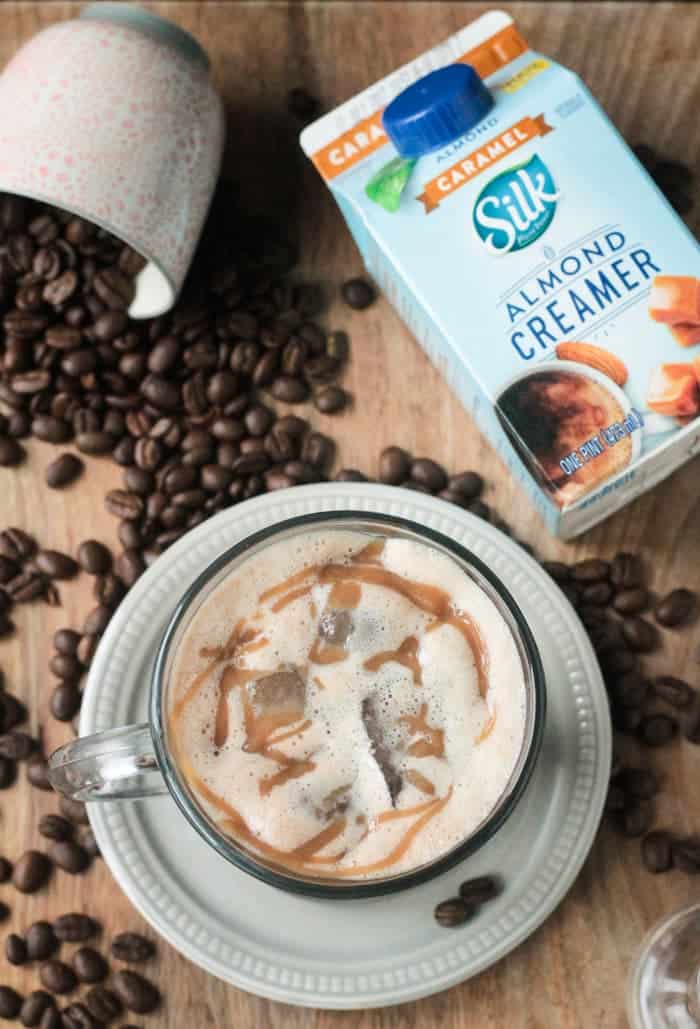 Many years ago, back when I ditched the dairy, I learned to love my coffee black. I just could not find a plant based milk or creamer that I enjoyed in my morning cup of joe. I've had a lot of friends ask me about non-dairy creamer options, too, and I have always felt bad when I had no good answers for them.
Well, I'm happy to report, friends, that this has all changed! Silk's new Almond Creamers are the answer to our non-dairy creamy coffee dreams. I was so excited about these new creamers that I ran to the kitchen and created a coffee house style Homemade Iced Caramel Macchiato. You guys are going to love love love this drink!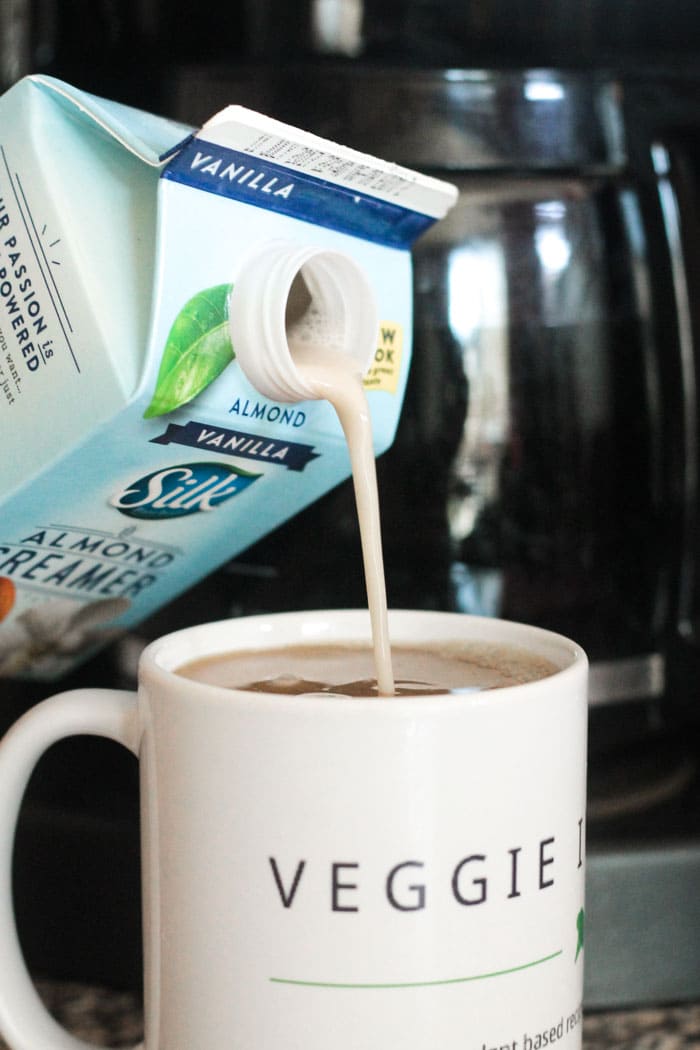 Silk Almond Milk Creamers
These Silk Almond Milk Creamers are thick, creamy, sweet and so yummy! They come in 3 dreamy flavors of Vanilla, Caramel, and Hazelnut. I've tried them in a steaming hot mug of coffee and I've tried them in a cold glass of iced coffee too – both love at first sip.
Not only are they Non-Dairy, but they are Non-GMO and gluten free, too. They are also free from carrageenan, which is near impossible to find in plant based milks and creamers. Lower in fat and sugar than traditional creamers, these new Silk Almond Creamers are a great option.
Which flavor would you try first?
Easy To Find Ingredients
I love that these Silk Creamers are easy to find. I don't like to make a trip to a specialty store if I don't have to. I do the majority of my shopping at Walmart because it's close-by, reasonably priced, and full of options for eating well. I think most people can say there is a Walmart near them too.
Silk Creamers and Non-Dairy Milks can be found in the refrigerated cases in the dairy aisle. Do yourself a favor and buy more than one because you're going to fall in love with them too.
If you love coffee, don't miss these other amazing vegan coffee recipes!
What Is A Macchiato?
A macchiato is an Italian drink that is basically just foamed milk and espresso. Macchiato means "marked." Sometimes this is done by pouring the espresso into the milk and sometimes it's done the other way around – pouring the milk into the espresso. Either way, you are "marking" or "staining" the color with your second pour.
When you order a macchiato in a US coffee house, it's likely to come with caramel syrup, too. While that's not traditional in Italy, it is darn good! Here you can also get them hot or iced. We like our options here in the U.S.A.
I use the Silk Caramel Almond Creamer in this Homemade Iced Caramel Macchiato recipe blended with a good dash of cinnamon which ends up being just slightly lighter than the color of the coffee, so you won't see much "marking" when you pour this. But we don't really care about that, we just care how it tastes and let me tell you, it's delightful!
And, yes, we are using a caramel drizzle – a homemade date syrup drizzle to be exact, which tastes just like caramel!
More Summer Sips to Love: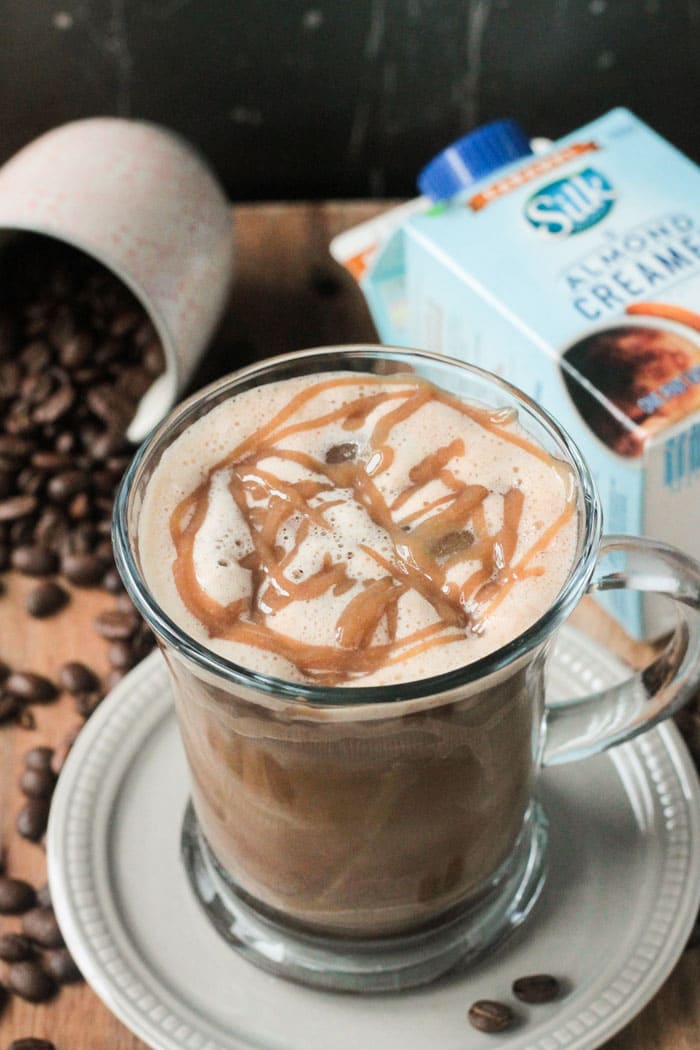 No Shame In My Coffee Game
Like I said above, a macchiato is traditionally made with espresso, not drip coffee. But, don't listen to those folks that try to tell you that you can't make a good macchiato with strong coffee because I'm here to prove that you can. It might not be a traditional style, but when you are a busy working mom just trying to get through your day, do you really care how authentic your caffeine kick is? I know I don't.
But, hey, if you are all about making espresso at home, then by all means, use a shot or two of that instead. Me? I tend to use the leftover coffee that I brewed in the morning and never got around to drinking because…life.
Now, all that being said, I definitely recommend using a coffee that you enjoy drinking and feel free to brew it stronger than normal if you like. But I guarantee you're going to love this drink even if you use regular strength drip coffee.
Homemade Iced Caramel Macchiato
I hope you love this Homemade Iced Caramel Macchiato as much as I do! If you try it, please come back and leave me a comment below with your feedback and star rating.
You can also find me on social media. Be sure to tag @veggie_inspired and #veggieinspired so I'm sure to see it.
Enjoy!
Find more inspiration here and try Silk Dairy-Free Creamers today!
Yield: 1 person
Homemade Iced Caramel Macchiato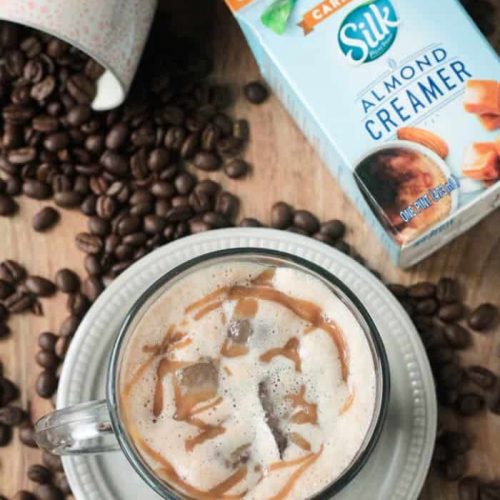 Homemade Iced Caramel Macchiato is a quick an easy pick-me-up that will remind you of your favorite coffee house drink. 
Ingredients
Date Syrup* (Optional, but HIGHLY recommended!)
½ cup Medjool dates (pitted)
⅔ cup water
Homemade Iced Caramel Macchiato
¼ cup Silk Unsweetened Vanilla Almond Milk
¼ cup Silk Almond Creamer (Caramel Flavor)
1 tsp Ceylon cinnamon
3 ice cubes
½ cup brewed coffee** (hot or cold) (or 1-2 shots of espresso)
Instructions
Combine the dates and water in a high speed blender and purée until completely smooth. I like to transfer it to a condiment bottle, but you can just transfer it to a jar or whatever you have. Place it in the fridge while you prepare the rest of the drink.
Quickly rinse out the blender - no need to thoroughly wash it.
Add the almond milk, almond creamer, and cinnamon to the blender and blend until combined. This only takes a few seconds. You just want the cinnamon completely mixed in so it's not gritty.
Drizzle the date syrup in the bottom and around the insides of a glass. Pour in the creamer mixture. Drop in the ice cubes. Pour in the coffee. Top off with another drizzle of the date syrup. Enjoy***
Notes
*The Date Syrup can be made in advance and stored in the fridge for up to a week. This recipe makes more date syrup than you will need for one macchiato - it would be very hard to get out of the blender in smaller amounts. Use leftovers drizzled on dairy free ice cream, oatmeal, dairy free yogurt, as a dip for fruit or graham crackers, or just lick it off a spoon!
**Make the coffee as strong as you like it. Espresso can also be used, again add either 1 or 2 shots depending on how strong you like your drink.
***Macchiato means "to mark" and this is done by pouring the coffee (or espresso) over the almond milk. Coffee shops will serve it just like this, however, I like to mix it all together before drinking. Mix it or not - enjoy how you like it!
Nutrition facts calculated without date syrup drizzle.
Nutrition Information:
Yield:
1
Amount Per Serving:
Calories:

144
Sodium:

105mg
Carbohydrates:

37g
Fiber:

17g
Sugar:

13g
Protein:

2g