As an Amazon Associate I earn from qualifying purchases. Please see my Privacy Policy for more details.
Pineapple Smoothie – Loaded with vitamin C, potassium, and protein, it's the perfect way to start your day or recover after a workout.
Sweet. Creamy. Refreshing. Bright. Nutritious. I could go on and on. This delicious sip has it all. I love the bright yellow color that reminds me of sunshine. I love the extra energy I feel after drinking it. I love the creamy, yet sippable, texture. But none of that matters if it doesn't also taste good. Well, you're in luck, because it's delicious too!
A superfood powerhouse Pineapple Smoothie that tastes as good as it looks! It's dairy free and gluten free and even contains a surprising ingredient that increases the potassium, protein, and fiber! Curious? Keep reading!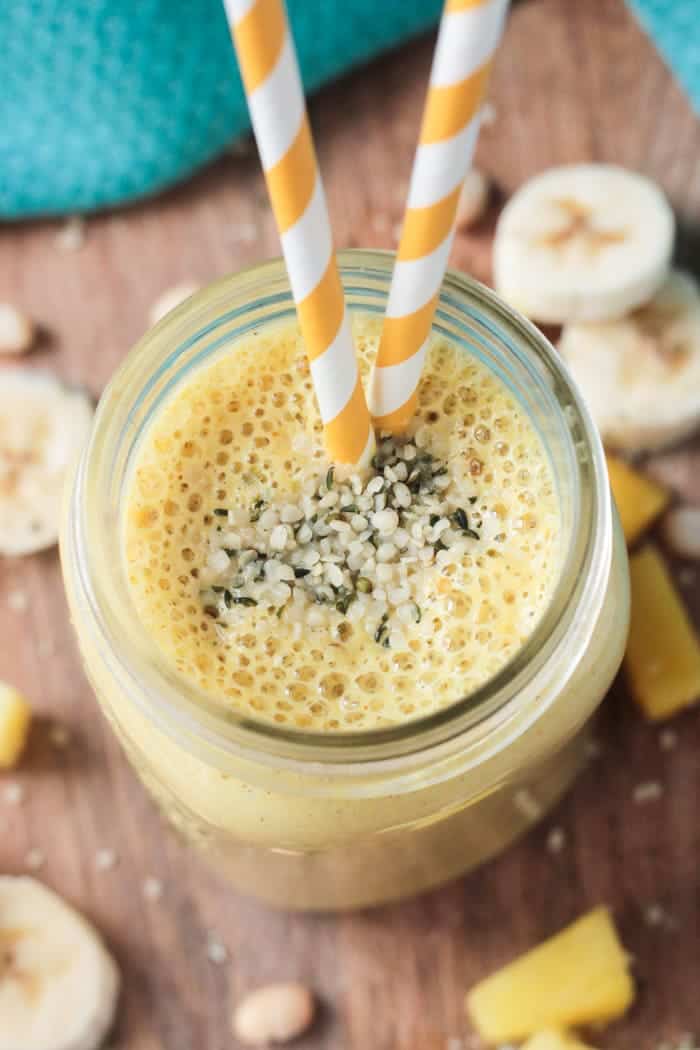 Back to Reality
I first teased you about this smoothie about 3 weeks ago here, but then life got in the way. Last week was spring break and I had a nice long vacation from working and most responsibilities. The first part of break I was visiting my parents in Nevada and skiing with my dad. The weather wasn't exactly what I was hoping for, but we had such a great time and skied 4 days in a row. I didn't feel so bad about missing my regular workout schedule since I was putting in a lot of effort on the slopes.
The last 4 days of break, I was back home and hanging out with my hubby and the kids. My workouts didn't happen at all during that time, but I didn't care. It was so much fun just relaxing as a family. But, alas, we are back to reality now. Kids are back in school and I'm back to the grind cooking and blogging and all that comes with it. Which also means I'm back to my regular exercise schedule and that's where this delicious dairy free smoothie comes in.
Post Workout Smoothie
I generally workout in the late morning. I have a small breakfast before – usually a slice of sprouted grain toast or a banana w/ almond butter or a small bowl of healthy oatmeal. When I get back from the gym, I like to make a nutritious smoothie to aid in recovery.
It's important to have some protein, carbs, and healthy fats in your post workout fuel. I also find I'm not really up for eating right after a workout, so a smoothie is the perfect choice. Smoothies are easy to load up with nutrients and simple to sip as I attempt to get some work done.
What's Inside
Banana – contains easily digestible carbs to restore glycogen levels that aid in muscle repair; potassium helps to prevent muscle cramps
Pineapple – the high water content will keep you hydrated; contains anti-inflammatory properties which can help prevent muscle damage
Hemp Seeds – contains easily digestible protein and healthy Omega-3 fatty acids
Turmeric – has anti-inflammatory properties which have been shown to decrease the pain associated with delayed onset muscle soreness
Ginger – relieves muscle soreness and aids in digestion
Coconut Water – higher amounts of potassium, sodium, magnesium, and calcium than popular store-bought sports drinks which helps to maintain proper fluid balance and avoid muscle cramping
And finally – White Beans!! – I know it seems odd in a smoothie, but you won't taste them at all! They provide extra creaminess, protein, and lots of potassium.
I'll admit, when I first set out to make a post workout smoothie, white beans were not my first choice. I wanted to add an avocado. But when I cut into my seemingly perfect green fruit, it was black inside. Yuck! And I only had the one.
So, I took a peak in the fridge to see what I could use instead and found some leftover white beans from these delicious Spinach Artichoke White Bean Burgers. They worked perfectly! And I love the golden color of this pineapple smoothie – which obviously would have turned green had I added an avocado.
Bonus – cans of white beans will last nearly forever in your pantry and, once opened, any leftovers can be easily frozen – meaning they will always be at the ready when you are.
Post Workout Pineapple Smoothie
I hope you love this Pineapple Smoothie as much as we do! If you try it, please come back and leave me a comment below with your feedback and star rating. You can also find me on social media. Be sure to tag @veggie_inspired and #veggieinspired so I'm sure to see it. Enjoy!
Post Workout Pineapple Smoothie (dairy free)
This Pineapple Smoothie is loaded with vitamin C, potassium, protein, and even some superfoods. It's the perfect way to start your day, snap out of an afternoon slump, or recover after a workout.
Print
Rate
Ingredients
1

banana

(fresh or frozen)

1

cup

pineapple

(fresh or frozen)

¼

cup

cooked white beans

(rinsed and drained)

2

tbsp

hulled hemp seeds

½

tsp

ground turmeric

⅛

tsp

ground ginger

1-1 ½

cups

pure coconut water

(depending on how thick/thin you like your smoothies)

handful of ice

(especially if you used fresh fruit!)

1-2

pitted Medjool dates

(optional for sweetness)
Instructions
Place all ingredients into a high speed blender and blend until smooth.
Notes
I prefer frozen fruits in this smoothie, but fresh definitely works too. Just make sure you add several ice cubes if you use fresh fruit to make sure it's cold and creamy!
Nutrition
Calories:
283
kcal
|
Carbohydrates:
43
g
|
Protein:
4
g
|
Fat:
3
g
|
Monounsaturated Fat:
2
g
|
Sodium:
211
mg
|
Potassium:
900
mg
|
Fiber:
4
g
|
Sugar:
35
g
|
Vitamin A:
50
IU
|
Vitamin C:
7.4
mg
|
Calcium:
40
mg
|
Iron:
4
mg
More Delicious Dairy Free Smoothie To Love:
Rise & Shine Creamy Clementine Smoothie