As an Amazon Associate I earn from qualifying purchases. Please see my Privacy Policy for more details.
Healthy Oatmeal that's super creamy, perfectly sweet, and totally customizable with absolutely no added sugars! Easy to make and kid friendly! With plant protein, filling fiber, energizing complex carbs, there's no better way to start your day!
I've had many readers (and friends) tell me their kids will only eat oatmeal if they dump in a bunch of sugar. Because oats are so good for us, they are all wondering what is the secret to getting my kids to not only eat it, but to love it.
I'm here to tell you, it is SO EASY! There are a few key tips that will take your breakfast bowl from good to great. And you can customize it however you like! This is the Healthy Oatmeal recipe you need!
Ingredients you need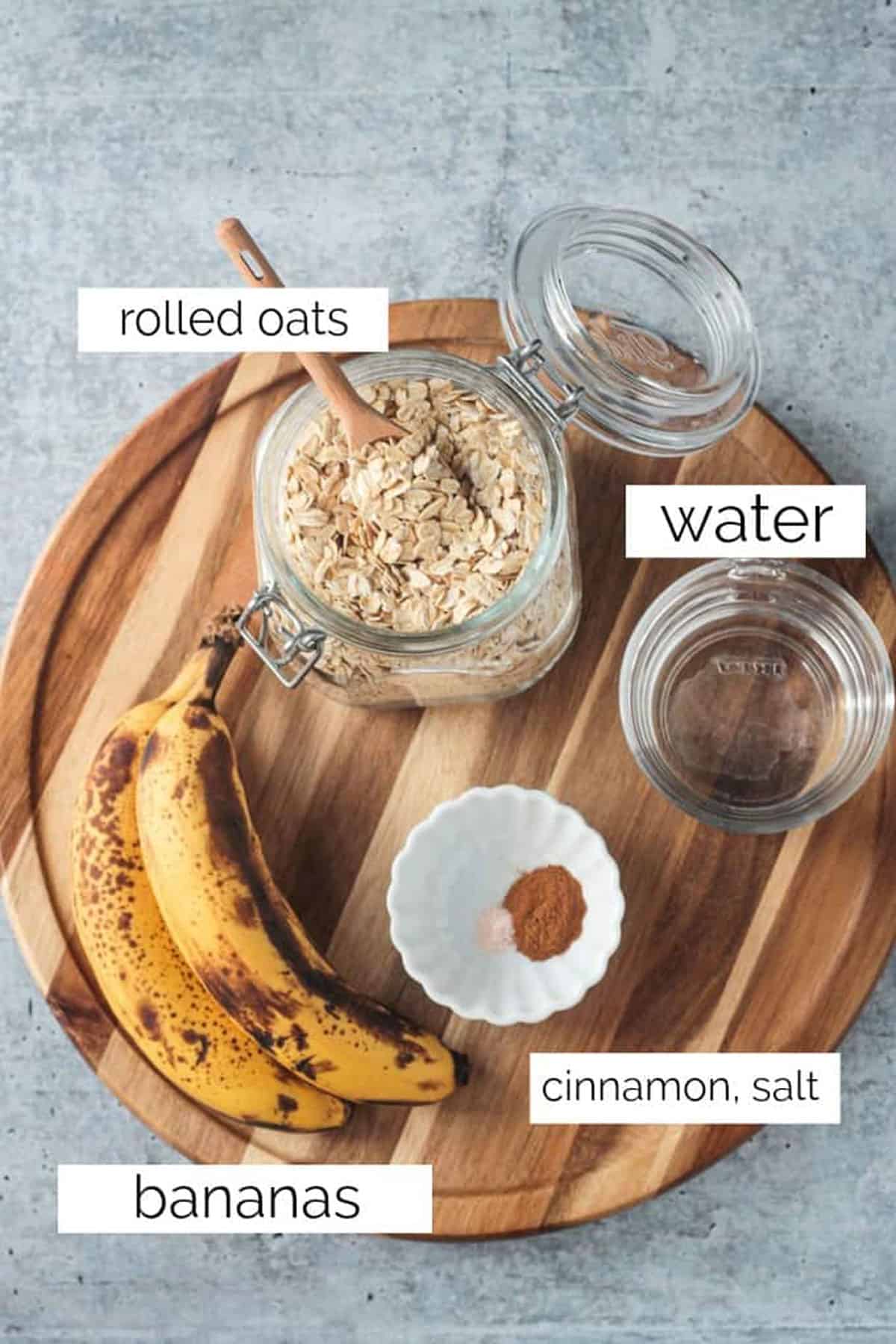 I'll let you in on a little fact – my kids like SWEET oatmeal, too! But, guess what? There is NO added sugar in this recipe…not even pure maple syrup. Yet, it is totally sweet and delicious.
Here's another fact – they like CREAMY oatmeal. But, guess what? There is NO dairy or even plant milk in this recipe. You've probably never had oatmeal this creamy before.
So what IS in this base recipe for healthy vegan oatmeal? Rolled oats, banana, cinnamon, and salt. That's it!
Ingredient notes
Oats ~ Old fashioned rolled oats are what you need. They cook quicker than steel cut, but still retain some texture, unlike quick oats or instant oats.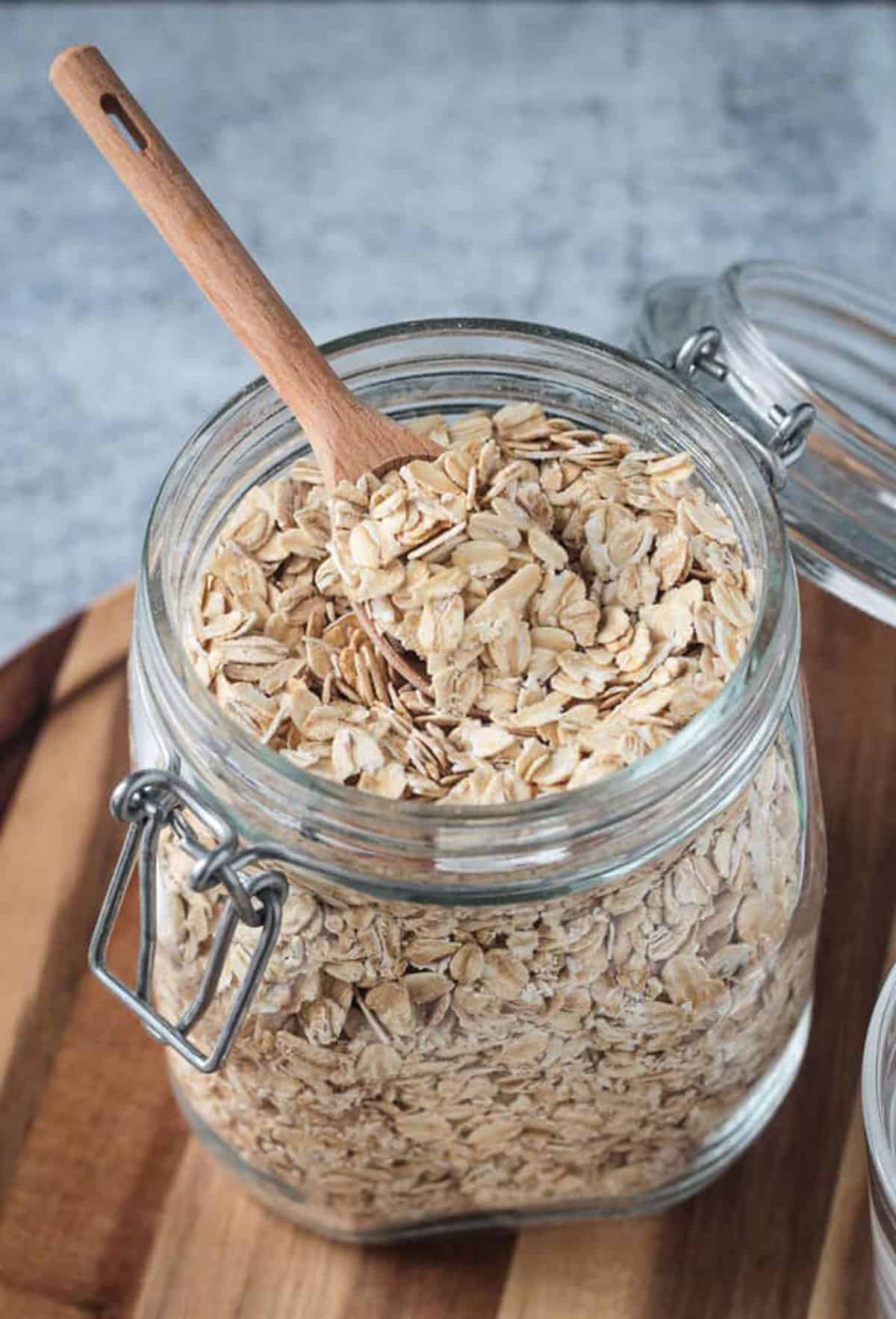 While oats are technically gluten-free, they are often processed on equipment that also processes gluten ingredients. For that reason, if you have celiac disease or gluten intolerance, you'll want to make sure to look for certified gluten-free oats.
Bananas ~ Ripe bananas. The ones with brown spots! The more brown spots the banana has, the riper and sweeter it will be.
This is how we make our oatmeal sweet with no added sugar! We are smashing these bananas until they are almost a liquid and then whisking them into the water. You won't even notice them once you add the oats!
Don't like bananas? I still encourage you to try this recipe as you really don't notice them in the final dish. Use just one banana if you are really worried about the flavor coming through.
Water ~ No need for fancy nut or seed milks here, plain water works perfectly for this healthy oatmeal. I promise it will still be super creamy and delicious!
That being said, if you really want to, you can use your preferred milk.
Flavor ~ Since this is a basic base recipe for adding whatever toppings you choose, we are keeping the flavorings simple. A dash of cinnamon and a little pinch of salt is all that's needed.
Don't love cinnamon? Just leave it out!
How to make the recipe
Please scroll down to the recipe card for exact ingredient measurements and instructions.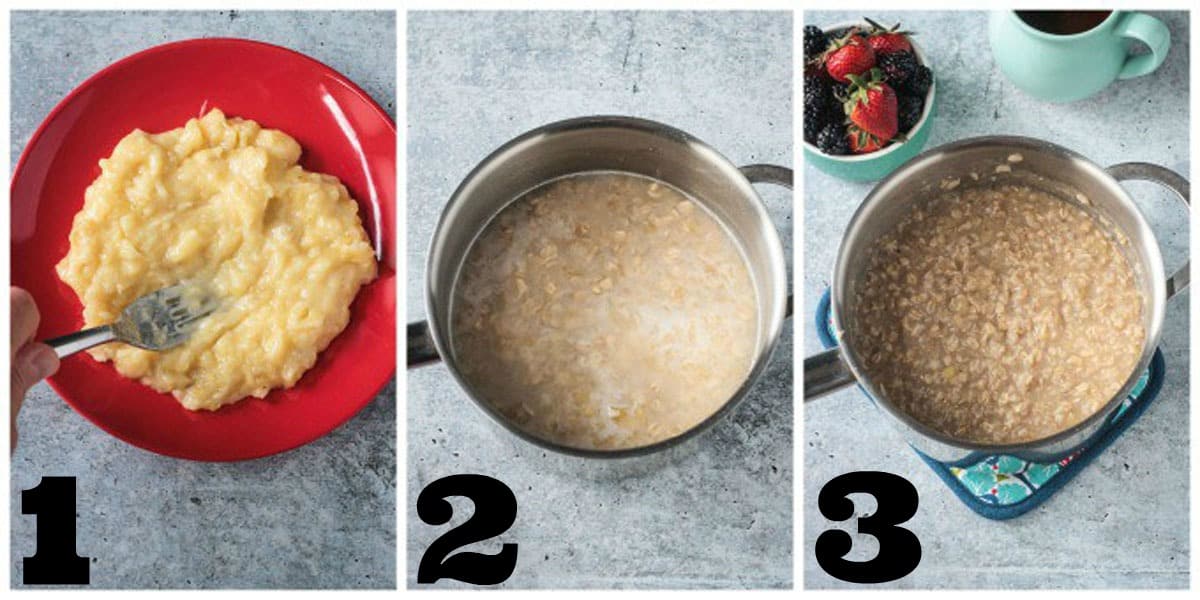 Smash the bananas really well, until they resemble a purée (1).
Add them to the water in pot on the stove and whisk well to incorporate. Add the oats and stir well (2).
Turn on the heat to medium-high and bring to a boil, then decrease the heat to low, add the cinnamon and salt, and cook until thick and bubbly (3).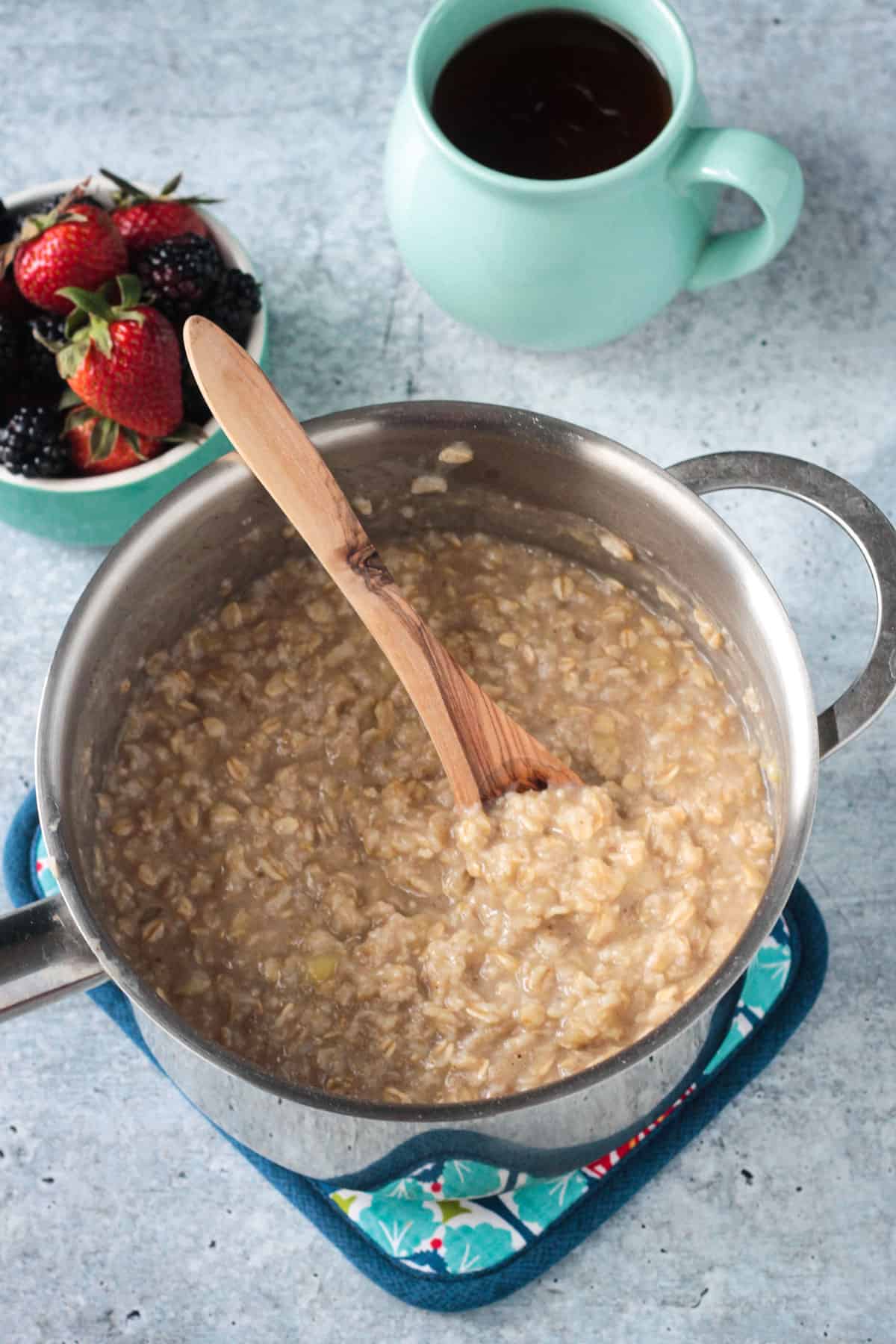 Oatmeal toppings
If you are a banana lover, you can stop right here if you want. But the best part of making a big batch of healthy oatmeal like this is that every family member can top their individual bowls any way they like (without NEEDING sugar!).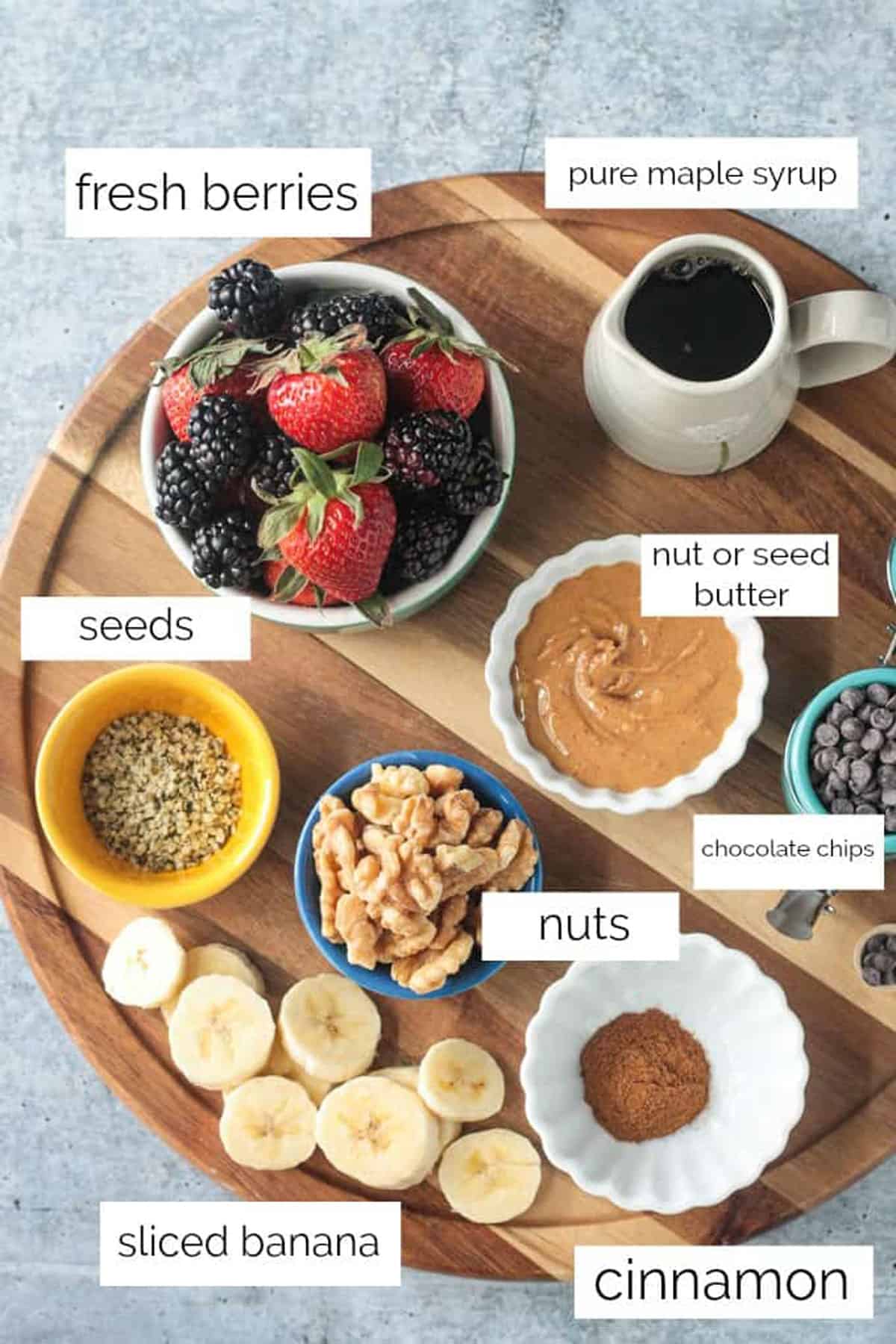 Fresh fruits, dried fruits, nut butters, chopped nuts and/or seeds, pure maple syrup, spices like cinnamon, nutmeg or ginger, cocoa powder, chocolate chips, whatever your heart desires!
If you are NOT a banana lover (what?) stirring in some nut butter and sprinkling with cinnamon or cocoa should mask the banana flavor, but leave the sweetness! If you are really worried about the banana flavor coming through, use just one banana, instead of two.
For a fall treat, top it off with some quick Stovetop Cinnamon Apples!
Favorite combinations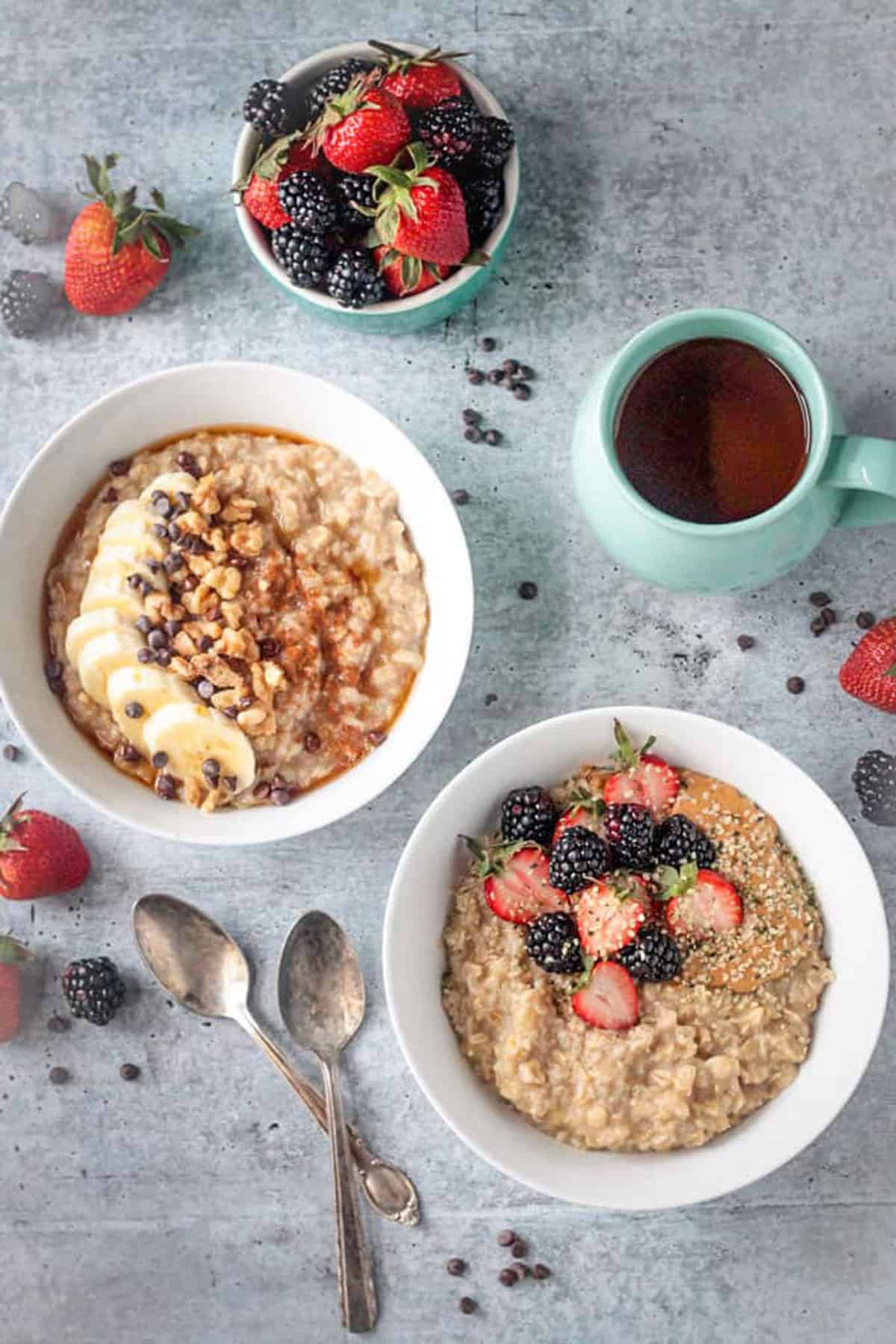 Here are some of our favorite combinations for healthy oatmeal bowls:
Or try these healthy oatmeal variations:
Fresh berries, hemp hearts and almond butter – my fave!
Peanut butter and chopped apples – my son's fave!
Nut butter, fresh banana slices, walnuts, and chocolate chips – my daughters' fave!
Pro tips and tricks
Bananas!
You smash those bananas up on a plate or cutting board until they're basically pureed. Then you whisk the smashed banana into the water. I wish I could take credit for this brilliant idea, but I learned this tip from the Whole Banana Oatmeal recipe in Rip Esselstyn's Engine 2 Diet.
Add the oats to cold water!
What? I know! When I first figured out this trick, I couldn't believe it. I thought you were always supposed to bring the water to a boil and then add the oats. And you can certainly make oatmeal that way, but not super dreamy creamy oatmeal. After your water, smashed banana and oats are in the pan, THEN turn on the heat and bring to a simmer.
That's it! Super quick and easy. Bananas and cold water are your ticket to sweet creamy vegan oatmeal.
FAQs
Are oats healthy?
Oats are a whole grain food that offer a good source of carbs, fiber, protein, iron, zinc, folate, and healthy fats. They are one of the most nutrient dense foods available. [source]

Oats have been said to provide digestive support, stabilize blood sugars, and decrease risk of cardiovascular problems.
Are oats gluten-free?
Oats are naturally gluten-free, however, they are often harvested and processed using the same equipment as other gluten-containing grains. For this reason, if you have Celiac disease or are gluten-intolerant, it is important to look for oats that are certified gluten free.
What kind of oats should I use?
Browsing the oats section of the grocery store can be a bit confusing if you're new to using them. There you'll find oat groats, steel cut oats, Scottish oatmeal, old fashioned rolled oats, quick oats, instant oats, and even oat flour.

For this healthy oatmeal recipe, you'll want to grab the old-fashioned rolled oats, not quick or instant. They cook quicker than steel cut, but still retain some texture, unlike quick or instant.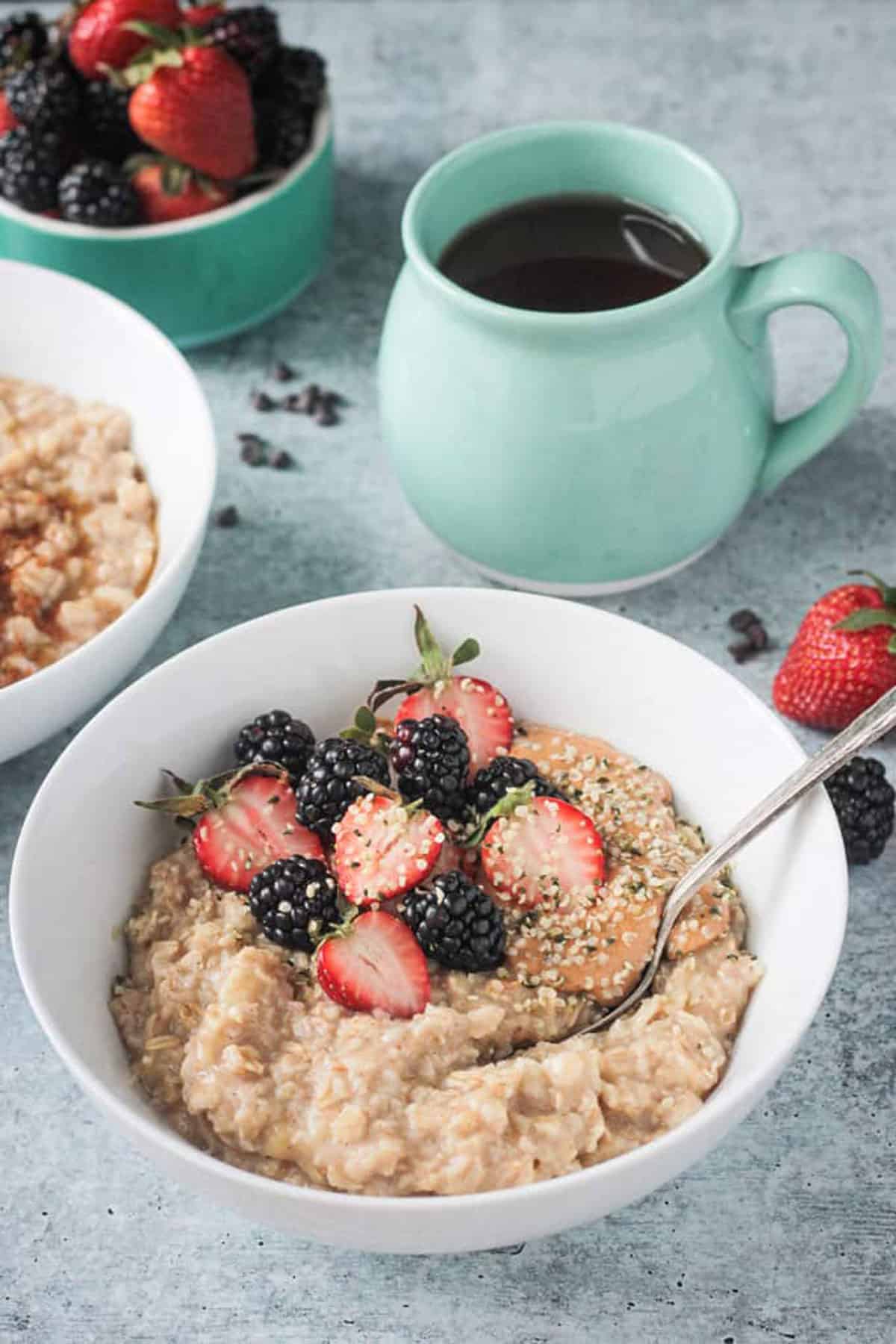 I hope you love this recipe as much as we do! If you tried it, please use the rating system in the recipe card and leave a comment below with your feedback.

Be sure to sign up for my FREE Newsletter to be the first to get my NEW recipes! You can also follow me on Instagram, Facebook, and Pinterest.

For even more easy family recipes, be sure to check out my cookbook, The Meatless Monday Family Cookbook!
Easy, Sugar Free Healthy Oatmeal
An easy, SWEET and CREAMY healthy oatmeal customizable to your tastes with no added sugar and no dairy or plant milk!
Print
Pin
Rate
Ingredients
For the Oatmeal
3 ¼

cups

water

2

medium bananas

smashed really well (use just one if you are not a banana lover)

2

cups

old fashioned rolled oats

be sure to use certified gluten free oats for gluten free

1

teaspoon

ground cinnamon

⅛

teaspoon

salt
Toppings, optional, use as many as you like
Nut butter

Chopped nuts or seeds

Fresh fruit

Dried fruit

Spices

more cinnamon, nutmeg, or ginger

Cocoa powder

Chocolate chips

Granola

Plant milk

Pure maple syrup
Instructions
Smash the bananas really well until they resemble puree.

Add the water to a pot on the stove and whisk in the banana until well incorporated.

Add the oats to the water and THEN turn on the stove to medium-high. As soon as the oatmeal comes to a simmer, turn down the heat to low, add the cinnamon and salt, and cook until desired consistency, stirring occasionally, This takes less than 10 minutes.

Spoon into individual bowls and top with (or stir in) ingredients of choice.
Notes
~This amount is intended to serve 4 adults, but my kids love this so much, it usually only feeds the 3 of them!
---
~Nutrition facts calculated without toppings.
Nutrition
Serving:
4
Servings
|
Calories:
246
kcal
|
Carbohydrates:
46
g
|
Protein:
8
g
|
Saturated Fat:
1
g
|
Sodium:
1
mg
|
Fiber:
7
g
|
Sugar:
9
g
Nutrition values are calculated using online calculators and are estimates only. Please verify using your own data.