As an Amazon Associate I earn from qualifying purchases. Please see my Privacy Policy for more details.
Perfectly sweet (yet refined sugar free!), packed with fiber and protein, and easily portable, the Baked Oatmeal Muffins are the perfect back-to-school breakfast or snack! Bake up a batch today!
Back-to-School
We are full on in the throws of back to school. Alarm clocks, early rising, packing school lunches, scurrying to eat a quick breakfast, running to the bus just on time, after school snacks, homework, rushing off to baseball practice or games, fitting in dinner somehow, getting home late, baths, story time, bed, and then…..we do it all again the next day. Does this sound familiar? There is so much to do in the course of a day and so little time to do it. It's important to me that we continue to eat healthy amongst the chaos, but it's definitely more of a challenge. That's why I love these Cranberry Baked Oatmeal Muffins. They are quick and easy to throw together, full of healthy fiber & protein, and no oil, no dairy, and no refined sugar. They are easy to grab-n-go on the run. Oh, they just happen to be gluten free and nut free too!
Quick and Easy
Quick and easy is the name of the game around here – especially during crazy busy school days. These Baked Oatmeal Muffins can be made in about 30 minutes. And all you need is some mixing bowls, a spatula, and a muffin pan. Best yet though, is that after that initial baking time, you've got breakfast and snacks done for the entire week! Have a big family or lots of friends to feed? No problem. Simply double the recipe and make 24 muffins! They even freeze well and can be quickly reheated in about 20-30 seconds in the microwave whenever you need one. Less than 30 seconds for a healthy breakfast or snack – yes please!
Bob's Red Mill Gluten Free Oats
Oats are an incredibly versatile whole grain and we use a lot of them in this house. They're high in fiber, which means they keep tummies full! Bob's Red Mill Gluten Free Old Fashioned Oats are always my go-to. It's a company I trust for delicious taste, consistent texture, and reliable quality. Their gluten free oats are packaged in a dedicated gluten free facility and are tested every step of the way to ensure they always 100% gluten free.
We use oats in oatmeal, granola, smoothies, desserts, and even burgers! Super versatile!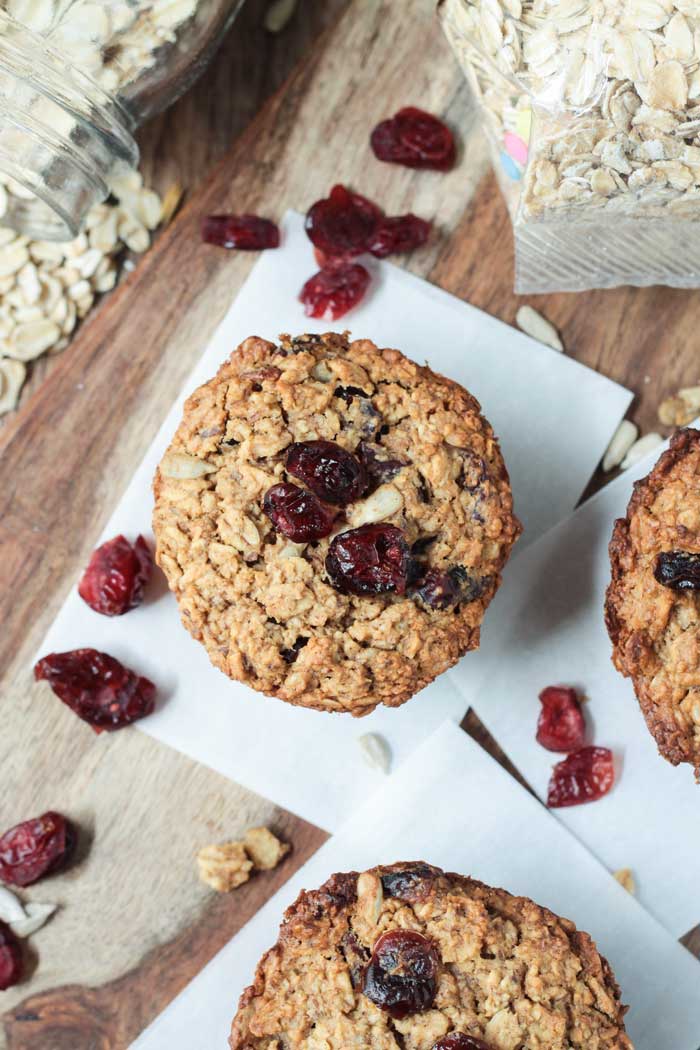 Easily Portable
Remember that chaos I told you about earlier? Hitting snooze one too many times or rushing off to practice right after school often means no time to eat a proper meal. Thank goodness these little muffins are perfectly portable! Your kids can eat one on the way to the bus. You can take bites between shaking the kids awake one more time and helping your littlest ones squeeze toothpaste on their toothbrushes. A container full of these babies goes easily with you to the ball field. You can even throw one in a lunchbox when you're out of leftovers and don't feel like making a sandwich.
Dried Fruit vs. Fresh
I opted to use dried fruit in these baked oatmeal muffins because they add extra sweetness and chewiness, but also because they aren't messy. Fresh fruit is wonderfully delicious in baked goods, but these dairy free treats are meant to be grab-n-go and nobody wants a purple stain on their shirt because of a runaway juicy blueberry. Well, my youngest might – she adores everything purple. 🙂
In addition to being totally yummy, (Dare I say, it's my favorite baked oatmeal yet?? That honor used to belong to my Gingerbread Chocolate Chip Baked Oatmeal.) they are also totally packed with nutrition. Protein, fiber, healthy omega-3 fats, vitamin E, B vitamins, folate, magnesium, phosphorus, selenium, zinc, calcium, and more! Can your muffin do that?!
Cranberry Baked Oatmeal Muffins
You guys are going to love these gluten free baked oatmeal muffins! As luck would have it, Bob's Red Mill is kind enough to give you guys a coupon, so you can make them too! Please leave me a comment below with your feedback and star rating after you try them. I can't wait to hear what you think! You can also find me on social media. Be sure to tag @veggie_inspired and #veggieinspired so I'm sure to see it.
Baked Oatmeal Muffins with Cranberries
Baked Oatmeal Muffins with cranberries are the perfect breakfast or snack. Perfectly sweet (yet refined sugar free!), packed with fiber and protein, and easily portable. Bake up a batch today!
Print
Rate
Instructions
Preheat the oven to 350 degrees F.

Lightly spray a 12-cup muffin tin with cooking spray and set aside.

In a medium mixing bowl, stir together the oats, sunflower seeds, flax meal, baking powder, cinnamon and salt.

In a large mixing bowl, whisk together the sunflower seed butter and maple syrup until smooth. Once smooth, whisk in the applesauce, non-dairy milk, and vanilla.

Stir the dry ingredients into the wet ingredients until thoroughly combined.

Stir in the dried cranberries until dispersed well.

Spoon the mixture into the muffin tin, filling each cup to the top and pressing down to make sure it's compact.

Bake for 20-25 minutes until the tops start to brown.

Let cool in the muffin tin on a wire rack for 10-15 minutes. Run a knife carefully along the edge of each muffin cup to loosen it from the sides. They should pop out easily once loosened. You can eat them warm, or continue cooling on the wire rack until completely cool.
Notes
Leftovers can be stored in an air-tight container on the counter for up to 2 days or in the fridge for up to 5 days. If you won't eat them all in that time, you can freeze them in a freezer safe container in one layer, or covered with plastic wrap on a baking sheet. Once frozen they can be transferred to a freezer safe plastic bag for easier storage.
Alternately, this baked oatmeal can be made in an 8x8 baking dish. Lightly spray the baking dish with cooking spray or line it with parchment paper. Bake for 35-40 minutes until the top is firm and starting to brown.
Nutrition
Calories:
183
kcal
|
Carbohydrates:
28
g
|
Protein:
4
g
|
Fat:
7
g
|
Saturated Fat:
1
g
|
Polyunsaturated Fat:
3
g
|
Monounsaturated Fat:
3
g
|
Sodium:
152
mg
|
Potassium:
22
mg
|
Fiber:
4
g
|
Sugar:
17
g
|
Calcium:
30
mg
|
Iron:
1.3
mg