As an Amazon Associate I earn from qualifying purchases. Please see my Privacy Policy for more details.
Buffalo Cauliflower Bites – a meatless version of your favorite buffalo wings. No breading station required – these are so easy!!
These bites are so flavorful, tender on the inside, with a bit of crunch on the outside. These are meant for sharing, but I'm pretty sure you won't want to. 😉
And because these are made with cauliflower instead of the traditional stuff buffalo bites are made with (chicken), they are healthier! So go ahead and chow down guilt free!
I'm sure you've seen various different recipes for these cauliflower bites floating around online. Most of them seem to have some sort of tedious breading involved. While I do love breaded things, it takes a long time and can make a big mess.
I wanted to find a way to make these without the need of a breading station. These Buffalo Cauliflower Bites still have a crunch from the Panko breadcrumbs, but the breadcrumbs are just loosely shaken on, which actually makes them a bit healthier because you can use less. It also makes them super easy! And addictive. I can eat an entire head of cauliflower this way!
How Do You Prepare Cauliflower?
I find the easiest way to prepare cauliflower is to first cut it in half down the middle and then work with each half on it's own. Tear or cut off the outer leaves, then cut off the stem. If there are any smaller leaves in between the florets, I take a small paring knife and carefully cut the stem from the cauliflower.
Once the leaves and stem are gone, you can gently pull apart the florets. You want them bite size for this Buffalo Cauliflower recipe. If you have any florets that are on the larger size, you can cut them in half. Any smaller florets or crumbled pieces you can save for a different recipe – throw them in soups, toss them with pasta, or add them to rice dishes.
Don't miss these other vegan cauliflower recipes:
What is Buffalo Sauce Made of?
Typical buffalo style sauce is made by combining hot sauce with butter and sometimes adding seasonings like garlic or Worcestershire sauce.
For this recipe, we are taking an even easier route and using store-bought bottled buffalo sauce! Tobasco Buffalo Sauce and Frank's Red Hot Buffalo Wing Sauce are both vegan and taste delicious. Don't worry about the "natural butter flavor" in the Frank's brand…it is indeed vegan (as of the time of this writing, anyway).
Why is Celery Served with Buffalo Wings?
If your mouth needs a break from the hot spicy bites, a little crunch of fresh celery with ranch should cool things down. Carrots could work, too.
More savory vegan snacks you'll love!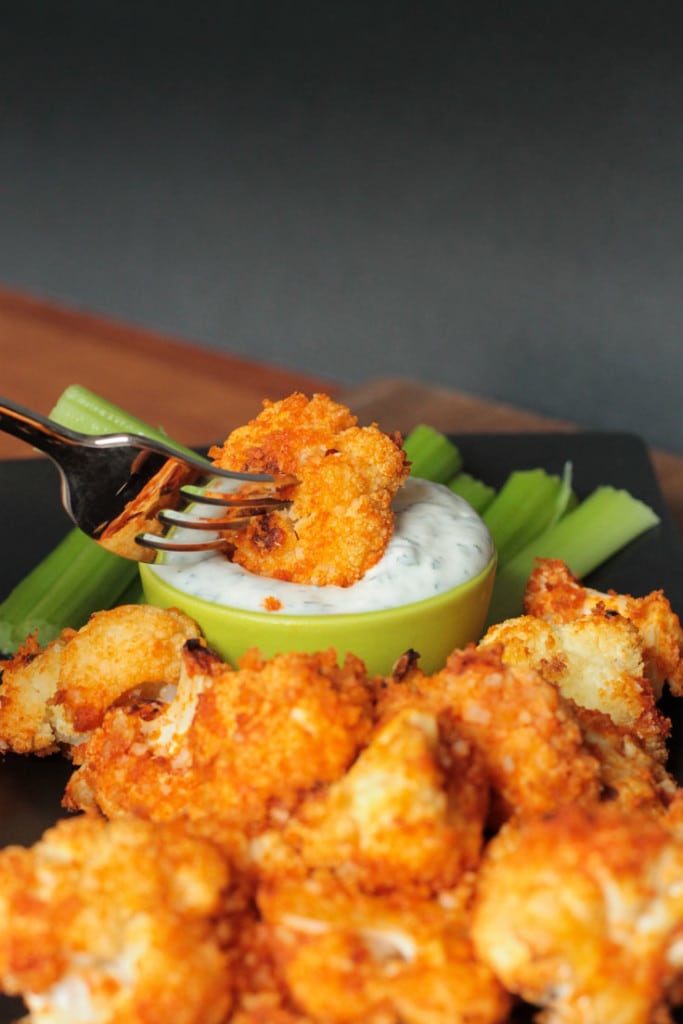 Dairy Free Ranch Dip
These tangy spicy cauliflower wing bites are the perfect appetizer, game day snack, or late night munchie. Serve 'em up with this Cheater Vegan Ranch Dip and I dare you to try to stop eating them.
I call this dip "cheater" because I used a store bought processed ingredient as the base. Many vegan ranch recipes call for cashews soaked for 3-4 hours. Those are delicious, but sometimes I want something I can whip up in just minutes.
I originally used vegan sour cream as the base, but I have also made it using vegan mayo as the base. Both are delicious, so use what's in your fridge.
Creamy Cumin Ranch Dressing would be wonderfully delicious with these spicy bites, as well, and it is made with all whole food ingredients!
Buffalo Cauliflower Bites
I hope you love these Buffalo Cauliflower Bites as much as we do. If you try them, please come back and leave me a comment below with your feedback and be sure to leave a star rating in the recipe card.
You can also find me on social media. Be sure to tag @veggie_inspired and #veggieinspired so I'm sure to see it.
Enjoy!
Yield: 4
Buffalo Cauliflower Bites and Cheater Vegan Ranch Dip
Buffalo Cauliflower Bites – a meatless version of your favorite buffalo wings. No breading station required – these are so easy!!
Ingredients
For the Buffalo Cauliflower Bites
1 large head cauliflower (cut into bite size florets)
1-2 tbsp extra virgin olive oil (depending on the size of your head of cauliflower)
⅓ - ½ cup Panko breadcrumbs
For the Cheater Vegan Ranch Dip
2 tbsp lemon juice (or to taste)
2 tablespoons unsweetened plain non-dairy milk (soy or almond would work) (*see note)
½ tsp salt (or to taste)
½ tsp onion powder
½ tsp garlic powder
1 tbsp dried parsley
Instructions
Preheat oven to 450 degrees F.
In a large bowl, drizzle the olive oil over the cauliflower florets and toss to coat well.
Pour the breadcrumbs over and toss again to coat.
Pour cauliflower onto a parchment lined baking sheet and spread out into one layer.
Roast for 20 minutes or until cauliflower starts to get tender.
Take out of oven and pour back into the large bowl.
Pour hot sauce over cauliflower and toss to coat.
Place back on baking sheet and roast for another 10-15 minutes or so until cauliflower starts to get crispy on the edges.
Meanwhile, make the Cheater Vegan Ranch Dip. Combine all ingredients in a high speed blender and blend until combined.
Take cauliflower out of oven. Toss with a little more Panko breadcrumbs. Serve with Cheater Vegan Ranch Dip.
Notes
~Some brands of vegan sour cream are thinner than others. If yours seems very loose, you may not need to add any milk at all. On the other hand, if yours is thicker (or if you're using vegan mayo which tends to be thicker), add more milk 1 tablespoon at a time until the desired consistency for dipping is reached.
Nutrition Information:
Yield:
4
Serving Size:
4 Servings
Amount Per Serving:
Calories:

157
Total Fat:

9g
Saturated Fat:

1g
Sodium:

1492mg
Carbohydrates:

15g
Fiber:

3g
Sugar:

3g
Protein:

5g