The crispiest cauliflower you've ever had…and it's BAKED! Crispy, crunchy, creamy – you can have it all with these Crispy Coconut Lime Baked Cauliflower Tacos!
I have to admit I haven't been this excited about a recipe in a long time! These seriously turned out better than I could have ever imagined and now I can't stop eating them. They are the perfect light summer meal! Easy with super fresh flavors, this recipe hits on all the best textures – crispy, crunchy and creamy. You have to try these Crispy Coconut Lime Baked Cauliflower Tacos!
Texture Explosion
The crispy cauliflower, the crunchy coleslaw, the creamy tartar sauce – it all works so perfectly together to create one delicious bite!
Reminiscent of a fried fish taco, it'll have you dreaming of the waves breaking on the sand while you dine seaside. Perhaps a Pineapple Coconut Smoothie, which tastes like a virgin piña colada, would be a great choice to wash it down. I can easily take down three of these Cauliflower Tacos in one sitting – sometimes more! It's so hard to stop! And the whole family loves them too!
Baked and Oil-Free
I am not even kidding when I say this cauliflower is the CRISPIEST you've ever had! The panko breadcrumbs and coconut flakes combine to make a super crunchy crust surrounding the cauliflower. The cauliflower, on the inside, is tender and delicious!
With absolutely no oil, it's BAKED, not fried. I almost couldn't believe it myself. I have made these cauliflower tacos a huge number of times now because I wanted to make sure it wasn't just a fluke and that it would turn out super crispy when you guys make it too. I promise, it will!
Cauliflower Tacos
Just look at all that crispy breading! These are just like your favorite crispy fish tacos, but so much better because they are plant based, healthy cauliflower tacos!
[Tweet "The CRISPIEST Cauliflower you've ever had. And tacos! #vegan #recipe #cauliflowertacos #cauliflower"]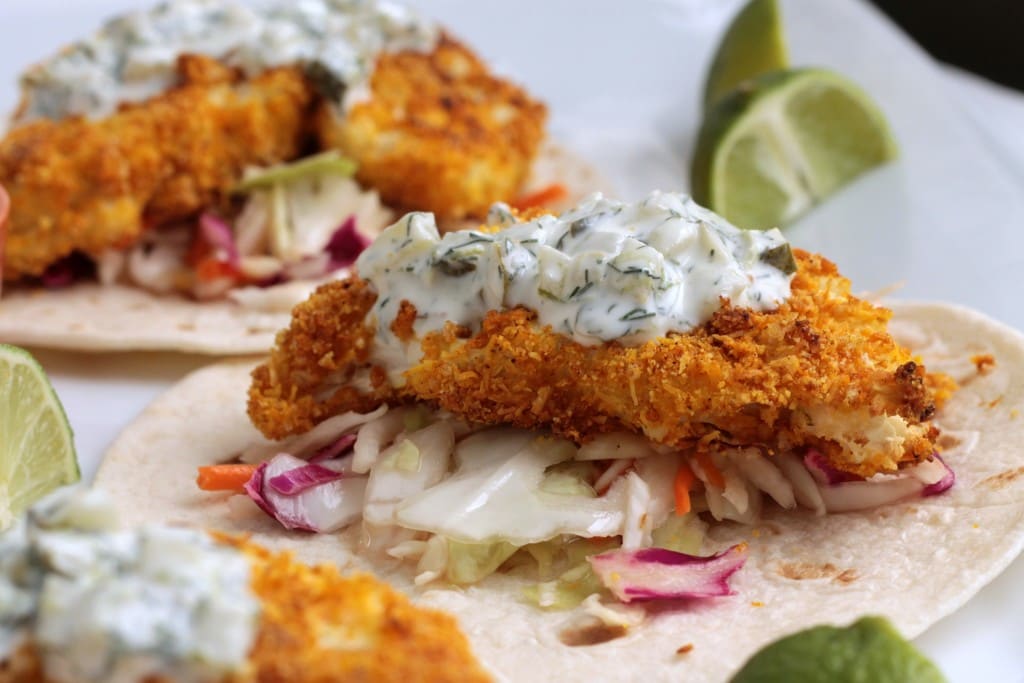 These do take a little bit of time to prep, but trust me, it's worth it! Feel free to skip the tortilla, dip the baked cauliflower right into the tartar sauce and pop it right into your mouth. De-lish! Serve the coleslaw on the side. Hint – bagged coleslaw works just as well here and would be a nice time saver.
Crispy Coconut Lime Baked Cauliflower Tacos
I hope you guys love these Cauliflower Tacos as much as we do! You need to RUN, not walk, to the kitchen to make these ASAP! If you do make them, please come back here and leave me a comment below with your feedback. I love hearing from you guys! You can also find me on social media. Be sure to tag @veggie_inspired and #veggieinspired so I'm sure to see it. Enjoy!

Jenn S.
Yields 4-6 servings
Crispy Coconut Lime Baked Cauliflower Tacos
The crispiest vegan tacos you've ever had! The combination of flavors and textures from the crispy baked cauliflower, the sweet and sour crunchy slaw and the creamy tangy tartar sauce are out of this world!
30 minPrep Time
30 minCook Time
1 hrTotal Time
Ingredients
Baked Cauliflower

1 medium cauliflower, sliced into long pieces (see note)
1/2 cup full fat coconut milk
Juice and Zest of 1 lime
1/2 tsp salt
1/2 cup panko breadcrumbs , gluten free if necessaary
1/2 cup cornmeal
1/2 cup unsweetened shredded coconut
1 1/2 tsp smoked paprika
1 tsp cumin
1/2 tsp garlic powder
1/4 tsp turmeric
1/2 tsp salt
1/4 tsp pepper

Sweet and Sour Slaw

3/4 cup chopped red cabbage
3/4 cup chopped green cabbage
1/2 cup shredded carrots
Juice of 1 lime
1 tbsp white vinegar
1-2 tsp pure maple syrup
1/2 tsp salt

Tangy Vegan Tartar Sauce

1/3 cup vegan mayo
1/3 cup diced dill pickle
Juice and Zest of 1 lime
1 1/2 tsp dried dill
1/2 tsp salt
Dash of sriracha , optional

Extras

Tortillas (use corn tortillas if gluten free)
Extra Lime Wedges
Dash of Sriracha
Instructions
Preheat oven to 400 degrees F.
Make the slaw first so it has time to marinate and soften just a bit. Whisk all the wet ingredients together and pour them over the veggies in a medium bowl. Cover it and put it in the fridge.
Whisk together the coconut milk, zest and juice of 1 lime and 1/2 tsp salt in a wide shallow bowl, set aside.
Whisk together the panko, cornmeal, shredded coconut, smoked paprika, cumin, garlic powder, turmeric, 1/2 tsp salt and the pepper in another wide shallow bowl, set aside.
Line a baking sheet with parchment paper and line up your breading station in this order: cauliflower, wet batter, dry breading, baking sheet.
Take a slice of the cauliflower and place it in the coconut milk batter, flipping it over to make sure all sides are covered. Next, place that piece of cauliflower in the dry breading mix, pressing it down and flipping it over to make sure it's coated evenly on both sides. The breading should stick easily and not fall off. Transfer your breaded piece of cauliflower to the lined baking sheet. Repeat with all remaining slices of cauliflower. My medium sized cauliflower filled up one baking sheet perfectly!
Bake the breaded cauliflower for 25-30 minutes, flipping each piece over after 15 minutes, until both sides are golden brown and crispy.
While the cauliflower is baking, make your tartar sauce. In a small bowl, stir together all ingredients. Place in the fridge until you are ready to use it.
To assemble the tacos: Place a tortilla on a plate, top with a bit of the slaw, a piece or two of the crispy breaded cauliflower and top with a big dollop of tangy tartar sauce. Garnish with an extra squeeze of lime or dash of sriracha.
Devour!
Notes
I like my cauliflower pieces to be long and fairly thin for this recipe, not your traditional floret style. To do this, I place the head of cauliflower on my cutting board stem side down and cut in half from top to bottom. Cut the bottom of the stem off. Stand one half upright on your cutting board and make thin slices from top to bottom. Take one of the large thin slices and place it on the cutting board. Cut any remaining stem off if you wish...I like to leave a little bit to help hold it together. If it's too long, cut it in half again. Repeat with the remaining cauliflower.

Of course, if you like chunkier florets, that will work just as well.
6.6.15
https://www.veggieinspired.com/crispy-baked-cauliflower-tacos/
Jenn S. - Veggie Inspired
You might also like: