As an Amazon Associate I earn from qualifying purchases. Please see my Privacy Policy for more details.
This Vegan Chickpea Salad recipe is quick and easy and makes the perfect lunch or snack. Load it up between 2 slices of bread, on a cracker, or over lettuce as a salad. It's always a huge hit!
Before I embraced a plant based diet, I made an awesome chicken salad. I made it for several parties and it was always a huge hit. It never failed that at least a few people would ask me for the recipe each time.
I have missed the flavors of this delicious salad and I wanted to recreate it with healthier meatless ingredients. This Vegan Chickpea Salad is just as delicious as the traditional and now everyone asks me for this recipe, too!
I pack it in the kids' lunchboxes often with a side of crackers and I enjoy it between two slices of bread for a quick and easy lunch. It only takes 10 minutes to make, so another batch can be ready in a flash.
Are Canned Chickpeas Healthy?
I always have canned beans and chickpeas in the pantry so I can throw together a quick meal (and even dessert!). The nutrient difference in canned chickpeas versus chickpeas cooked from scratch is minimal. Be sure to drain the canned beans and rinse them very well with cold water which will remove most excess salt and starch and any metallic flavor they may pick up from the can.
Texture is Key
While canned chickpeas are a bit softer in texture than dried beans cooked from scratch, it's easy to make up for their lack of texture with all the other salad ingredients.
My favorite way to eat this vegan chickpea salad is scooped up with a whole wheat cracker. I love the combination of the crispy cracker, the crunchy celery, the creamy chickpeas, and the fresh juicy grapes together. Such a burst of flavor!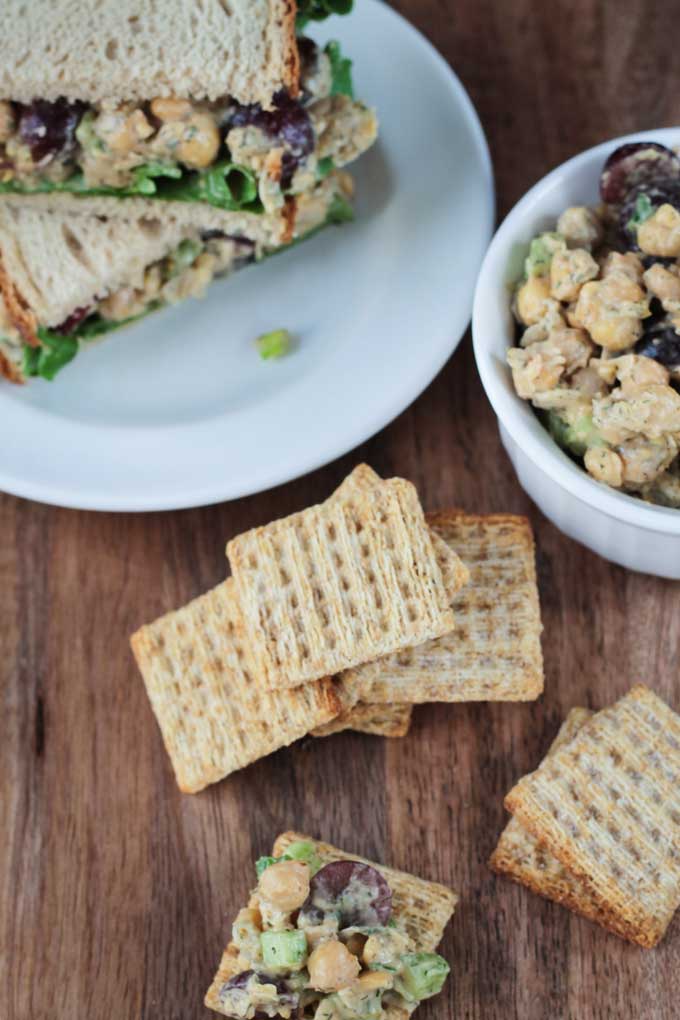 Of course, it's great as as sandwich, too! Lightly toast your favorite bread, lay down leaves of lettuce and load up the chickpea salad. So delicious!
I've even tossed with leafy greens for a protein packed entree salad.
Love Chickpeas? Check out these other vegan chickpea recipes:
Sloppy BBQ Chickpea Sandwiches
And don't miss the huge roundup of Savory Chickpea Recipes – all vegan, no hummus!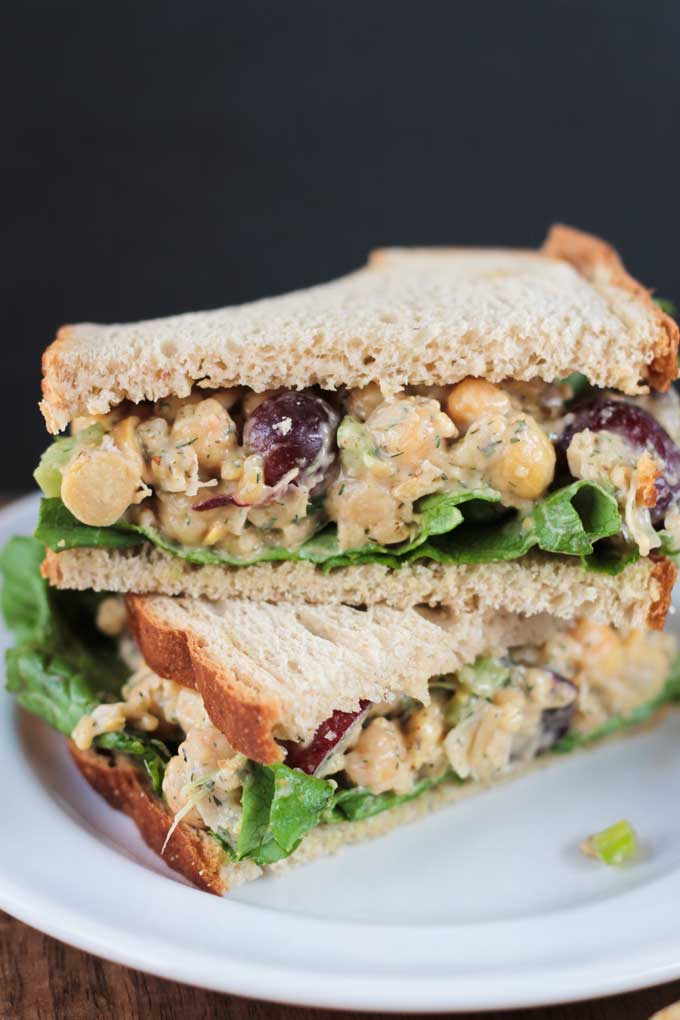 Perfect for Parties, Picnics, and Potlucks
I now make this vegan chickpea salad recipe for parties all the time and everyone loves it, asking for the recipe just like they did with my traditional chicken salad years ago.
You can easily double or triple this recipe and make it ahead of time. It will keep in the fridge in an air-tight container for several days.
It's perfect for taking on picnics or to potlucks – since it's dairy free you don't have to worry about it going bad while it sits out.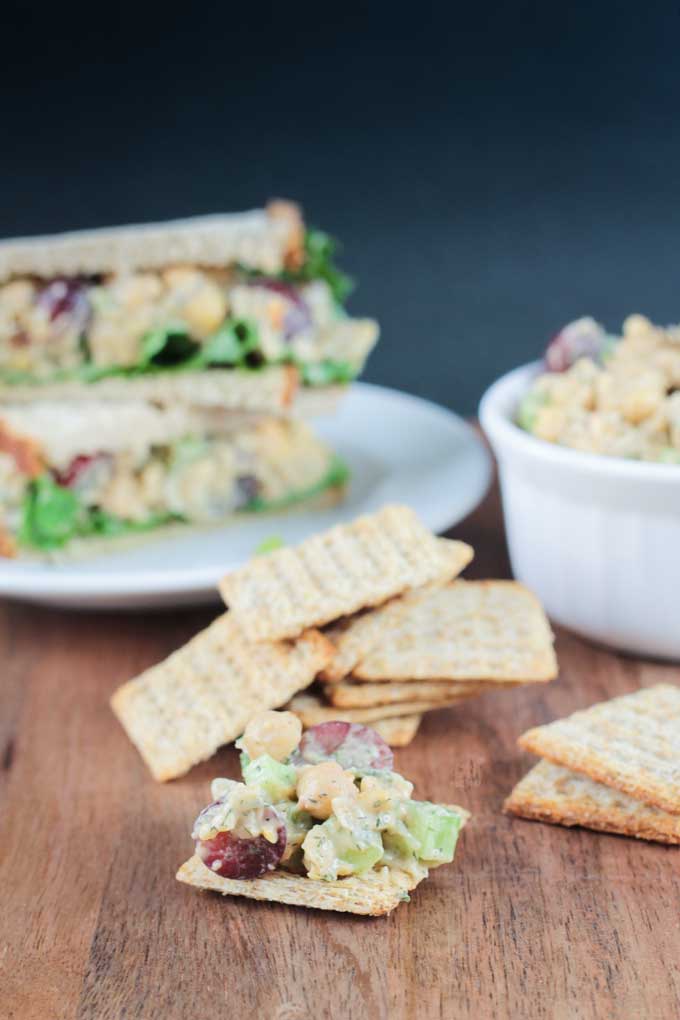 Vegan Chickpea Salad Recipe
If you love this Vegan Chickpea Salad recipe, please leave me a comment below with your feedback and don't forget to give the recipe a star rating too!
You can find me on social media as well. Be sure to tag @veggie_inspired and #veggieinspired so I'm sure to see it.
Enjoy!
Yield: 3
Vegan Chickpea Salad Recipe
This quick and easy vegan chickpea salad is beloved by vegetarians and omnivores alike. Just 10 minutes and 8 ingredients is all you need for this delicious dish.
Ingredients
1 stalk celery (diced)
2 green onions (chopped)
½ cup grapes (sliced)
1 tablespoon Dijon mustard
½ teaspoon dried dill
½ teaspoon poultry seasoning
Dash of salt/pepper to taste
Instructions
In a medium bowl, slightly mash the chickpeas with a potato masher or fork.
Add the remaining ingredients and mix well.
Refrigerate until ready to serve.
Notes
~Enjoy this salad on it's own, with crackers, stuffed in a pita, between two slices of bread with a thick slice of tomato and avocado or atop a green salad.
Nutrition Information:
Yield:
3
Amount Per Serving:
Calories:

214
Total Fat:

8g
Sodium:

131mg
Carbohydrates:

25g
Fiber:

5g
Sugar:

4g
Protein:

7g