As an Amazon Associate I earn from qualifying purchases. Please see my Privacy Policy for more details.
Chickpeas are inexpensive, nutritious, delicious, and super versatile. And they're not just for hummus! These creative Vegan Chickpea Recipes will inspire you to get in the kitchen with this humble legume and start cooking up something delicious today!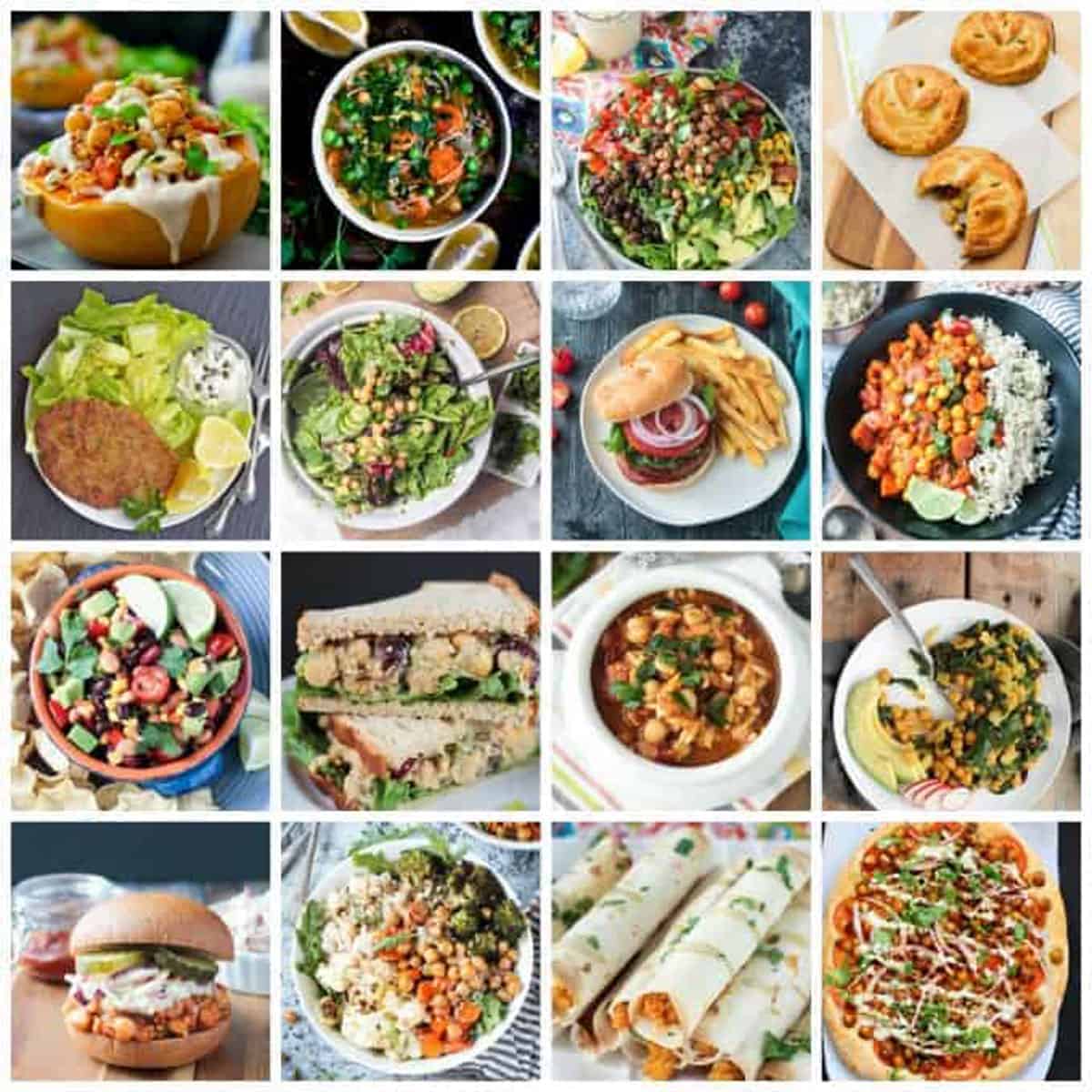 Chickpeas are an easy addition to a variety of savory meals. Breakfast, lunch, dinner, and even snacks – it's easy to increase the heartiness and protein of a recipe by adding a cup or two of these legumes.
They're so versatile, in fact, you can even use them to make desserts!
Check out all the ways you can use them in this collection of savory vegan chickpea recipes!
What are chickpeas?
Chickpeas, often called Garbanzo Beans, are part of the legume family and are easily found in most mainstream grocery stores.
Look for dried beans in the bulk aisle or in bags by the other dried beans and lentils. You'll find them cooked in cans usually in the canned vegetable aisle by the other canned beans. And sometimes you can even find them steamed in packages in the produce aisle.
You may find chickpeas in specialty aisles or ethnic grocery stores by any of these names as well: Bengal gram, Egyptian pea, chana, or cole.
They are a pantry staple in our house as we eat a lot of vegan chickpea recipes! Grab my FREE printable grocery list to see what other plant based foods we like to keep on hand.
What do they taste like?
The flavor of these cooked legumes is slightly nutty and they are firm in texture. While they can be puréed until silky smooth, like in hummus, they hold their shape extremely well even when cooked for long periods of time. This makes them a perfect addition to dishes where a "meaty" bite is welcome.
Nutritional highlights
Like all legumes, garbanzos are high in protein and fiber. The chickpea also boasts significant amounts of iron, folate, potassium, calcium, and selenium.
They may have the ability to aid in lowering cholesterol, promoting regularity, supporting cognitive health, decreasing some cancer risk, and supporting bone and heart health. [source]
How to cook
Canned chickpeas (and those packaged in the produce section) are pre-cooked and ready to eat. Perfectly convenient for all of these Vegan Chickpea Recipes. It is recommended to drain the can and rinse the beans under cold water very well to remove any excess sodium.
Soaking
For dried varieties, if you plant on cooking on the stove top, you'll want to soak them first. Place the beans in a large bowl and cover them by at least several inches with water. Let them soak for 8 to 12 hours or overnight. Drain and rinse.
If you're short on time, you can do a quick soak instead. Add the dried chickpeas to a large pot and again add water to cover the beans by at least a few inches, as the beans will nearly triple in size as they soak/cook. Bring to a rapid boil for 5 minutes, then turn off the heat and them soak in the hot water for 1 hour. Drain and rinse.
Soaking isn't necessary for slow cooker or pressure cooker methods, but you may still want to as it is said to make them more easily digestible.
Stovetop method
Soak first, see above. Add your soaked, drained, and rinsed beans to a large pot and again cover them with water by several inches. Bring to a boil, then reduce the heat to a simmer, and cook for 1 to 1 ½ hours depending on the desired consistency. Drain when fully cooked.
Slow cooker method
For every pound of chickpeas (equivalent to the average grocery store bag of chickpeas) you'll need 7 cups of water. Cook on high in a slow cooker for 4 hours or on low for 8 to 9 hours.
Pressure cooker method
While not necessary to soak with this method, it will significantly cut down on cooking time. Soaked beans can be added to the Instant Pot with 6 cups of water for every 1 pound of beans. Cook under high pressure for 15 to 20 minutes with a natural release of 10 minutes. Drain any excess liquid.
For unsoaked beans, add them with the water in the same ratio and cook under high pressure for 40 to 45 minutes with a natural release of 10 minutes. Drain any excess liquid.
Storage and freezing
Pantry: Keep dried beans in the pantry in an airtight container. I like using glass jars with hinged sealing tops.
Fridge: Cooked chickpeas will keep in an airtight container or zip-top bag in the fridge for 3 to 5 days.
Freezer: For longer storage, cooked beans can be frozen for 6 months to a year. I recommend storing them in 1 ½ cup portions (the amount in an average 15 ounce can) to easily be added to any of your vegan chickpea recipes in the future.
Pro tips and tricks
~ Canned garbanzo beans are pre-cooked and ready to be added to any of these vegan chickpea recipes. Rinse them well under cold water to remove any dust and debris.
~ For dried legumes, look them over and pick through to discard any stones or pebbles.
~ Rinse them well under cold water to remove any dust and debris.
~ Soak them to reduce cooking time and make them more digestible.
~ Use a big pot to cook them and add plenty of water to cover them by several inches as the beans will more than double in size.
~ Don't add salt until the beans are tender, as it could prohibit them from cooking properly.
~ Dried beans take longer to cook as they age. If yours aren't ready in the times listed above, just continue to cook a bit longer.
~ Save the cooking liquid (not the soaking water) to use in soups or stews later.
~ Store cooked garbanzos in the fridge or freezer in 1 to 2 cup portions to easily be added to recipes.
Chickpeas FAQs
Are chickpeas and garbanzo beans the same thing?
Yes, they are the same. Whichever your package says, they can be used in these vegan chickpea recipes!
Are chickpeas good for you?
Yes! Chickpeas are low in fat and high in protein and fiber and also boast significant amounts of iron, folate, potassium, calcium, and selenium.
Are chickpeas expensive?
Nope! Dried and canned chickpeas are readily available in almost all grocery stores and supermarkets and are inexpensive.
I hope you love these Vegan Chickpea Recipes as much as we do! If you tried any of them, please leave a comment below with your feedback.

Be sure to sign up for my FREE Newsletter to be the first to get my NEW recipes! You can also follow me on Instagram, Facebook, and Pinterest.

For even more easy family recipes, be sure to check out my cookbook, The Meatless Monday Family Cookbook!
Savory Vegan Chickpea Recipes
Breakfast, lunch, dinner, and snacks - if you've got a can of chickpeas, I've got you covered all day! Delicious vegan recipes all made with the humble chickpea!