As an Amazon Associate I earn from qualifying purchases. Please see my Privacy Policy for more details.
Feeling overwhelmed by the idea of packing healthy lunches that your kids will eat? I'm sharing my best tips and tricks for packing a vegan lunch box for kids to make back-to-school time easier for everyone. Bonus: This applies to packing adult lunches for work, as well!
In-school, homeschool, remote learning – no matter where your kids are getting their education these days, they're going to need to eat! A healthy, well balanced lunch provides energy and fuel for their bodies so they can focus and learn at their best.
Here are my best tips and tricks for packing a healthy vegan lunch box in an approachable, stress-free way!
Find out if a plant based diet is right for you.
Create balance
Balanced nutrition: I almost always include a main dish, fruit, vegetable, and snack. Together they should cover the food groups of protein, fruits & veggies, whole grains, and healthy fats.
Balanced flavors: Try to incorporate a good mix of textures: crunchy, creamy, chewy, and juicy. Also, create balance by pairing heavier filling foods with lighter refreshing ones.
Balanced expectations: While the majority of the food I include in my kids' lunches is whole foods or homemade, I definitely take advantage of convenient store-bought options, too. This isn't about being perfect (whatever that means), it's about providing balanced nutrition while helping our kids to thrive and keeping our own stress levels low.
Prep ahead
Cut fruits and veggies when you bring them home from the store and keep in air-tight containers in the fridge. Make it easy to grab and pack that vegan lunch box!
Store-bought snacks are fine, but homemade is better. If you have time, make big batches of muffins, granola bars, energy bites, etc., on the weekends to dole out all week long. You can even freeze most of those items to have at the ready when needed.
Be efficient
Create an assembly line – When it comes time for packing, set out all the lunch boxes (if you have more than one kid) in a row and try to pack the same thing in all of them, making small changes only if necessary. For example, my son loves blackberries, but my girls don't really care for them. I can easily drop a few blackberries in one lunchbox and raspberries in the other two without any extra time or effort involved, but their main component would be the same.
Make use of leftovers – No need to reinvent the wheel, or make a new meal, every time you go to pack your vegan lunch. Use what you already have in your fridge. Dinner leftovers make great lunches! Pack them right into the lunch box before cleaning up dinner, so you don't have to get everything back out later.
Keep lunch box snacks separate from other every day snacks. I can't tell you how many times I've bought a bag of pretzels or crackers intended for lunches just to find them already eaten when I start packing. This is especially true if your kids attend a tree nut free school but your family does not have to be tree nut free. Those store-bought snacks/treats aren't cheap! I keep them in a separate box and my kids know not to touch them.
Keep it simple – Don't over think it. If it's easiest for grocery shopping and budgets to give your kids grapes as their fruit every day this week and orange slices every day next week, then do it! Or if you know your kid will eat peanut butter sandwiches (if it's allowed in school), change up the flavor of jam from week to week for variety. Or use fresh strawberry slices instead of jam for a change. Or put it on a bagel one day and roll up it up in a tortilla the next.
Don't make unnecessary work – I am giving you permission right now to Just Say No to dinosaur shaped sandwich cutters and small cookie cutters that turn cucumber slices into flowers. I mean, if you have the time and energy and your kids love it, then by all means, go for it. But if your kid hates cucumbers, she's going to hate flower shaped cucumbers, too, and you're going to be even more frustrated that you wasted all that time making them look cute.
Make it age appropriate
The amount of food you include will depend on the age of your child and their typical appetite.
Most kids do better with a variety of small portions, as bigger portions can seem overwhelming. For example, instead of a whole sandwich and a whole apple, try ½ sandwich (or even just ¼ for really small kids), ½ apple sliced, 3 to 4 carrot sticks, and a small handful of pretzels. That way if they aren't interested in a particular food that day (which is normal and happens to all of us, even if it's a food we generally like), there are other options available.
Be sure to cut foods into smaller pieces or cook hard foods until soft for young children to prevent a choking hazard. For instance, you may want to cut grapes in half lengthwise or steam carrots until tender.
Get the kids involved
Packing a healthy vegan lunch box is the easy part, getting your kids to actually eat it on the other hand…
My kids have been brought up with these foods their entire lives. I've made the majority of their school lunches for their entire school careers so far (2 of them choose to eat the hot school lunch option 1 to 2 times a month, the other refuses to eat any of the school's hot lunch). While they all have picky moments, they are used to eating healthy and love it. I realize not everyone has it this easy.
My very best advice to get kids to eat healthy is to start them young! It's much easier to raise them up this way than it is to change poor eating habits later.
BUT, it's never too late to introduce healthy eating habits! Ask them for their input about what they would like to see in their lunch. Give them choices, just make sure the choices are healthy. For example: "Would you like carrots or cucumbers today?" not "Would you like carrots or chips today?"
If you're up for it, take them grocery shopping with you and have them pick out the fruits and veggies they would like that week. Make it a game to try one new thing from the produce aisle on a certain day each week! For example, implement Fresh Friday. Add a new item every Friday and consider pairing it with something you know they love or even a small treat as a reward.
Choose the best lunch box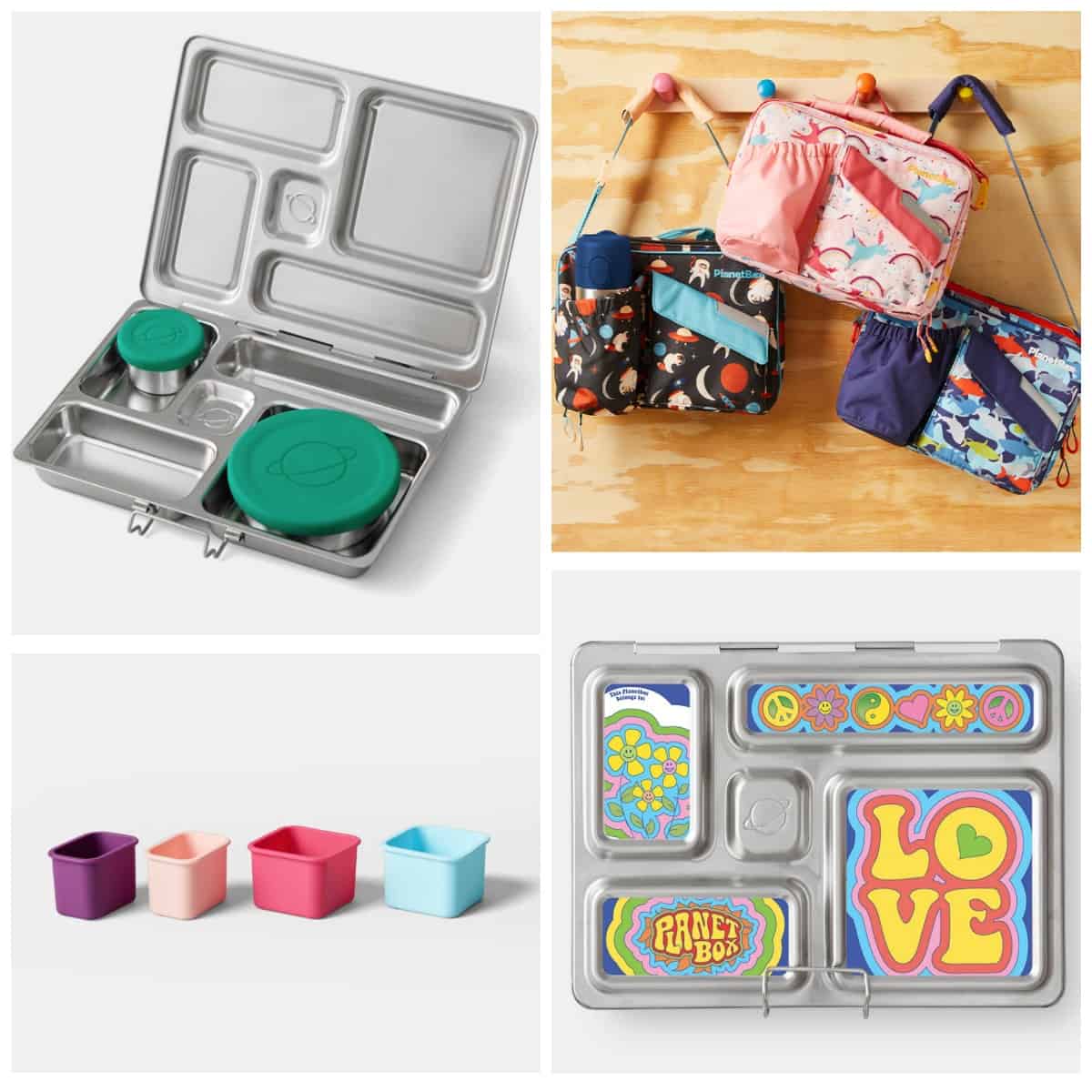 Kids are not exactly gentle with their things, so I suggest investing in a durable lunch box.
I prefer the PlanetBox Rover. While they are a bit pricey, they are totally worth it! My son is in 7th grade this year and has used it nearly every day since Kindergarten. My girls are in 3rd grade and also use theirs every day. All three lunchboxes still look brand new. That's a great deal!
It has 4 main compartments and one small treat-size spot. It's great for offering a variety in perfect kid-size portions. It comes with two small containers with leak-proof lids for "wet" foods, but the stainless steel lunchbox itself is just one piece with an easy-open hinged lid. All parts are dishwasher safe, but also easily come clean with a quick hand wash.
PlanetBox offers an adjustable strap insulated carry bag for the Rover that includes a water bottle pouch, outside velcro pocket, inside mesh pocket that fits a slim cold pack, and inside elastic straps for utensils. The bags are made from 100% recycled fibers, come in a variety of colors and designs and are hand washable.
If that's not enough, the lunchbox also comes with fun toxin-free magnets so your kids can customize their lunchbox to their personality.
Other bento-style lunch box options you might like: Bentgo, Easy Lunchboxes, or Simple Modern.
We also have insulated thermos containers for hot foods, but that's a post for another day.
Lunch box food safety
Be sure to keep cold foods cold and hot foods hot. In this article we are focusing on cold lunches, so grab an ice pack that fits your lunch box and pack it in there before sending your kid off to school. Planet Box makes a non-toxic one with a washable fabric sleeve that prevents the ice pack from excessive sweating. These slim reusable ice packs are also a good choice. They're BPA-free and will fit in a variety of lunch bags.
They USDA says to keep cold foods below 40°F to prevent bacteria from forming. They recommend using two cold sources (i.e. 2 cold gel packs) to ensure food stays below that threshold.
Odds and ends
Don't forget to pack a napkin and utensils, if needed, and a leak proof water bottle! Reusable napkins (these come in a variety of colors and fun patterns) and reusable utensils will be most cost effective in the long run…that is if your kids remember to bring them home and not accidentally throw them away!
Vegan lunch box foods
Always double check with your child's school about any allergy guidelines and pack accordingly.
Mains
Sandwiches are great and provide a plethora of filling options. Choose whole grain bread for extra fiber, protein and nutrients. Anything you use as a sandwich filling, can also be served in a wrap or pita pocket or on a bagel or English muffin. Here are some vegan lunch ideas aside from the typical PB&J.
Tacos, Burritos, or Quesadillas are basically a play on a sandwich/wrap. If the filling is "wet," I pack it in a small container with lid in a separate compartment and include a couple street taco size tortillas and garnishes on the side so the kids can build their own at lunch. Ditch the buns on these Healthy Sloppy Joes and use it as taco filling instead!
Pasta is always a good choice. What kid doesn't love pasta?! Stick to short noodle shapes, as spaghetti noodles can get a bit messy depending on the sauce you use. Here are some options that make great pasta salad for lunches.
Veggie burgers – I pack any topping on the side so the bun doesn't get soggy. And sometimes I pack the patty with a fork and no bun.
Dinner leftovers! So many options here. If your kid likes it for dinner, pack it in their lunchbox! Here are some ideas that my kids willingly eat cold or room temperature.
Breakfast items make great lunchbox fare! Pancakes, waffles, and protein muffins can all be made in big batches in advance and stored in the fridge or freezer for easy grab-n-pack options. Breakfast sausage is also a great choice and there are several brands making vegan varieties now.
Store bought options we use on occasion are Gardein Seven Grain Crispy Tenders and Gardein or Trader Joe's Meatless Meatballs.
Fruit and Vegetable Ideas
The options are endless here. We always do fresh fruit with the exception of pineapple for which I'll sometimes use canned chunks. Vegetables will be raw, steamed, or roasted depending on what I have on hand.
Fruits ~ Apples, apricots, berries (blueberries, blackberries, raspberries, strawberries), cantaloupe, cherries (pit them first if you have younger kids), grapes, kiwi, oranges, plums, pineapple, peaches, watermelon
Vegetables ~ Bell peppers, broccoli, carrots, celery, corn, cucumber, grape tomatoes, green beans, green peas, sugar snap peas, zucchini
Add a dip, like hummus, nut/seed butter or dairy free cream cheese (Here is a sweet vegan cream cheese option that would be great with fruits.) if your kids don't like them plain. Or combine them into more interesting salads.
Snack ideas
I tend to think of snacks as crunchy items, like granola, trail mix, crackers, or pretzels, but baked goods like snack bars, muffins, and energy bites are also fair game. Pair heavier mains with lower calorie snacks and lighter mains with denser, more filling snack options. Obviously, homemade is generally a better choice, but I've listed some of our store-bought faves, as well.
A few store bought snack options my kids enjoy:
Treats
I don't include desserts often, but on occasion, I like to add a sweet treat as a surprise. The PlanetBox Rover that we use has a small space in the middle perfect for a 1 to 2 bite nibble, like chocolate chips or a mint. If I'm adding a treat, though, I usually make it decent size and add it to one of the main compartments instead of a snack. Here are some healthier sweets my kids love.
FAQs
What should a child eat for lunch?
A healthy vegan lunch should include protein, whole grains, fruits and vegetables, and healthy fats.
Is packing a lunch healthier than school lunch?
It all depends on what you pack in the lunchbox. And there's no way to guarantee that your child will eat the healthy foods you're packing, but at least you can select your child's favorites to increase the odds.

As far as school lunch goes, there are little to no options for a fully plant based meal, so a well-balanced vegan lunch packed from home is likely the better choice.
What food should be avoided in children's lunch boxes?
There aren't a lot of foods that I would say to NEVER pack. Unhealthy options, even if it's total junk food, are ok every once in a while. But, it must always accompany a balanced healthy lunch, not replace one! Try to keep junk food treats to once a month or less, so your child doesn't come to expect it. And choose options that are just 1 to 2 bites…for example, fun-size candy bars instead of full size.

Avoid foods with high fructose corn syrup, artificial flavors and dyes, and caffeine. Soda, energy drinks, and sports drinks have no place in a kids' lunch.

Overly messy foods should also be avoided.
Monday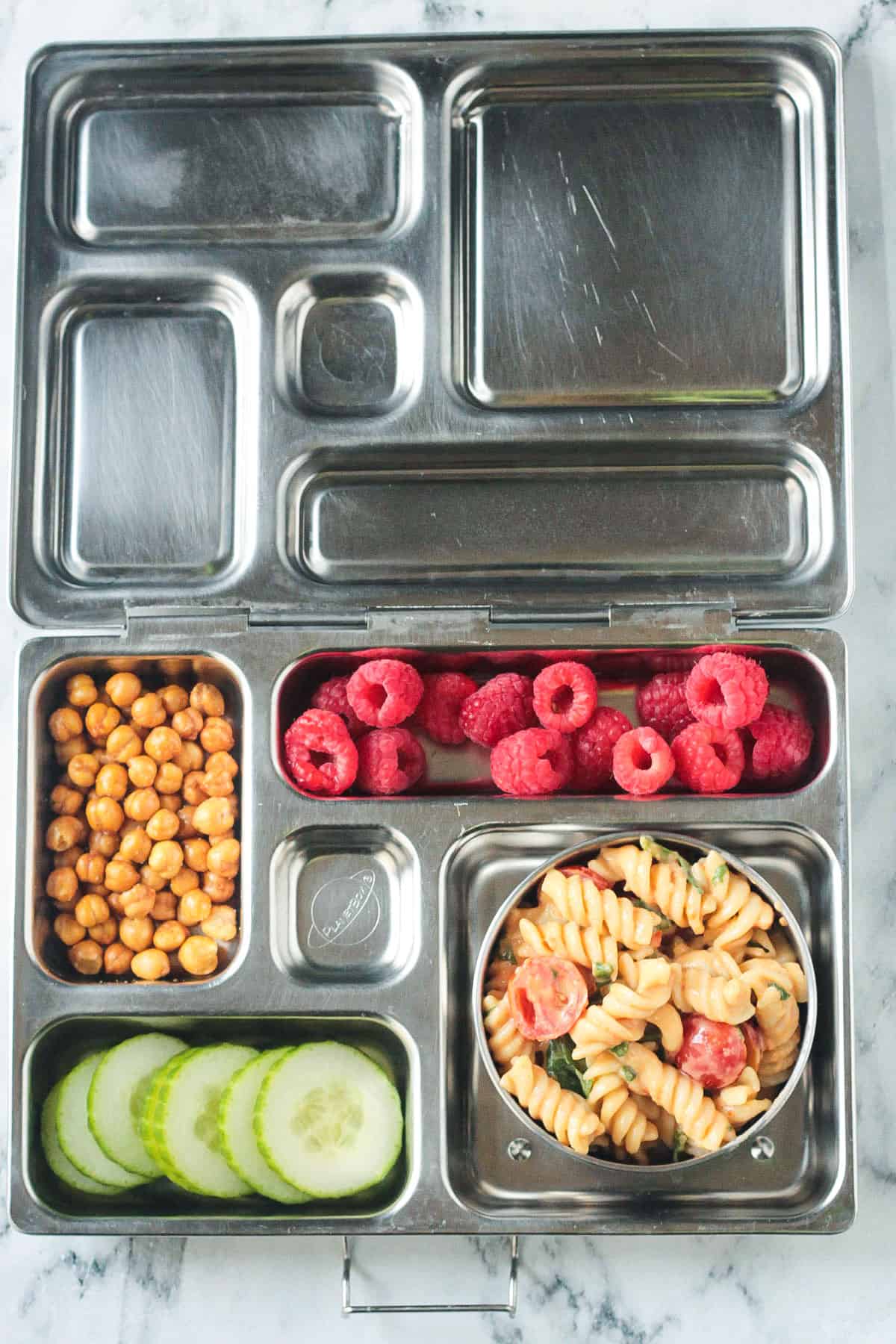 Main – This Easy Hummus Pasta takes just 20 minutes to make. Leftovers make great cold pasta salad! Switch out the veggies for ones your kids like best: broccoli, green peas, green beans, zucchini, etc.
Fruit – Fresh raspberries
Veggie – Cucumber slices
Snack – Homemade Roasted Chickpeas, or use store-bought.
Tuesday
Main – Chewy Baked Tofu and Easy Peanut Sauce. Use tahini or Sunbutter instead of the peanut butter for an allergy friendly substitution.
Fruit – Red grapes
Veggie – Carrot sticks and cucumber slices. These could be dipped into the peanut sauce, as well.
Snack – Trader Joe's Corn, Pea, Bean & Quinoa Crisps
Wednesday
Main – Vegan Chickpea Salad, a plant based version of chicken salad. Here I'm serving it with whole wheat crackers with the intention of scooping up the chickpea salad with the cracker. It can be eaten with a fork or on bread as sandwich, too.
Fruit – Grapes – they're in the chickpea salad.
Veggie – Grape tomatoes – perfectly bite-size. Cherry tomatoes are great, too, though I usually cut them in half.
Snack – Trader Joe's Happy Trekking, which includes roasted almonds, cashews, dried cranberries, dried cherries, and dairy-free semi-sweet chocolate chips. You could easily make your own mix of nuts, seeds, dried fruits and extras, which I often do.
Thursday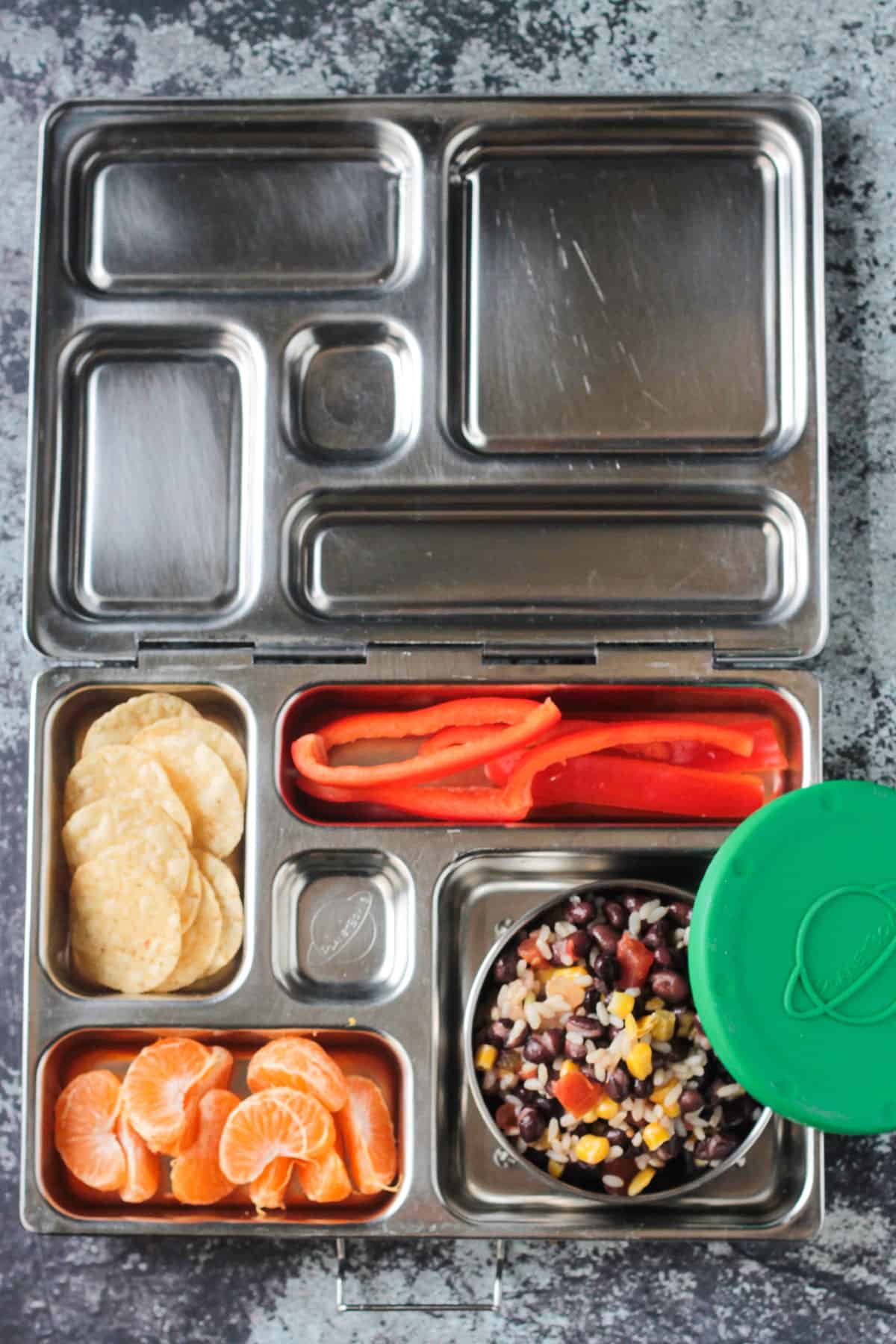 Main – Vegan Burrito Bowl, minus the avocado sauce from that recipe.
Fruit – Clementine segments. We love Cuties – easy peel and seedless!
Veggie – Red bell pepper strips
Snack – Tortilla chips. The bite size circular ones fit perfectly in these lunchboxes.
Friday
Main – Veggie Hummus Sandwich – We love Roasted Red Pepper Hummus, but your favorite savory variety will work. Store-bought is fine. Add your child's favorite vegetables. We like thinly sliced cucumber, shaved carrot ribbons, and fresh spinach or arugula.
Pro assembly tip: Spread the hummus on one slice of bread, add a layer of greens, top with sliced cucumber, shaved carrot ribbons, another layer of greens, then spread hummus on the final slice of bread and top it off. The greens create a barrier between the "wet" veggies and the bread so it doesn't get soggy!
Fruit – Fresh strawberries and blackberries
Veggie – Cucumber, carrots, and spinach on the sandwich
Snack – Pretzels
Treat – Chocolate chip cookies. Not something that happens often, but a nice surprise for the kids when it does. Enjoy Life has a variety of allergy-friendly items to choose from including cookies, chocolate, snack bars, and protein bites.
Don't forget to start your child's day off right with a healthy plant based breakfast!
I hope you found this article helpful. If you have questions or your own vegan lunch box tips to add, please leave me a comment below with your feedback.

Be sure to sign up for my FREE Newsletter to be the first to get my NEW recipes! You can also follow me on Instagram, Facebook, and Pinterest.