As an Amazon Associate I earn from qualifying purchases. Please see my Privacy Policy for more details.
Lots of sweet bell peppers and meaty chickpeas mingling with tomatoes and Italian spices. Serve it over rice, farro, noodles, or next to a crusty hunk of bread. It's a delicious and easy 30 minute meal!
As we head into summer, 30 minute meals are the name of the game.
Balancing being a mom of three, wife to a busy husband, and running my own business isn't easy. Any meal that I can prep in advance or simply throw in a pot or skillet is getting my vote for dinnertime. And this Italian Peppers and Chickpeas fits the bill!
It's quick, easy, flavorful, versatile, and a family favorite!
Ingredients you need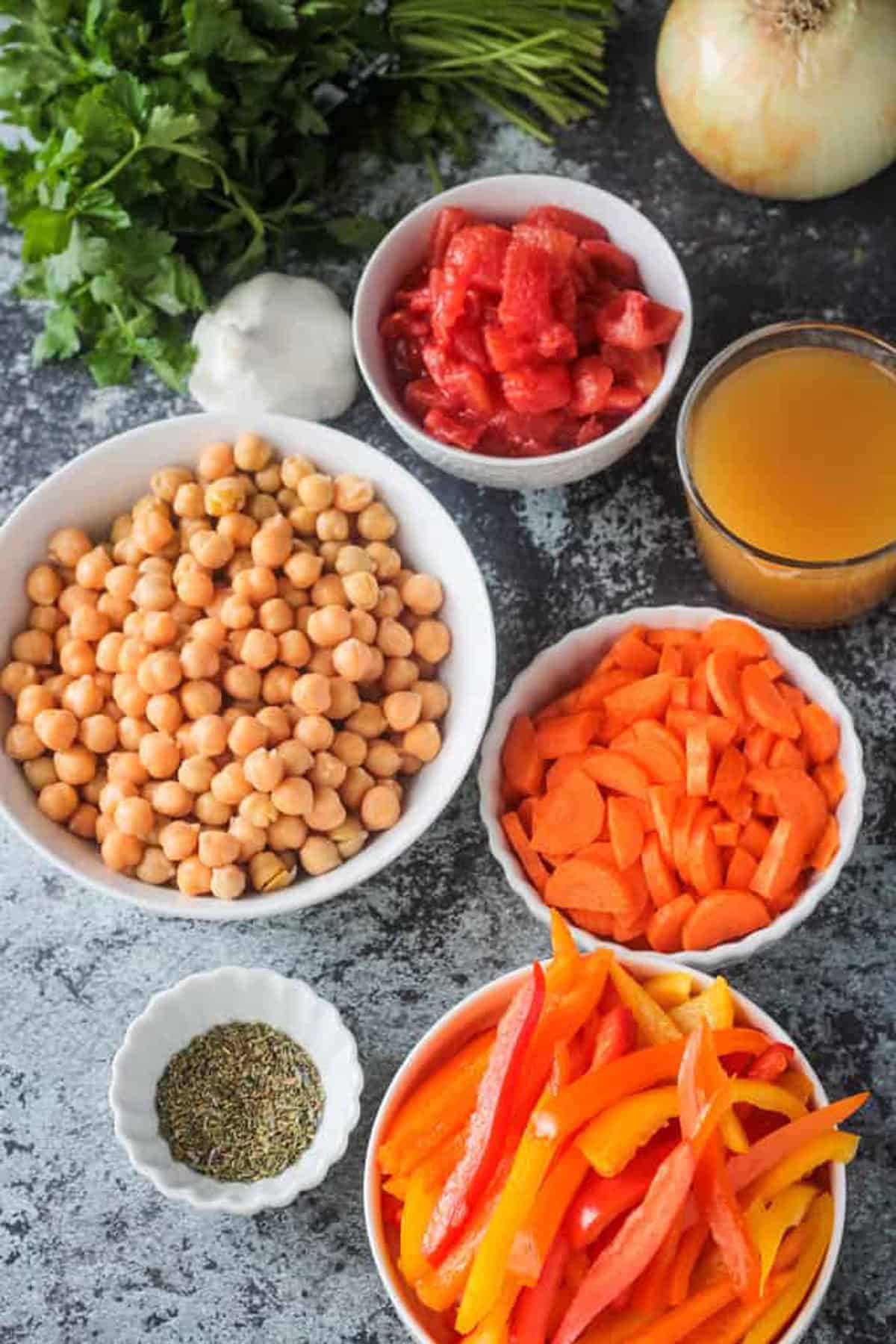 The star of this dish is bell peppers!
It's one of our favorite vegetables. My kids love to eat them raw, sliced into thin strips. Stuffed peppers are a favorite meal when our late summer garden is abundant with them. And any saucy meal containing peppers is a big win!
Bell peppers come in a variety of colors, including red, yellow, orange, green, and even purple. The color indicates how ripe the pepper is. They all start out green when they are unripe, but the green ones are edible and delicious, too.
I like to use yellow, orange, and red peppers in this dish for a rainbow of color. We eat with our eyes first!
Because they aren't as sweet as the riper varieties, I don't use green peppers in this dish. If you are a fan of green peppers, however, go ahead and add them in!
They belong to the nightshade family, along with hot peppers, tomatoes, and eggplant. All bell peppers contain high amounts of vitamin C, vitamin A, several B vitamins, vitamin E, vitamin K, folate, potassium, magnesium, fiber, and more! They also contain many antioxidants and have anti-inflammatory properties. [source]
More bell pepper recipes
Substitutions and adaptations
Peppers ~ they are the star of this dish. If you don't like them or can't have them, you may want to find another recipe.
Carrots ~ leave them out if you don't have any. Zucchini or corn would work well in this dish. Add them when you add the tomatoes.
Diced tomatoes ~ fresh tomatoes would be delicious, instead of canned, if they are in season.
Seasoning ~ if you don't have Italian seasoning, Herbes de Provence is a good substitute. Or you can use a few sprinkles of any or all of thyme, rosemary, parsley, basil, or oregano.
Protein ~ I love chewy baked tofu in this recipe instead of chickpeas. I have a delicious recipe for the tofu in my cookbook. White beans would also work, though they don't have as much texture.
How to serve
I like to serve this Italian Peppers and Chickpeas recipe with farro for yet another layer of texture and flavor.
Farro is an ancient grain made from a variety of wheat and contains quite a bit of nutrition.
This nutty, chewy grain is high in protein, fiber, magnesium, zinc, iron, and B vitamins. [source]
Note: because it's made from wheat, farro is not gluten free and, therefore, not suitable for those with Celiac disease or gluten intolerance.
For gluten free options, serve this dish with brown rice, quinoa, or gluten free noodles. Or skip those altogether and serve it with your favorite gluten free bread.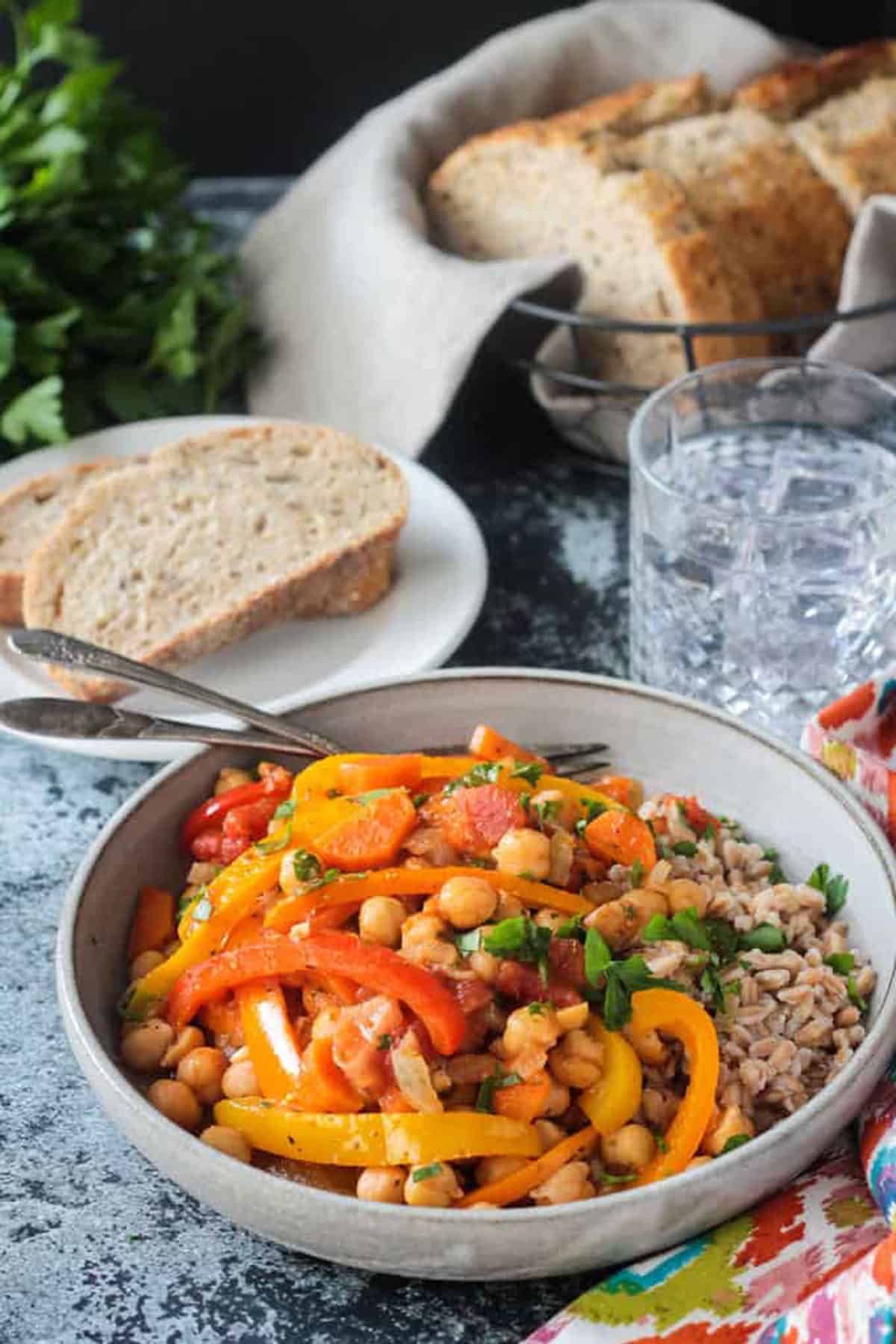 Meal prep tips
I love the idea of meal prep, but in reality I won't do it.
Even though I generally plan our meals in advance and grocery shop once a week for everything I need, I still don't want to put in extra time prepping ingredients in advance.
However, if you are a meal prep lover, then this easy healthy dinner recipe just got even quicker to make. You can slice your onions, peppers, and carrots all in advance. You can also cook up a big batch of grains or noodles to serve it with. Keep the grains separate from the veggies and store everything in air-tight containers in the fridge.
Pro tips if you do NOT meal prep
So, how do you get this meal on the table in just 30 minutes withOUT meal prep?
Use canned chickpeas, which are ready to eat, just drain and rinse.
Chop your onion and get it in the skillet.
While the onion is cooking, chop your garlic, carrots and peppers.
Then simply add the rest of the ingredients and let it simmer.
Serve it with instant rice, quick-cook farro, or quinoa, which all cook in about 10-15 minutes (or sometimes less!).
Start the water for the grains before you start anything else and then add them once the water is boiling so they are cooking while the peppers and chickpeas are simmering.
To make it even faster, you can buy frozen pre-chopped onions and peppers and bottled minced garlic. And you can usually find pre-chopped carrot coins in the produce section.
More 30 Minute Meals
I hope you love this recipe as much as we do! If you tried it, please use the rating system in the recipe card and leave a comment below with your feedback.

Be sure to sign up for my FREE Newsletter to be the first to get my NEW recipes! You can also follow me on Instagram, Facebook, and Pinterest.

For even more easy family recipes, be sure to check out my cookbook, The Meatless Monday Family Cookbook!
Italian Peppers and Chickpeas
Lots of sweet bell peppers and meaty chickpeas mingling with tomatoes and Italian spices. Serve it over rice, farro, noodles, or next to a crusty hunk of bread. It's a delicious and easy 30 minute meal!
Print
Rate
Instructions
Heat the oil (or broth or water) in a large deep skillet over medium heat.

Add the onion and sauté 4 to 5 minutes, until soft and translucent.

Add the garlic, carrots, peppers, and Herbs de Provence, and sauté 2 to 3 minutes to start to release the flavors.

Add the chickpeas, diced tomatoes, vegetable broth, and tomato sauce, if using. Increase heat to bring mixture to a simmer, then decrease heat to medium-low and simmer 15 minutes until vegetables are softened, but still have a bite. You can also add the tomato sauce later after simmering a bit if you are unsure you'll need/want it.

Add the balsamic vinegar and stir to combine.

Serve with grains or noodles of choice and/or some crusty bread.
Notes
~The tomato sauce is optional. My kids like it extra saucy, so sometimes I add it. But, I love the the lighter taste of this dish without. Photos were taken without the addition of tomato sauce.
~This recipe is gluten free as written. To keep it gluten free for serving, serve with brown rice, quinoa, or gluten free noodles, and/or gluten free bread.
~Nutrition facts calculated without grains or noodles for serving.
Nutrition
Calories:
280
kcal
|
Carbohydrates:
41
g
|
Protein:
11
g
|
Fat:
6
g
|
Saturated Fat:
1
g
|
Polyunsaturated Fat:
4
g
|
Sodium:
496
mg
|
Fiber:
10
g
|
Sugar:
12
g
Nutrition values are calculated using online calculators and are estimates only. Please verify using your own data.