Lemon Poppyseed Pancakes – bright with lemon and little bursts of poppyseeds, these pancakes will remind you of spring! Perfect for anytime you want to brighten your morning!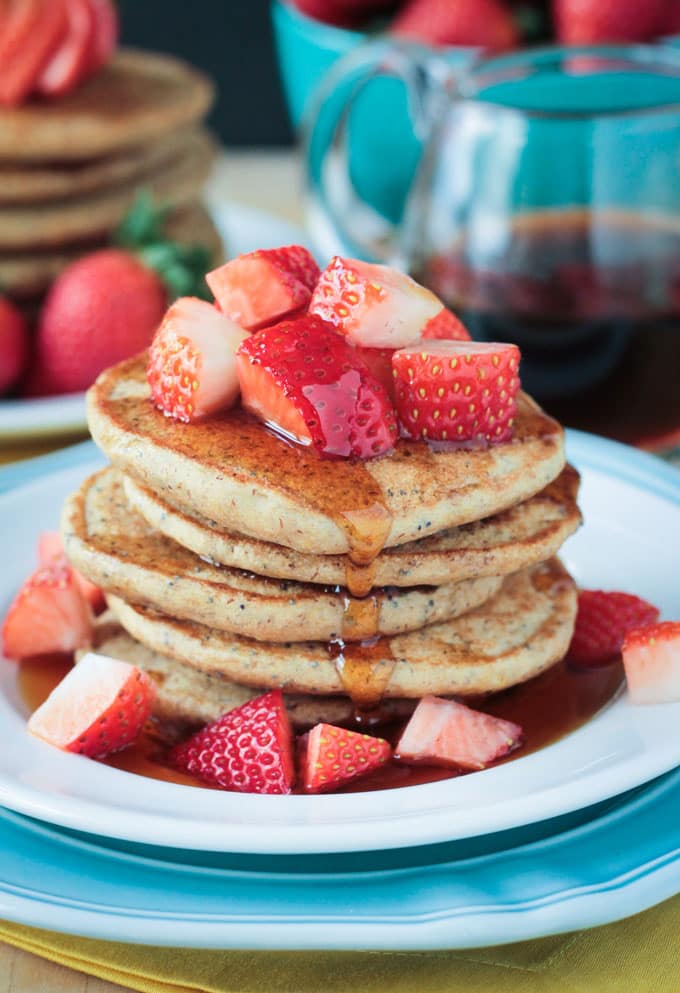 I have such spring fever these days. The weather in the midwest has been so up and down this winter. I really can't complain because it's one of the mildest winters we've had in a while. But, one week of single digits temps followed by high 20's/30's repeated constantly is making me nuts. It would be better if it would just stay cold so I could get used to it, but the warmer weeks have me dreaming of warm sun and green grass. (Not that 20/30's is warm, but it's all relative, you know?!) Since we're not getting spring time for at least another month (and that's definitely seeing the glass half full), I decided to brighten up our mornings with some lively pancakes. Lemon Poppyseed Pancakes to be exact! It makes me happy just to look at them! These lovely pancakes are bright with lemon and little bursts of poppyseeds, topped off with fresh berries that are finally making their way back to the grocery stores, and a drizzle of pure maple syrup. Gorgeous and delicious!
Healthy Pancakes
These Lemon Poppy Seed Pancakes are refined sugar free, dairy free, egg free, and oil free.
The lemons bring lots of Vitamin C and the poppy seeds provide fiber, B vitamins, iron, calcium, potassium and healthy unsaturated fats.
And if you top these vegan pancakes with fresh berries, you'll have a lot more vitamins and minerals there too!
Freezer Friendly
You can easily make a big batch of these and freeze them for quick and easy breakfasts all week long. Just pop them in the toaster or reheat gently in a skillet..or even the microwave for a few seconds. They also make a great lunchbox item. My son loves it when I send breakfast for lunch.
Bold Lemon Flavor
I put a whole 1/4 cup of fresh lemon juice in these Lemon Poppyseed Pancakes. You can tone it down a notch if you wish, but I actually like to taste the lemon. Lemon is a flavor that tends to get overpowered in baked goods, including pancakes, and I didn't want that to happen here. For that same reason, I chose to go with neutral soy milk for the liquid, but your favorite non-dairy milk would work (Almond or Cashew milk should work fine…even lite Coconut milk. I think Rice milk might be too thin, though).
Now, go make up a big batch and call the family to the table. It's breakfast time!
Lemon Poppyseed Pancakes
I hope you love these Lemon Poppyseed Pancakes as much as we do. If you make them, please come back and leave me a comment below with your feedback. You can also find me on social media. Be sure to tag @veggie_inspired and #veggieinspired so I'm sure to see it. Enjoy!


Jenn Sebestyen

Yields 12

Lemon Poppyseed Pancakes

These Lemon Poppyseed Pancakes remind me of spring, but they can be made anytime of year. Bright lemon flavor with little bursts of poppyseed and then topped with fresh berries or your favorite toppings. These are pancakes you can feel good about too - refined sugar free, dairy free, egg free and oil free!

10 minPrep Time

8 minCook Time

18 minTotal Time

Ingredients

1 1/2 cups white whole wheat flour
1/4 cup flaxmeal
3 tbsp coconut sugar
1 tbsp baking powder
1/2 tsp salt
1 1/2 cups nondairy milk (I used soy. Cashew or almond should work too)
1/4 cup fresh lemon juice (use 2-3 tbsp if you want less lemon flavor)
2 tbsp lemon zest
2 tsp poppy seeds

Pancake Topping Suggestions:

Sliced fresh berries
Shredded coconut
Fruit jam
Pure maple syrup

Instructions

Whisk together the flour, flaxmeal, coconut sugar, baking powder and salt in a small mixing bowl.
In a medium mixing bowl, whisk together the nondairy milk, lemon juice, and lemon zest.
Pour the dry into the wet and whisk to combine.
Add the poppyseeds and stir to combine.
Heat a skillet over medium heat. Add a spritz of cooking spray if you don't have non-stick pan.
Pour about 1/4 cup of batter into the skillet for each pancake - do not crown the pan.
Cook about 4 minutes on the first side. When the edges start to pull away from the pan, it's ready to flip. Cook another 3-4 minutes on the second side. Adjust the heat as necessary.
Repeat until all the batter is gone.
Top with your favorite pancake toppings and serve immediately.

6.6.15

https://www.veggieinspired.com/lemon-poppyseed-pancakes/

Jenn S. - Veggie Inspired


More Healthy Pancakes to Love:
Gluten Free Buckwheat Pancakes