As an Amazon Associate I earn from qualifying purchases. Please see my Privacy Policy for more details.
Eggless Pancakes with healthy whole wheat and flax are just begging to be topped with fresh fruit and a drizzle of pure maple syrup!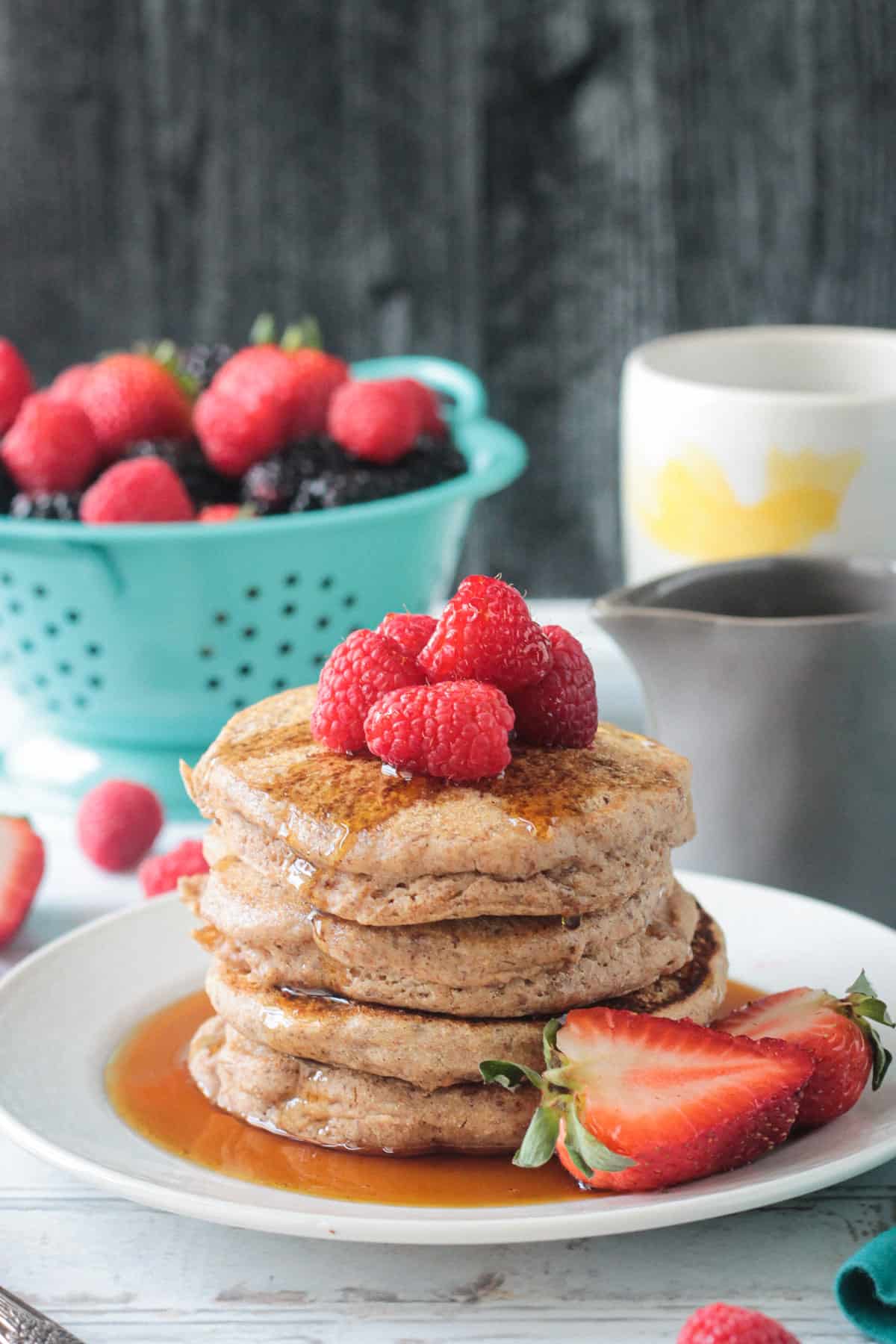 This is an easy basic pancake recipe that's as perfect for a lazy weekend brunch as it is a quick weekday breakfast. A recipe that begs for sweet toppings and a flowing river of pure maple syrup. Bonus: It's healthy, dairy free, oil free, nut free, and vegan! You're going to love these Eggless Whole Wheat Flax Pancakes.
Jump to: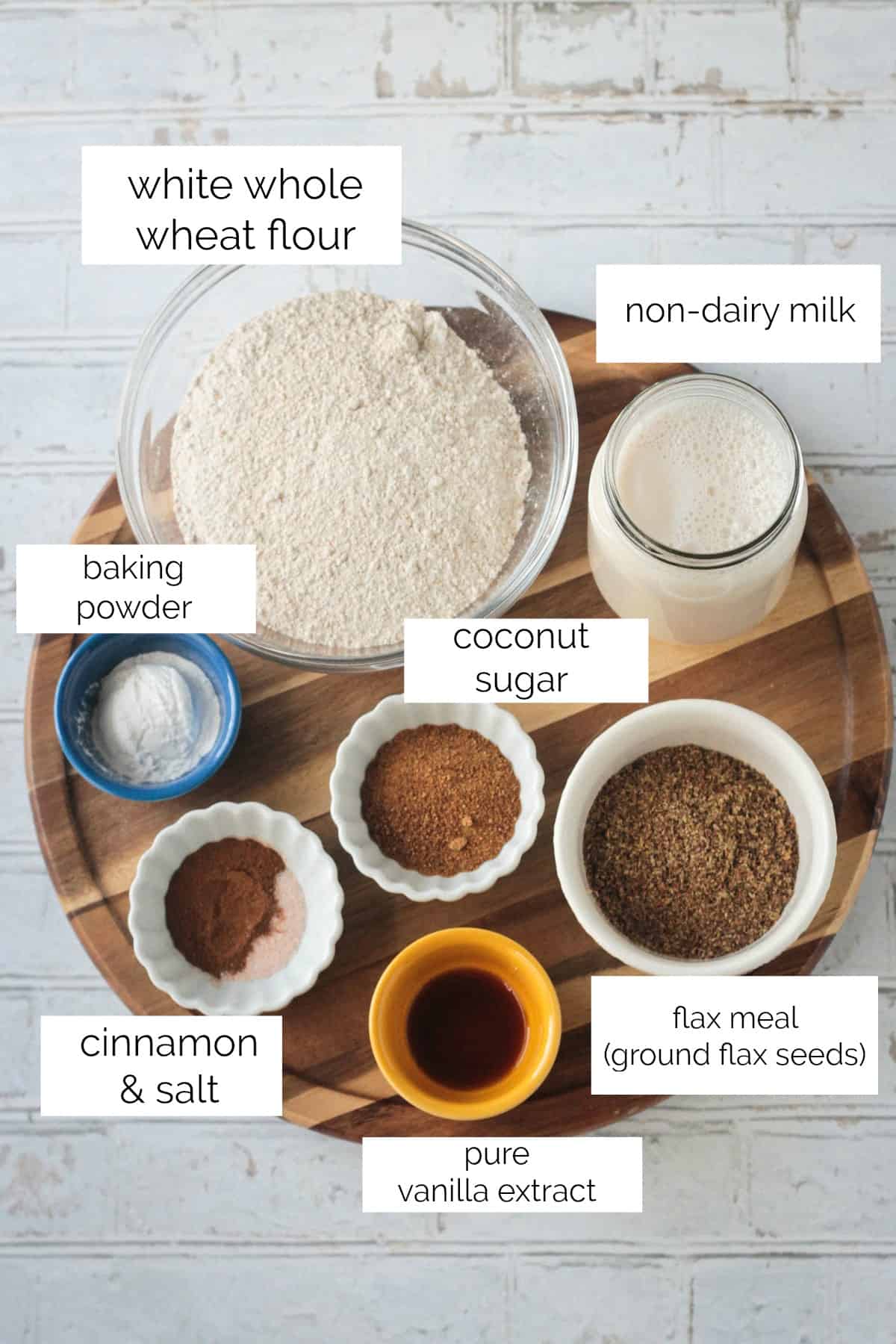 What are flax seeds?
Flax seeds come from the flax plant. The plant itself can be used to make fabric. And the seeds are edible.
Whole flax seeds are hard to digest, so it's recommended to grind them into flax meal before consuming. I find a small coffee grinder perfect for the job.
You can find already ground flaxmeal (sometimes called flaxseed meal or flaxseed flour) in most grocery stores. Whether you buy whole seeds or meal, store then in an air-tight container in the fridge as they are sensitive to heat and light.
Flaxmeal can be used in smoothies, baked goods, sprinkled onto oatmeal, toast, or salads, added to the mixture for veggie burgers or meatballs, and so much more!
Nutritional highlights
These pancakes are egg free, oil free, dairy free, nut free, and vegan. They have just a touch of unrefined sugar to balance out the hearty whole wheat.
Despite low-carb and gluten free eating being quite trendy these days, 100% whole wheat products are incredibly healthy. Of course, if you have been diagnosed with Celiac disease or gluten-intolerance, then you definitely need to stay away from anything containing gluten, but for everyone else, there is no need to eliminate these healthy grains from your diet.
Whole wheat is good source of fiber, manganese, magnesium, B vitamins, and even protein. Whole grains promote heart health, gastrointestinal health, and may help to protect against certain cancers. [source]
I like to use white whole wheat flour in this pancake recipe because the taste is a bit milder and the texture and color a bit lighter than regular whole wheat flour. White whole wheat is still 100% whole wheat, it is just made from a different variety of wheat.
Flax seeds boast a high omega-3 fatty acid content. These are the good fats! They also contain good amounts of fiber, potassium, B vitamins, protein, and antioxidants. They are anti-inflammatory, support brain health and digestive health, aid in lowering cholesterol, and may protect against certain cancers. [source]
More easy flax recipes
Want more flax in your diet? Check out these easy recipes featuring flax seeds/flaxmeal.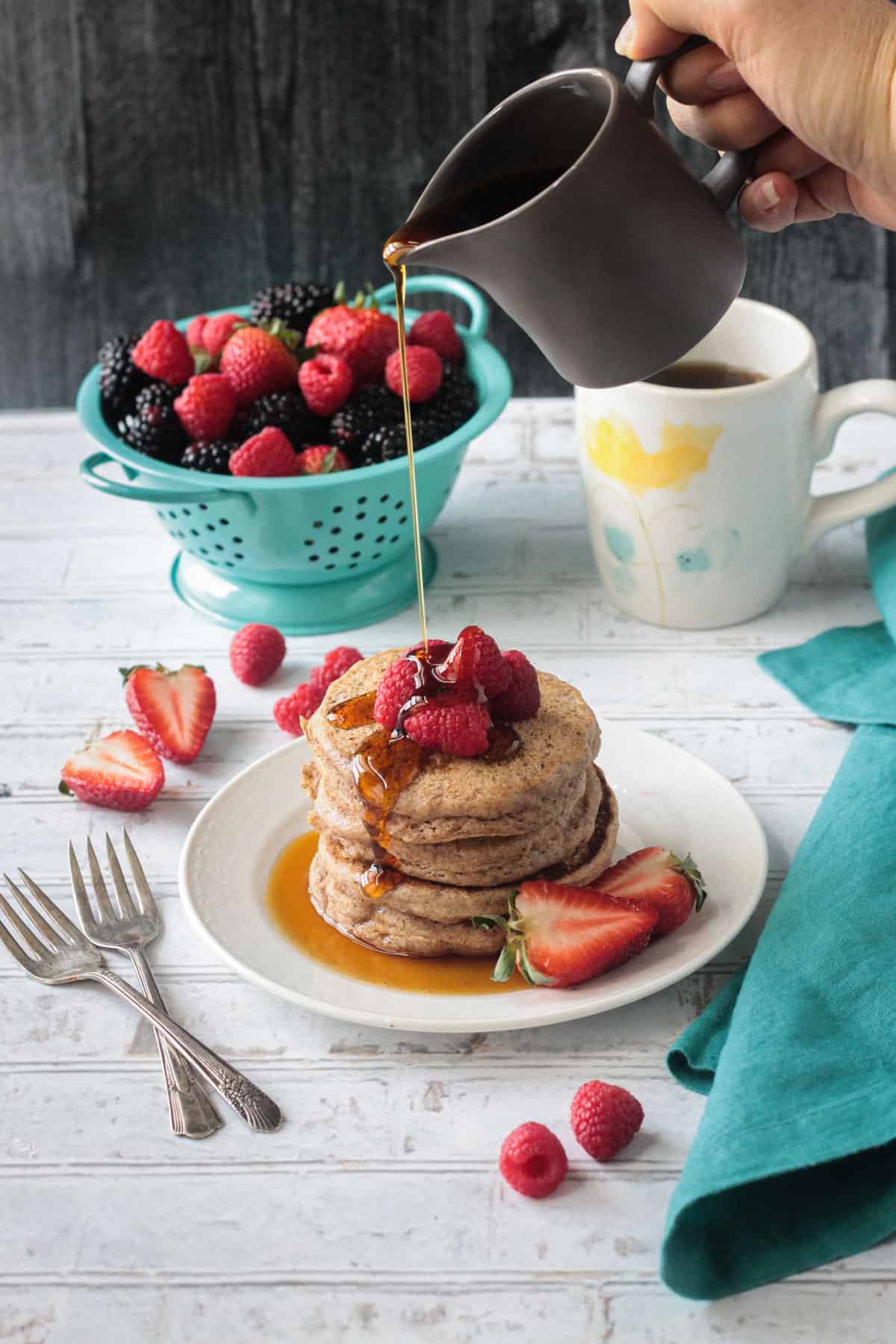 Substitutions/Adaptations
Following the original recipe ingredients and instructions will give you the best results, but here are some adaptations that will work if need be.
Whole wheat flour ~ Regular whole wheat, white whole wheat, or even all-purpose flour may be used. Please note that using all-purpose flour, which is a refined wheat flour, will not provide all of the health benefits listed above. If you are gluten free, I recommend using a gluten free flour blend that is designed to replace wheat flours cup for cup. I have good results using Bob's Red Mill Gluten Free 1:1 Baking Flour.
Flaxseed meal ~ flaxmeal increases the fat content and moisture of the recipe. If you don't have it or are allergic, you could try using almond flour as a substitute. Ground chia seeds may also work, though they will absorb more liquid than flax, so use half the amount.
Coconut sugar ~ brown sugar or regular cane sugar may be used instead.
Don't like cinnamon? Feel free to leave it out. A pinch of ground ginger would be a nice addition if you prefer.
Almond or soy milk are my preference for this recipe, but other than full-fat coconut milk, which I think would be too thick, any non-dairy milk should do. You could even use a vanilla-flavored milk if desired.
Perfect toppings
These pancakes are delicious on their own, but I think they really come alive when topped with fresh fruit, jam or pure maple syrup. Or how about banana slices, chocolate chips and coconut flakes for a chunky monkey vibe? The pancakes themselves are very neutral in flavor, so they'll stand up to any toppings you like.
Try them with my homemade Raspberry Pineapple Chia Seed Jam!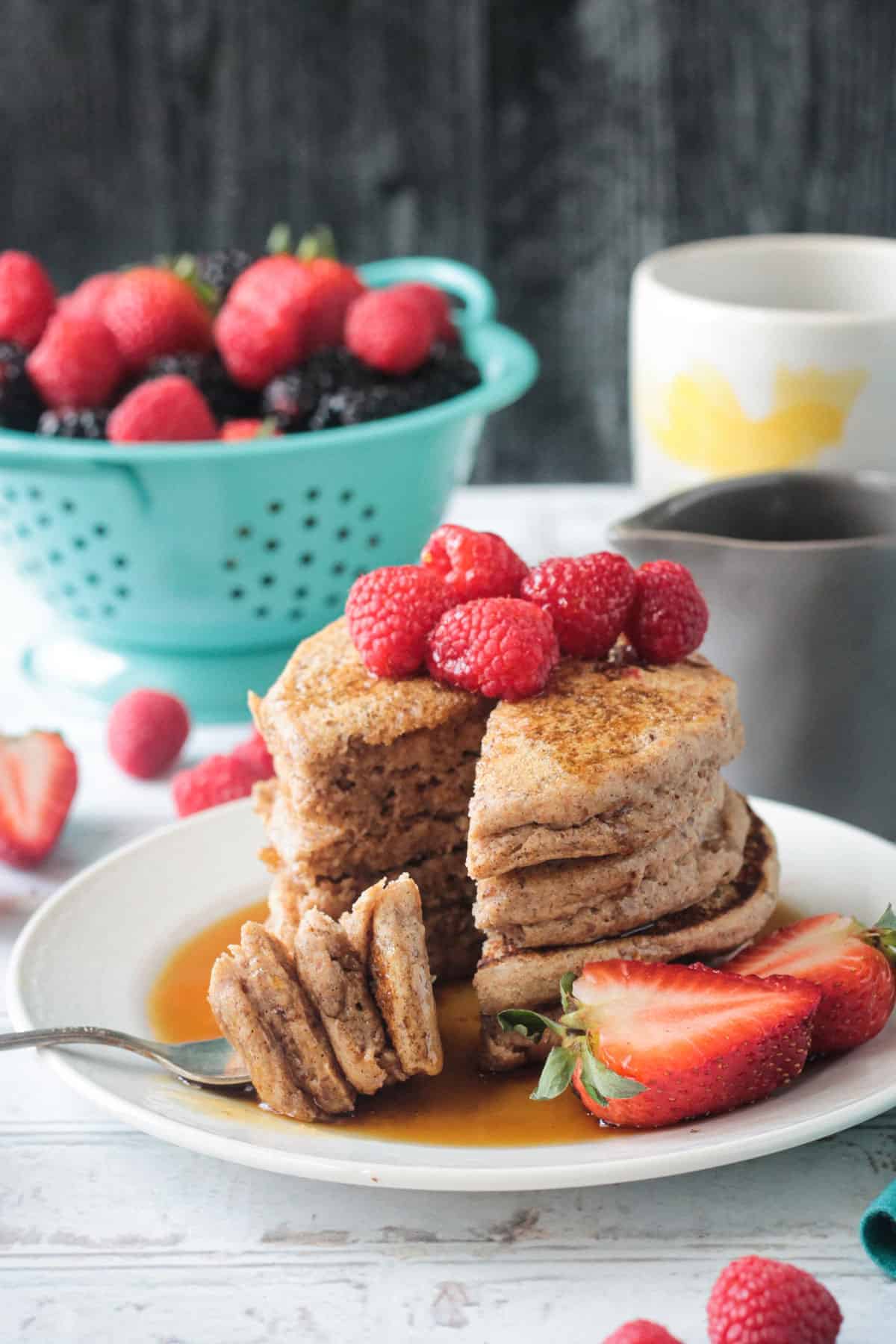 Storage/Freezing/Reheating
The batter can not be made ahead of time as the effects of the baking powder won't last. However, cooked pancakes will keep in the fridge in a covered container for 4 to 5 days. Reheat for a few seconds in the microwave or in a skillet on the stove over medium heat.
If you make a big batch and want to keep them longer, they can easily be frozen. Lay the pancakes out in one even layer on a baking sheet or large plate lined with parchment paper and place in the freezer. Once they are frozen, transfer them to a freezer safe bag with small pieces of parchment between each one. To reheat, you can pop the frozen pancakes into a toaster until warmed through. Or you can let them thaw a bit and then reheat in the microwave or in a skillet on the stove.
Pro tips for eggless pancakes
Make sure your baking powder is fresh! Since there are no eggs in this recipe, we are relying on the baking powder to provide the lift and make the pancakes light and fluffy.
Don't over mix the batter! Whisk the dry and wet ingredients together just until combined. A few lumps are fine. Overmixing may result in dense pancakes aren't fully cooked in the center.
Let the batter rest! This will allow the baking powder time to start working and create little bubbles that will give the pancakes the airy lift we want.
More Vegan Pancake Recipes
I hope you love this recipe as much as we do! If you tried it, please use the rating system in the recipe card and leave a comment below with your feedback.

Be sure to sign up for my FREE Newsletter to be the first to get my NEW recipes! You can also follow me on Instagram, Facebook, and Pinterest.

For even more easy family recipes, be sure to check out my cookbook, The Meatless Monday Family Cookbook!
📖 Recipe
Yield: 4
Healthy Whole Wheat Eggless Pancakes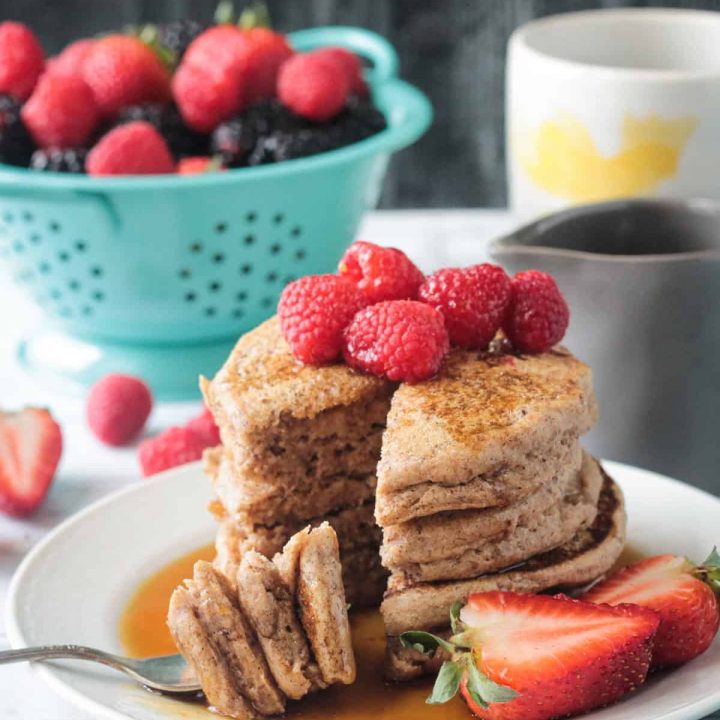 Eggless Pancakes with healthy whole wheat and flax - quick, easy and delicious! Top them with fresh fruit, pure maple syrup, or homemade jam!
Ingredients
For the pancakes
1 tablespoon baking powder
2 teaspoons ground cinnamon
½ teaspoon salt
1 ¾ cup unsweetened soy or almond milk
1 teaspoon pure vanilla extract, (optional)
Toppings
Fresh fruit
Drizzle of pure maple syrup
Chocolate chips
Chopped nuts
Instructions
Whisk flour, flaxmeal, sugar, baking powder, cinnamon and salt to break up any clumps and combine.
Add the soy milk and vanilla extract, if using, and whisk just until combined. Do not overmix...a few lumps are fine!
Let batter sit for about 5 minutes to thicken and let the baking powder start to react.
Heat a skillet or griddle over medium heat. Spritz with cooking spray or add a tiny pat of non-dairy butter or drizzle of neutral-flavored oil.
Using a ¼ measuring cup, scoop batter onto the skillet. Cook for 3 to 4 minutes or until lightly browned on the bottom and the batter on the edges of the pancakes start to pull away from the pan. Flip the pancake over and cook another 2 to 3 minutes until lightly browned on the other side.
Serve with toppings of choice.
Notes
~Nutrition facts calculated without toppings.
Nutrition Information:
Yield:
4
Serving Size:
1 g
Amount Per Serving:
Calories:

202
Total Fat:

5g
Saturated Fat:

1g
Unsaturated Fat:

4g
Sodium:

365mg
Carbohydrates:

40g
Fiber:

7g
Sugar:

10g
Protein:

9g