As an Amazon Associate I earn from qualifying purchases. Please see my Privacy Policy for more details.
Peanut Butter Pancakes w/ maple peanut butter syrup – an indulgent breakfast that just happens to be healthy. And they are so easy to make!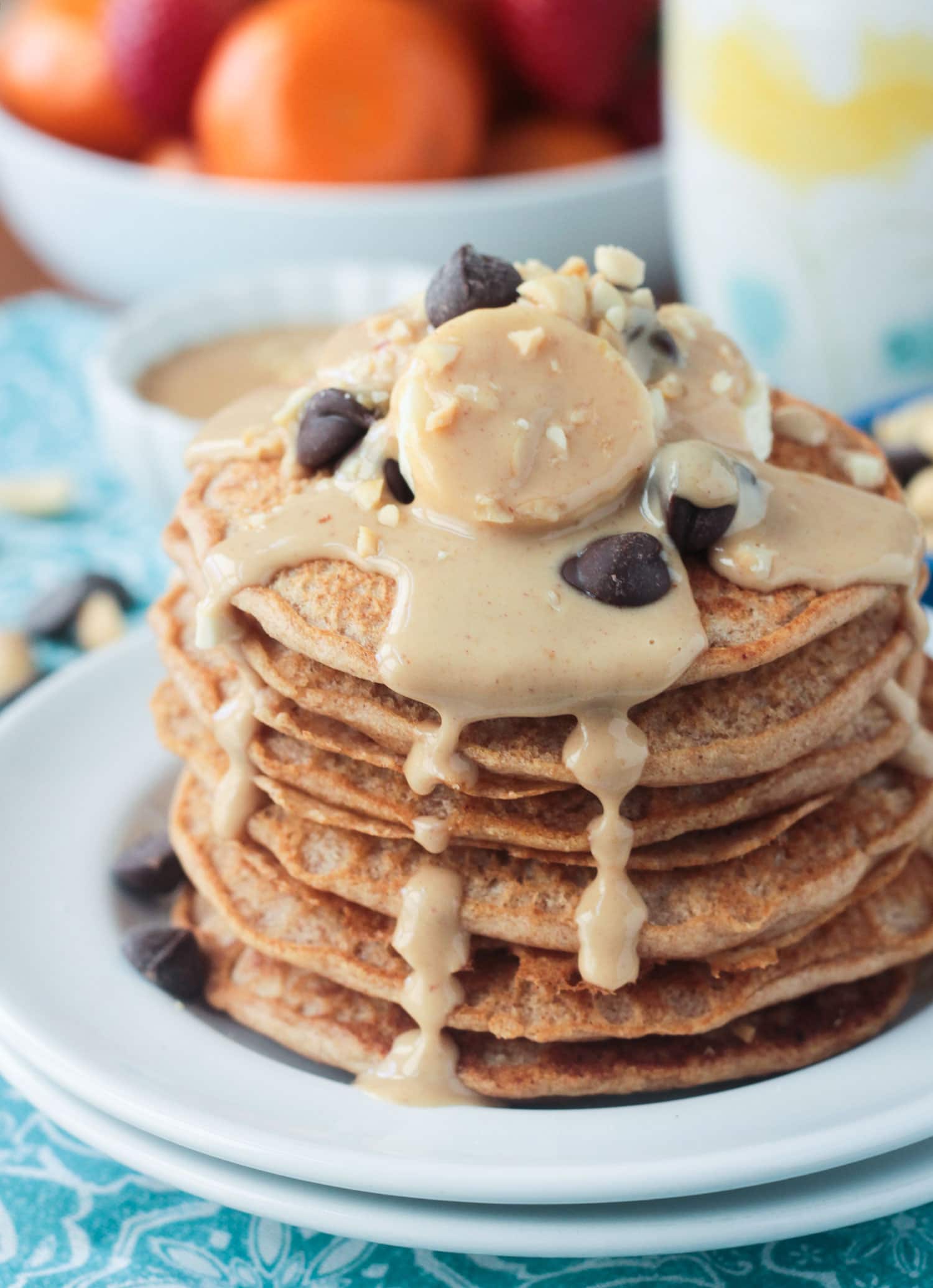 Happy Pancake Tuesday! Lent starts tomorrow for those that observe. Before the fasting that occurs during the Lenten season, some like to celebrate by eating pancakes the day before Ash Wednesday. This day is also called Shrove Tuesday, Fat Tuesday, or  Mardi Gras depending on what country you're in.
Whether or not you observe Lent, I think we can all agree that a day dedicated to pancakes is a good idea. And, oh my goodness, do I have a delicious way for you to celebrate today! Peanut Butter Pancakes with Maple Peanut Butter Syrup! You are going to want to make these as asap!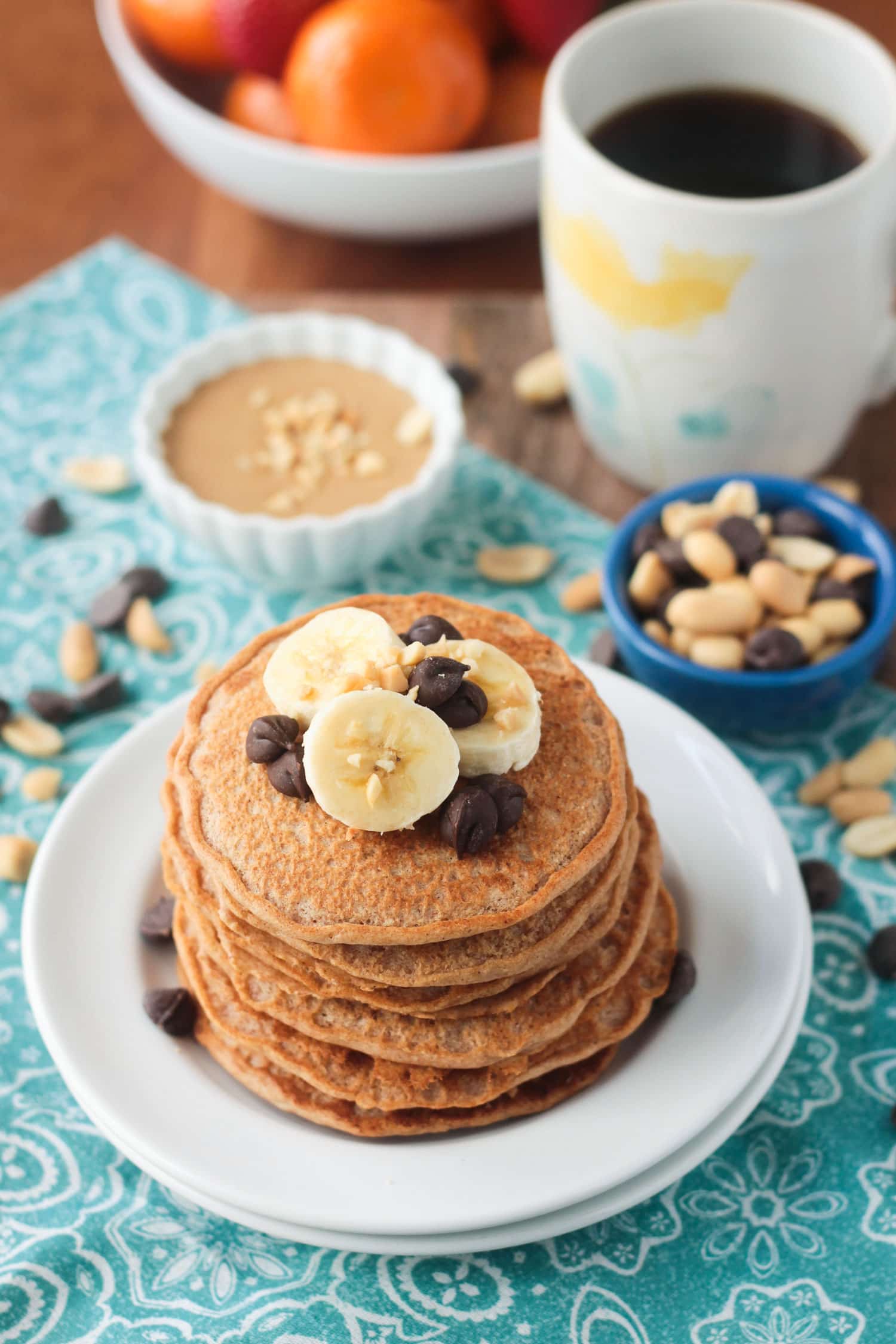 Soft & Fluffy
These pancakes are soft and fluffy and p-a-c-k-e-d with peanut butter goodness! A ½ cup of peanut butter in the batter and then topped off with a creamy peanut butter sauce for an extra nutty punch. I used spelt flour in these because it tends to be lighter and produce softer/fluffier results than traditional wheat flours.
Proof of how delicious spelt flour is can be found in my Baked Apple Cider Donuts, Chai Spiced Pumpkin Layer Cake, Peaches and Cream Dairy Free Donuts, and Fresh Strawberry Cupcakes.
And, although, it does contain gluten, spelt flour is easier to digest than the gluten in wheat (note: it is NOT suitable for those with celiac disease).
Maple Peanut Butter Syrup
Let's take a moment to discuss this Maple Peanut Butter Syrup. This sweet, creamy, peanutty, totally drinkable, delicious sauce. You can adjust the thickness of the sauce easily by simply adding an extra tbsp or two of non-dairy milk. You MUST give it a try right from a spoon…or your finger. You won't regret it, I promise!
I almost didn't have any left for the peanut butter pancakes. I was very close to calling it my morning smoothie and getting on with my day. But for a more balanced nutty breakfast sip, try my Peanut Butter Cup Smoothie.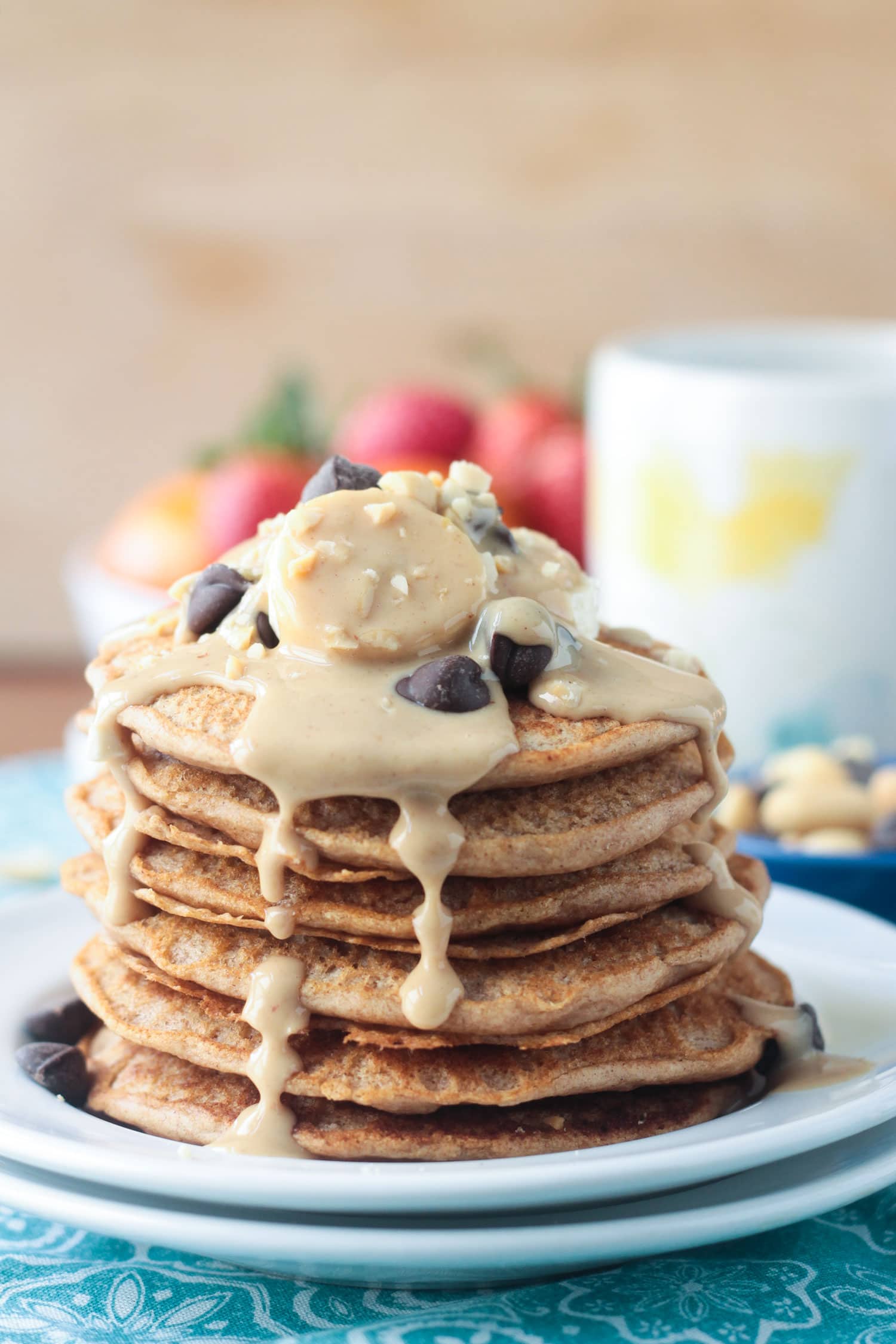 Kid Approved
My kids have declared these Peanut Butter Pancakes their new favorite pancakes. We had them three days in a row with none leftover each time. You think I would have wised up and doubled the batch after the first time, but it did give me opportunity to make triple sure the recipe was perfect to share with all of you!
This recipe actually makes quite a few pancakes to begin with, about 14 if you use ¼ cup of batter for each one. Three kids eating plus myself (hubby doesn't like peanut butter so too bad for him!) – you do the math – the kids devoured them!
Get to your kitchen fast and celebrate Pancake Tuesday with these amazing Peanut Butter Pancakes!!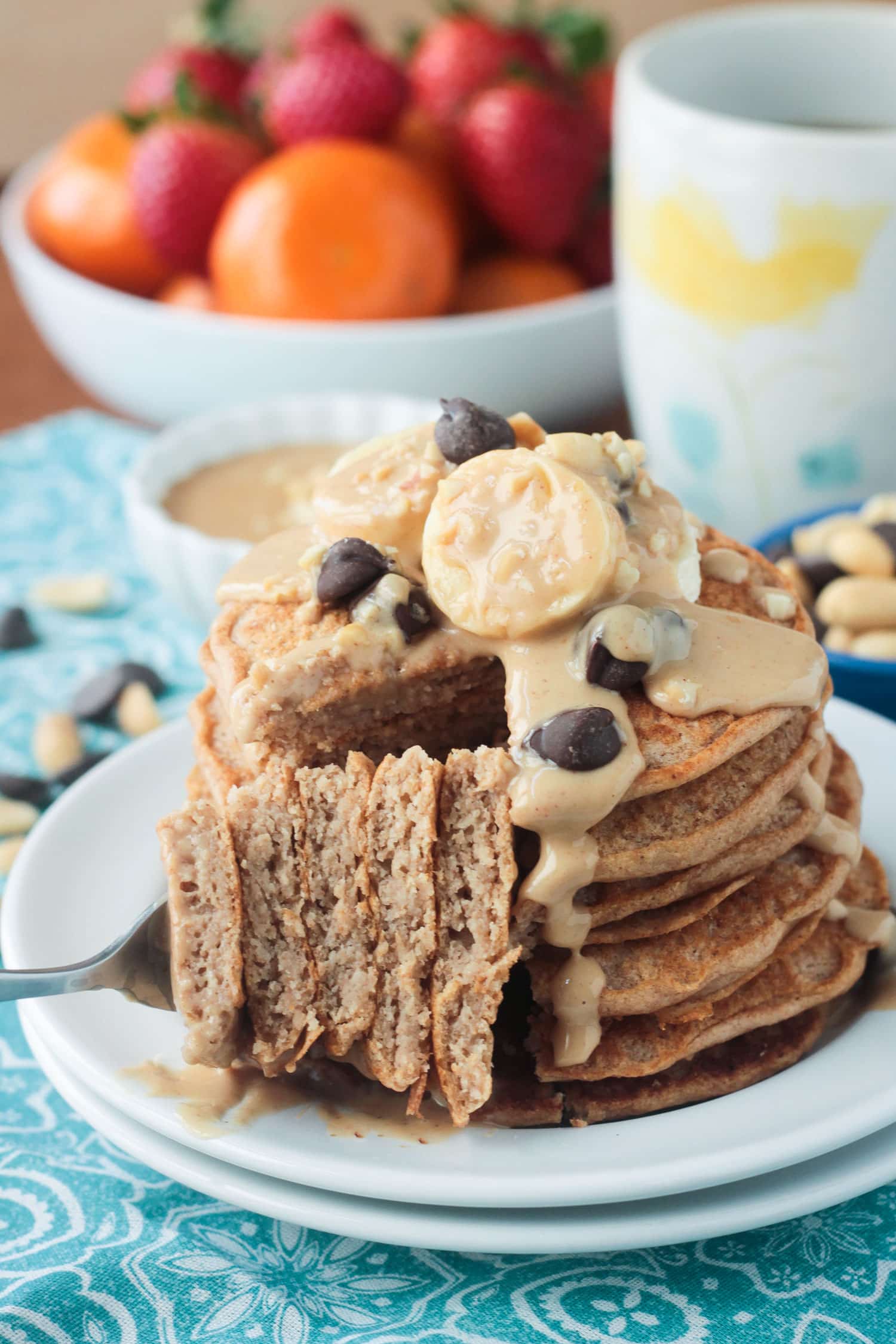 Peanut Butter Pancakes
I hope you love these Peanut Butter Pancakes as much as we do! If you try them, please come back and leave me a comment below with your feedback and star rating. You can also find me on social media. Be sure to tag @veggie_inspired and #veggieinspired so I'm sure to see it. Enjoy!
Peanut Butter Pancakes (Dairy free)
Peanut Butter Pancakes w/ maple peanut butter syrup – an indulgent breakfast that just happens to be healthy. And they are so easy to make!
Print
Rate
Ingredients
For the Peanut Butter Pancakes
For the Maple Peanut Butter Syrup
Toppings, optional
banana slices

chopped raw peanuts
Instructions
For the Peanut Butter Pancakes
In a large mixing bowl, whisk together the flour, baking powder, and salt.

In a large measuring cup, whisk together the peanut butter, plant milk, maple syrup, and vanilla extract

Pour the wet ingredients into the dry ingredients and stir until just combined. Set aside for about 10 minutes to let the batter thicken up.

Lightly spray a non-stick skillet with cooking spray and heat over medium heat. Once hot, pour ¼ cup of batter for each pancake. Do not crowd your pan - I do two at a time. You might be able to fit three if you have a large pan.

Cook each pancake for about 3-5 minutes. It's ready to flip when the edges start turning lightly brown and bubbles begin to pop on top of the pancake. Gently flip and cook another 3-5 minutes. Transfer to a plate and continue until all of the batter has been used. You might need to add additional cooking spray before adding each new batch to the pan. You also may need to adjust your temp as you go. The pan will get hotter the longer you use it, so just watch your pancakes and turn down the heat a bit if necessary.
For the Maple Peanut Butter Syrup
Whisk together all the ingredients listed. Try not to drink it before your pancakes are ready - it's so darn good!!

Serve the pancakes with any of the optional toppings if desired and a good drizzle of the Maple Peanut Butter Syrup.

Enjoy!
Notes
Nutrition facts calculated without toppings.
Nutrition
Calories:
178
kcal
|
Carbohydrates:
20
g
|
Protein:
6
g
|
Fat:
8
g
|
Saturated Fat:
1
g
|
Polyunsaturated Fat:
2
g
|
Monounsaturated Fat:
1
g
|
Sodium:
186
mg
|
Potassium:
65
mg
|
Fiber:
2
g
|
Sugar:
7
g
|
Vitamin A:
150
IU
|
Calcium:
120
mg
|
Iron:
0.9
mg
More Egg Free Pancakes To Love:
Gluten Free Buckwheat Pancakes