As an Amazon Associate I earn from qualifying purchases. Please see my Privacy Policy for more details.
This Pesto Spaghetti Squash is a low carb way to satisfy your pasta craving!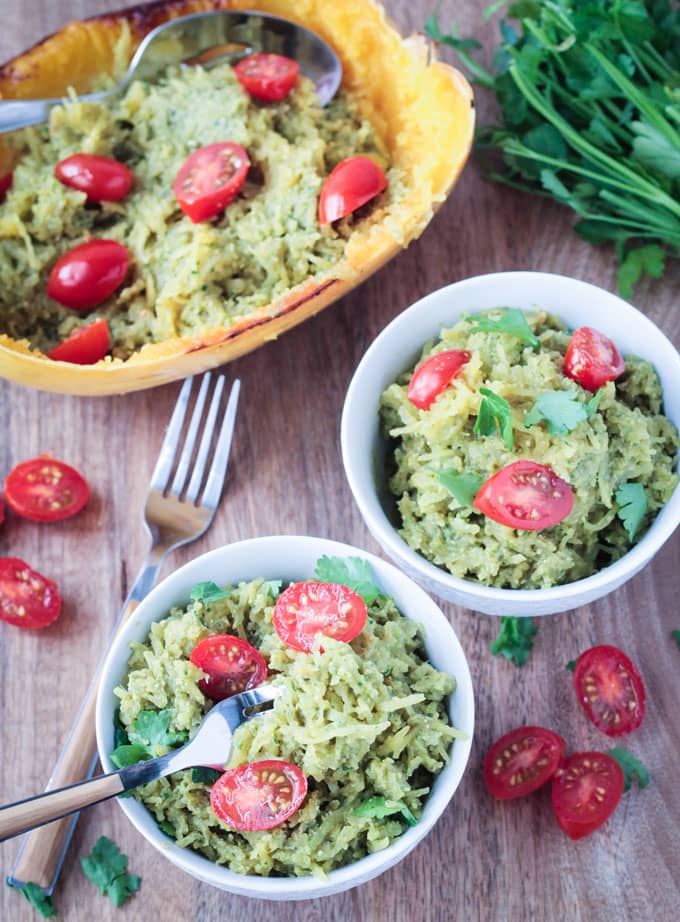 Raise your hand if you're trying to eat a healthier diet this year.
One of the things the average person usually tries to cut back on when attempting to lose weight, or just eat healthier, is carbs. The dreaded carbs, right?
Personally, I don't think carbs are the enemy, but that discussion would be enough for it's very own blog post and I'm not going to tackle it today (and technically winter squash is a carb, but it's nutrition profile is obviously completely different than the white pasta, white bread, sugary cakes and pastries you are used to associating with the word CARBS). 
Regardless, this Pesto Spaghetti Squash is delicious and satisfying and you'll fool your brain into thinking you are eating actual pasta without all the heavy calories. Win!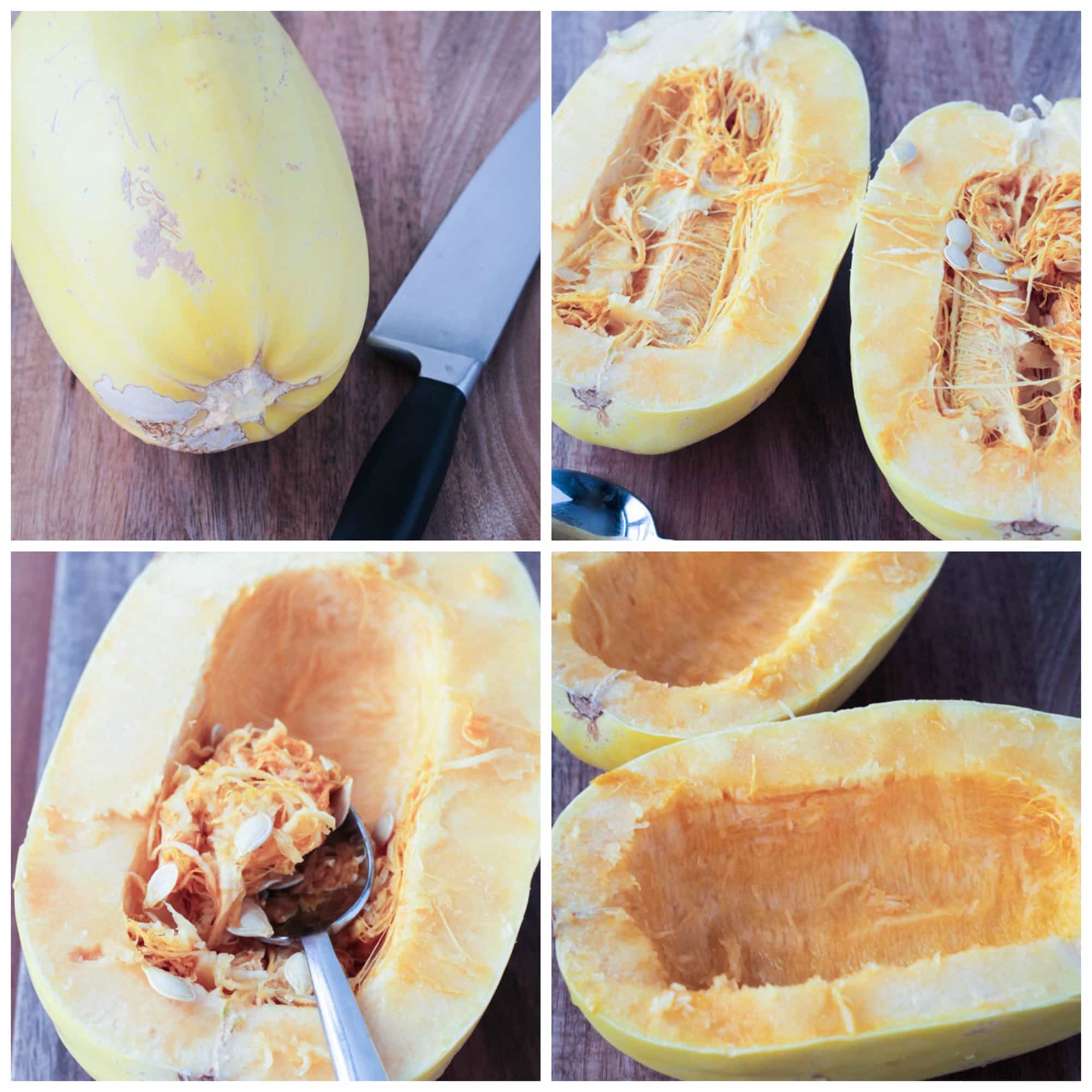 How to Prep Spaghetti Squash
Spaghetti Squash is really simple to prepare once you get it cut open. Cutting it open is sometimes the hardest part. You need a big sharp knife and you need to be very careful because the squash is very hard.
Once it's open, you scoop out the seeds and fibers with a spoon until it's clean. You can save the seeds and roast them to snack on too, just like pumpkin seeds!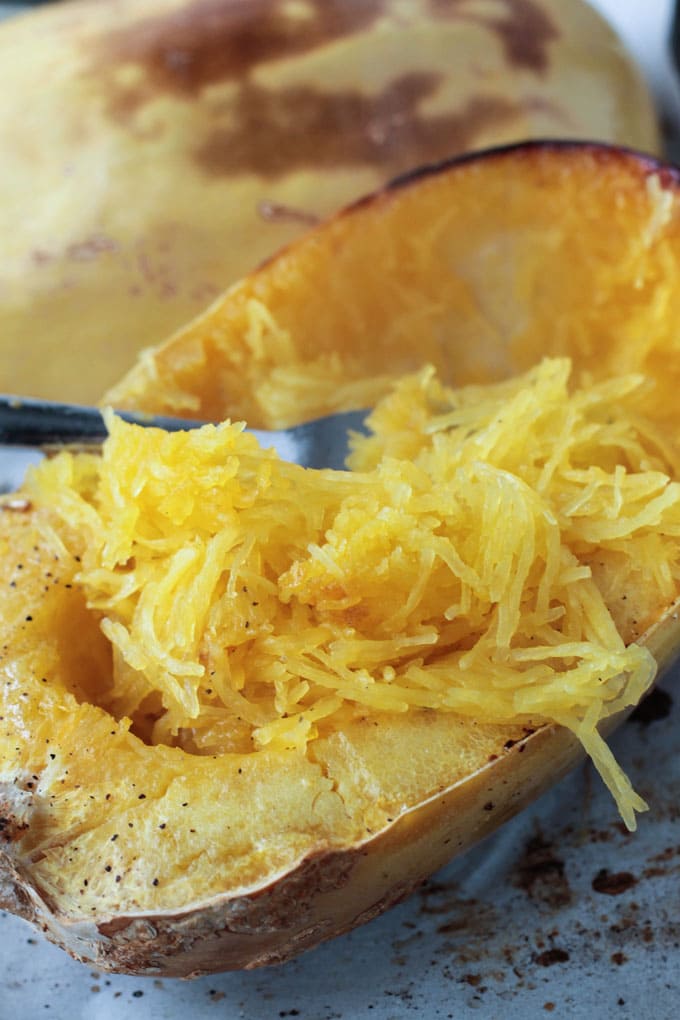 Once the squash is baked, it will easily form strands by scraping the flesh with a fork. From there, you can serve it however you wish.
The squash itself has a very mild flavor, which makes its the perfect accompaniment for my flavorful Parsley Kale Walnut Pesto – simply mix it together and, voila, Pesto Spaghetti Squash! 
You can also toss the squash with marinara or roasted veggies, throw it in a stir fry, add it to soups, tacos, enchiladas, etc. Your options are limitless!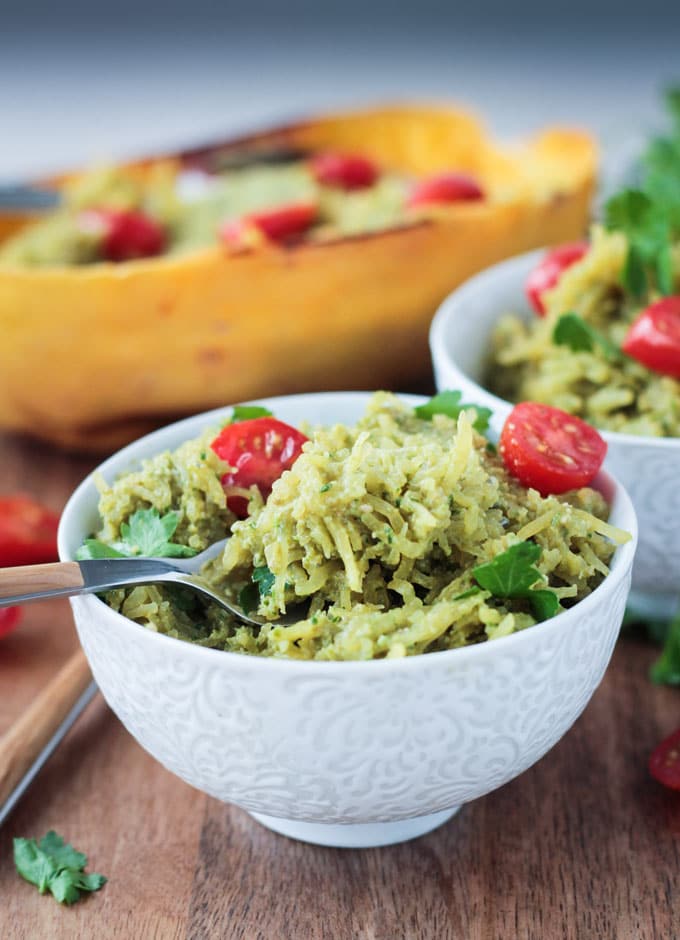 Pesto Spaghetti Squash is a budget-friendly, waist-friendly (1 cup of spaghetti squash is only 76 calories – not including the pesto. Compare that to about 220 calories in a cup of plain spaghetti pasta), even kid-friendly recipe for any day of the week!
The squash/pesto combo will also provide you with plenty of vitamin A, vitamin C, B vitamins, fiber, folate, vitamin K, omega-3 fats, protein, and MORE!
More vegan vegetable recipes
I hope you love this recipe as much as we do! If you tried it, please use the rating system in the recipe card and leave a comment below with your feedback.

Be sure to sign up for my FREE Newsletter to be the first to get my NEW recipes! You can also follow me on Instagram, Facebook, and Pinterest.

For even more easy family recipes, be sure to check out my cookbook, The Meatless Monday Family Cookbook!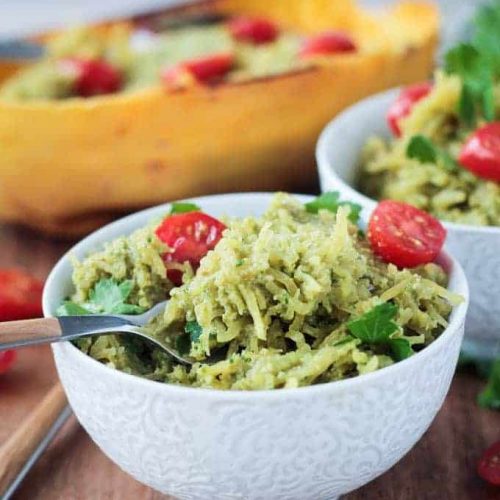 Pesto Spaghetti Squash
Spaghetti squash "noodles" with pesto sauce is a low carb way to satisfy your pasta cravings! No fancy gadgets required – a simple fork will magically make the spaghetti squash stands separate. Paired with the Parsley Kale Walnut Pesto, it's a flavorful, healthy, lightened up dish you can feel good about.
Print
Rate
Ingredients
1

spaghetti squash

2

teaspoon

olive oil

sprinkle of salt/pepper

½

cup

fresh cherry tomatoes

(halved) (optional)
Instructions
Preheat your oven to 400 degrees C.

Line a baking sheet with parchment paper and set aside.

Carefully cut the spaghetti squash in half lengthwise.

With a spoon, scrape out the seeds and fibers.

Place each half on the prepared baking sheet cut side up and pour 1 tsp olive oil into each half. With your fingers, spread the olive oil all over the cut side of the squash. Sprinkle with salt/pepper.

Turn the squash cut side down on the baking sheet and bake for 35-55 minutes, until desired tenderness is reached.

The amount of time baked will depend on the size of your squash. A smaller one will take less time than a larger one. It will also depend on how tender you want the strands. For strands with a slight crunch, bake it less. For strands that are super tender, bake it longer. You can easily check the doneness by using a fork to pull away a few strands and doing a taste test….start checking around 35 minutes.

When squash is fully cooked, using a fork, "scrape" the inside of the squash so the strands come loose. Continue until all the strands have come away from the peel.

Serve immediately.
Notes
~I like my "noodles" with a slight bit of crunch left…almost like an al dente pasta noodle. I had a large squash and baked it 45 minutes.
Nutrition
Calories:
170
kcal
|
Carbohydrates:
19
g
|
Protein:
5
g
|
Fat:
9
g
|
Saturated Fat:
4
g
|
Polyunsaturated Fat:
7
g
|
Monounsaturated Fat:
3
g
|
Sodium:
327
mg
|
Potassium:
551
mg
|
Fiber:
6
g
|
Sugar:
6
g
|
Vitamin A:
3900
IU
|
Vitamin C:
79.2
mg
|
Calcium:
180
mg
|
Iron:
2
mg
Nutrition values are calculated using online calculators and are estimates only. Please verify using your own data.