As an Amazon Associate I earn from qualifying purchases. Please see my Privacy Policy for more details.
Vegan Richa's Indian Kitchen cookbook review and a recipe for Masala Lentils that you're going to love!
If you are in any way, shape or form interested in a plant based diet, I'm betting you've heard of Vegan Richa.
I've been following her blog for years now and have always loved her recipes.
On her blog, she posts not only Indian recipes, but creative and delicious plant based recipes of all variety.
One of my favorites from the blog is her Masoor Dal Tadka. I seriously CRAVE that dish.
Well, friends, Richa has written her first cookbook, Vegan Richa's Indian Kitchen, Traditional and Creative Recipes for the Home Cook and it is a stunner!
I'm excited to tell you all about it today and share Richa's recipe for Masala Lentils. Keep reading!
I "met" Richa in a Facebook group over a year ago and was lucky enough to become a recipe tester for her new cookbook.
When I first started testing her recipes, I wasn't very familiar with Indian cooking, aside from the few recipes I had tried from her blog.
I admit I was a bit intimidated in the beginning, but I was excited about branching out and trying new cuisines. I am so glad I did!!
Richa is honestly one of the nicest bloggers I have had the opportunity to chat with. She is personable, helpful, kind and welcoming and this really comes across in her book.
Richa, having learned to cook from her mom, gives a nod to traditional Indian cooking, but has created her recipes to be easy enough for even the most novice home cook.
She does an amazing job of explaining all the spices, lentils, peas, beans, grains, flours, and other ingredients used in Indian cuisine, in the very beginning of the book.
She uses ingredients readily available in most supermarkets whenever possible and offers up variations in most cases when not.
I can honestly tell you that ANYONE can make these recipes! Let's not forget that I have 3 kids running around, 2 of which are still pretty much reliant on me for most things of importance, all 5 of us with crazy schedules and yet I was getting these recipes on the table for easy weeknight meals!
Vegan Richa's Indian Kitchen
There is no shortage of recipes in Vegan Richa's Indian Kitchen. Here is just a sampling of what you'll find:
Breakfast ~ Mom's Chickpea Flour Pancakes, Indian Spiced Milk Tea
Small Plates and Snacks ~ Street Style Tempeh Wraps, Potato Quinoa Patties
Sides and Dry Vegetable Curries ~ Spiced Cabbage Potatoes, Easy Curried Green Beans
Dals ~ Butternut Coconut Red Lentil Curry, South Indian Chickpea Eggplant Stew
One-Pot Meals and Casseroles ~ Makhani Vegetable Pot Pie, Lightly Spiced Yellow Lentils and Rice
Main Dishes ~ Mango Curry Tofu, Potato Veggie Balls in a Garlic Fenugreek Sauce
Desserts ~ Doughnuts Soaked in Sugar Syrup, Pistachio Spoon Fudge
Flatbreads ~ Puffy Restaurant-Style Naan, Gluten Free Chia Flatbreads
Chutneys, Spice Blends and Basics ~ Quick Tamarind Date Chutney, Indian Chai Spice, Vegan Paneer
In addition to being vegan, many of the recipes are also soy-free, gluten-free, grain-free and nut-free and the recipes are marked as such.
Ok, my mouth is officially watering now. And just look at the gorgeous pictures! Richa did all the photos herself and they are just beautiful! They make you want to dive right into these dishes head first!
If you are a seasoned foodie who enjoys Indian food regularly or if you are someone who sticks to what they know and has never tasted the flavors of Indian cuisine, you are going to love this new cookbook!
Richa was generous enough to let me share a recipe from her new book with you today. I had such a hard time choosing which one…sweet or savory??
In the end, I chose savory because as much as I love and adore her desserts (hello, Fudgy Cardamom Squares), it's her savory recipes that I crave and keep me going back for more!
Please enjoy this delicious recipe for Masala Lentils.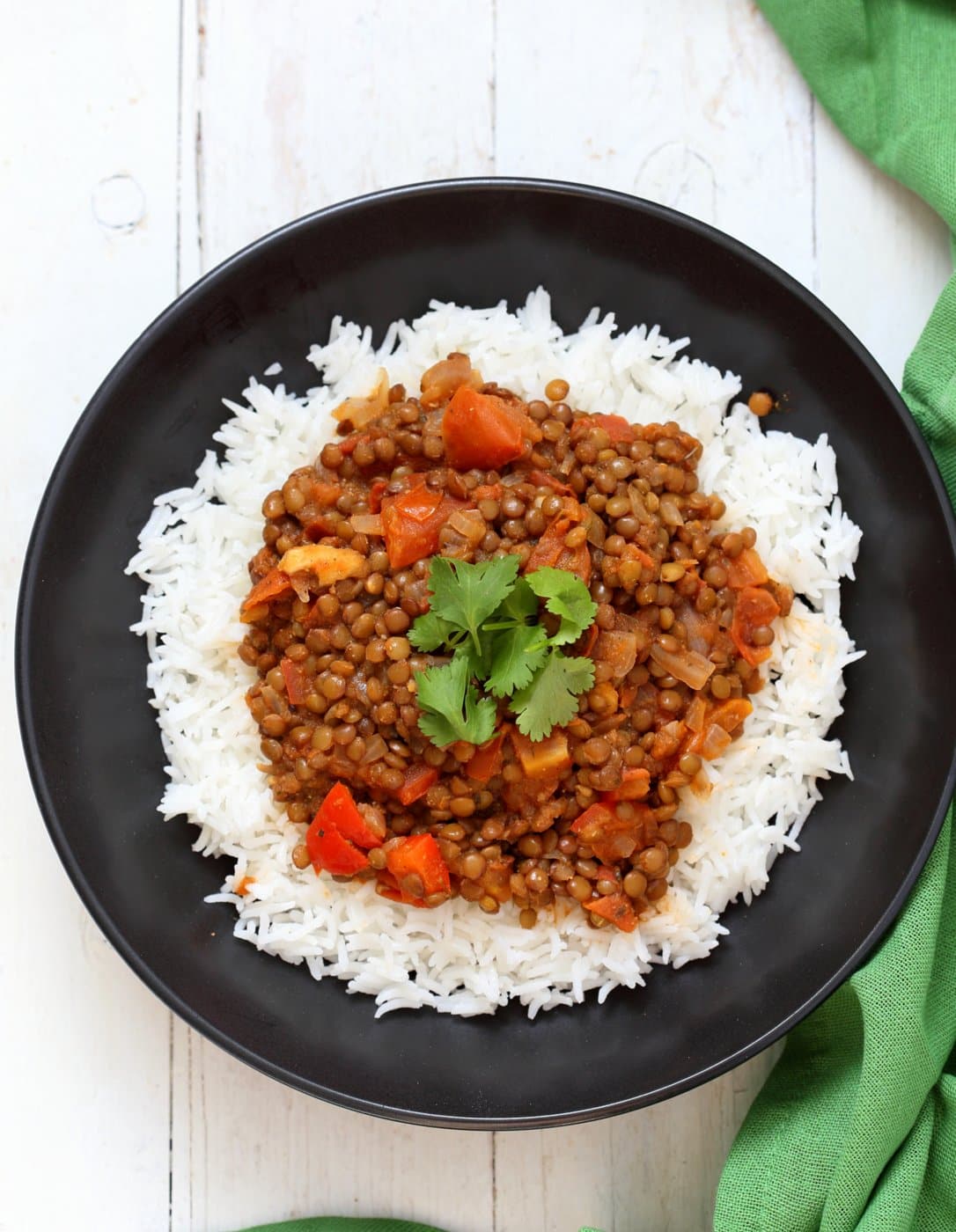 More vegan lentil recipes
And don't miss these other recipes from Richa's other cookbooks:
I hope you love this recipe as much as we do! If you tried it, please use the rating system in the recipe card and leave a comment below with your feedback.

Be sure to sign up for my FREE Newsletter to be the first to get my NEW recipes! You can also follow me on Instagram, Facebook, and Pinterest.

For even more easy family recipes, be sure to check out my cookbook, The Meatless Monday Family Cookbook!
Don't forget to order a copy of the Vegan Richa's Indian Kitchen HERE.
Masala Lentils
Richa says, "If you want to impress someone with a dal, make it this one. Don't be afraid of the number of spices – it is quite simple to make. The spices and garlic are blended to a paste and fried in the oil. A hot sauce (chiles, garlic, and vinegar) in the tadka is another secret to getting the right flavor profile. Serve this as a part of a meal, or with rice or naan or other flatbread."
Recipe from Vegan Richa's Indian Kitchen Copyright © 2015 by Richa Hingle. Used by permission from Vegan Heritage Press, LLC
Print
Rate
Ingredients
¾

cup

brown lentils

picked over, rinsed and drained

2

cups

water

2-3

teaspoons

safflower or other neutral oil

½

cup

finely chopped red or white onion

6

cloves

garlic

chopped

½

teaspoon

ground cumin

2

teaspoons

ground coriander

½

teaspoon

ground cardamom

½

teaspoon

ground cinnamon

½

teaspoon

fenugreek leaves

or ⅛ teaspoon fenugreek seeds

1

teaspoon

sweet or hot paprika

⅛

teaspoon

nutmeg

¼

teaspoon

black pepper

1 ½

tablespoons

sriracha or other hot sauce

to taste

2

tablespoons

water

1 ½

cups

chopped tomato

¾

teaspoon

salt

2

tablespoons

chopped cilantro

for garnish

1

tablespoon

vegan butter

optional
Instructions
Combine the lentils with 2 cups of water in a saucepan. Partially cover and cook over medium heat until the lentils are tender, 25 to 30 minutes.

While the lentils are cooking, make the tempering. Heat the oil in a skillet over medium heat. Add the onion and cook until golden brown, 5 to 6 minutes.

In a blender, combine the garlic, cumin, coriander, cardamom, cinnamon, fenugreek, paprika, nutmeg, black pepper, sriracha, and 2 tablespoons of water. Blend to combine well. Add this paste to the onions in the skillet. Cook until fragrant, about 2 minutes. Stir in the tomatoes and salt, and cook until the tomatoes are tender, about 8 minutes. Mash the larger tomato pieces.

Add the tempering to the lentils. Bring to a boil over medium heat. Reduce heat and simmer for another 5 minutes. Taste and adjust salt and spice. Garnish with cilantro and vegan butter, if using, and serve hot.
Nutrition
Calories:
156
kcal
|
Carbohydrates:
17
g
|
Protein:
6
g
|
Fat:
6
g
|
Saturated Fat:
1
g
|
Polyunsaturated Fat:
2
g
|
Sodium:
541
mg
|
Potassium:
419
mg
|
Fiber:
6
g
|
Sugar:
4
g
|
Vitamin A:
1100
IU
|
Vitamin C:
18.2
mg
|
Calcium:
20
mg
|
Iron:
0.5
mg
Nutrition values are calculated using online calculators and are estimates only. Please verify using your own data.