As an Amazon Associate I earn from qualifying purchases. Please see my Privacy Policy for more details.
BBQ Lentils – healthy protein packed lentils in a unique sweet and smoky tomato-free sauce. A stick to your ribs comfort meal.
If you like BBQ sauce, you are going to love this recipe! Perfect on a sandwich bun (topped with coleslaw perhaps!), in a pita, as a dip with corn chips, over polenta or baked potatoes, or as the star of the plate next to creamy mashed potatoes and steamed broccoli.
Jump to:
Tomato free BBQ sauce
Traditional BBQ sauce is made from a base of tomato sauce, tomato paste, and/or ketchup.
Why tomato free? Originally this recipe came about because I didn't have any tomato products in my pantry at the time. As it turns out, this is a delicious recipe that can be enjoyed by even those who follow a nightshade free diet, but will be loved by even those who don't.
As a tomato sauce substitute, I use puréed carrots. Carrots might sound like a strange ingredient, especially as the base of the sauce, but they give it a wonderful sweetness and creaminess.
The sauce is also vinegar based as many BBQ sauces are. If you are not a vinegar lover, you might want to start with less than ¼ cup and adjust after tasting.
What are nightshades?
Nightshades are a family of plants that include tomatoes, peppers, eggplant, and potatoes.
There is a possibility that they may contribute to inflammation and auto-immune disease, such as IBD (or leaky gut syndrome) and arthritis. [source]
Most people, however, do not need to stay away from nightshade vegetables and, in fact, will benefit from their many nutrients. Please consult your health care provider if you have concerns.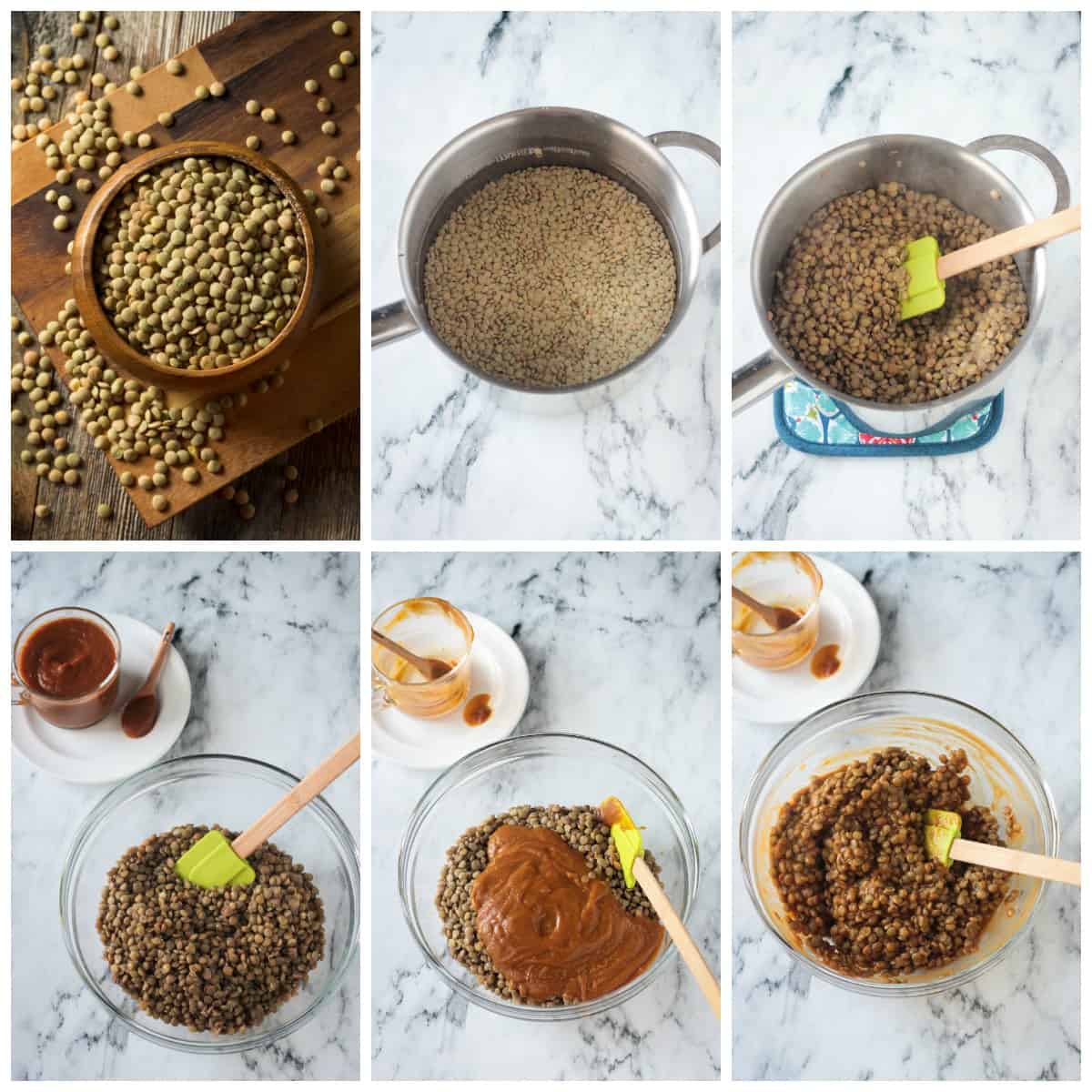 Substitutions/Adaptations
Following the original recipe ingredients and instructions will give you the best results, but here are some adaptations that will work if need be.
Lentils ~ This sauce would be delicious with chickpeas or white beans if you prefer. You could even use store-bought vegan ground "beef", like Gardein or Beyond Beef.
Carrots ~ Obviously carrots are the base of this sauce. You could use 2 cups of peeled and chopped sweet potatoes as a substitute, which would keep the sauce nightshade free. If you prefer to use traditional tomatoes, you'll need about ¾ cup to 1 cup of tomato sauce.
Onion ~ Any color onion you have will work just fine.
Garlic ~ If you don't have fresh garlic, bottled minced garlic will work. Use 1 teaspoon for every clove.
Apple cider vinegar ~ This is a vinegar based sauce, so you are meant to taste it in the final dish. If you are not a huge fan of vinegar, start with less and add more to taste. It's hard to neutralize the flavor after the fact. White vinegar or even balsamic vinegar will work, as well.
Molasses ~ If you don't have molasses, add some brown sugar or coconut sugar
Pure maple syrup ~ Do not sub with pancake syrup! If you don't have pure maple syrup, try agave or honey if you're not vegan.
Mustard powder ~ liquid yellow mustard will work as a sub
Liquid smoke ~ This is where the smoky flavor comes from. Smoked paprika can be used instead (but is not nightshade free).
Chili powder ~ leave this out if you need a truly nightshade free sauce. You can add a bit of cumin for a savory flavor, but it won't have the same taste as chili powder.
More vegan BBQ recipes
Complete the meal
You could serve these saucy lentils on a burger bun, sloppy joe style, or make them the star of the plate on their own.
Perfect side dishes to complete the meal:
Baked potato or mashed potatoes
Steamed or roasted vegetables (broccoli, green beans, Brussels sprouts, etc)
Corn on the cob
I hope you love this recipe as much as we do! If you tried it, please use the rating system in the recipe card and leave a comment below with your feedback.

Be sure to sign up for my FREE Newsletter to be the first to get my NEW recipes! You can also follow me on Instagram, Facebook, and Pinterest.

For even more easy family recipes, be sure to check out my cookbook, The Meatless Monday Family Cookbook!
📖 Recipe
Yield: 4
Sweet and Smoky BBQ Lentils
Sweet and Smoky BBQ Lentils - a stick to your ribs comfort meal with a unique tomato free sauce!
Ingredients
Lentils
BBQ Sauce
2 carrots (peeled and rough chopped)
½ large sweet onion (peeled and rough chopped)
2 garlic cloves (peeled)
Enough water to cover veggies in pot
2 teaspoons yellow mustard powder
¼ teaspoon chili powder* (omit if nightshade free!)
⅛ teaspoon ground ginger
⅛ teaspoon ground clove
Instructions
Add lentils and water to pot. Simmer about 25 minutes until tender, but not mushy. Check them often and make sure to take them off heat and drain as soon as they are tender. Pour back into the pot and set aside.
Meanwhile, in another pot, add carrots, onion and garlic, cover with water by an inch or two and simmer until tender...about 15 to 20 minutes. (It may take a few minutes more or less depending on how small or large you cut the veggies).
When veggies are tender, drain and add to high speed blender along with vinegar, molasses, maple syrup, mustard powder, liquid smoke, chili powder, ginger and clove. Purée until smooth.
Pour the sauce over the cooked lentils and stir to combine.
If your sauce is too thin, simmer the lentils in the sauce uncovered for a few minutes to thicken up. Or, alternately, if your sauce is too thick, you can add a tablespoon or two of water and mix.
Enjoy!
Notes
*If you need to avoid all nightshades, omit the chili powder.
Nutrition Information:
Yield:
4
Serving Size:
1 g
Amount Per Serving:
Calories:

253
Total Fat:

1g
Unsaturated Fat:

0g
Sodium:

79mg
Carbohydrates:

49g
Fiber:

16g
Sugar:

19g
Protein:

13g