As an Amazon Associate I earn from qualifying purchases. Please see my Privacy Policy for more details.
These crunchy cornmeal vegan savory waffles have hints of citrus and just enough spice to tantalize your tongue. I'm so addicted to them!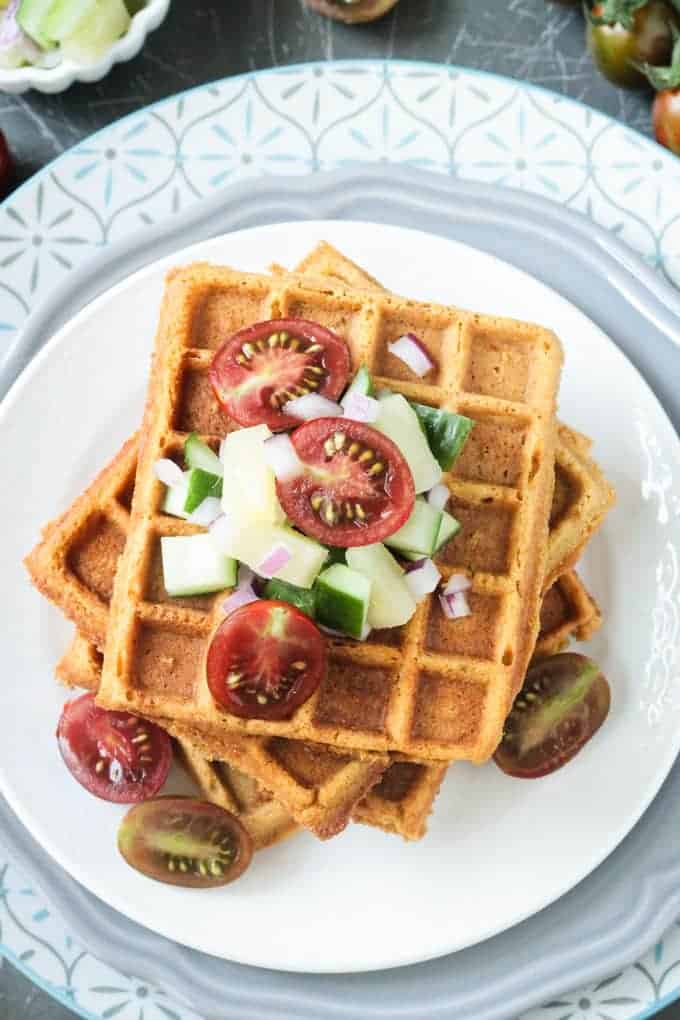 I have a new obsession and it's these Crunchy Corn Waffles from Celine Steen's new cookbook, Bold Flavored Vegan Cooking!
These are vegan savory waffles, but I think they would be just as perfect with maple syrup as they are with the cucumber pineapple salsa I paired them with. With hints of orange and just enough spice to keep things interesting, the flavors are perfectly balanced. The outside is crunchy, while the inside is light. You MUST try these!
Keep reading for the recipe and a full review of the cookbook.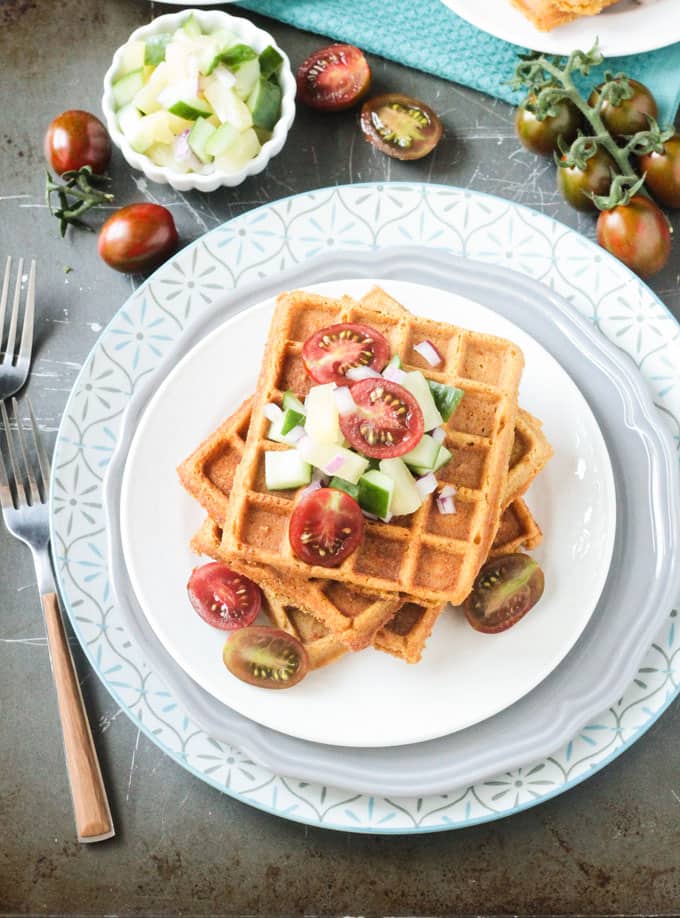 Celine Steen has co-authored a slew of vegan cookbooks, including The Complete Guide to Vegan Substitutions and Vegan Sandwiches Save The Day, and she did the photography for them all. 
Bold Flavored Vegan Cooking is her first solo cookbook and it's a GREAT one! You'll want to add it to your collection pronto!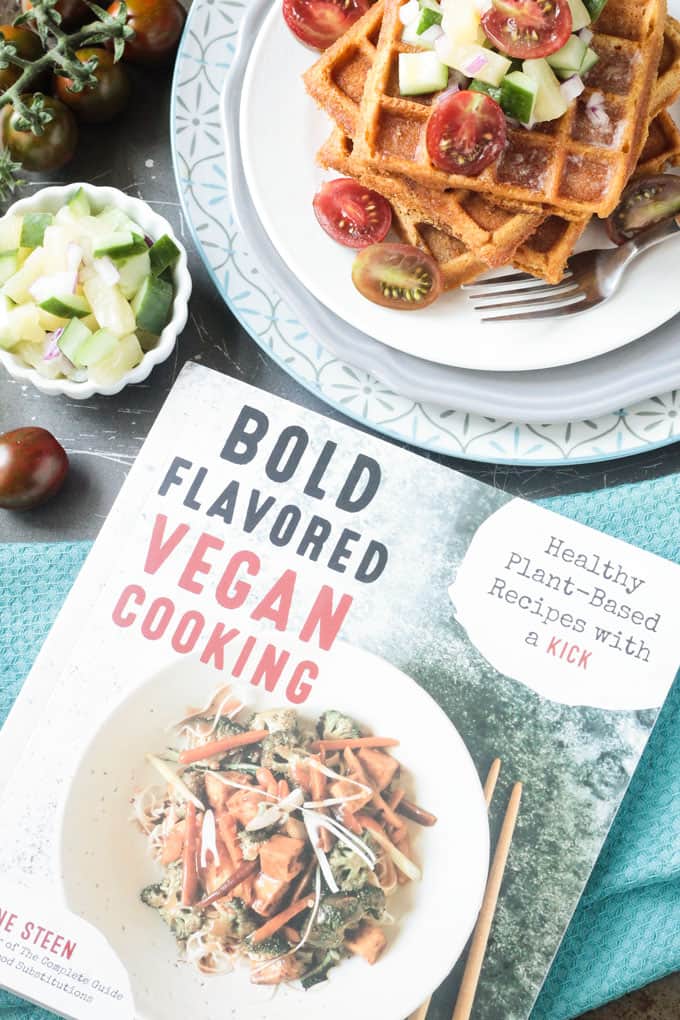 Bold Flavored Vegan Cooking
Bold Flavored Vegan Cooking: Healthy Plant-Based Recipes with a Kick is for anyone who thinks plant based food is nothing but lettuce and seeds. This book will change your mind. It's also for those that know vegan meals can be all sorts of delicious – a variety of textures and flavors to please all tastebuds.
"With the myriad of spices, umami-rich ingredients and clever cooking techniques that are all within our reach, there is no reason for anyone to ever eat a boring dinner again." ~ Celine Steen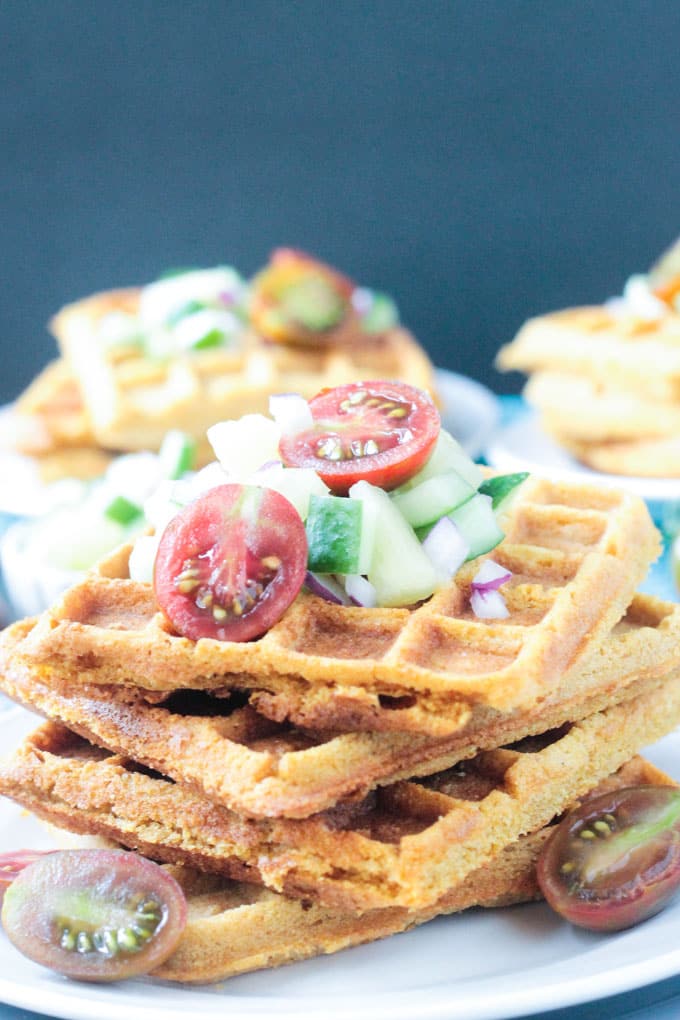 Take a Look Inside
The book is broken down into 4 chapters – Savory, Spicy, Sweet, and Staples.
Here's a sneak peak at a few recipes you'll find in each chapter.
Savory: Matcha Tempeh and Pickled Veggies Sandwiches; Tamarind Miso Soup; Gochujang Kimchi Bowl; Roasted Fingerling Potatoes w/ White Barbecue Sauce
Spicy: Harissa Sprouts and Chickpeas; Asian-Style Peanut Salad; Red Curry Scramble with Lime-y Broccoli; Citrusy Pepper Chili
Sweet: Miso Sweet Cookies; Grilled Pineapple with Tahini Lime Nuts; Balsamic Berry Panna Cotta; Orange Creamsicle Tartlets with Ginger Pears
Staples: Chinese Five-Spice Powder; Harissa Paste; Mushroom Dashi; Pomegranate Molasses; Pineapple Pepper Jelly
And as if that's not enough, Celine includes a section at the end with tips on how you can add big bold flavors to your own recipe creations. She describes the vegan ingredients you should keep in your pantry and where you'll find them in the most markets. There's even a list of umami-rich vegan ingredients (And a detailed explanation of what umami is. Hint – it's your fifth taste).
Many recipes in this book are gluten-free, soy-free, and oil-free, and all recipes are clearly marked. You'll also find many that can be made in 30 minutes or less (hooray!) and those are clearly marked as well.
These Crunchy Corn Waffles seriously blew me away. I've never made waffles before, let alone vegan savory waffles, but this recipe was calling to me and I knew I had to have them.
I borrowed a waffle maker from my neighbor, but I'm now convinced I need my own if for nothing but this recipe!
You'll find this recipe in in the Spicy chapter, but the heat is not overpowering at all. It's perfectly balanced with citrus notes and a bit of sweetness.
I have always liked my cornbread on the sweet side (like my Pumpkin Maple Cornbread), but from now on I'll be eating it with a little sweet heat. And you certainly can't get this amazing crunch with cornbread done traditionally. Turning them into waffles is pure genius!
Try them for brunch with the usual breakfast fare. Or make them the perfect accompaniment to chili, soup, or a big green salad. Celine suggests pairing them with her Pineapple Hot Pepper Jelly.
I decided to do a lazy version of the pepper jelly and made a fresh pineapple salsa instead – chopped pineapple, cucumber, red onion, and a little lime juice. I added some halved cherry tomatoes on top of all that. And for a touch of added richness, I drizzle a bit of melted dairy-free butter (I used Earth Balance) right before serving.
Get a bit of everything on the fork and you've got one perfect bite of flavor and texture!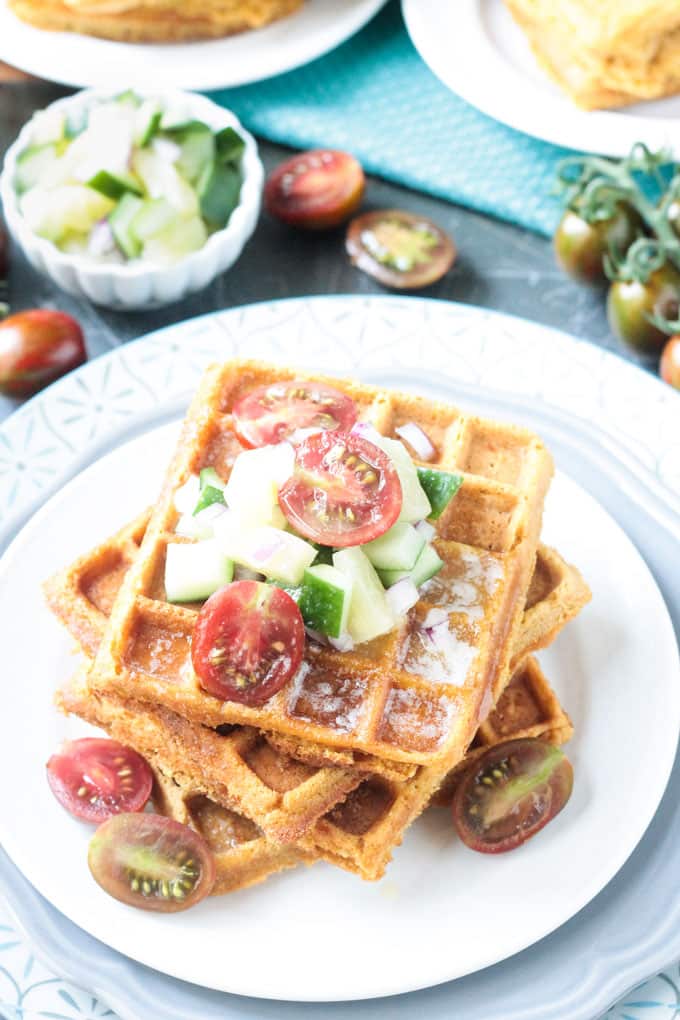 More vegan brunch recipes
I hope you love this recipe as much as we do! If you tried it, please use the rating system in the recipe card and leave a comment below with your feedback.

Be sure to sign up for my FREE Newsletter to be the first to get my NEW recipes! You can also follow me on Instagram, Facebook, and Pinterest.

For even more easy family recipes, be sure to check out my cookbook, The Meatless Monday Family Cookbook!
And don't forget to order your copy of Bold Flavored Vegan Cooking!
Crunchy Corn Waffles
Celine says, "These savory waffles are the perfect vehicle for Pineapple (or Mango!) Hot Pepper Jelly (page 194). They're also great with Citrusy Pepper Chili (page 116) or a big salad of mixed greens."
Print
Rate
Ingredients
1 ¼

cups

(295 ml) unsweetened plain plant-based milk of choice

1

tablespoon

(15 ml) apple cider vinegar

1 ½

teaspoons

(4 g) organic cornstarch

¼

cup

(60 ml) water

1

teaspoon

8 g smoked sea salt

or fine sea salt

2

tablespoons

(24 g) Sucanat or organic light brown sugar

¼

cup

(60 ml) grapeseed oil or olive oil

¼

cup

(60 ml) fresh orange juice

1

cup

(120 g) whole-wheat pastry flour or all-purpose flour

2

tablespoons

(10 g) nutritional yeast

2

teaspoons

(9 g) baking powder

½

teaspoon

baking soda

½

teaspoon

chipotle powder

Nonstick cooking spray or oil spray
Instructions
In a medium glass measuring cup, combine the milk with the vinegar and let stand 5 minutes to curdle.

In a small bowl, place the cornstarch and whisk with water to dissolve. Cook in the microwave for 30 seconds, or until cloudy and thickened to a jelly-like consistency. Don't overcook or the mixture will get clumpy. For guaranteed non-clumpy results, double the amount of cornstarch and water, cook 1 minute, and use

¼ cup (50 g)

of the mixture. Discard the rest. Alternatively, do this in a small saucepan over medium heat for about 2 minutes, stirring occasionally.

Whisk the cornstarch mixture, salt, Sucanat, oil and orange juice into the curdled milk. Sift the flour, cornmeal, nutritional yeast, baking powder, baking soda and chipotle powder on top of the wet ingredients, and briefly whisk to combine. Don't worry if a few lumps remain, just be sure not to overmix.

Let stand 15 minutes, and then preheat the waffle iron. The longer the batter sits, the better the outcome. Once the iron is hot, give a quick stir to the batter, generously coat the waffle iron with spray, and cover the entire heating plate with batter, or follow the manufacturer's specific instructions. I get a total of 12 deep-pocketed, ¾ -inch (2-cm)

thick Belgian waffles on my iron, cooking 4 at a time. Cook until golden brown and crisp. It usually takes 8 full minutes on my waffle iron heated to 400°F (200°C).

Transfer to a cooling rack and repeat with the remaining batter. Reheat in a 325°F (170°C or gas mark 3) oven until crisp again, about 10 minutes.
Nutrition
Calories:
300
kcal
|
Carbohydrates:
46
g
|
Protein:
6
g
|
Fat:
10
g
|
Saturated Fat:
1
g
|
Polyunsaturated Fat:
6
g
|
Monounsaturated Fat:
2
g
|
Sodium:
562
mg
|
Potassium:
30
mg
|
Fiber:
8
g
|
Sugar:
2
g
|
Vitamin A:
100
IU
|
Vitamin C:
7.4
mg
|
Calcium:
120
mg
|
Iron:
6.3
mg
Nutrition values are calculated using online calculators and are estimates only. Please verify using your own data.