Fudgy Mocha Black Bean Brownie Hearts – dessert that is delicious and healthy! 
Fudgy. Mocha. Brownies. Need I say more? What Valentine's Day would be complete without a little chocolate? And how about a little chocolate you can actually feel good about eating? These super rich Fudgy Mocha Black Bean Brownie Hearts are full of protein and fiber and are 100% FREE of dairy, gluten and refined sugar. They are also kid approved. I PROMISE you will NOT know there are black beans in here!
If you thought there was no such thing as a healthy brownie, now you know differently! Black beans are high in folate, fiber, copper, manganese, vitamin B1, phosphorus, magnesium, protein and iron. They have antioxidant and anti-inflammatory properties, can help balance blood sugars and lower cholesterol. A dessert that's good for you! And with the addition of espresso, they are practically a breakfast food. (That's what I'm telling myself anyway.)
Even with all that nutrition from the black beans, let me assure you that you will not know they are in here. These brownies are everything you would want them to be – chocolatey, fudgy, soft, rich, delicious! Perfect for your sweetie (or yourself) on Valentine's Day.
Of course, if you don't have heart cookie cutters or just don't want to take the time to cut them out, these would be divine in bar form as well. And a little sprinkling of organic powdered sugar never hurt anyone, right?
Here's a great tip for you: I LOVE using a Mesh Tea Ball Infuser
 for sprinkling powdered sugar. The sugar comes out slowly if you gently tap the side. Perfection.
I almost forgot to tell you the best part…the batter comes together completely in the bowl of a food processor. Super easy and super fast. And don't forget to taste the batter….because it's egg free and you can (maybe that's actually the best part?!)
Fudgy Mocha Black Bean Brownie Hearts
I hope you love these Black Bean Brownie Hearts as much as we do. If you try them, please come back and leave me a comment below with your feedback. You can also find me on social media. Be sure to tag @veggie_inspired and #veggieinspired so I'm sure to see it. Enjoy!
Fudgy Mocha Black Bean Brownie Hearts
Good for you Fudgy Mocha Black Bean Brownies. Dairy free, egg free, gluten free, refined sugar free.
Course:
Brownies, Dessert
Cuisine:
dairy free, egg free, gluten free, oil free, refined sugar free, vegan
Instructions
Preheat oven to 350 degrees F.

In the bowl of a food processor blend black beans, vanilla, maple syrup, and applesauce until smooth. This might take several minutes to get the beans all ground up. Scrape down the sides as necessary.

Add the espresso powder, cocoa powder, flax meal, baking powder and salt and process until combined and smooth. Scrape down the sides as necessary.

Remove the blade and set aside. Add the chocolate chips to the batter and gently stir to incorporate.

Pour batter into an 8x8 baking pan lined with parchment paper. (Overhang the parchment paper on both ends by a few inches. This is very important as the brownies will still be very soft when they come out of the oven and the parchment paper will allow you to take the whole square of brownies out of the pan with ease.)

Bake for 35-40 minutes. The top should be set, but the center will still be soft. A toothpick will not (and should not) come out clean.

Let cool in the pan for 10-15 minutes. Carefully lift them out of the pan by holding onto the parchment paper overhang. They will probably still be soft and "bend" a little. This is ok, just be careful not to pull up on the sides too hard and break them.

Let cool on a wire rack for another 20-30 minutes. The brownies should be firmer now, but still soft and fudgy. Carefully cut out into heart shapes or into bars.

Sprinkle with powdered sugar if desired.
Nutrition Facts
Fudgy Mocha Black Bean Brownie Hearts
Amount Per Serving
Calories 166
Calories from Fat 36
% Daily Value*
Total Fat 4g 6%
Cholesterol 0mg 0%
Sodium 92mg 4%
Potassium 302mg 9%
Total Carbohydrates 33g 11%
Protein 6g 12%
* Percent Daily Values are based on a 2000 calorie diet.
More Dairy Free Chocolate Treats to Love:
Cherry Chocolate Walnut Truffles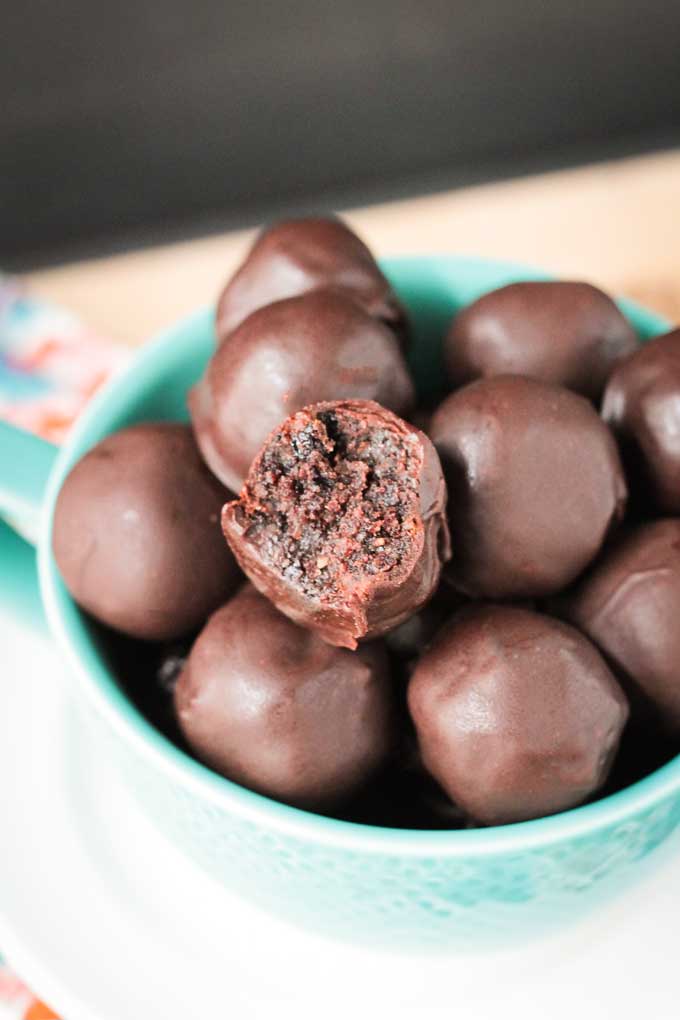 Peanut Butter Chocolate Cupcakes