As an Amazon Associate I earn from qualifying purchases. Please see my Privacy Policy for more details.
Vegan Chocolate Recipes perfect for Valentine's Day or any day you want a sweet treat. I've rounded up the best from some of my favorite recipe creators and I know you'll love them too!
From truffles and small candies to full cakes and pies, I've rounded up the best vegan chocolate recipes to satisfy even the most intense cravings.
Perfect for Valentine's Day, date night, gifting to family and friends, or any time a chocolate craving strikes.
Enjoy!
Vegan Chocolate Recipes: Truffles and Small Bites
Raspberry Dusted Chocolate Fudge Brownie Truffles ~ Rich, chewy, chocolate brownie filled truffles get a bright tart topping of raspberry dust! By Spabettie
Cherry Chocolate Walnut Truffles ~ Just 3 whole food ingredients needed for the filling, plus 2 more for the optional chocolate coating. By Veggie Inspired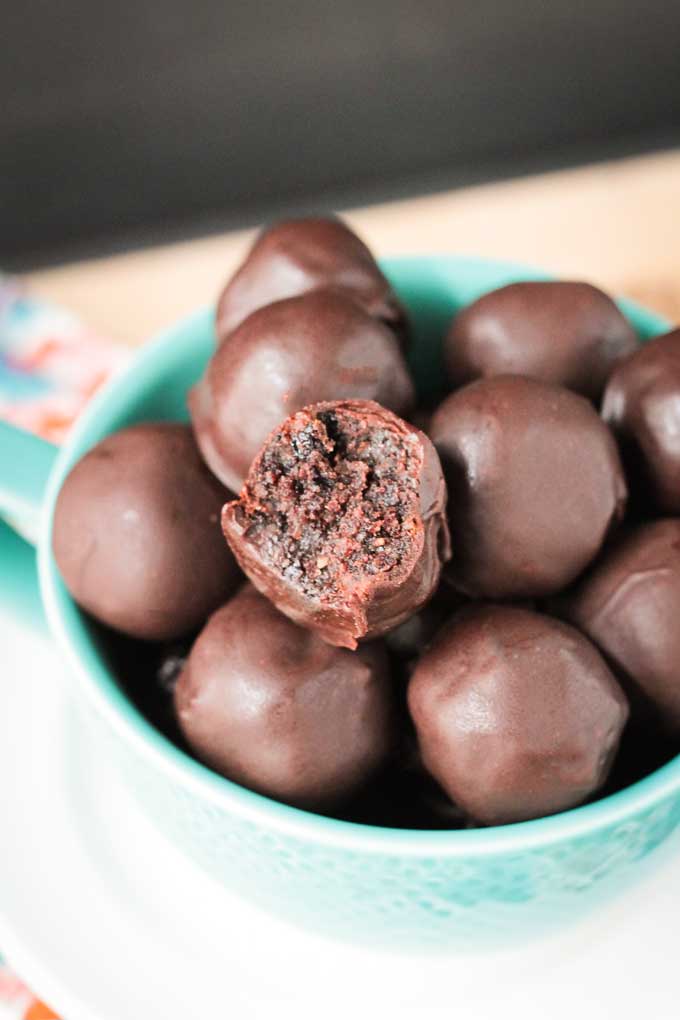 3 Ingredient Chocolate Truffles ~ A rich and decadent chocolate ganache base covered in a crisp chocolate coating. By My Darling Vegan
Raw Vegan Brownie Bites ~ These raw brownie bites are packed with protein, come together in just minutes, and also have a nut-free option. By Veggies Don't Bite
Homemade Ferrero Rocher Balls ~ These hazelnut truffles are surprisingly sugar free! By Cinnamon and Coriander
Cashew Butter Chocolate Truffles ~ A little creamy, a little crunchy, and the perfect sweetness. By Vegan in the Freezer
Strawberry Chocolate Patties ~ Freeze-dried strawberries infuse the filling with flavor and provide a pretty pink hue with no need for food coloring! By Go Dairy Free
Dark Chocolate Peanut Butter Cups ~ Decadent and rich, but super easy to make. Via Veggie Inspired
Salty Chocolate Date Caramels ~ Sticky Medjool dates combined with almond flour, almond butter, and vanilla, and all wrapped up in silky smooth chocolate and topped with flaky sea salt. By Heartbeet Kitchen
Rose Petal Chocolate Covered Strawberries ~ With edible rose petals, these chocolate covered strawberries are meant for a special occasion…like Valentine's Day! by Emily Kyle Nutrition
Vegan Chocolate Recipes: Pies and Tarts
Vegan Sunbutter Chocolate Pretzel Pie ~ Just 6 ingredients and completely nut free! By Dianne's Vegan Kitchen
No Bake Chocolate Tart ~ This super simple tart is easy and no-bake! By Thinly Spread
Vegan Chocolate Tart with Raspberry Sauce ~ This fancy tart is a showstopper, but is actually incredibly easy to make. By Delightful Adventures
Healthy Chocolate Fudge Raspberry Tart ~ A crisp cocoa crust filled with thick, rich, creamy chocolate. By A Virtual Vegan
Vegan Chocolate Recipes: Bark, Brownies and Bars
Blueberry Raspberry Chocolate Bark ~ Just 5 ingredients and a couple minutes is all you need to make this gorgeous red bark. By Caroline's Cooking
Chocolate Cherry Nut Bark ~ This antioxidant-rich treat will have you enjoying a healthy dessert without the guilt. By Tasting Page
Chocolate Heart Lollipops ~ Sprinkled with your favorite toppings, like gorgeously red freeze-dried raspberries, these easy chocolate lollipops are sure to woo your crush. By Cupful of Kale
Fudgy Black Bean Brownie Hearts ~ Packed with healthy plant protein and fiber, but no one will know these delicious gluten free brownies are actually healthy! by Veggie Inspired
Bowl Lickin' Mocha Brownies ~ These easy brownies are full of espresso goodness that will definitely have you licking the bowl. By Crave Veggies
Raw Mini Hemp Chocolates ~ A soft, chocolatey, marshmallowy mini raw candy bar with a melt-in-your-mouth hemp filling. By Unconventional Baker
Raspberry Ruffle Bar ~ A sweet raspberry flavored coconut center surrounded by rich dark chocolate. By Sunnyside Hanne
Vegan Chocolate Recipes: Mousse, Pudding, and Creamy Chocolate
Chocolate Raspberry Pudding for Two ~ Thick, creamy vegan chocolate pudding with pureed raspberries and a dollop of dreamy dairy-free whipped cream. By Veganosity.
Chocolate Avocado Mousse ~ Healthy fats, fiber, and nutrients mean you can have seconds! By Whole New Mom
Chia Chocolate Pudding for Two ~ This delicious treat is healthy enough for breakfast! By Veggies Save The Day
Chocolate Tapioca Pudding ~ Creamy, rich, and decadent, this pudding is the ultimate comfort food. By Fried Dandelions
Chocolate Covered Strawberry Smoothie Bowl ~ Healthy enough for breakfast, but decadent enough for dessert! By Veggie Inspired
Banana Chocolate Soft Serve ~ Frozen bananas blended with cocoa powder and a little dairy-free milk tastes just like real ice cream. By Cadry's Kitchen
Dairy Free Chocolate Peanut Butter Fondue ~ Creamy peanut butter stirred into a velvety smooth pool of rich, creamy chocolate. Heaven. By Joy Food Sunshine
Vegan Chocolate Recipes: Cupcakes and Cake
Peanut Butter Chocolate Cupcakes ~ Chocolate + peanut butter = Irresistible! I know of no better way to woo the one you love. By Veggie Inspired
Tahini Chocolate Chip Cupcakes ~ Deep chocolate flavor, mineral rich tahini, and little bites of chocolate chips all in cute mini heart shapes. By Veggie Inspired
Black Forest Cake ~ The rich, fluffy vegan chocolate sponge is filled with dairy-free cream and decadent cherries in syrup. It's a showstopper of a cake. By Veggie Desserts
Chocolate Molten Lava Cake ~ Soft chocolate cake surrounds a warm gooey center. A chocolate lovers dream come true. By Allergylicious
Chocolate Cheesecake ~ No one will believe this rich and creamy no-bake chocolate cheesecake is dairy-free, vegan, gluten-free, and paleo. By Yummy Mummy Kitchen
Vegan Chocolate Cheesecake ~ Creamy and velvety smooth, this dreamy chocolate cheesecake needs just 8 ingredients. By The Vegan 8