Healthy Breakfast Tacos w/ Scrambled Tofu & Roasted Potatoes – spiced with Southwest flavors, the hearty vegan breakfast tacos would be perfectly suitable for lunch or dinner too!
It's Taco Time…For Breakfast!
It's Taco Tuesday! Any time of day is a good time for tacos, but I specifically made these healthy tacos for breakfast. Breakfast is the most important meal of the day, so make sure you start it out with a winning combination of protein, carbs, vitamins, minerals and heathy fats. These Healthy Breakfast Tacos have it all – scrambled tofu, roasted potatoes and veggies, Southwest spices, and lots of toppings.
Easy Tofu Scramble
I brought you this Easy Tofu Scramble quite awhile ago. It's delicious on it's own, but it also makes the perfect protein packed addition to these vegan breakfast tacos. I make this scramble with mushrooms when I eat it alone, but sometimes I leave them out when I make these tacos. It's great either way, so you choose which way you prefer!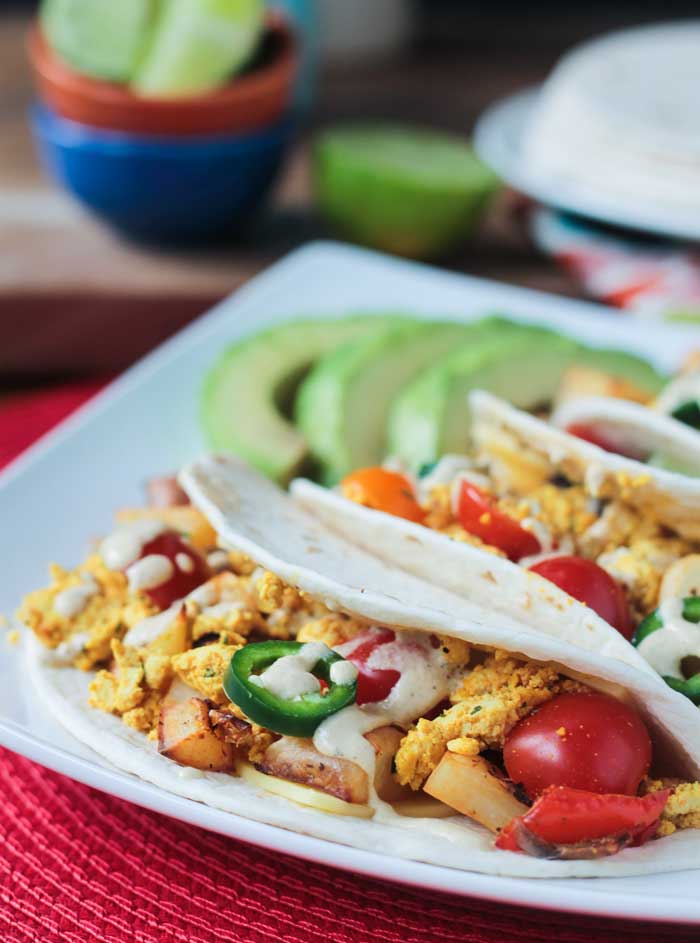 Crispy Roasted Potatoes
What savory breakfast is complete without some sort of crispy potatoes? That's right, none worth talking about! So, we're not leaving them out of this delicious breakfast recipe either. In fact, we're making them even better by roasting them with bell peppers, jalapeños, onion and spices.
Choose Your Toppings
Top these tacos off any way you please. I suggest salsa, avocado, sliced jalapeños, and my Creamy Cumin Ranch Dressing. Proving yet again, that my dairy free ranch dressing goes perfectly with everything! And if you're feeling indulgent and really want to take it up a notch, try a slice of Field Roast Chao Cheese. They are not paying me to say that, nor did I receive free product..it's just the best vegan cheese I have tried so far. Put the cheese on the tortilla first and then add the still hot potatoes and scrambled tofu so the cheese melts a bit. SO good!
Take your breakfast game up a notch with these Healthy Breakfast Tacos!
[Tweet "Healthy #Vegan #Breakfast #Tacos for #TacoTuesday! #recipe"]
Healthy Breakfast Tacos w/ Scrambled Tofu and Potatoes
If you give these Healthy Breakfast Tacos a try, please leave me a comment below with your feedback. You can also find me on Twitter, Instagram or Facebook. I love seeing your pics, so be sure to tag me @veggie_inspired and #veggieinspired so I don't miss it. Happy Taco Tuesday!

Jenn Sebestyen
Yields 6
Healthy Breakfast Tacos w/ Tofu & Roasted Potatoes
Healthy Breakfast Tacos w/ Scrambled Tofu & Roasted Potatoes - spiced with Southwest flavors, the hearty vegan breakfast tacos would be perfectly suitable for lunch or dinner too!
20 minPrep Time
40 minCook Time
1 hrTotal Time
Ingredients
Roasted Potatoes

1.5 lbs red potatoes, scrubbed well, peeled if desired, and patted dry, cut into bite size cubes
1/2 yellow onion, chopped
1-2 bell peppers, chopped
1 jalapeño, diced
1 tsp lemon juice
1 tsp salt
3/4 tsp smoked paprika
1/2 tsp garlic powder

Tortillas of choice

Toppings

Avocado
Sliced jalapeño
Salsa
Nutritional Yeast
Slice of Field Roast Chao Cheese , I used Creamy Original
Instructions
Preheat oven to 425 degrees F. Lightly spray a rimmed baking sheet with cooking spray and set aside.
In a mixing bowl, combine the cubed potatoes, onion, bell peppers, jalapeño, lemon juice, salt, smoked paprika, and garlic powder. Toss well to combine. Pour mixture onto the prepared baking sheet in one even layer. Bake for 20 minutes. Stir potatoes and veggies and arrange back into an even layer. Cook another 15-25 minutes, stirring every 10 minutes until crispy.
Meanwhile while the potatoes are baking, prepare the Easy Tofu Scramble .
To serve, fill each tortilla with a slice of Chao cheese (if using), the potato/pepper mixture, tofu scramble, and toppings of choice.
Notes
https://www.veggieinspired.com/healthy-breakfast-tacos/
Jenn S. - Veggie Inspired
You Might Also Like:
Herb Roasted Potato & Arugula Salad
Mixed Grain Hot Breakfast Cereal
See even more Healthy Breakfast and Brunch options.