As an Amazon Associate I earn from qualifying purchases. Please see my Privacy Policy for more details.
From breakfast to dessert and everything in between, these are the recipes that YOU readers have dubbed the Best Tasty Vegan Recipes!
These tasty vegan recipes are tried and true! These are the recipes that readers have viewed the most and feel compelled to comment on after making them and loving them time and time again. Try them for yourself – you don't want to be missing out on this deliciousness!
And then please spread the plant based love by sharing your favorites on Facebook, Instagram, Pinterest, or Twitter!
Here are the all-time Top 15 Tasty Vegan Recipes from Veggie Inspired.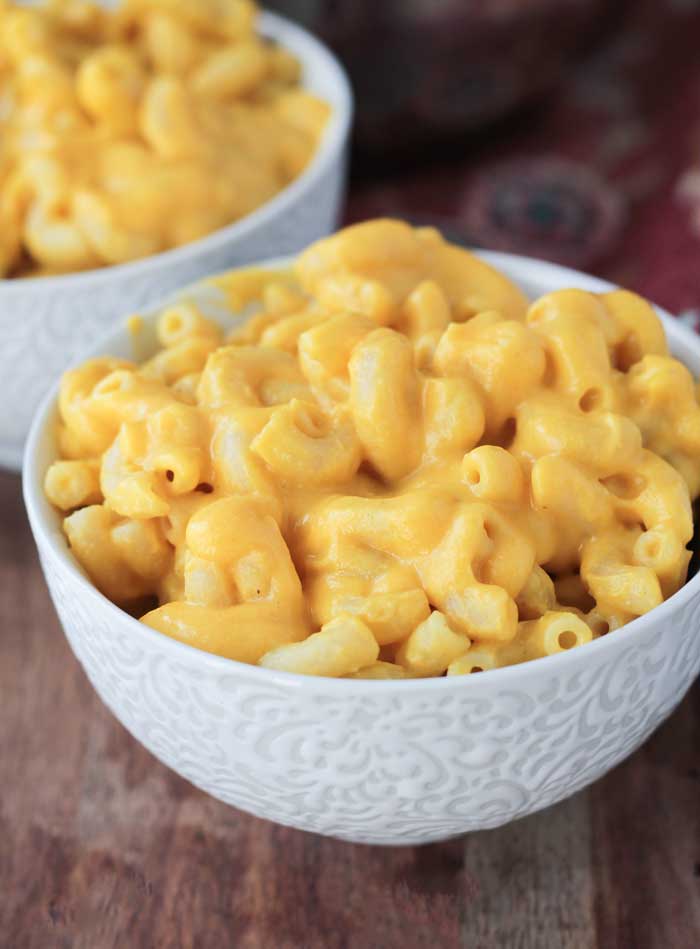 Butternut Squash Mac and Cheese ~ The PERFECT vegan mac and cheese! You will not believe how good this is!!! No soy, fake cheese or nutritional yeast.
I can't even count even count how many times I've made this since you posted it. Just had to say thanks again! ~ Joanne

My son said this is the best mac and cheese he's ever had and even went back for seconds! Can't wait to make this again! ~ Jackie

This is seriously AMAZING! I will recommend this to everyone! ~ Kristyn

AMAZING!!!!! Taste and texture perfect! ~NinA

Thank you so much for this recipe! I fed it to my 10 year old not letting her in on the little secret of it being vegan. She LOVED it, and so much so that she asked for leftovers for her lunch today at school. ~Anna

Third time making this Vegan Butternut Squash Mac and Cheese. Super delicious and satisfying. ~ Becky

I never comment on recipes. In fact, this is my very first time. I wanted to let you know that I tried this recipe and it has changed everything for me. Thank you so much for sharing – I will definitely be making this on the regular. ~ Risika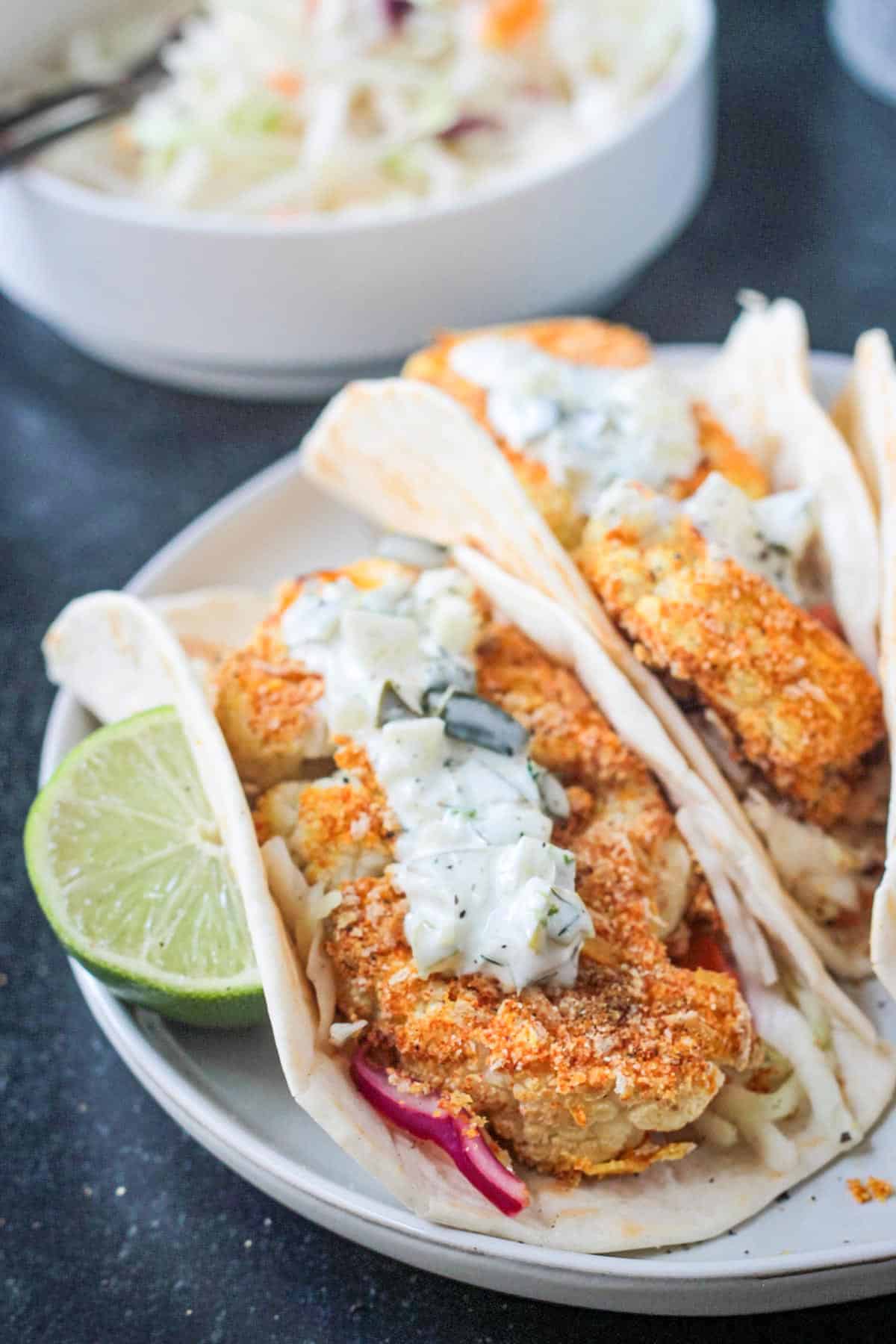 Crispy Baked Cauliflower Tacos ~ The crispiest cauliflower you've ever had…and it's BAKED, not fried! Crispy, crunchy, creamy – you can have it all with these tacos!
These are the best! Incredible flavor combination. Thank you! ~ Leslie

These tacos blew my mind! I can't wait to make them for more people to try! ~ Chrissy

These were SO delicious! Flavorful and easy! They will definitely be in our regular rotation. Thanks for the great recipe! ~ Samantha

These tacos are amazing! I can't stop thinking about them so I'm making them again the next night! ~ Asha

Loved, loved, loved these! Opened up a new way to enjoy cauliflower! ~ Bonnie

Oh M Gee…I made these tonight for my friends and their son who are not vegans. This was a grand slam out of the park. They said I could make this anytime I want for them. Thank you for sharing such a great recipe! ~ Stacey

AH-MAZE-ING! These are so delicious. Such a great combination of flavors and textures. My meat-loving husband and in-laws all loved them. My toddler even gobbled them down. Do yourself a favor and try this recipe out! ~ Marisa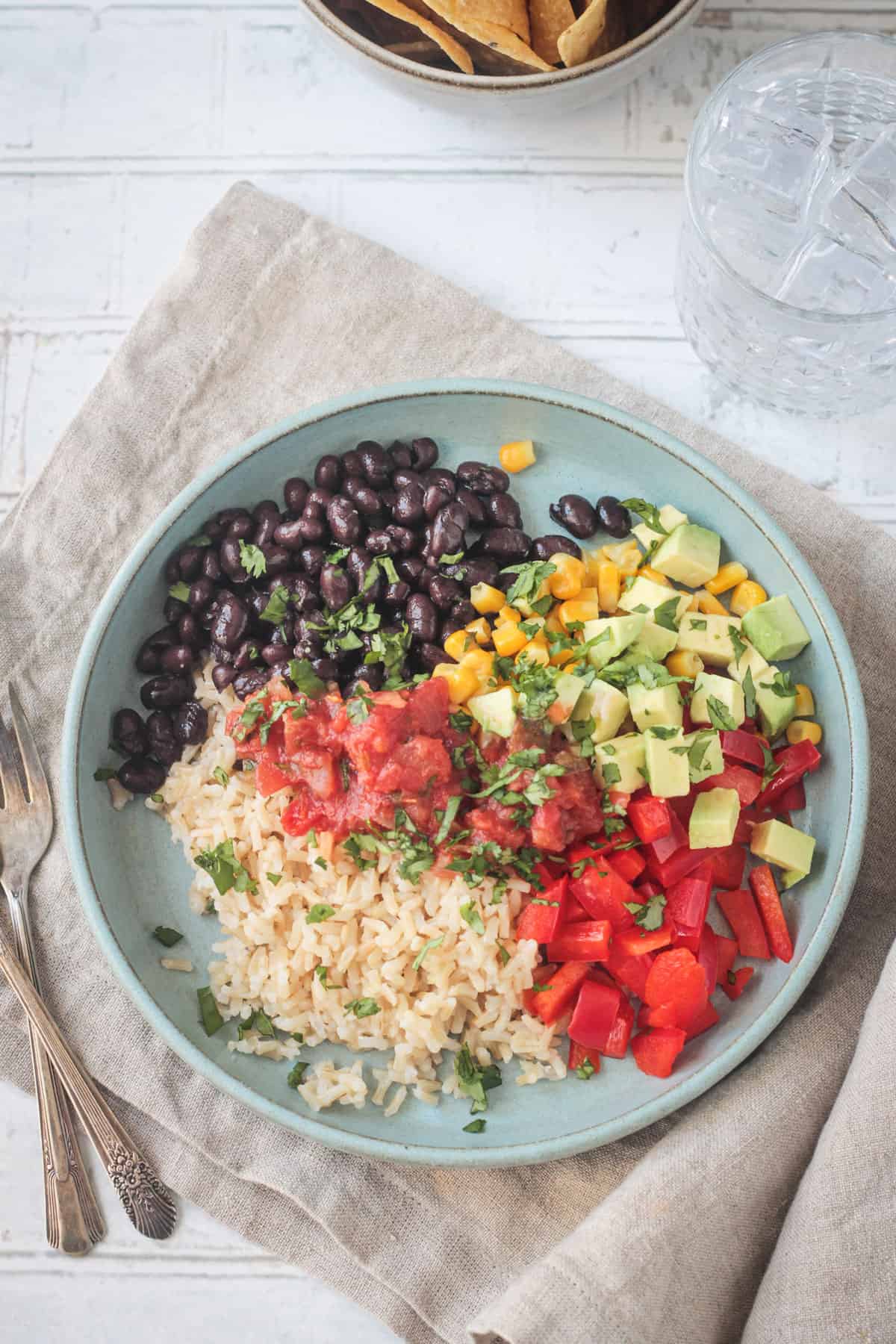 Super Simple Burrito Bowls ~ So quick and easy it takes less than 20 minutes! Make this your go-to weeknight meal in a pinch!
These bowls are simply wonderful! A whole bunch of great flavors in one bowl. ~ Erin

It was amazing and my husband LOVED it! He's taking leftovers for lunch tomorrow. Thank you for your amazing recipes! ~ Marlene

It was so delicious and easy to make! We will definitely be trying some more of your recipes! ~ Stephanie

These vegan burrito bowls are a weeknight winner – quick, healthy, and delicious. The star of this dinner is the creamy avocado dressing. ~ occonors_kitchen on Instagram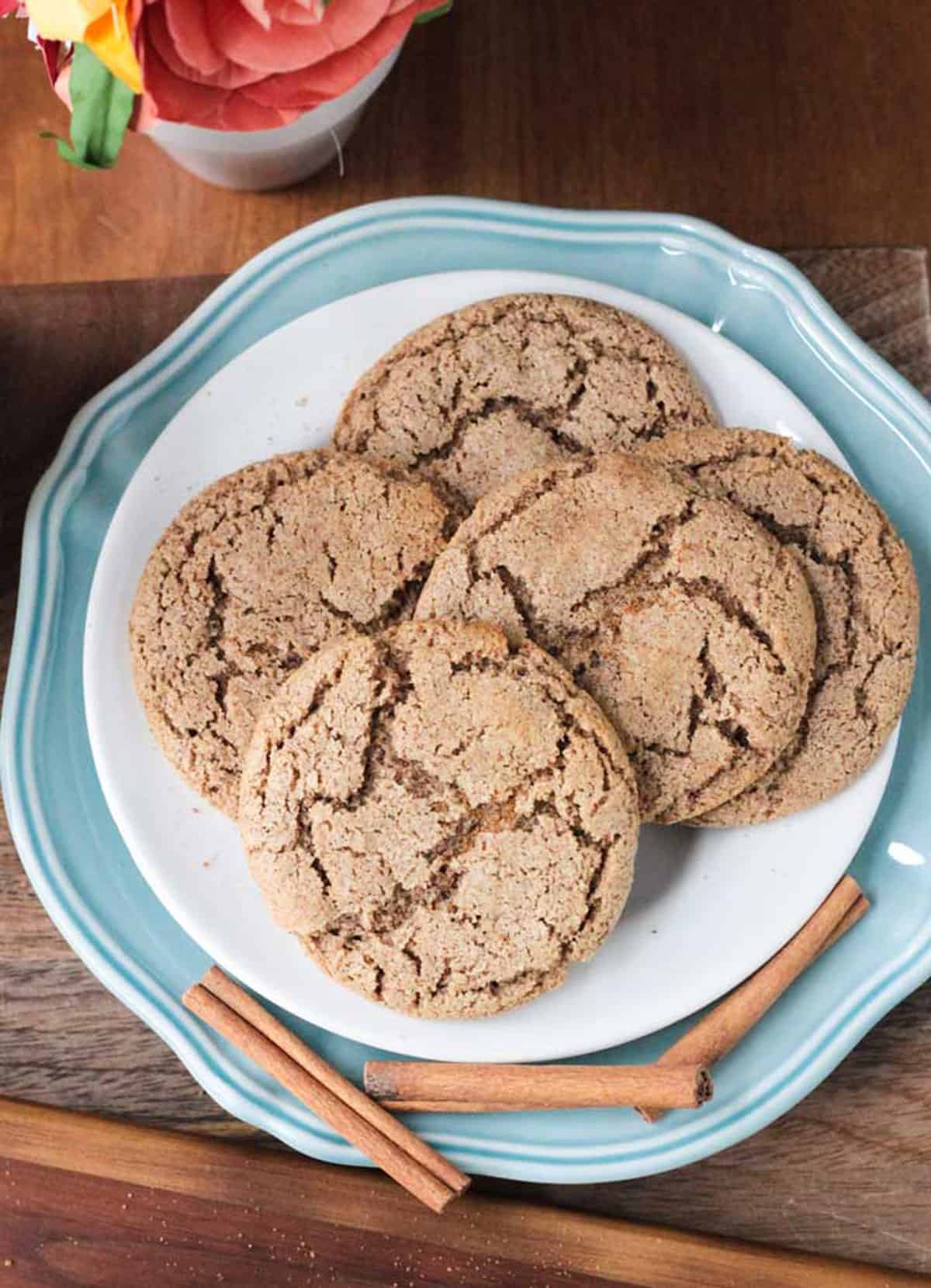 Cinnamon Sugar Cookies ~ perfectly chewy, sweet, and packed with warm cinnamon. Only 6 ingredients and 15 minutes needed to make these quick and easy, gluten free cookies!
Love this healthier version of cinnamon sugar cookies. Crazy delicious! ~ Ashely

These are AMAZING! So simple, so delicious. Every time I make these cookies people go nuts over them! ~ Lisa

I made these tonight and they are amazing! Best vegan cookies I have ever had! ~Morgan

You guys HAVE to try these 7 ingredients cookies! They're so good, bite sized, and guilt free! ~ runningongreenz on Instagram
These cookies are one of my most re-made recipes on Instagram too! Love seeing all of your photos!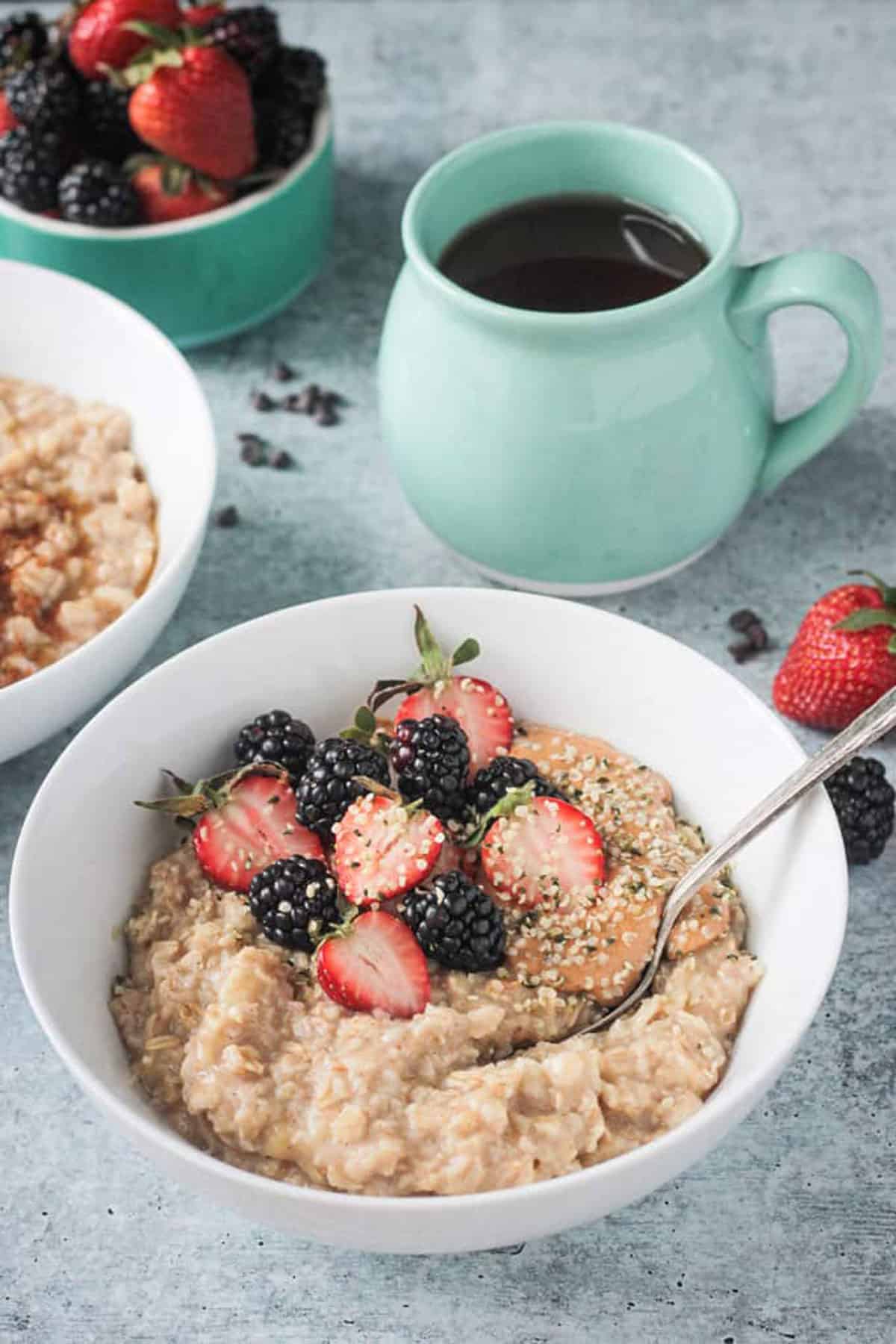 Customizable Healthy Oatmeal ~ Healthy Oatmeal that's super creamy, perfectly sweet, and totally customizable with absolutely no added sugars!
OMG! This recipe is delicious! I've been trying to change my eating habits and I was really sad about not being able to make my oatmeal with milk, butter, and sugar. But, then I came across this recipe and it's too good to be true! I feel like I can eat this all day. Thank you! ~ Nathalie

This oatmeal is what I have always been looking for. Quick, easy, healthy, and soooo delicious! Thank You! ~ Suzanne

This recipe has really changed my breakfast routine. I like that I can make a batch over the weekend and have breakfast planned out for the next few days. Thank you! ~ Tina

I tried it this morning and it came out perfectly! Thank you so much for sharing! ~ Brittany

When I found this recipe, I was amazed. Great creaminess and natural sweetness. Also, this recipe is quick and easy to make. Thank you! ~ Anete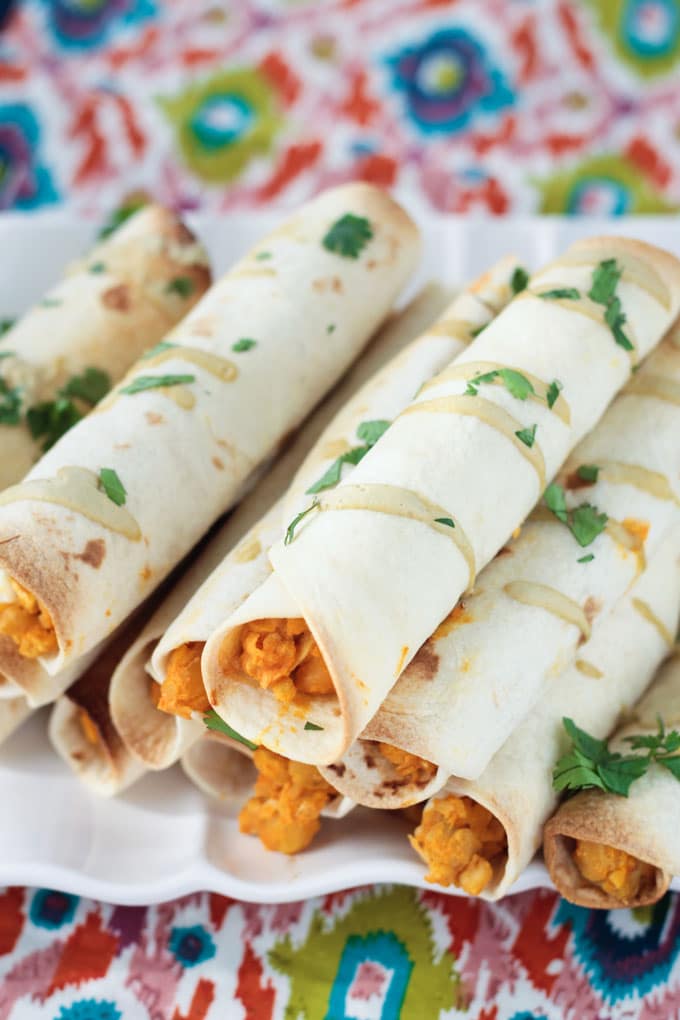 Baked Buffalo Vegan Taquitos ~ a delicious, creamy, spicy snack for game day, parties, or anytime. Easy to make them as spicy (or not) as you want them. They make a great lunch or dinner too!
My husband, who is the definition of a meat-lover, absolutely loved these! He didn't catch the lack of chicken until I told him. They are absolutely delicious and our boys loved them too. A new staple in our home! ~ Maria

Made these for my omni friends and everyone enjoyed them. ~ Kim

These are absolutely incredible! This will definitely be a staple in my house! ~ Tiffan

Oh my goodness! I love these! ~ Sarah

These Buffalo Chickpea and Artichoke Taquitos are everything. Do yourself a favor and make these sometime! ~ courtney.dey on Instagram

The taquitos were absolutely delicious. Definitely would make again! ~ vmike245 on Instagram

They are incredible! They're supposed to be appetizers, but I'm gonna eat the whole batch for dinner! ~ tiffanysonterre on Instagram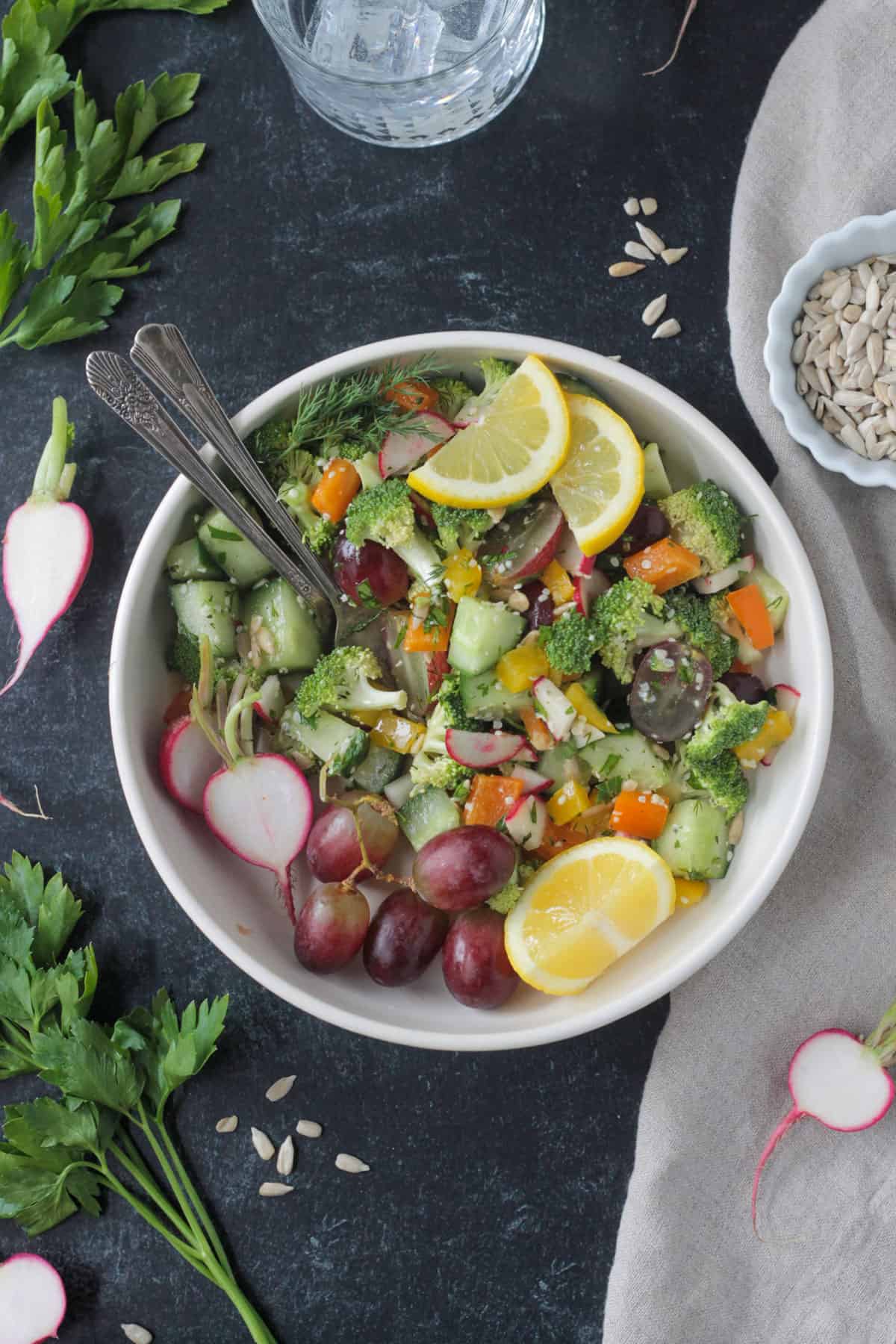 Raw Veggie Chopped Salad ~ perfect for summer parties, potlucks and BBQs. Full of flavor and no lettuce needed. You can easily double the recipe to feed a huge crowd.
I made this salad for a family dinner and it was great. This was so tasty and still crunchy and delicious the next day for lunch. ~ Melissa

Weird combination works great! Everyone loved it! ~ Kate

This is such a refreshing and replenishing salad. It came out fresh and delicious. Thank you for the unique recipe. ~ Karen

The base dressing is perfect for so many different vegetables. It is wonderful, easy, and tasty! ~ Kristine

Can not get enough of this raw veggie, crunchy, oil-free, vinegar loaded, beautiful salad! Summer is not summer until you eat the rainbow of goodness. ~ sproutingsarah on Instagram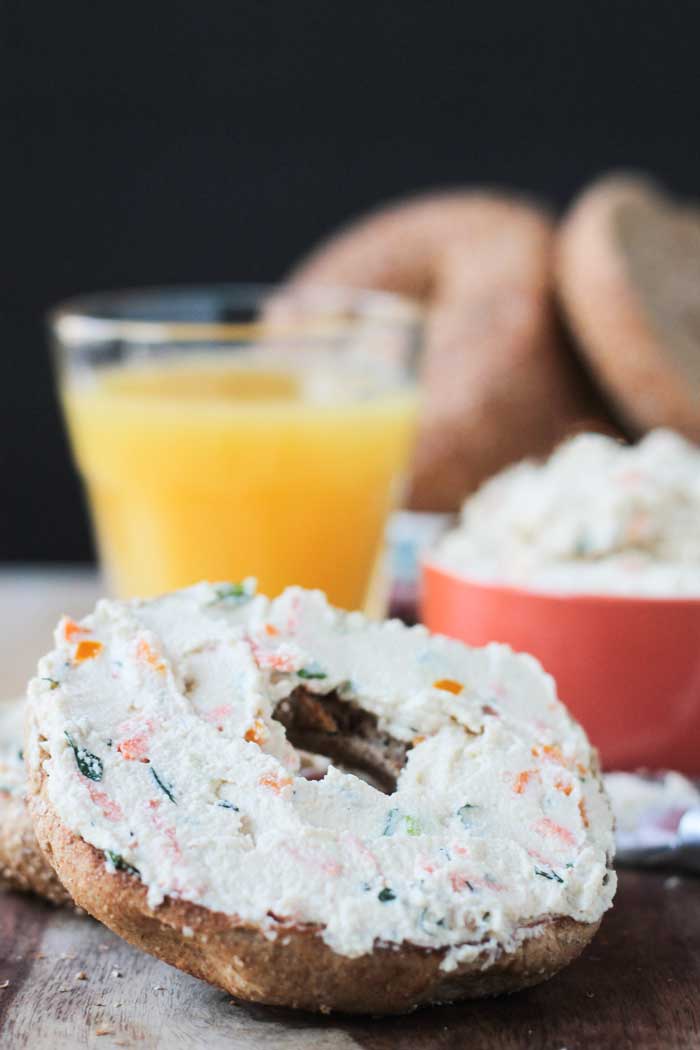 Veggie Cream Cheese Spread ~ Creamy and tangy with diced fresh veggies throughout, this dairy free cream cheese is perfect on bagels or toast, as a spread in sandwiches or wraps, or as a dip for crackers or raw vegetables.
I made this this week and it is amazing! I have made plenty of vegan cream cheese before, but this one definitely takes the cake. So gooood. ~ Shohreh

This is excellent! I cannot tell the difference between this and dairy cream cheese. I now make it regularly. The whole family loves it. ~ Terry

Made this for sandwiches at a baby shower. It is so delicious and I think even better than dairy cream cheese. ~ Sharon

This is a go-to recipe in my household. Thanks for such a yummy veggie vegan cream cheese! ~ Liz

This is absolutely delicious! Love it! ~Ashley
Black Bean Taco Salad ~ quick and easy, but full of flavor and texture! The perfect summer weeknight meal.
Oh my goodness, this is probably the best salad I've ever had. The dressing is awesome. Thank you for this wonderful salad recipe. Love it. ~ Lisa

This salad was amaaaaazing! Even my husband loved it and he is one of those guys that usually just doesn't feel quite satiated with no meat. This will definitely be on the regular rotation now. ~ Sara

So yummy. Loved the flavor and the texture of it. Very nice taco salad. Will definitely make it again. ~ Visiedieni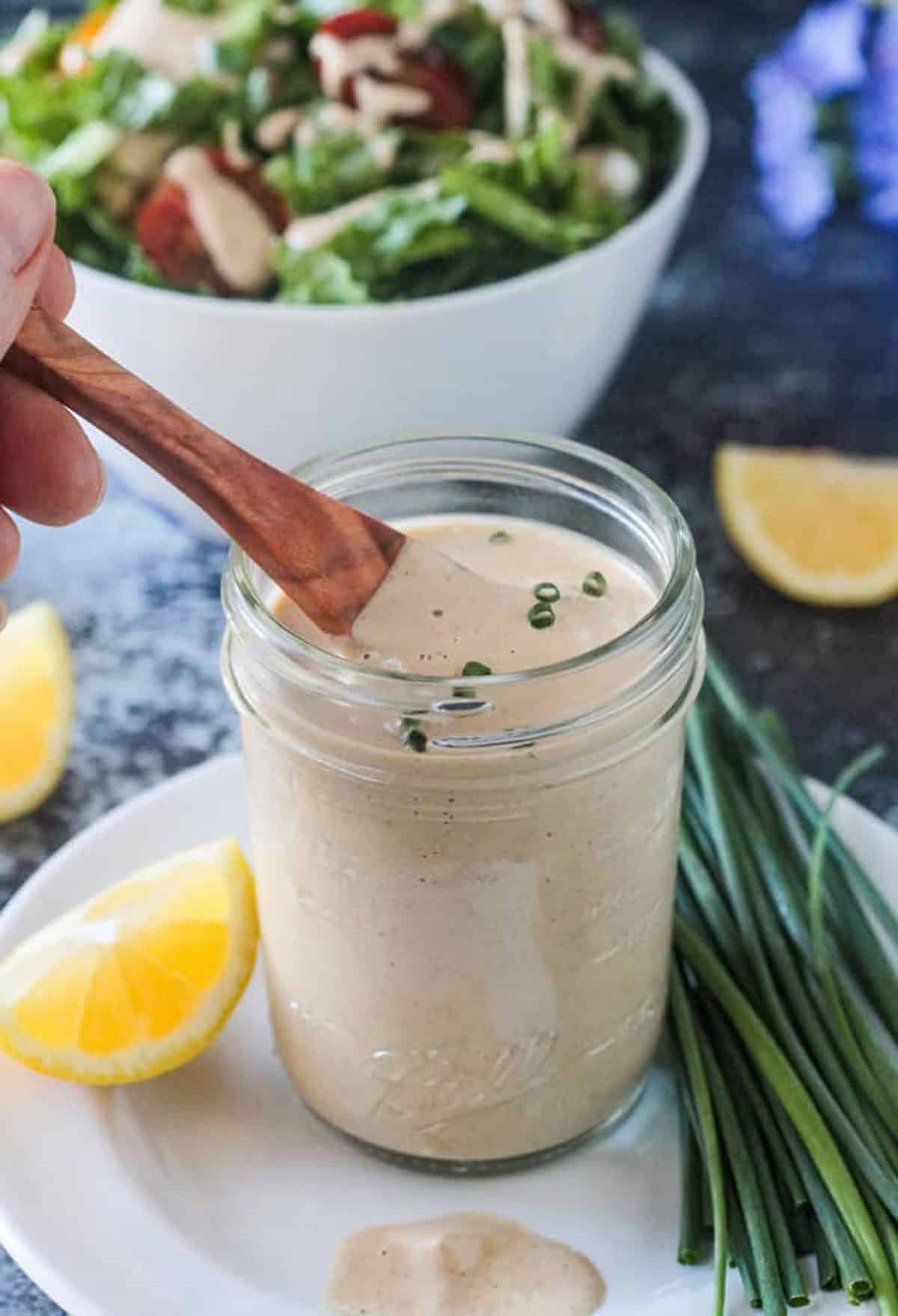 Vegan Ranch Dressing ~ A creamy, tangy, herby, dairy free ranch dressing with a hint of southwest flavors. This dressing is super versatile! Try it on salads, burgers, baked potatoes, stirred into soup, as a dip for raw veggies or french fries…the possibilities are endless!
No kidding, this dressing is awesome and goes with everything! Cumin is one of my favorite spices and since I found this recipe a few months ago it is a staple in my fridge. Green salads, vegetable salads, rice and veggies, jackfruit carnitas and tonight I had it on a a bowl of brown rices with chopped arugula and blueberries. It was so yum I had to tell you; thank you so much! ~Judy

Thank you so much for this amazing recipe! I will definitely be keeping this in my personal recipe book. I made it tonight to top homemade tacos and also put it into a mason jar taco salad for my husband's lunch tomorrow. I have a hard time finding delicious, vegan dressings and this one definitely takes the cake. Yum!! ~ Kori

Hi, Jenn, I made these to go with the chickpea and artichoke taquitos — what a perfect accompaniment! I also made some Mexican rice, and this was perfect with the rice, as well. Thanks for the amazing recipes! ~Nicki

This is one of the best things I have EVER tasted! I'd be tempted to eat the whole bottle in one sitting! YUM! Even my non-veggie friends loved this. I'm going to use this to make a southwest coleslaw to a family potluck this weekend. Thank you SO much! ~ Kim

I'm always hesitant to try new vegan recipes as I am just venturing into being vegan. I have thrown a lot of expensive ingredients away and wasn't too sure about making this. Boy, am I glad I did! It is sooooo delicious! I can think of so many things to put it on! This is a keeper for sure!!! YUM!!! ~Lisa

Jenn I'm so not exaggerating when I say that this dressing is one of the best I have ever had. I probably could have just poured it in a glass and drank it. I, honestly, usually have to spruce up sauce recipes to tweak them to my liking, but this one I followed your recipe to a T and it was absolutely perfect. Smoky, tangy, creamy and perfectly seasoned. I'm almost out of it already, lol! So happy I finally tried it after so many weeks! Will be in my regular rotation for sure, thanks girl! ~ Brandi, from The Vegan 8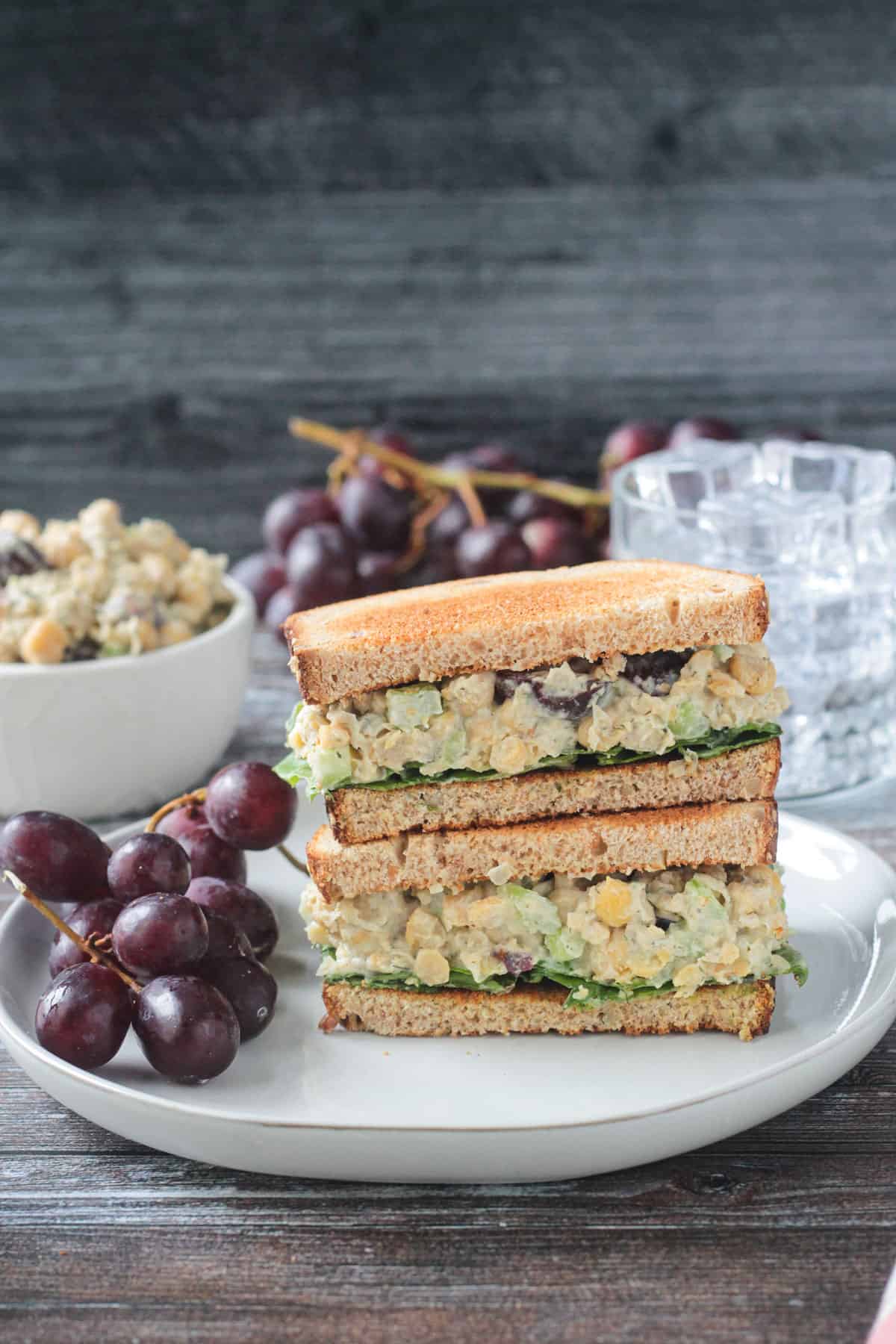 Vegan Chickpea Salad ~ This Vegan Chickpea Salad recipe is quick and easy and makes the perfect lunch or snack. Load it up between 2 slices of bread, on a cracker, or over lettuce as a salad. It's always a huge hit!
I'm new to WFPB eating and this was great! This really tasted yummy and was reminiscent of a chicken salad. Thanks for the recipe. ~ Amy

Absolutely delicious! We're kind of in the 'veganish' phase right now, and this chickenless chicken salad is a perfect lunchtime solution – it's definitely going into the rotation. ~ Lisa

I made this last night. Had a great sandwich and then grabbed the mixing spoon and ate all the rest! Wow! I have made a variety of chickpea sandwich fillings, but this is the best!! I love the seasonings. ~ Lynne

Oh my goodness, this salad is GOOD! I make it at least once a week! I love it on top of greens, in a pita, in a wrap, or just by itself! This has become one of my go to lunches and it takes no time at all to put together! Thank you so much for such a great recipe! ~ Libby

I found it tasted like egg salad sandwiches….loved it! I was leary at first since i don't like fruit in salads but this was amazing and loved the grapes in it. This recipe is a keeper. ~ Karen

I never leave comments on anything but I just have to say that this recipe is amazing! Before I became vegan, I loved chicken salad and this recipe totally satisfies that craving. Every single person who I have had try this has loved it. Even my newly vegan, extremely picky boyfriend likes this. It makes a perfect sandwich but is great just by itself too. I usually double or triple the recipe and it feeds us all week. ~ Bridget
Cinnamon Chickpea Blondies ~ Healthier blondies that are moist and tender in the center with a bit of a crackly crust on the top. High in protein, fiber, iron and folate! Gluten free, dairy free and oil free! You might want to make a double batch because these dreamy blondies are so good, you won't be able to keep your hands off them!
Amazingly delicious. I'm struggling not to eat them all before my wife gets home! ~ Kat

Far better than any brownies I've ever made. Deffo recommend. ~ graciekms (on IG)

Fourth time making these blondie babes in the last two weeks! ~ gfktndc (on IG)

SO GOOD and fudgy. ~ paper- gardens (on IG)

One of the best things about sticking to a clean eating diet is that you can have dessert for breakfast guilt free! These cinnamon blondies are fabulous. ~ stephanieharasick (on IG)
Simple Black Bean Soup ~ Packed with hearty plant based protein, vegetables and spices, this quick and Easy Black Bean Soup is perfect for a cozy weeknight meal.
For something that took no time to make, it doesn't lack in flavor. Super delicious and already have plans to make this again. ~ Jenn

This recipe was amazing! Super easy to make and tastes great! Will definitely be trying some more of your recipes! Thank you. ~ Danielle

This is one of the best soup recipes which I have ever tried, Jenn! Thanks a bunch for introducing this recipe. ~ Agness

I was surprised at how yummy this soup is! It was SO tasty! Excited to add another simple, cheap, and quick recipe to my arsenal. ~ Monica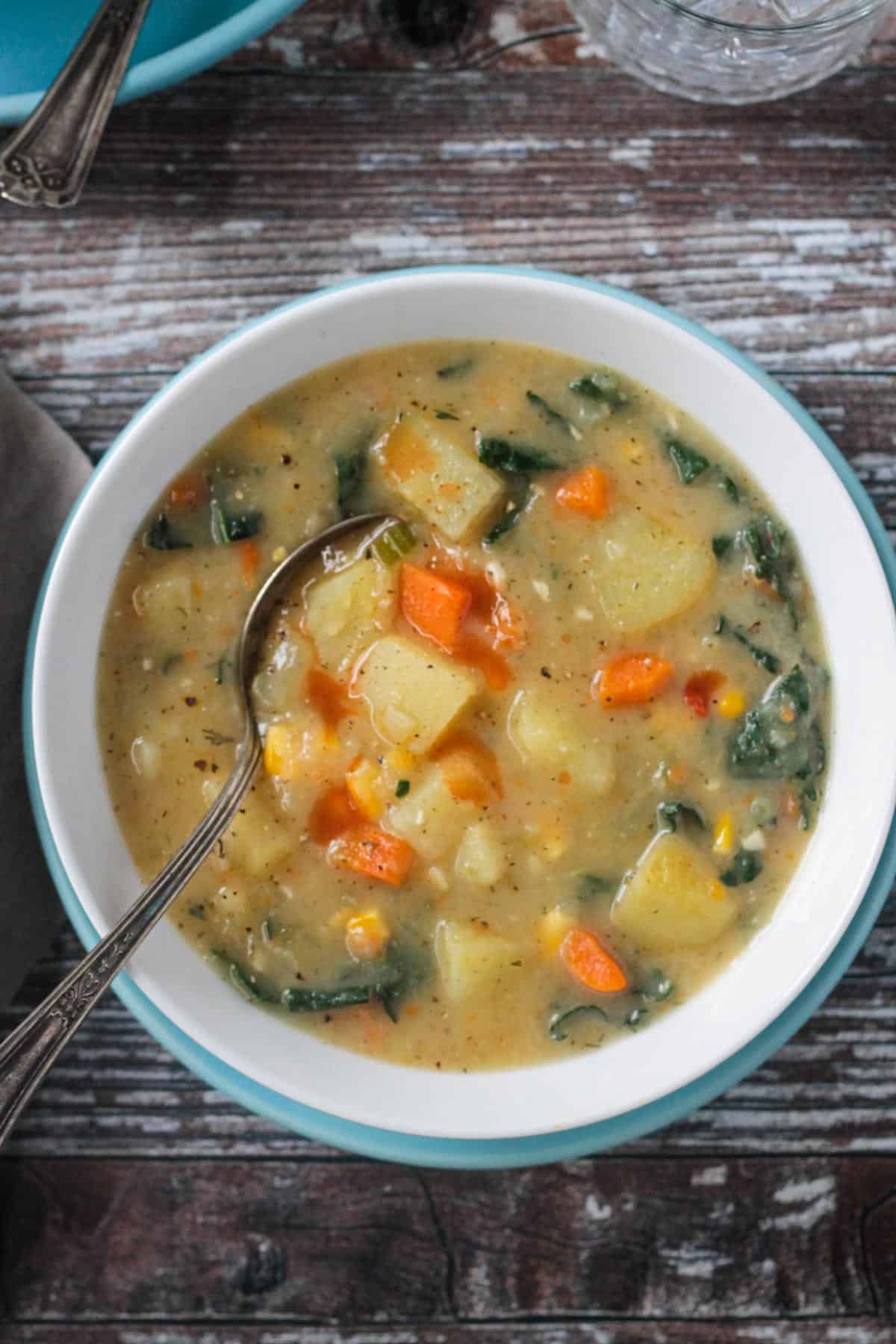 Creamy Dairy Free Potato Soup ~ A thick, creamy, hearty and delicious dairy free Potato Soup loaded with veggies. Grab a spoon and dig in!
Genius blend of ingredients with amazing flavor. Me, my husband, and my dad ALL loved it. Delicious, hearty and satisfying for THREE VERY DIFFERENT people, personalities & tastebuds. Omg….SO GOOD! … and happy that I doubled the recipe, having leftovers. Random recipe success finding! I'll have to check out more of your recipes. THANK YOU!! ~ Lindsey

Love this recipe! I have made it a few times and it comes out great every time. Thank you! ~Sophie

This soup is so good! My husband and daughter both love it! I usually double or triple the recipe because we always love it better the next day. Thank you for creating such a wonderful soup recipe. ~ Jennifer

Holy toledo batman i just made this and it was delish! I'm new to cooking so I didn't improvise. I just made it as per the instructions and it came out better than I ever would have thought possible. Thank u for sharing!! ~ Juan

I have made this soup three times already because my family absolutely loves it. My 16-year-old daughter, who doesn't like anything, proclaimed this her favorite meal! Thank you so much for creating such delicious, easy vegan options! ~ Lisa
Sweet Potato Cauliflower Soup ~ Sweet Potato Cauliflower Soup – a creamy vegan soup made with whole food ingredients and minimal fuss to let the vegetables shine. Perfect for a weeknight.
A+! Great tasty creamy recipe. ~ Kat

I made this soup for dinner last night and it was DELICIOUS! Even my partner loved it and I was considering making him something else for dinner because I didn't think it would be his thing. Thanks so much for the recipe. ~ Steph

I loved this recipe! Following this recipe, gives me a large enough portion that I'll be eating off of for a few days! Thank you for sharing!!! ~ Destiny

This soup took me to another dimension. ~ Sabine
Top 15 Reader Favorite Tasty Vegan Recipes
So there you have it. The top 15 reader favorite vegan recipes!
I hope you love these recipes as much as we do! If you try any of them, please leave a comment below with your feedback.

Be sure to sign up for my FREE Newsletter to be the first to get my NEW recipes! You can also follow me on Instagram, Facebook, and Pinterest.

For even more easy family recipes, be sure to check out my cookbook, The Meatless Monday Family Cookbook!