As an Amazon Associate I earn from qualifying purchases. Please see my Privacy Policy for more details.
I've recreated toffee bars into a healthier, protein packed treat. Say hello to your new favorite dessert – Classic Vegan Toffee Bars!
Toffee Bars. I've been eating this classic dessert since probably the day I started eating solid foods. These chocolate and pecan topped bars have been a staple at every party on my mom's side from birthdays and graduations to Thanksgiving and Christmas and everything in between.
As a kid, I remember indulging in one after another of these sweet treats. When I got older, I would limit myself to just one or two while sipping on my after dinner coffee. The classic traditional bars are light and soft and sweet. They are also loaded with butter, eggs and refined sugar.
I set out to recreate the deliciousness of these bars with healthier ingredients (no butter, no oil, no eggs and no refined sugar!) and I hit the jackpot with the combination of ingredients I used.
These little squares of sweetness have already been child, husband, friend and neighbor approved! Now it's your turn! Keep reading to find out how I made these Vegan Toffee Bars into a dessert you won't be able to resist!
Inspired By Family Recipes
Apparently, the original toffee bar recipe that I've been eating all my life came from my Auntie Dolores (actually, my Great Aunt). She was always whipping up delicious food and treats. No one would be lacking for offerings in her kitchen. If she thought you weren't pleased with the 10 things on the counter already (we always were!), she would go scrounging in her fridge to bring out something else. She was kind hearted, generous, boisterous and funny and I hope I'm doing her proud with these Vegan Toffee Bars.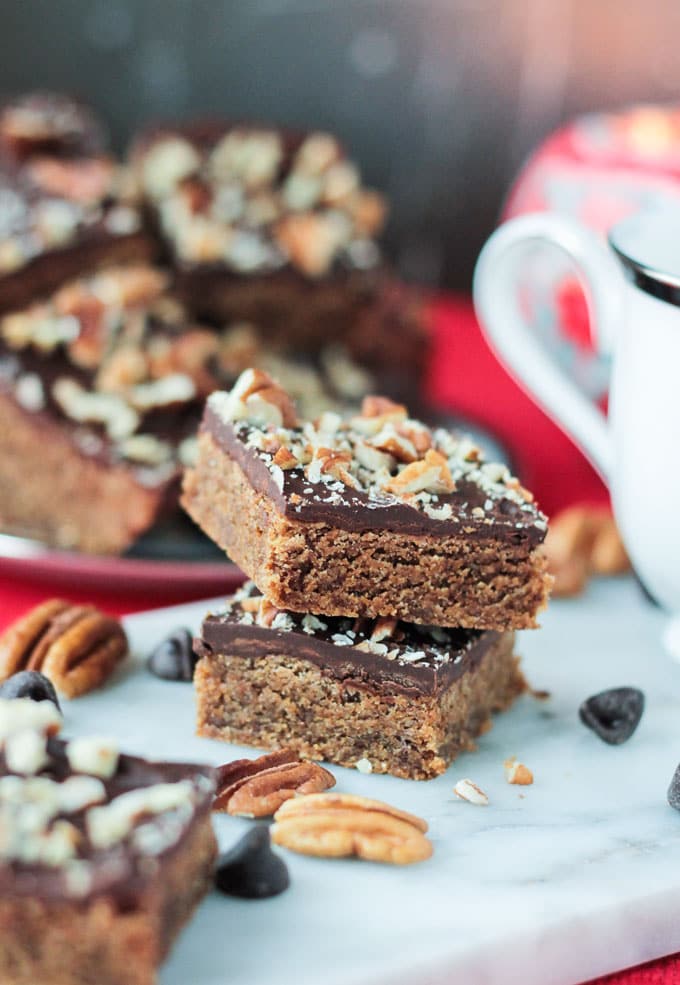 The key to getting that toffee flavor in these vegan toffee bars is coconut sugar and pecan butter.
Coconut sugar has a very similar taste and texture to brown sugar. While it is definitely still a sweetener and should be used sparingly, it does contain trace amounts of vitamins, minerals and antioxidants that you won't find in refined white sugar. It's also much lower on the glycemic index.
Pecans are super soft and buttery and make the best nut butter! Pecans are high in many vitamins and minerals, protein, fiber and healthy fats. Pecan butter is the perfect replacement for butter in this recipe and you won't find any of those nutrients in dairy butter! Store bought pecan butter is ridiculously expensive and might possibly contain other unwanted ingredients. Luckily for me and you, it's super easy to make at home (and much cheaper too!). Check out the Recipe Notes to find out how.
Chewy Dessert Bars
My vegan toffee bars are not as light and soft as my Aunt's original recipe, however, I happen to think this worked in my favor! To me, the perfect toffee is chewy. These bars came out dense and chewy, but still soft, and honestly remind me more of toffee than the traditional ones. Gasp! That's a big statement, I know, but I stand by it!
If you are lucky enough to get your hands on one of the end pieces, savor every bite….the ends (not the whole bar on the end, but just the very end bite of the end bar – does that make sense?) will be more "done" than the center and will be even chewier with a slight crunch….my gosh, those were my favorite!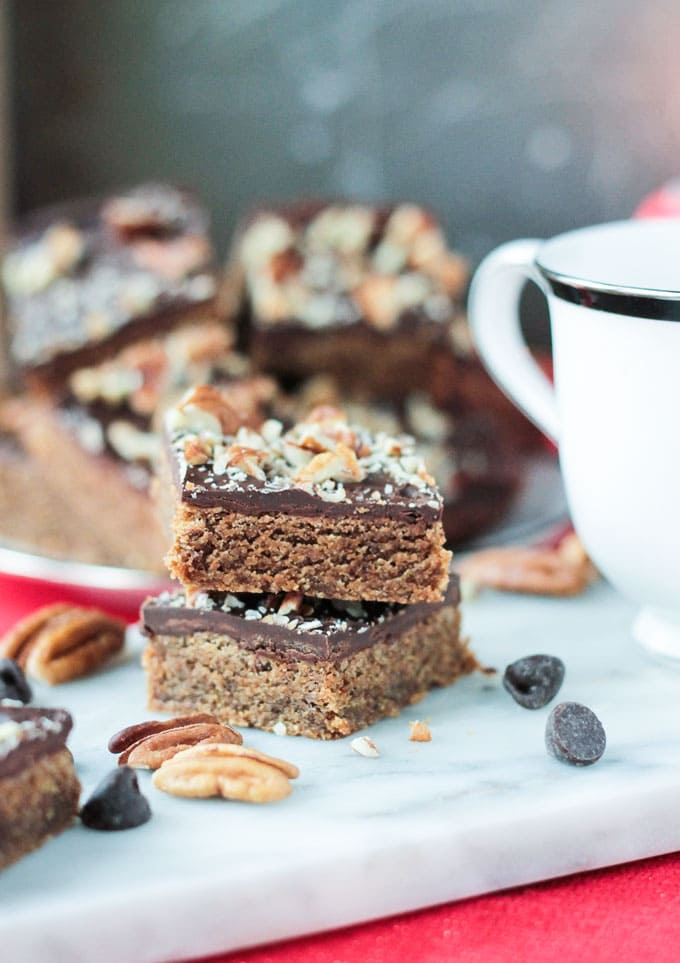 Classic Vegan Toffee Bars
Run, don't walk, to your kitchen and bake up a batch of this chocolate vegan toffee goodness. Then rush back here and leave me a comment with your feedback and star rating. You can also find me on social media. Be sure to tag @veggie_inspired and #veggieinspired so I don't miss your post!
Enjoy!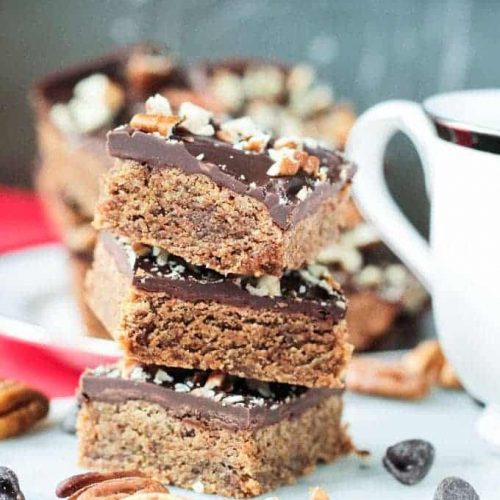 Classic Vegan Toffee Bars
Classic toffee bars reinvented with no butter, no oil, no eggs, and no refined sugar. These are delightfully dense and chewy bars that have that classic toffee flavor thanks to the pecan butter and coconut sugar. You must give these a try!
Print
Rate
Instructions
Preheat the oven to 350 degrees F.

Line a 8x11 baking pan (***see note) with parchment paper and leave enough hanging over the sides to use as your "handles" later.

Whisk together the flour, flaxmeal, sugar and salt in a small mixing bowl and set aside.

In a medium mixing bowl, stir together the pecan butter, maple syrup and vanilla until smooth.

Stir the dry ingredients into the wet until well combined. Use your hands and really get in there to mash it all together.

Press the mixture into the prepared baking pan and flatten it down with the palm of your hand.

Bake for 20-25 minutes until the top starts to firm up.

Sprinkle on the chocolate chips and bake another 2-3 minutes until the chocolate gets melty.

With an off set spatula, spread out the chocolate evenly over the bars.

Immediately sprinkle with the chopped pecans.

Leave the bars in the baking pan on a wire rack for at least 10-15 minutes - they will continue to firm up.

Using the parchment paper "handles" lift the whole thing out of the pan and set on the wire rack to continue cooling all the way.

Cut into bars and enjoy!
Notes
*To make your own pecan butter: Process 2 ½ cups raw pecans in a food processor until smooth. Scrape down the sides as necessary. It will turn pasty first, but keep going until it's smooth and runny. This doesn't take very long...much less time than other nut butters. This amount should yield the 1 cup needed for this recipe.
**You don't need to use the whole package. I actually used about ¾ of the package. But, if you like a thicker chocolate layer, by all means, pour it all on there!
***I have made this in an 7x10 baking pan as well. The bars will be just a bit thicker and will need the full 25 minutes to bake through.
Nutrition
Calories:
445
kcal
|
Carbohydrates:
47
g
|
Protein:
7
g
|
Fat:
28
g
|
Saturated Fat:
5
g
|
Polyunsaturated Fat:
2
g
|
Monounsaturated Fat:
2
g
|
Sodium:
97
mg
|
Potassium:
111
mg
|
Fiber:
7
g
|
Sugar:
30
g
|
Calcium:
50
mg
|
Iron:
2.2
mg
More Delicious Desserts to Love:
Fudgy Mocha Black Bean Brownies
Chai Spiced Pumpkin Layer Cake