As an Amazon Associate I earn from qualifying purchases. Please see my Privacy Policy for more details.
S'mores Pudding Bowl from Jackie Sobon's new cookbook, Vegan Bowl Attack, is a little slice (well, bowl) of heaven. Grab the recipe and enter to win your own copy of the book below.
Food in Bowls
Bowl food is fun. And easy. And colorful. And customizable. And great for leftovers. And less messy for little hands to eat. What's not to love about food in bowls? Nothing. And Jackie Sobon shows us why in her delicious new book, Vegan Bowl Attack. Keep reading to get the recipe for Jackie's S'mores Pudding Bowl and a chance to win your very own copy of the book.
Vegan Bowl Attack
Jackie Sobon is the author of Vegan Bowl Attack: More Than 1000 One-Dish Meals Packed with Plant Based Protein. You might know her from her popular food blog, Vegan Yack Attack. Her recipes are creative and yummy, her photography is mouthwatering and beautiful, and she's funny too! A winning combination! This cookbook showcases her love for good food and proves that compassionate, plant based meals can be easy, satisfying, and delicious.
Take a Peak Inside
Vegan Bowl Attack features 7 chapters, including a chapter with instructions on how to create and customize your very own bowl recipes. Let's a take a look at what else you can look forward to:
Bountiful Breakfast Bowls: Loaded Potato Breakfast Bowl; Biscuit Nacho Bowl; Nectarine Quinoa Porridge
Lil' Snack Bowls: White Bean Beer Fonude; Buffalo Jackfruit Dip; Baked Onion Rings with Barbecue and Smoky Tahini Sauces
Satisfying Soups and Salad Bowls: Roasted Pumpkin Quinoa Salad; Banh Mi Panzanella Salad; Smoky Corn Chowder Bread Bowl
Enticing Entrée Bowls: Buffalo Chickpea Mac 'n' Cheeze; Upside Down Shepherd's Pie; Holiday Harvest Risotto
Damn Good Dessert Bowls: Roasted Peach Parfait with Crumble and Whiskey Buttercream; Mint Chocolate Chip Doughnut Sundae; Pumpkin Spice Affogato
Bowl Essentials: Strawberry Barbecue Sauce; Cheezy Cheddar Sauce; Tempting Tempeh Bacon
Drooling Yet?
Is your mouth watering now? Just wait until you see the gorgeous photos that accompany nearly all the recipes. You'll want to run to the kitchen to try every single one. But first, keep reading for the s'mores pudding bowl recipe and the giveaway!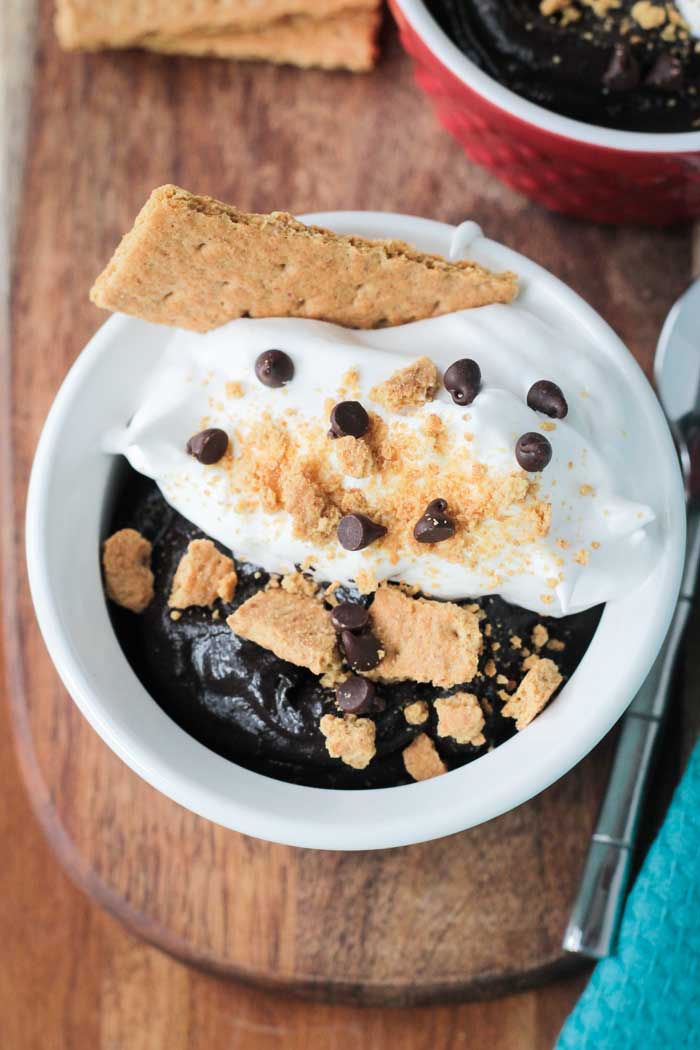 Creative Ingredients
This S'mores Pudding Bowl is made with some creative healthy ingredients, and I assure you it tastes divine! My 8 year old son has declared it the food he "wants to eat for every meal." The pudding is rich, creamy, and chocolatey. The marshmallow topping, made from aquafaba, is light, airy and totally legit!! I was eating both of these separately by the massive spoonfuls. Jackie notes in the recipe that there will be leftover marshmallow fluff after making the S'mores Pudding Bowls.  I'm not quite sure what she is talking about – I had none leftover. 😉
S'mores Pudding Bowl & Giveaway
You guys MUST try this S'mores Pudding Bowl! And you're going to want to try all the rest of the delicious bowl recipes in this cookbook, too, so you should probably just go ahead and order Vegan Bowl Attack right now. Or, you can just win your own copy by entering the giveaway below. Thanks to Jackie and Fair Winds Press for allowing me to give away one copy to a U.S. or Canadian reader. Good luck!
S'mores Pudding Bowl from Vegan Bowl Attack
Jackie says, "Want to capture the essence of the summer season and put it in a bowl? I have the solution! This s'mores pudding bowl utilizes the ever fascinating Aquafaba (the brine drained from a can of chickpeas), crushed grahams, and a rich avocado-based chocolate pudding."
Print
Rate
Ingredients
For the chocolate pudding:
1 ½

cups

(345 g) mashed avocado

⅓

cup

(59 g) Medjool dates, pitted and soaked in warm water for 15 minutes

1-2

tbsp

(15 to 28 ml) date soaking water

3

tablespoons

(45 ml) pure maple syrup

¼

teaspoon

salt
For the marshmallow Fluff:
⅓

cup

(80 ml) Aquafaba

(the liquid drained from a can of chickpeas)

½

cup

(120 g) organic superfine cane sugar

½

teaspoon

vanilla powder
For the assembly:
¼

cup

(21 g) vegan graham crackers, crushed
Instructions
To make the chocolate pudding:
Place all of the ingredients in a food processor and process with an s-blade until smooth. It may take a couple of minutes for the dates to break down. Add more date soaking water to the pudding if you think it is too thick. Refrigerate the pudding for 1 to 2 hours until chilled.
To make the marshmallow fluff:
Put the Aquafina into the bowl of a stand mixer fitted with the whisk attachment and beat the liquid on medium speed until foamy. Raise the speed to high and beat until the mixture has expanded considerably and forms peaks, about 15 to 20 minutes. With the mixer running, add the superfine sugar

2 tablespoons

(

30 g

) at a time and then add the vanilla powder. The fluff should form soft peaks.
To assemble:
Divide the pudding among 4 small bowls and then place about

⅓ cup

(

32 g

) of marshmallow fluff into each bowl. Using a kitchen torch, toast the top of the fluff lightly. (If you do not have a torch, you can omit this step.) Top the dessert with the crushed graham crackers and chocolate chips. Serve immediately.
Notes
If you can't find superfine sugar, whir regular organic cane sugar in a food processor.
There will be a lot of marshmallow fluff left over from this recipe - use it in the Cookie's 'n' Cream Dip (pg. 189 of Vegan Bowl Attack) or the Kiwi Pistachio Mousse with Praline Crumbles (pg. 184 of Vegan Bowl Attack)
Vegan graham crackers can be tricky to find, but I've had luck when checking the ingredient labels on kids' graham crackers.
*Reprinted from Vegan Bowl Attack!: More than 100 One-Dish Meals Packed with Plant-Based Power By Jackie Sobon, published by Fair Winds Press
Nutrition
Calories:
419
kcal
|
Carbohydrates:
76
g
|
Protein:
6
g
|
Fat:
15
g
|
Saturated Fat:
5
g
|
Polyunsaturated Fat:
6
g
|
Monounsaturated Fat:
1
g
|
Sodium:
180
mg
|
Potassium:
460
mg
|
Fiber:
11
g
|
Sugar:
50
g
|
Vitamin A:
100
IU
|
Vitamin C:
7.4
mg
|
Calcium:
10
mg
|
Iron:
3.4
mg
You Might Also Like:
Chocolate Nice Cream Breakfast Parfaits