As an Amazon Associate I earn from qualifying purchases. Please see my Privacy Policy for more details.
Creamy Almond Sweet Potato Soup Recipe – A thick and hearty soup, full of flavor, yet ready in under 30 minutes. Perfect for a weeknight meal.
This soup was inspired by all the African Peanut Stews I have seen online over the years. I always think they look so hearty and delicious. I have never actually made one of those, so I can't say for certain if this sweet potato soup recipe resembles them or not, but, what I can tell you, is that this soup is thick, rich, and delicious!
It's full of deep earthy flavors, yet has a brightness from the tomato and a squeeze of fresh lime juice. It's also quick and easy, like any good weeknight meal should be. I could eat this Creamy Almond Sweet Potato Soup all day long!
Are Sweet Potatoes Healthy?
YES! Sweet potatoes are very nutritious.
Sweet potatoes are carbohydrates. Carbs tend to get a bad rap, but the fact is that our bodies need carbs for fuel.
These orange starchy root vegetables are high in fiber, vitamin A, vitamin C, potassium, and antioxidants. They also happen to be low on the glycemic index, so they won't cause a spike in insulin and cause a "sugar rush." The fiber in sweet potatoes will help fill you up and keep you satiated longer.
It has been shown that including some healthy fat in a meal, like the almond butter in this Sweet Potato Soup Recipe, increases the absorption of beta-carotene (vitamin A), which is why this soup is the pretty much the perfect dish.
Is it OK to Eat the Skin of a Sweet Potato?
It's definitely ok to eat the skins of sweet potatoes. There is a lot of fiber in the skins, so they're very healthy.
However, we want this sweet potato soup recipe to be smooth, so I like to peel them first to ensure the perfect creamy texture.
Love sweet potatoes? Don't miss these other delicious vegan sweet potato recipes: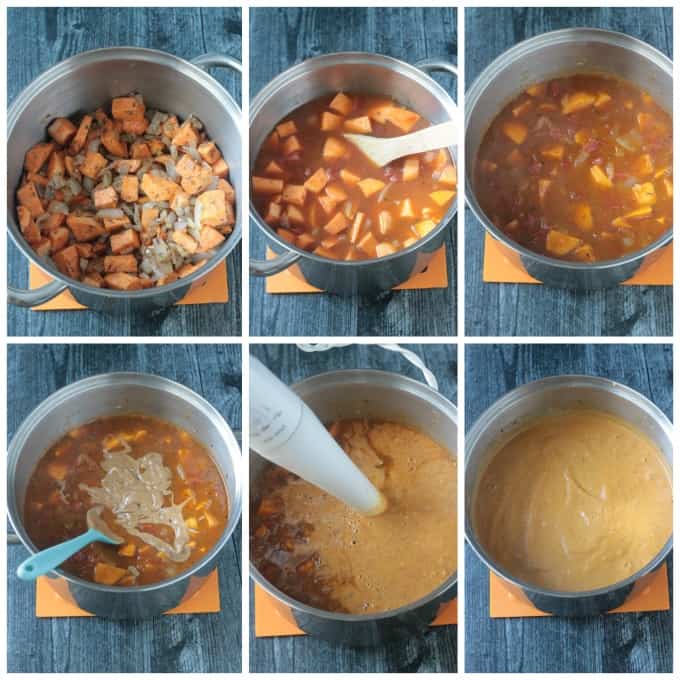 How Do You Make Soup Thick and Creamy?
There are many ways to make a soup creamy.
Cornstarch slurry, flour, cream, and coconut milk are all common ways to thicken a soup.
The almond butter in this vegan soup recipe definitely adds some body, but it's the process of puréeing the soup that makes is silk smooth and creamy. You can carefully transfer the hot soup to a blender to purée, but I find it much easier to use an Immersion Blender.
What Can I Use Instead of Almond Butter?
African Peanut Stews, which inspired this recipe, are made with peanut butter. I haven't personally tried it in this recipe, but I imagine it would be just as yummy. Garnish with chopped peanuts instead of almond.
If you can't have nuts, you could try using sunflower seed butter and garnish with sunflower seeds or pumpkin seeds.
What Can I Use Instead of Sweet Potatoes?
Don't sub the sweet potatoes. Just don't.
This is a sweet potato soup recipe. If you don't like sweet potatoes, try one of these other cozy vegan soup recipes:
Creamy Almond Sweet Potato Soup Recipe
I hope you guys love this Creamy Sweet Potato Soup Recipe as much as I do. If you try it, please come back and leave me a comment below with your feedback and star rating.
You can also find me on social media. Be sure to tag @veggie_inspired and #veggieinspired so I'm sure to see it.
Enjoy!
Yield: 4
Sweet Potato Almond Soup
A thick and hearty soup, full of flavor, yet ready in under 30 minutes.
Ingredients
1 tablespoon olive oil (or ¼ cup vegetable broth or water for an oil-free option)
1 sweet onion, diced
1 garlic clove, minced
1 teaspoon ground ginger
1 teaspoon ground thyme
½ teaspoon ground cinnamon
½ teaspoon ground cumin
¼ teaspoon ground nutmeg
¼ teaspoon salt, or to taste
⅛ teaspoon pepper, or to taste
2 medium sweet potatoes, cubed (about 2.5 to 3 cups)
1 cup canned diced tomatoes
4 cups low sodium vegetable broth, plus more to thin if desired
⅓ cup raw creamy almond butter
Squeeze of lime juice
Slivered almonds, for garnish
Instructions
Heat the oil in a soup pot over medium heat. Sauté the onion for 5 to 6 minutes until softened and translucent. Add the garlic, ginger, thyme, cinnamon, cumin, nutmeg, salt, and pepper, and sauté 1 more minute.
Add the sweet potatoes, diced tomatoes, and vegetable broth. Increase heat to bring to a boil, reduce heat to medium-low and let simmer for about 20 minutes until sweet potatoes are fork tender.
Remove from heat, add the almond butter and stir to combine. Using an immersion blender* purée the soup to your desired consistency. (I like it super smooth, but if you like it chunkier, go for it.
If you like a thinner soup, add a bit more veggie stock or water and stir to combine.
Garnish with a squeeze of fresh lime juice and slivered almonds.
Serve warm. Enjoy!
Notes
*Alternately, you can carefully transfer the soup to a blender to purée and then carefully transfer it back to the pot. You may need to do this in batches if your blender is on the small side.
Nutrition Information:
Yield:
4
Serving Size:
4 Servings
Amount Per Serving:
Calories:

308
Total Fat:

14g
Sodium:

355mg
Carbohydrates:

37g
Fiber:

7g
Sugar:

13g
Protein:

8g