As an Amazon Associate I earn from qualifying purchases. Please see my Privacy Policy for more details.
Flavorful, hearty soup made quickly and easily in the Instant Pot. Serve it up with smoky tempeh crumbles and a slice of crusty bread. This Vegan Split Pea Soup is craveable comfort food!
There is nothing I love more than a comforting steaming bowl of soup.
Most soups I make take about 30 minutes give or take. I don't make split pea soup often because it does take a bit longer, anywhere from 1 to 2 hours on the stovetop.
But, now, you can have split pea soup even on a weeknight with my easy Instant Pot Vegan Split Pea Soup!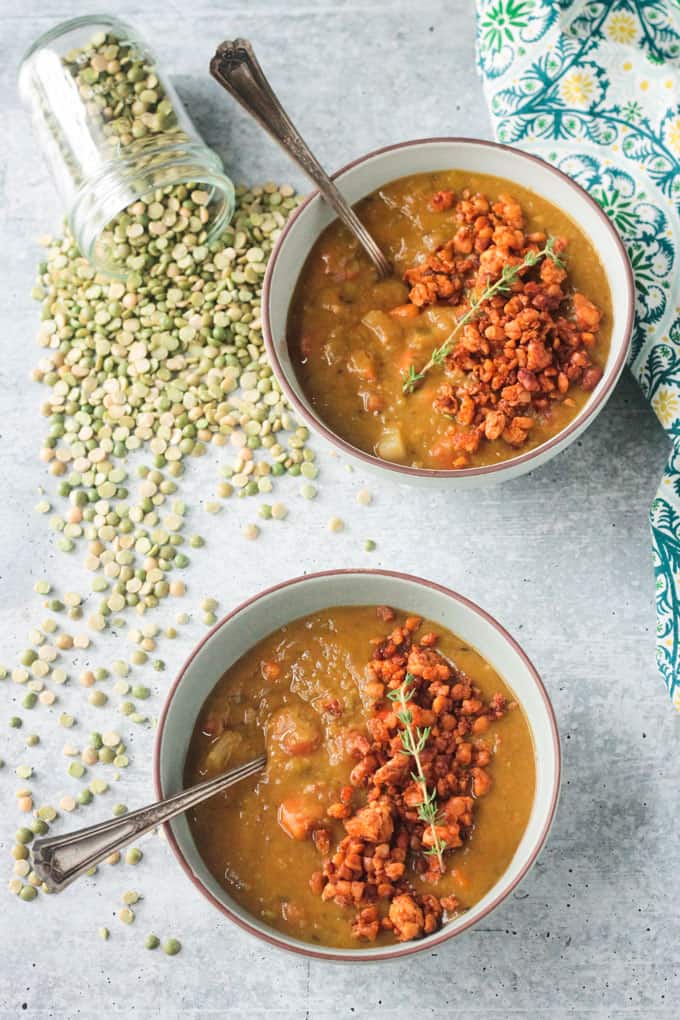 Nutritional highlights
Traditional split pea soup is made using a leftover ham bone and it usually contains some kind of smoked meat, like ham, bacon, or turkey. Smoked meats and processed meats have been linked to increased risks of cancer, so a traditional bowl of split pea soup might not be that great health wise.
Split peas themselves, however, like all legumes, are incredibly nutritious! They contain large amounts of fiber, protein, folate, and B vitamins.
My Vegan Split Pea Soup is relatively low in calories, but boasts nearly 20 grams of fiber and 25 grams of healthy plant protein! Not to mention all the vitamins and minerals and zero cholesterol. This version is definitely good for you!
What is the difference between the Instant Pot and a pressure cooker?
A pressure cooker is a sealed pot that uses steam to cook food under high pressure. This process cooks the food in much less than time a traditional stove-top or oven baked method.
Instant Pot is a brand of electric multi-cooker kitchen appliances. It's most widely known for its pressure cooker function. Unlike a standard pressure cooker, the Instant Pot has multiple functions and can be used in many ways.
What does the Instant Pot do?
Do split peas need to be soaked?
Split peas do not need to be soaked. You do want to pick through them to make sure there isn't any debris among them and then rinse them really well with cold water.
If you are cooking split peas on the stove top, soaking them overnight can reduce the cooking time, but it's not necessary.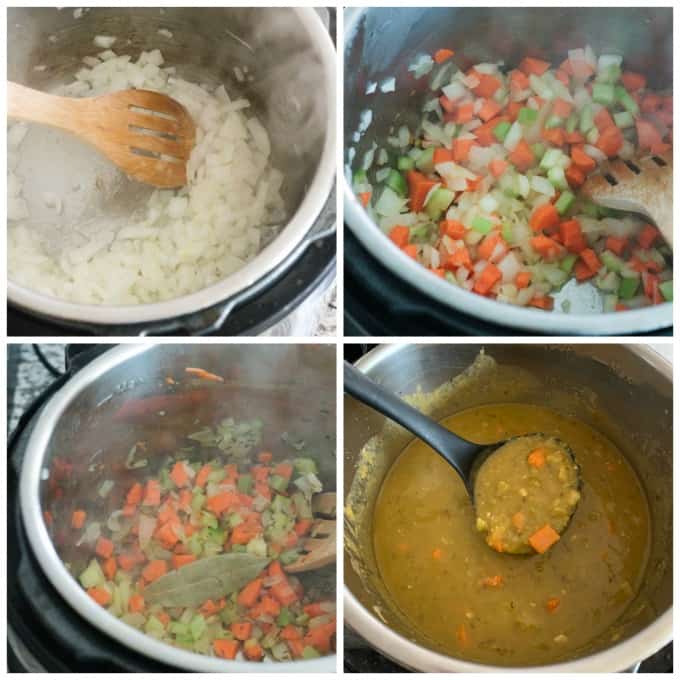 How many cups is 1 lb of split peas?
A one pound package of split peas is roughly 2 cups. You"ll need exactly that for this Instant Pot Vegan Split Pea Soup.
Don't you love it when things work out like that?!
How to serve
Split Pea Soup is filling enough to eat as as meal on its own, especially with the Smoky Tempeh Crumbles, but if you are looking to pair it up with something else, try some of these choices:
Crusty slice of bread with or without a slather of dairy-free butter
Store-bought vegan sausages…we like Field Roast brand.
Want to learn more about tempeh? See my Smoky Vegan Broccoli Soup with Crispy Tempeh Croutons.
Storage and freezing
Fridge: Store leftovers covered in the fridge for 3 to 4 days.
Freezer: This soup can also be frozen without compromising taste or texture. Be sure to cool the soup completely before transferring to freezer safe zipper top bags or air-tight plastic containers. You can do this in individual portion sizes or freeze the whole thing together.
The soup will keep well in the freezer for up to 6 months. Tip: Write the Recipe Name and Use By Date on the plastic bag or a piece of masking tape fixed to the plastic container so there are no guessing games later.
I hope you love this recipe as much as we do! If you tried it, please use the rating system in the recipe card and leave a comment below with your feedback.

Be sure to sign up for my FREE Newsletter to be the first to get my NEW recipes! You can also follow me on Instagram, Facebook, and Pinterest.

For even more easy family recipes, be sure to check out my cookbook, The Meatless Monday Family Cookbook!
Instant Pot Vegan Split Pea Soup
Flavorful, hearty soup made quickly and easily in the Instant Pot. Serve it up with smoky tempeh crumbles and a slice of crusty bread. This Vegan Split Pea Soup is craveable comfort food!
Print
Pin
Rate
Ingredients
For the Smoky Tempeh Crumbles, optional
Instructions
For the Instant Pot Split Pea Soup
Turn on the Instant Pot and heat the oil on the Sauté function. Add the onion, carrots, and celery, and sauté 4 to 5 minutes until they start to soften.

Add the potato, garlic, thyme, black pepper, bay leaf, and liquid smoke. Sauté 1 minute.

Add the split peas and broth and stir to combine.

Cancel the Sauté function, place the lid on the Instant Pot and lock it in place. Set the steam release valve to Sealing.

Use the Manual function to choose 12 minutes on High Pressure.

When the 12 minute cook time is up, the Instant Pot will beep several times. Let the pot release some pressure naturally for 10 minutes. Then, carefully switch the steam release valve to Venting to release the remaining pressure. The Instant Pot will be on the Keep Warm function now. You can turn it off at this time or leave it on if you want to keep it warm for a longer time.

Carefully open the lid. Take out the bay leaf.

Stir in the diced tomatoes, if using, squeeze of lemon, and salt, as needed.

Taste and adjust seasoning as necessary, adding more thyme or liquid smoke.

Serve hot with Smoky Tempeh Crumbles (directions follow).
For the Smoky Tempeh Crumbles
Make these crumbles when the Instant Pot is in Natural Release Mode and everything will be done around the same time.

Heat the oil in a skillet over medium-high heat. Add the smoked paprika and cayenne, if using, and stir into the oil until combined.

Crumble the tempeh into small pieces right into the pan and stir well to ensure that all of the tempeh pieces get coated in the flavored oil.

Sauté the tempeh for 4 to 5 minutes until the edges of the crumbles get crispy. Adjust the heat as necessary so it doesn't burn.
Notes
~ My family always uses shredded potato. It thickens the soup nicely and you don't even know it's there. If you prefer chunks of diced potato in the finished soup, go for it. I've made it both ways and you can't go wrong.
~ Be very careful when switching the Steam Release Valve to Venting. The steam will come out full force and be very hot! Using an oven mitt for safety is a good idea and be sure to keep your face away from the valve.
~This soup will thicken considerably as it cools. An extra splash or two of vegetable broth when reheating will help loosen it up.
Nutrition
Calories:
343
kcal
|
Carbohydrates:
53
g
|
Protein:
25
g
|
Fat:
10
g
|
Saturated Fat:
1
g
|
Polyunsaturated Fat:
6
g
|
Sodium:
450
mg
|
Fiber:
19
g
|
Sugar:
6
g
Nutrition values are calculated using online calculators and are estimates only. Please verify using your own data.