As an Amazon Associate I earn from qualifying purchases. Please see my Privacy Policy for more details.
Butternut Squash Queso from the Crave Eat Heal Cookbook – full review of the book below, plus this delicious recipe perfect for parties or snacking.
*Update 4/23/15: The giveaway has ended and the winners have been notified. Thank you to everyone who entered and congratulations to Itzia and Katja for winning the CRAVE EAT HEAL giveaway!
I've got such a great post for you today! When the opportunity arose to review Annie Oliverio's new cookbook, CRAVE EAT HEAL, I jumped at the chance. I have followed Annie's blog, An Unrefined Vegan, for quite a while now. I love her delicious, unprocessed, plant based recipes. And her photos are always gorgeous too! I made several of the recipes in her new cookbook and, with Annie's permission, I get to share one with you today! Keep reading for the Butternut Squash Queso recipe and to find out how YOU can win your very own copy of CRAVE EAT HEAL! But first, let me tell you about this fabulous cookbook.
CRAVE EAT HEAL is no ordinary cookbook. Instead of categorizing by recipe type (breakfast, salad, soup, entree, dessert), Annie brilliantly categorized by CRAVINGS! Genius!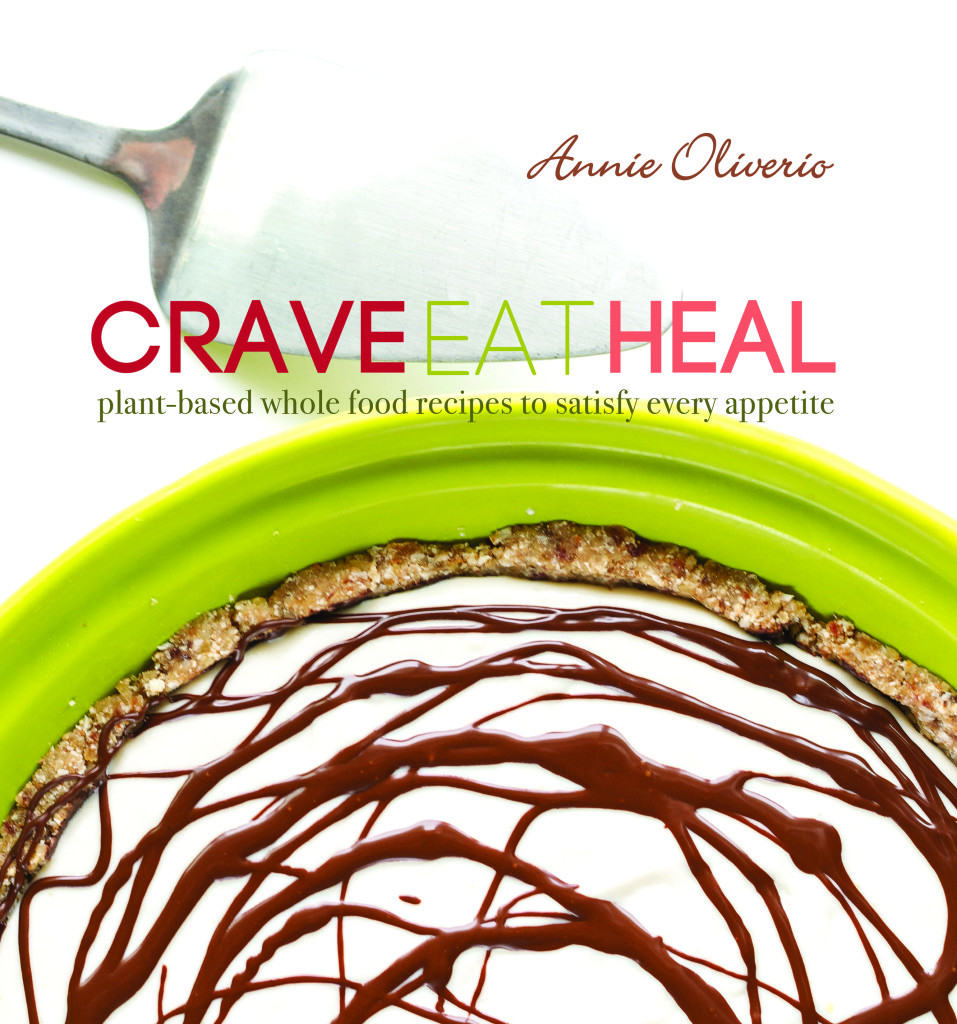 Take a look at the chapters:
Carbs, Chocolate, Comfort, Cool, Creamy, Crunchy, Green, Junk, Salty, Spicy, Sweet, Tart, Warm
If you are anything like me, you know that cravings are something fierce. There are many nights were I feel like I need something chocolately or I just might die! I know for others that salty/crunchy craving will have you staring at the bottom of a potato chip bag in no time flat. It's time to fear your cravings no more! All you have to do is turn to the craving chapter of your choice and know that any one of those recipes will do the trick! I can personally vouch for the deliciousness of the Double Chocolate Berry Good Cookies and the No Bake Breakfast Cookies (see a theme here?)
But CRAVE EAT HEAL isn't just for snacking. You won't be disappointed if you try the Raw/Not Raw Vegetable Barley Bowl. I've been eating that one for lunch the past few days. You'll also find breakfast recipes like Cocoa Cinnamon French Toast (Carbs), dinner recipes like Smoky Black Bean, Rice & Veggie Burgers (Spicy), Tofu Gyros with Tzatziki (salty) and beverages like Malted Chocolate-Orange Smoothie (chocolate). I honestly can not wait to try them all!
After making a handful of the recipes in this cookbook, I had a hard time deciding which one to share since they all turned out great, but since, aside from my chocolate weakness, I'm such a sucker for chips and salsa or queso, I present to you this amazing Butternut Squash Queso!!
When I was in college, I ate heaps of chips and queso. The store bought processed kind. It never occurred to me that it wasn't healthy…ok, maybe it did, but I just didn't care. Now, I am smarter about what I put in my body and have always missed this yummy crunchy creamy snack. When I saw this recipe in the book, I couldn't wait to try it! A healthy queso? Sign me up!
Upon further inspection, this recipe is actually very similar to the sauce I use for my Butternut Squash Mac and Cheese. I can't believe I never thought to turn it into a queso! And let me tell you – it's delicious!!! It was every bit as satisfying as traditional queso, creamy and cheesy. No, it is MORE satisfying because you don't feel bloated and guilty after eating it!
After snacking on this Butternut Squash Queso with tortilla chips, I used it to top off a Mexican Tortilla Casserole that I made for dinner – DELISH! The kids loved it and no one suspected that it wasn't actually dairy cheese.
Butternut Squash Queso
I hope you love this Butternut Squash Queso as much as we do. If you try it, please come back and leave me a comment below with your feedback. You can also find me on social media. Be sure to tag @veggie_insired and #veggieinspired so I'm sure to see it. Enjoy!
Butternut Squash Queso
Annie says, "This recipe was inspired by an appetizer at Matthew Kenney's now-defunct "plant based Mexican kitchen," Tamazul, in Oklahoma City. While everything I've eaten there has been delicious, fresh and creative - their queso impressed me more than any other dish. I was too shy to ask how they made it, so I set about creating my own version. This also makes a delicious sauce for mac 'n' cheez. Gluten-free, Oil-free, Easy
Course:
Appetizer, Dip, Snack
Cuisine:
dairy free, egg free, gluten free, oil free, refined sugar free, soy free, vegan
Instructions
Add all of the ingredients to a high-speed blender or regular blender and process until very smooth. You will need to tamp down the ingredients and add water - just a little at a time - during processing to get a very smooth texture.

Transfer the mixture to a small saucepan and gently heat. Serve warm with baked tortilla chips or fresh steamed vegetables. Store leftovers in an air-tight container in the refrigerator for up to 5 days.
Recipe Notes
Suggestions:
Try using pumpkin puree or roasted sweet potato in place of the butternut squash.
Reserve 1 cup of the queso to make Cheddar Cheez (also in CRAVE EAT HEAL).
If you like it spicy, stir in a 1/4 cup of fresh, diced jalapeño peppers (or pickled jalapeños) - or for milder flavor - stir in a 1/4 cup of roasted red bell pepper.
*Here's how I roast a butternut squash: Preheat the oven to 425-degrees and line a large baking sheet with aluminum foil. cut off the squash's stem and pierce the skin a few times with a knife. Place the whole squash on the baking sheet and cook for 45 minutes to 1 hour, or until the flesh of the squash is very soft (I test it by inserting a knife). The skin will be shiny and dark brown. Remove from the oven and allow to cool completely before handling. Peel off the skin, then break open the squash and scoop out the seeds.
Recipe reprinted with permission from Ann Oliverio and Front Table Books.
Nutrition Facts
Butternut Squash Queso
Amount Per Serving
Calories 118
Calories from Fat 45
% Daily Value*
Fat 5g8%
Sodium 77mg3%
Potassium 307mg9%
Carbohydrates 17g6%
Protein 4g8%
Vitamin A 6750IU135%
Vitamin C 20.6mg25%
Calcium 40mg4%
Iron 1.4mg8%
* Percent Daily Values are based on a 2000 calorie diet.
Ok, now for the best part! One of YOU lucky readers residing in the US or Canada will win your very own copy of Annie Oliverio's CRAVE EAT HEAL! And, one lucky international reader will win a copy of the companion e-book, Crave. Eat. Heal. Outtakes. Good luck!
If you simply cannot wait for the results of the giveaway, you can guarantee your copy of CRAVE EAT HEAL by preordering here:
Crave, Eat, Heal: Plant-based, Whole-food Recipes to Satisfy Every Appetite
. Hard copies of the cookbook will be available after May 4th. You can find the companion ebook on Blurb or iBooks.
More Delicious Dairy Free Dips to Love:
Smoky Cilantro Lime Mexican Bean Dip
Smoky Roasted Red Pepper Cashew Dip