As an Amazon Associate I earn from qualifying purchases. Please see my Privacy Policy for more details.
Rice is an inexpensive and versatile pantry staple. It comes in many varieties and lends itself well to a myriad of dishes. Which is the best variety to use? The healthiest? What are the best rice recipes? Keep reading to find out all you need to know about rice plus the best Healthy Rice Recipes!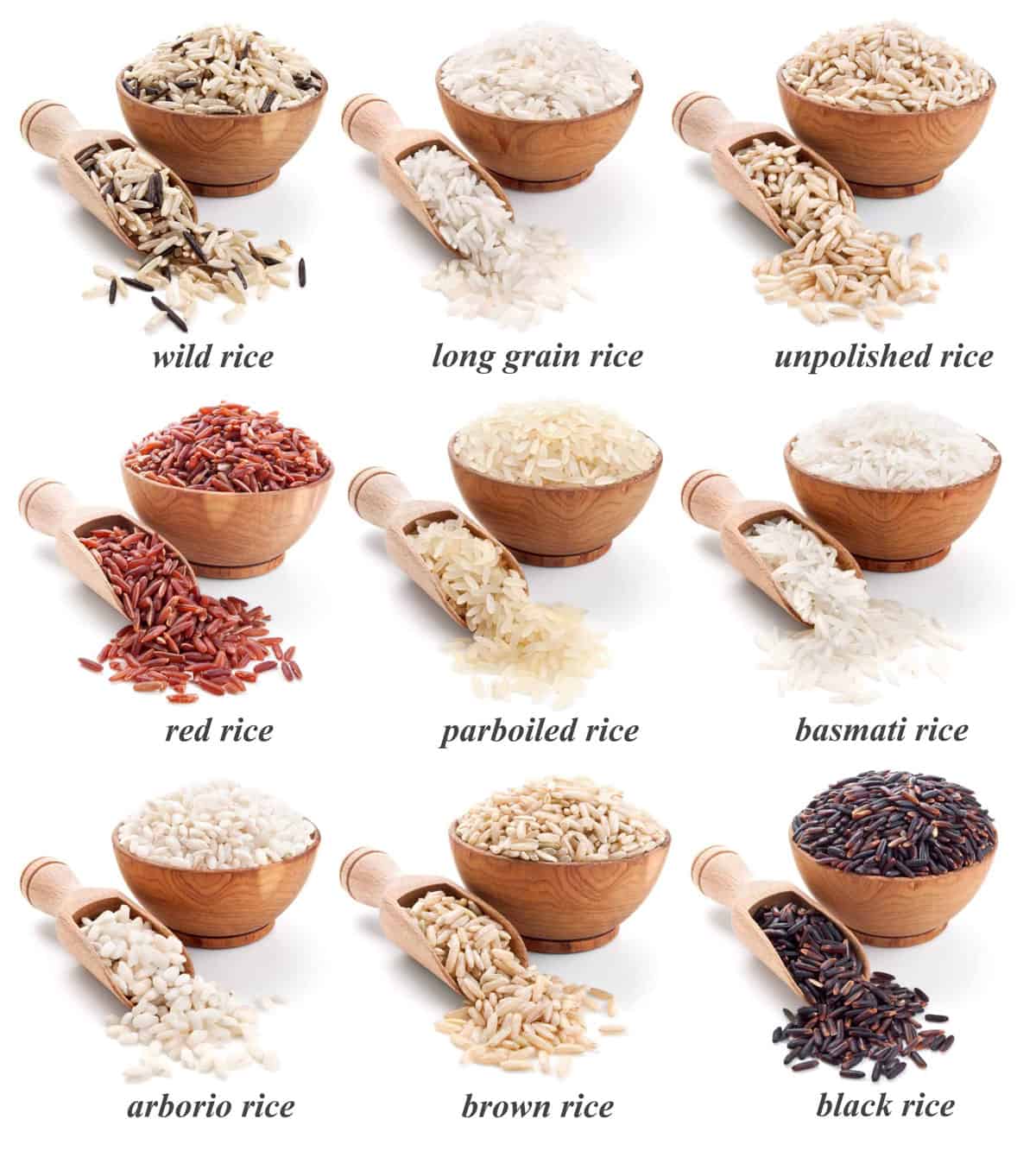 What is rice?
Rice is the edible seed of a species of grass. It's a grain that is widely used across the world's population.
It is mainly a carbohydrate, but it contains protein and a small amount of fat, too, not to mention many essential vitamins and minerals, like B vitamins, potassium, magnesium, folic acid, selenium, iron, and zinc.
Varieties of rice
There are tens of thousands of rice varieties!
Depending on how they are produced, they can be brown or white.
In the case of brown rice, the whole kernel is intact and it is surrounded by all the bran layers. The rice can be further processed by removing all of the bran layers producing white rice.
Quick cook or instant rice takes it one step further and precooks the rice making it quicker to cook once you get your hands on it. There is very little difference, nutritionally speaking, between quick-cooking rice and regular varieties. For this reason, it's a pantry staple in my own kitchen as a time saver. It does cost a bit more, but I find the convenience totally worth it.
For convenience sake, I am focusing on the most popular varieties of rice for this article and featuring them in the delicious Healthy Rice Recipes that follow. Note that most of these varieties can be found in both brown and white versions.
Arborio Rice
Arborio rice is mostly used for making risotto, a creamy broth based dish. It's an Italian short grain rice with a lovely chewy texture that absorbs liquid easily to become creamy.
Don't miss the amazing risotto recipes featured in the Healthy Rice Recipes below.
Basmati Rice
Basmati is an Indian long grain rice. It is wonderfully fragrant and flavorful. It comes in both white and whole grain brown varieties. You can find quick-cooking options for Basmati as well.
It pairs beautifully with curry dishes.
Black Rice
Black rice is sometimes referred to as Forbidden rice or purple rice because of its deep hue. It is nearly always sold as a whole grain with the entire bran intact, like brown rice.
It has a nutty flavor and chewy texture. There are actually several varieties of black rice.
It is often used in desserts! Check out the Healthy Rice Recipes that follow to find out how!
Jasmine Rice
Jasmine rice is a Thai long grain rice. It's nutty, floral and fragrant and is one of my favorite rice varieties. It comes in whole grain brown or white versions and is relatively quick cooking compared to other varieties.
I love it with curries or tomato based dishes and BBQ flavors. It really goes with everything!
Long Grain Rice
Long grain white rice is one of the most popular rice varieties in the US. It has a mild flavor which lends itself well to any number of dishes. It is also extremely affordable. Long grain rice also comes in brown varieties.
Sushi Rice
Sushi rice is a short grain Japanese rice. It is very high in starch, similar to sticky rice, but it can be used just like you would any white rice.
Wild Rice
Wild rice isn't actually rice. Like rice it is a seed of grass, but wild rice comes from grass that grows in shallow fresh water and is not related to regular rice at all. It can, however, be used as you would use other types of rice.
Wild rice is considered a complete protein, containing all 9 essential amino acids.
How to cook rice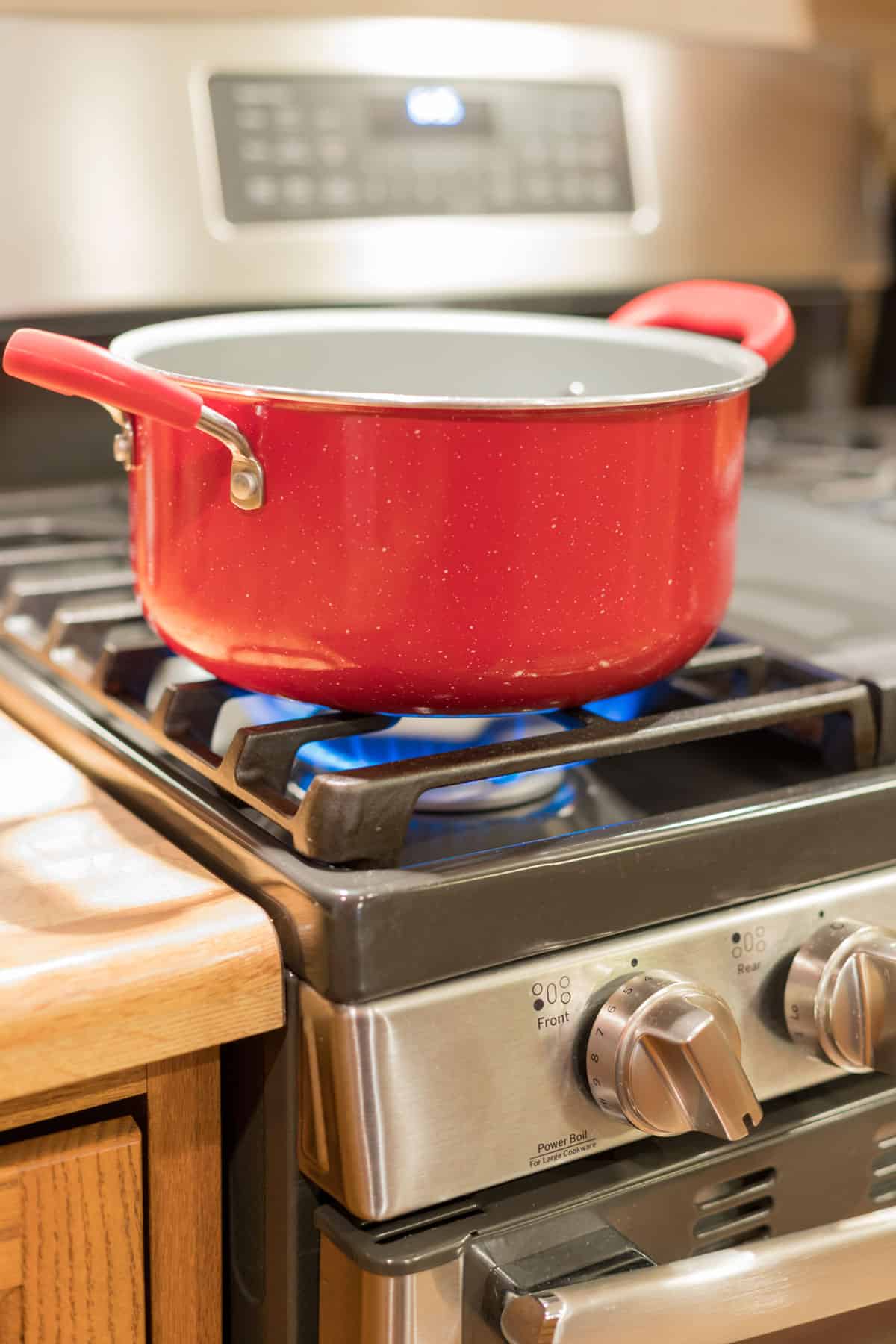 Rice can be cooked in a rice cooker, on the stovetop, in the microwave, in the oven, or even in the Instant Pot.
Personally, I find the stove top the easiest method for myself. Just make sure you use a large pot to prevent boiling over.
I almost always rinse rice before cooking. This decreases the starchiness and ensures it cooks up fluffy. Note: Do not rinse if you want your rice to be sticky or creamy, like in risotto or sushi.
The most common liquid to rice ratio is 2:1, but this does not work for every type of rice. Each variety will take a different amount of time to cook through, as well. Be sure to read and follow package directions for the variety you are using.
Storage and freezing
Store dry, uncooked rice in an airtight container in a cool, dry place. It will keep well for 6 months to a year. White rice keeps longer than brown rice.
Cooked rice can be kept in the fridge in an airtight container for 4 to 5 days. Or you can freeze it in freezer safe bags or containers for up to 6 months, so it's ready to be used in any of the delicious healthy rice recipes featured here.
Pro tips and tricks
Rinse the rice well under cold water and drain before cooking. This will decrease the starchiness and ensure that your rice doesn't become clumpy. Please note: if you are making risotto or any other type of sticky/creamy rice dish – do NOT rinse the rice first.
Use a large pot to prevent boiling over!
Use the correct amount of liquid. Each variety cooks a bit differently, so read the package directions carefully and measure correctly.
Add salt and any seasonings to the liquid once it begins to boil. Or try cooking in broth instead of water.
Once the liquid is boiling, pour in the rice and give it a quick stir so it doesn't stick.
Once boiling, reduce the heat to a simmer, cover the pot, and do not open it to stir during the cooking process.
When the rice is done, remove from heat and let the rice sit in the pot untouched for another 5 to 10 minutes before fluffing with a fork.
FAQs
Is rice healthy?
Yes! Rice is a carbohydrate and our bodies main fuel source is carbs. It's important to get plenty of unrefined whole grain carbs in our diets for energy.

Rice also contains numerous vitamins and minerals, fiber, and even protein.
Which type of rice is the healthiest?
Brown rice is a healthier option than white rice because it is less processed and contains more fiber.
Should rice be washed before cooking?
Rinsing rise is a good idea to remove any dust and debris. It also reduces the amount of starch to help the rice cook up fluffy.
Why is my rice mushy?
The likely answer is that too much water was used. Each variety cooks a bit differently. Make sure to read the package directions carefully and measure the rice and liquid correctly to ensure perfect rice every time.
How to make rice less boring?
Adding a drizzle of olive oil to the pot and toasting the rice for a minute or two before adding the liquid will bring out its nutty flavor. Or try cooking the rice in vegetable broth instead of water.

Add dried herbs or spices to the pot while cooking and don't forget to season with salt.
More vegan pantry staple recipes
I hope you love these recipes as much as we do! If you try any of them, please leave a comment below with your feedback.

Be sure to sign up for my FREE Newsletter to be the first to get my NEW recipes! You can also follow me on Instagram, Facebook, and Pinterest.

For even more easy family recipes, be sure to check out my cookbook, The Meatless Monday Family Cookbook!
Rice is an inexpensive and versatile pantry staple. It comes in many varieties and lends itself well to a myriad of dishes. You'll love these Healthy Rice Recipes!