As an Amazon Associate I earn from qualifying purchases. Please see my Privacy Policy for more details.
Packed with plant-based protein, loaded with energizing whole grains, abundant with fresh vegetables, bursting with flavors and textures, these Vegan Bowls Recipes are beautiful and mouth-watering! Perfect for lunch or dinner and easy to customize!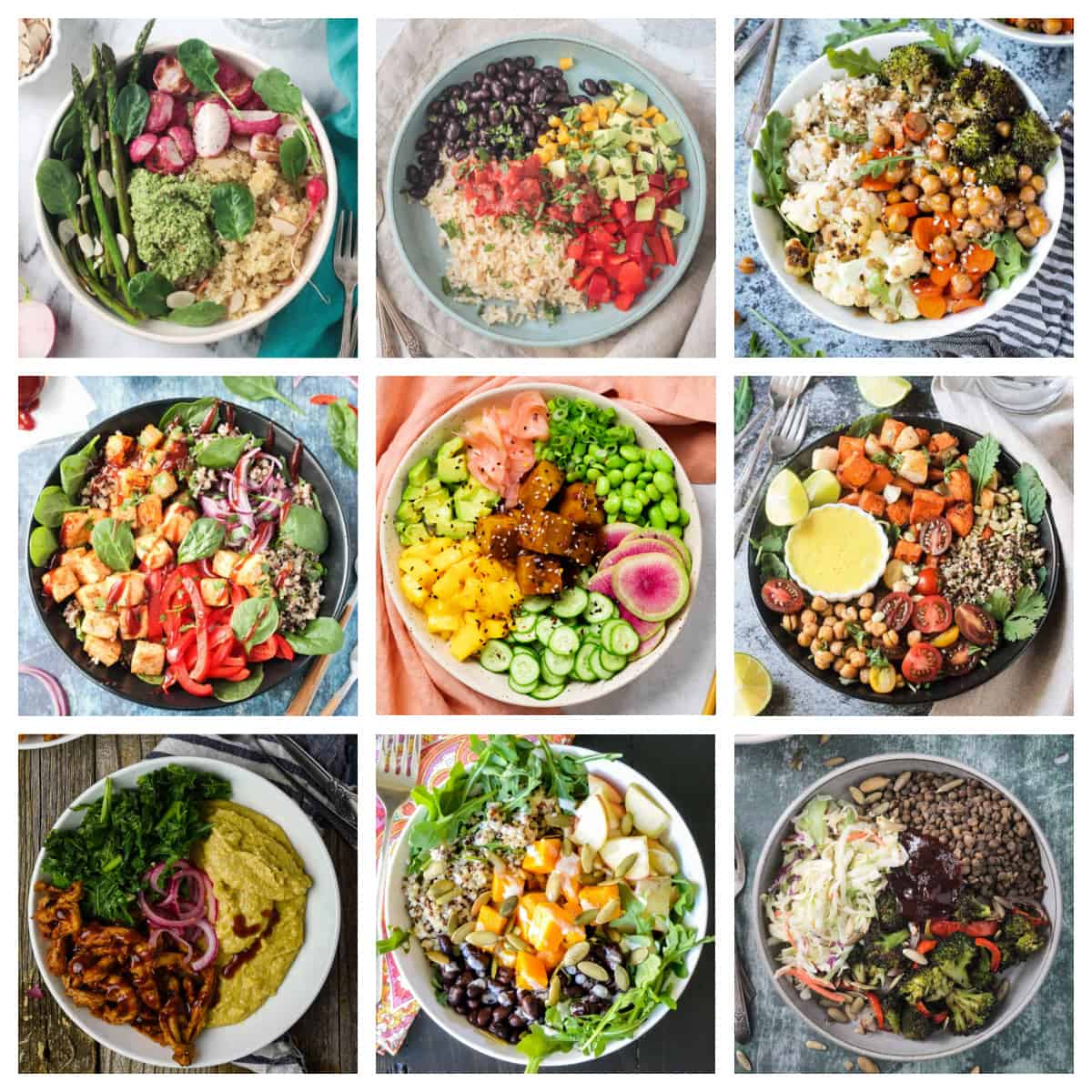 Vegan Bowls, or Buddha Bowls, as they are sometimes called, are basically complete meals consisting of grains, proteins, healthy fats, and a sauce or dressing all served in a bowl or high-rimmed wide plate.
They pack a lot of nutrients into a single meal and, if done right, are incredibly delicious! Great for using up whatever you've got in the fridge, they're easy to customize, making them a staple of a plant-based diet.
I love them so much, I have a whole chapter dedicated to bowls in my cookbook, The Meatless Monday Family Cookbook!
In this article, find out what components make up vegan bowls and how to build them, serve them, and store them.
Plus, I've done the work for you and rounded up more than 20 of the best vegan bowl recipes so all you have to do is make them and eat them.
Ingredient notes
Grains
Choose whole grains that will provide lasting energy. Good choices to consider are rice, millet, barley, farro, bulgur, buckwheat, or quinoa (technically a seed, not a grain, but it's treated like a grain).
You can even go for noodles, if you prefer, like udon or soba.
You can add spices and seasonings to the grains when you cook them or toss them into your bowl cooked plain.
Protein
Tasty plant-based protein choices are black beans, chickpeas, kidney beans, lentils, tofu, tempeh, or edamame.
Vegan sausages, veggie meatballs, crumbled veggie burgers, or falafel can also make for a tasty vegan bowl recipe.
Beans and lentils can be canned (be sure to drain and rinse) or cooked from scratch. You can season them during cooking or simply add them to your bowl unseasoned.
Tofu and tempeh can be marinated before cooking or spiced up while cooking. It can be baked for pan-fried. However you like to eat your soy products will work in a bowl.
Leafy Greens
I always like to add a handful or two of leafy greens to the bottom of my vegan bowls. They are so good for you! Add them raw to the bottom of the bowl and then place your cooked foods on top. This will wilt them just slightly, making them easier to eat.
Choose from kale, spinach, chard, arugula, watercress, romaine, or spring mix.
Vegetables
Choose a few colorful veggies to add. I like to add a mix of cooked and raw vegetables. A combination of starchy and non-starchy veggies is also a good idea.
For cooked options, choose from broccoli, cauliflower, bell peppers, sweet potatoes, butternut squash, brussels sprouts, beets, carrots, zucchini, cabbage, onions, radishes – the options are nearly endless here.
For raw options, try cucumber, shredded carrot, scallions, thinly sliced radishes, tomatoes, diced avocado, etc.
Sauce
As they say, the sauce makes the meal! Whatever sounds good to you will work. Salad dressing, pesto, hummus, tahini, BBQ sauce, etc. Sometimes I even use two together!
A few of our faves for drizzling over vegan bowls are Citrus Tahini Dressing, Easy Peanut Sauce, Roasted Red Pepper Hummus, Hemp Seed Dressing, Southwest Vegan Ranch, and Pumpkin Seed Pesto.
Extras
A sprinkle of nuts and seeds, fresh chopped herbs, freshly ground black pepper, a squeeze of fresh lemon or lime juice, sprouts, pickled red onions, a dash or two of hot sauce, or a drizzle of tamari, tablespoon of nutritional yeast or vegan parmesan cheese, etc. can go a long way to adding taste and texture to your vegan bowls.
How to make a vegan bowl recipe
Vegan bowls are super easy to make if you have leftover cooked grains, beans, tofu, veggies, etc. Simply reheat any ingredients you like to eat warm, layer them over leafy greens, add some raw veggies, avocado, or fresh berries, top it off with raw or toasted nuts or seeds and drizzle or dollop some dressing or sauce.
If you are starting from scratch, you'll need to make each component separately. Begin with whatever will take the longest. Once that ingredients is cooking, start on the item that will take the next longest and repeat until all components are complete.
Love bowls, but don't love to cook? Splendid Spoon, a vegan meal delivery service, offers many ready-to-eat bowls delivered straight to your door. Read my full Splendid Spoon review here!
How to serve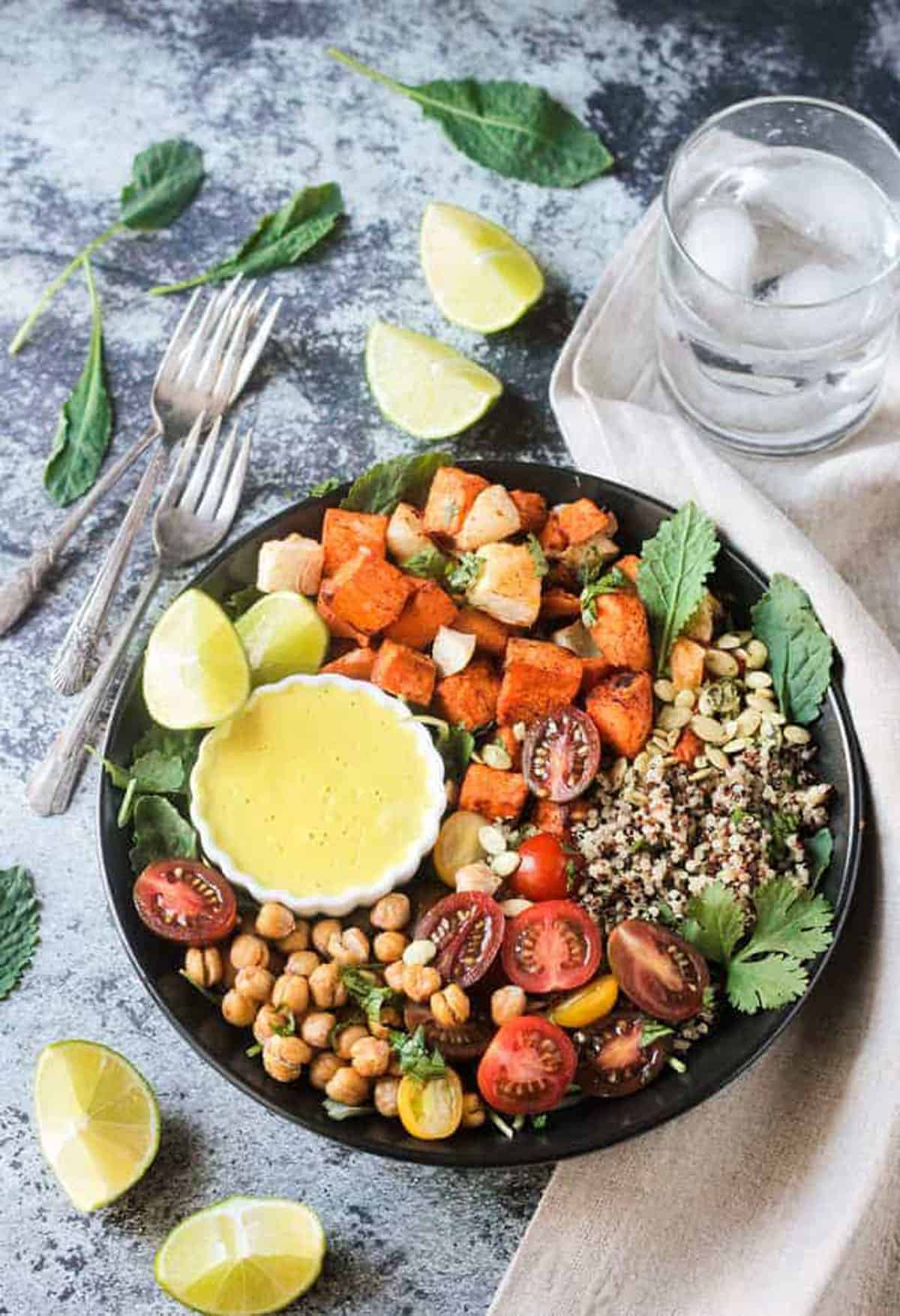 If you're serving a family or a group that may contain a few picky eaters, I suggest keeping all the components separate and letting everyone add what they like to their bowl.
Pro tip for feeding picky kids: make sure you offer at least two options for vegetables and let them choose the one they want. Of course, encourage them to try both, but skipping them altogether should not be an option.
If you're serving just yourself and others who like to eat everything, add a handful of leafy greens to the bottom of each individual bowl. Top that with cooked grains, beans, and vegetables. Next layer on any raw fruit or veggies. Sprinkle on garnishes and, finally, drizzle or dollop with sauce.
Storage and freezing
For best results, you'll want to store the components of your vegan bowls separately.
Cooked grains will last in an air-tight container in the fridge for about 3 to 4 days. Same with cooked beans or lentils. Cooked tofu, tempeh, or vegetables will last a little big longer, about 5 to 6 days.
Cut or chopped raw vegetables will usually last about 2 to 3 days in an air-tight container in the fridge.
Pro tips and tricks
~ Make sure to include carbs, protein, and healthy fats.
~ Add a variety of cooked and raw ingredients.
~ Use leftover cooked grains or legumes to make your vegan bowls quick and easy.
~ Don't forget the garnishes for added texture and flavor.
~ Let picky eaters customize their bowl by choosing which of the components they want.
~ Store any leftover ingredients in separate containers.
FAQs
What is a Buddha bowl?
A Buddha bowl is a complete balanced meal served in one bowl or a high-rimmed plate.
It usually consists of a protein, a grain, a variety of cooked and raw vegetables, healthy fats, and a sauce or dressing.
They are typically vegan or vegetarian, but may also contain small servings of animal protein.
Buddha bowls go by many different names. Some common variations are grain bowls, harvest bowls, glow bowls, power bowls, macro bowls, nourish bowls, and hippie bowls.
How do you eat a Buddha bowl?
There is no right or wrong way to eat your vegan bowl. You can layer all the components of the dish from top to bottom. You can pile each ingredient in a different spot around the bowl with one in the center. Or you can mix them all together.
Are Buddha bowls eaten hot or cold?
This is personal preference. In general, some ingredients will be hot (grains, beans, cooked vegetables) and some will be cold (leafy greens, nuts and seeds, sauce). But, I've definitely been known to throw cold leftovers in a bowl and eat it as is without heating anything up. Mix it all together and it's basically a loaded salad.
More vegan recipe collections
I hope you love these recipes as much as we do! If you tried any of them, please leave a comment below with your feedback.

Be sure to sign up for my FREE Newsletter to be the first to get my NEW recipes! You can also follow me on Instagram, and Facebook.

For even more easy family recipes, be sure to check out my cookbook, The Meatless Monday Family Cookbook!
Packed with plant-based protein, loaded with energizing whole grains, abundant with fresh vegetables, bursting with flavors and textures, these Vegan Bowls are beautiful and mouth-watering! Perfect for lunch or dinner and easy to customize!