As an Amazon Associate I earn from qualifying purchases. Please see my Privacy Policy for more details.
Veggie Inspired's 15 most popular recipes in 2015.
Looks like you guys really like soup! That's good because it's pretty much my favorite meal. Other popular recipes from 2015 were several pancakes and sweet treats. Now I want to hear from you! What kind of recipes would you like to see on the blog this year? Healthy breakfasts? Detox juices? Cozy soups? Simple one pot meals? Comfort foods made healthy? Comment below and let me know, but first keep reading to see which recipe took the #1 spot in 2015.
#15 – Creamy Clementine Smoothie. This healthy smoothie is sweet and creamy and brings a big dose of immune boosting Vitamin C.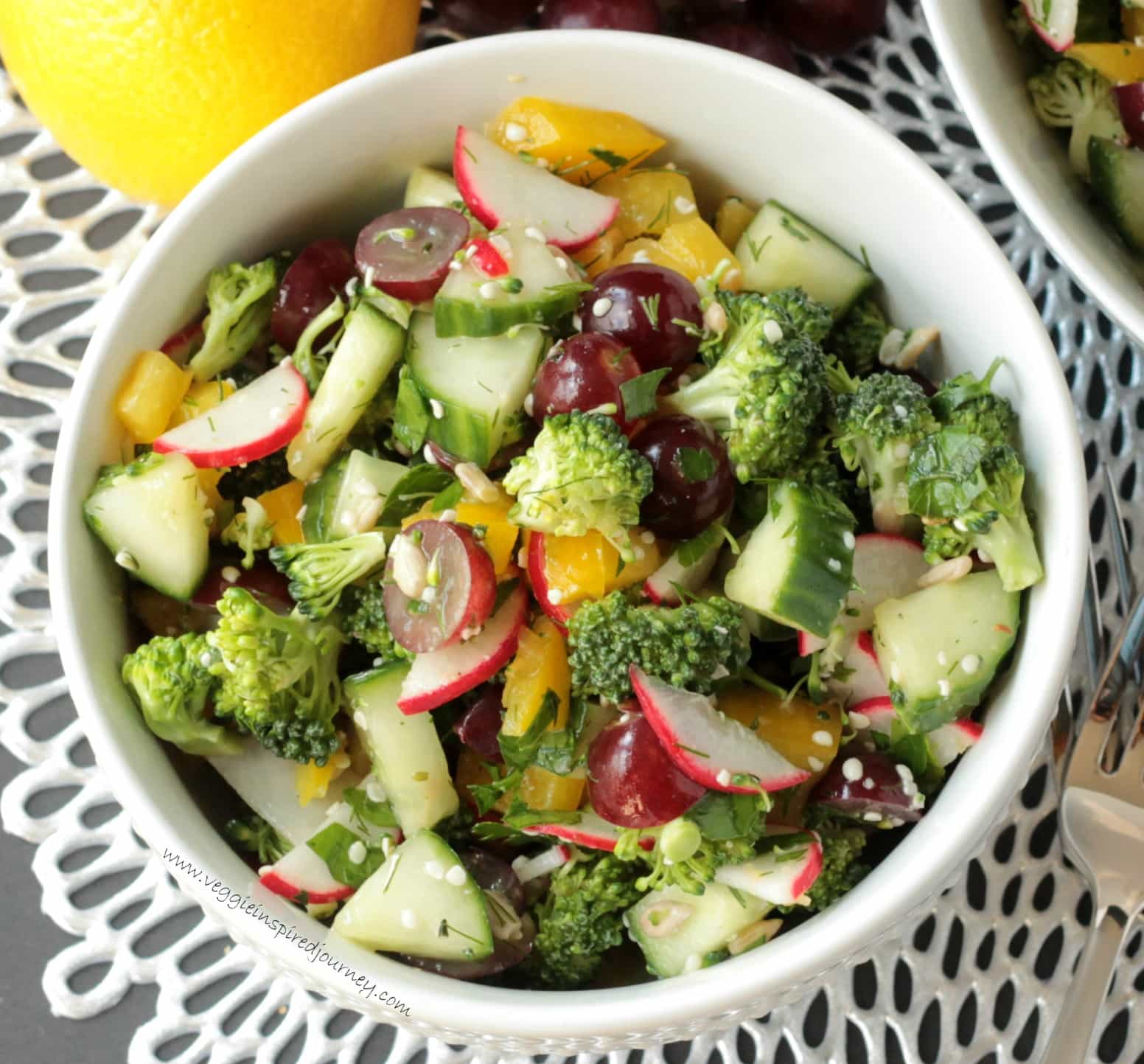 #14 – Raw Veggie Chopped Salad. Reader Melissa says, "I made this salad for a family dinner and it was great. So tasty and still crunchy the next day. I will make it again for sure!"
#13 – Chocolate Chip Quinoa Snack Cake. Reader Alisha says, "I baked these yesterday and YUM! There will be a next time…since I ate A LOT of this "snack" straight out of the oven!"
#12 – Black Bean Taco Salad. A delicious and easy lunch or dinner. The best part of this recipe is the Creamy Cumin Ranch Dressing!
#11 – Creamy Lemon Ziti w/ Roasted Asparagus. This sauce could not be easier!
#10 – Lentil Rice Soup. This recipe is only 2 months old, but quickly made it into the top 10. Reader Paige says, "This is quite possibly the best soup I've ever made!"
#9 – Banana Chocolate Chip Snack Cake. Reader Ceara says, "This cake rocked my socks off, Jennifer! I will definitely be making it again!"
#8 – Carrot Cake Pancakes. This particular recipe has been a huge hit with my Instagram readers. So many have made it and loved it!
#7 – Whole Wheat Flax Pancakes. The perfect healthy base for all of your favorite pancake toppings!
#6 – Meatless Stuffed Pepper Soup. Reader Betty says, "Of all the recipes I've made from blogs, this is the first time I've felt compelled to comment. This soup is fabulous! It was so easy to put together and absolutely delicious!"
#5 – Creamy Dairy Free Potato Soup w/ Kale. Reader Tamara says, "Just had to leave a comment on this recipe…I made it last weekend and am already making another batch for this weekend!! Deliciousness!!"
#4 – Healthy Strawberry Shortcake Smoothie. Super thick and delicious with absolutely NO added sugar!
#3 – Simple Black Bean Soup. Super delicious and done in 30 minutes! Perfect for a weeknight meal.
#2 – Cinnamon Chickpea Blondies. Reader Tracie says, "Just made these and they are amazing!!! Brilliant! No dirty dishes, fast and delicious. My kids destroyed them in five minutes. Will double the batch next time."
#1 – Crispy Coconut Lime Baked Cauliflower Tacos. Reader Rae says, "These are so good. It's amazing. My husband is addicted. We enjoy them at least once a week."
And, there you have it friends – the 15 most popular recipes in 2015. Did you favorites make the list? I have to say the cauliflower tacos are my absolute favorite too!
Please leave me a comment below and let me know what you'd like to see in the coming year.